Sure, Lexington may be known for the sport of kings, horse racing. After all, there's a reason we're the Horse Capital of the World. But thanks to a 1983 novel by local author Walter Tevis—and an assist from the good folks at Netflix—we're also the home of the sport of queens: chess.
Anyone who's watched The Queen's Gambit (all 62 million of you and counting) knows that it largely takes place in Lexington. And while it may not have been filmed here, many of the show's scenes were inspired by Tevis' experiences as a Lexington resident and there are plenty of real places featured. So as you plan your Queen's-Gambit-inspired trip to Lexington, here's some places that'll sound familiar—and a few new experiences you'll love.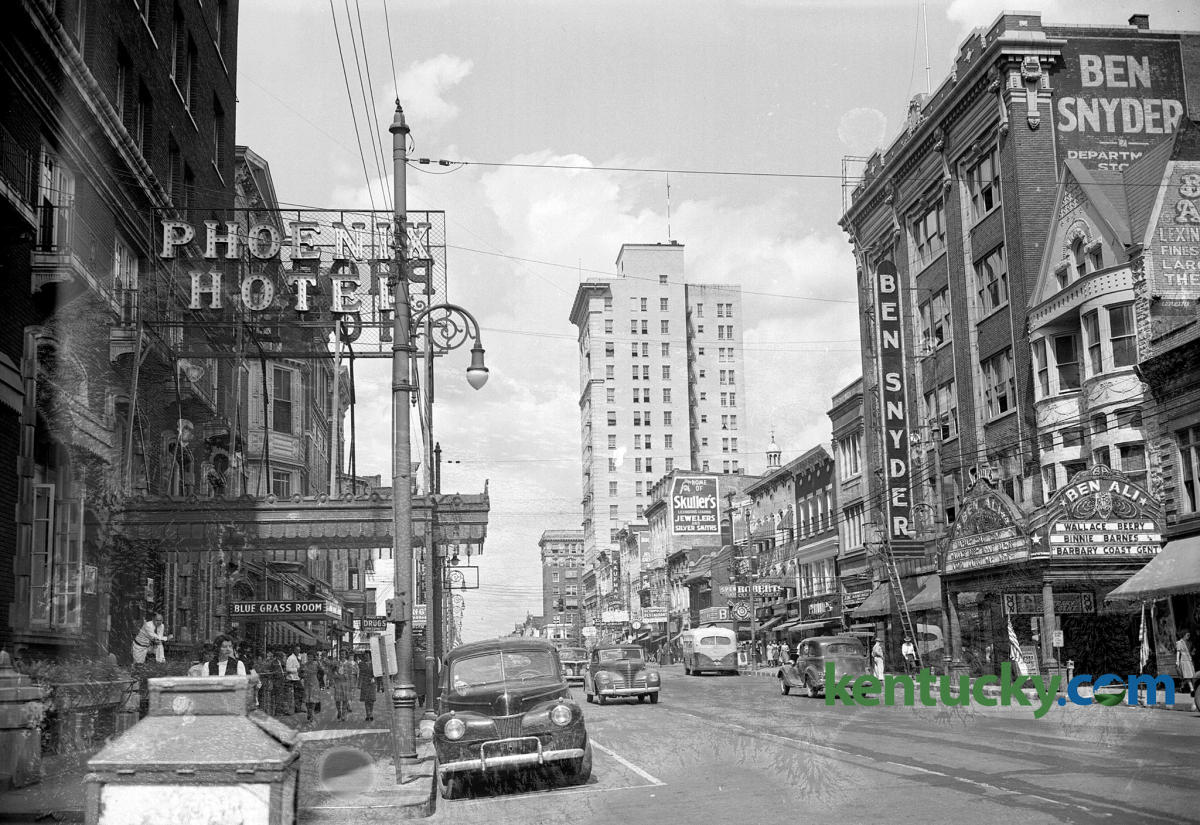 Ben Snyder (right) was a real Lexington store, founded in 1913 and located on Main Street where the Robert F. Stephens Courthouse Plaza is today.
1. Ben Snyder Department Store
Beth and her mother hit up this downtown department store for everything from clothes to chess boards. Ben Snyder was a real Lexington store, founded in 1913 and located on Main Street. The building is no longer standing—the location is now the Robert F. Stephens Courthouse Plaza, a great place to play in the fountains in the summer—but there's still plenty of great shopping to be found throughout Lexington. Check out stores like Scout Antique & Modern, Street Scene Vintage, POPS Resale and The Domestic for everything from mid-century modern furniture to vintage clothes. And be sure to swing by Black Swan Books while you're downtown to hunt for some vintage chess guides, or your own early-edition Walter Tevis novel. 
In a hurry or just want to keep your Uber tab to a minimum? The Distillery District and Lexington's newest public marketplace, Greyline Station, are both excellent options if want to find a lot of the area's coolest retailers and restaurants in one spot.
---

The Phoenix Hotel was one of downtown Lexington's most prominent landmarks for over 150 years until its closure in 1977. Its former Main Street location is now Phoenix Park.
2. The Phoenix Hotel
Beth's friend and chess mentor Harry stays at the Phoenix Hotel while he's waiting to move into his apartment—and he wouldn't have been alone. The Phoenix Hotel was one of downtown Lexington's most prominent landmarks from the time it was established in the 1820s until it closed in 1977. Located right across the street from Ben Snyder, the Phoenix Hotel was demolished in the 1980s and is now the location of Phoenix Park. If you're there, pop into the central branch of the Lexington Public Library for a look at the world's largest ceiling clock, a five-story Foucault pendulum and a frieze depicting the history of the horse in the Bluegrass.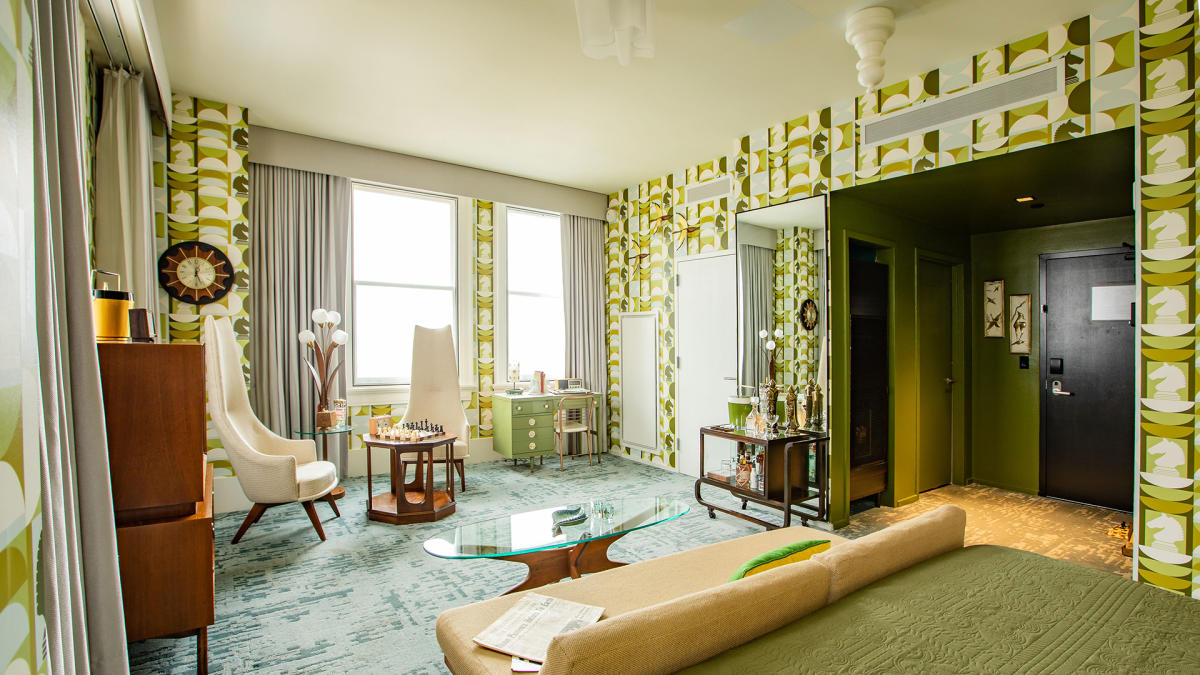 The Harmon Room at 21c is a retro time capsule of American mid-century modern design inspired by the Lexington-based Netflix series The Queen's Gambit. ​
Looking to replicate that downtown hotspot hotel feel? Head one block northwest on Main Street and book the Queen's Gambit-inspired Harmon Room at 21c—complete with mid-century furnishings, vintage chess books, and, of course, a chess set on the ceiling. 21c is located in the historic First National Bank Building: Lexington's first skyscraper, and visible in just about every historic photo of downtown from the Phoenix Hotel and Ben Snyder days.
---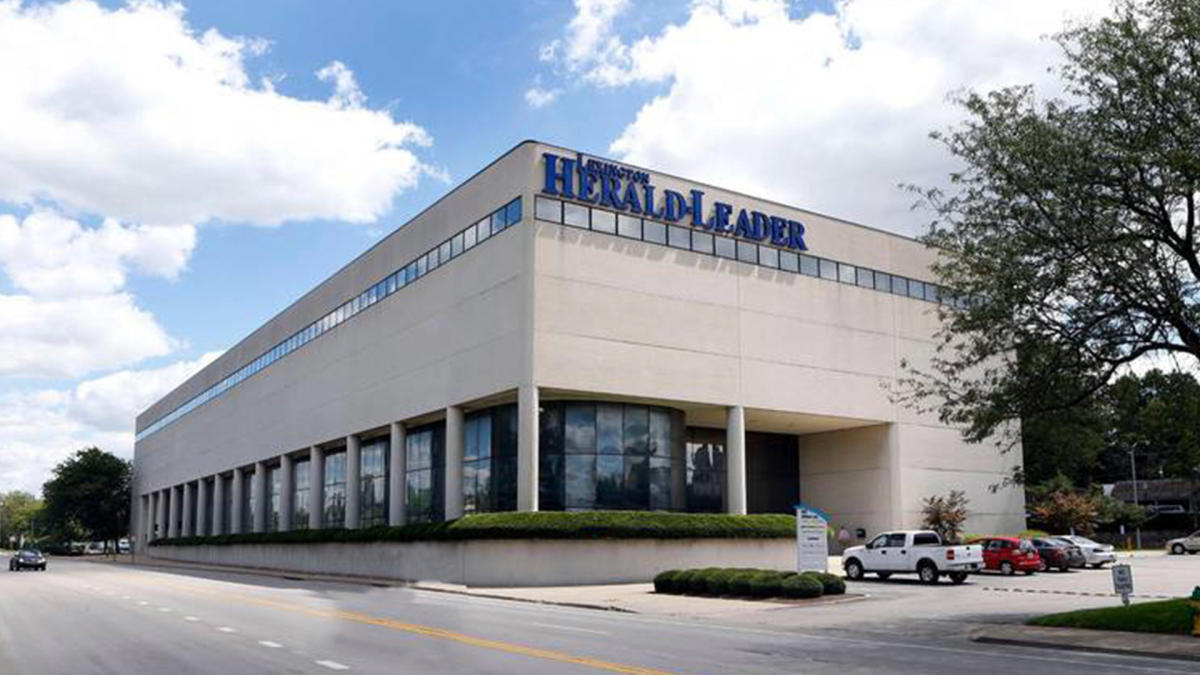 The Lexington Herald-Leader, mentioned throughout The Queen's Gambit, has been Lexington's trusted newspaper in one form or another for over 200 years.
3. The Lexington Herald-Leader
Grab a paper while you're settling into your room at 21c. If it's local, it'll likely be the Lexington Herald-Leader—a familiar name from the show, and our for-real local newspaper. Of course, the paper wasn't known by this name until the 1980s—before that, it was two publications, the Lexington Herald and the Lexington Leader, which had been covering Lexington news in some form or another since the 1870s.
---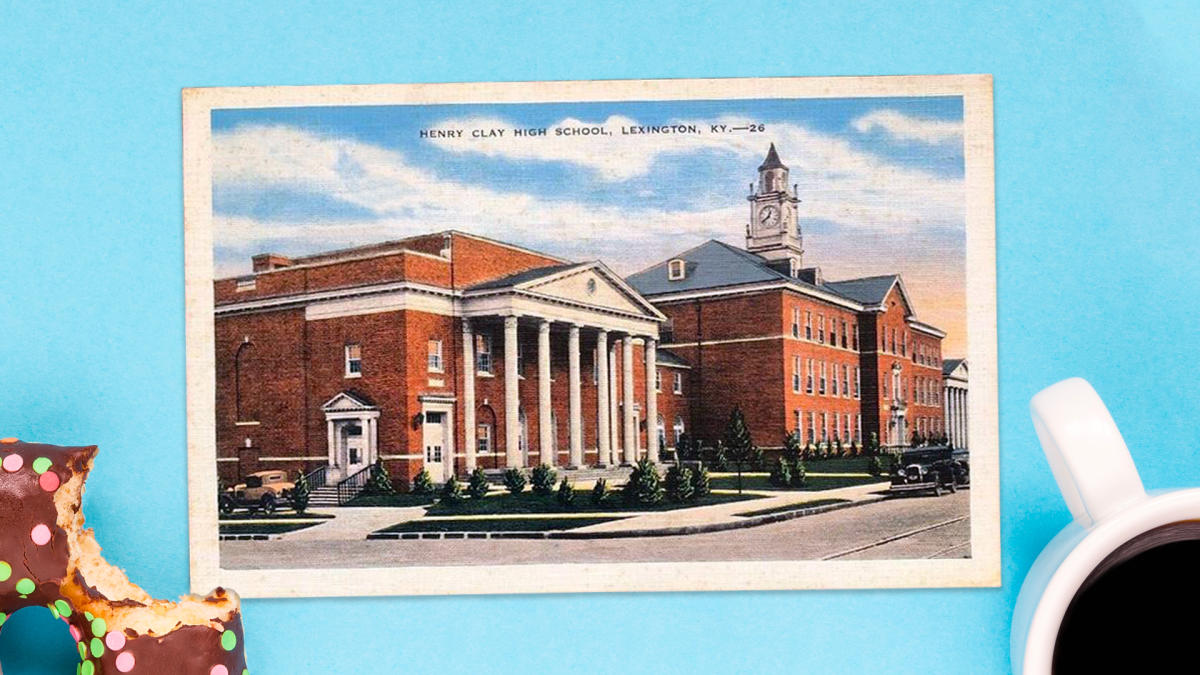 It's the home of the Fayette County School Board now, but the original location of Henry Clay High School is still worth checking out for the nearby shops and eateries.​
4. Henry Clay High School
Head southeast out of downtown on Main Street and you'll pass the original location of Henry Clay High School, the home of several chess tournaments in the show. Henry Clay is still around, but not in this spot—the school moved to its current location on Fontaine Road in 1970. Today, the original building is the home of the Fayette County School Board. Stop in at the historic Magee's Bakery across the street for a donut and a cup of coffee and ponder with us the mystery of why Netflix chose to change Henry Clay's mascot from the Blue Devils...to the Fighting Owls.
---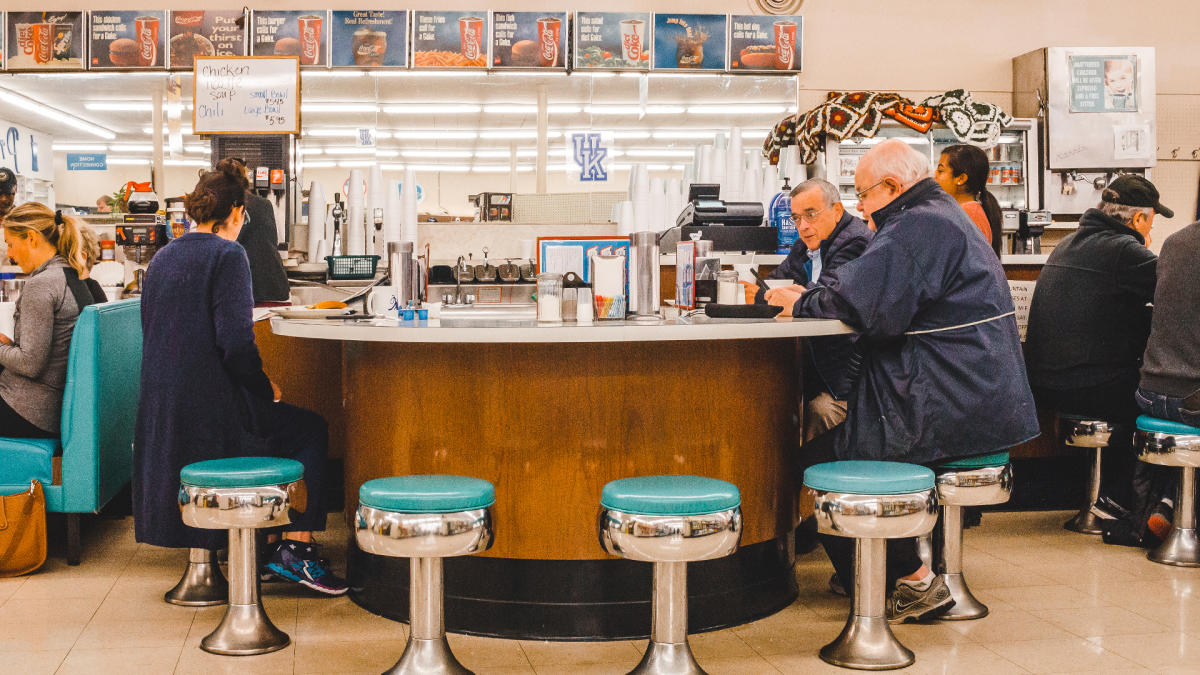 Beth Harmon would fit right in at the old-fashioned lunch counter at Lexington's Wheeler Pharmacy.
5. Bradley's Pharmacy and Corner Store
Sorry to break it to y'all, but Bradley's—a pharmacy that also sells chess magazines—isn't a real Lexington location. But you can get that same vintage feel at Wheeler Pharmacy, a Lexington icon for more than 50 years located in the heart of the historic Chevy Chase neighborhood. Grab a booth or a stool at the old-fashioned lunch counter and enjoy a fresh-cooked meal any time of day—just make sure you leave room for a milkshake or a malt (and please don't feel the need to steal any magazines on your way out).
---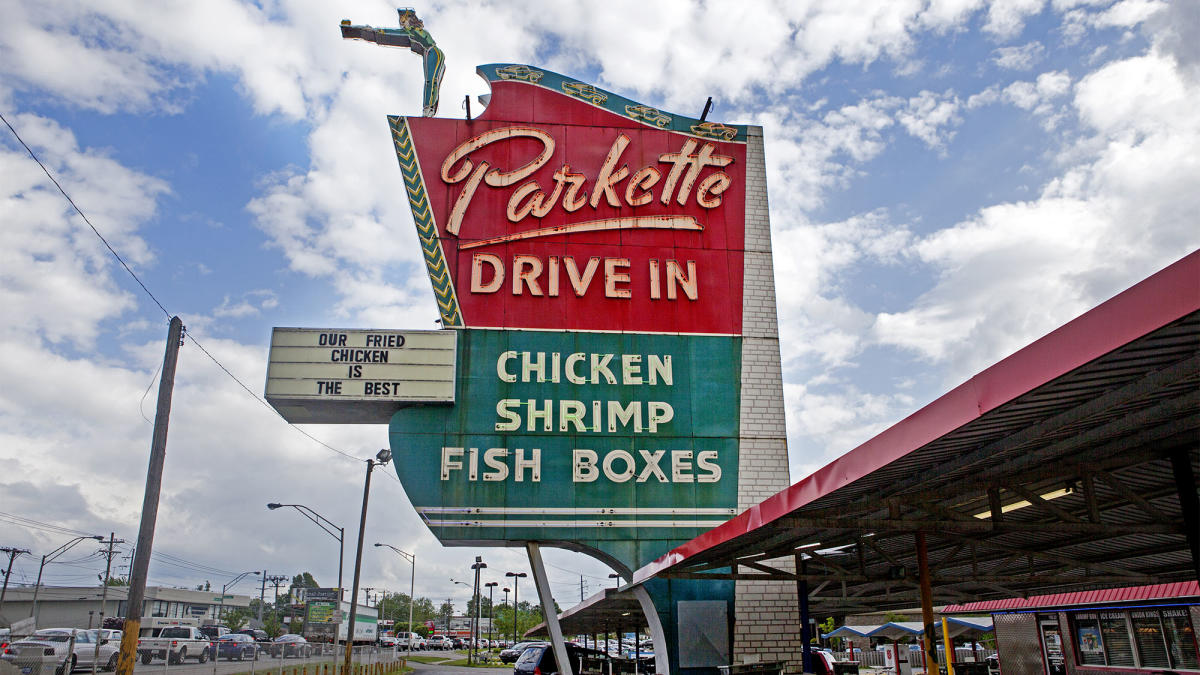 New Circle Road has changed a lot since the 1950s. But time stood still at Parkette Drive-In. 
6. New Circle Road 
One of the first Lexington mentions in the show comes in the very first minutes of the first episode: New Circle Road. While we can't recommend it as a sightseeing location—the road has grown considerably since construction started in 1950—it does feature a number of mid-century icons like the Parkette Drive-In. You can't miss their giant neon sign, so drive on up and get some fried chicken or a Hot Brown Burger. No matter where you are on New Circle Road, you're always a stone's throw from the beautiful bluegrass of Horse Country. So feel free to take the scenic route and see what the real Central Kentucky looks like.
---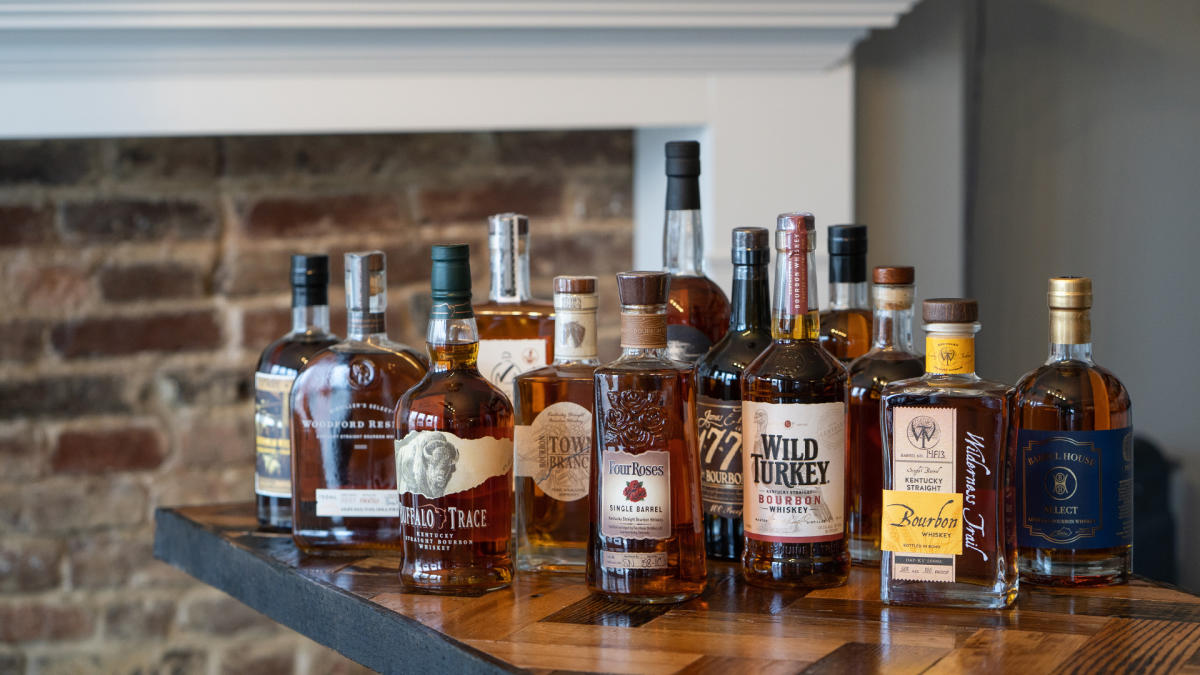 Justins' House of Bourbon is a wonderland of rare bottles and knowledgeable staff.
7. Lex Liquors
While we haven't been able to track down a vintage liquor store by this name, Central Kentucky has always been a prime location for spirits. While you're exploring the backroads, you might find yourself at one of the fiffteen unique distilleries within 45 miles of downtown Lexington. Want to stick closer to the city? Let the Brewgrass Trail be your guide and check out the dozens of local bars and breweries that make this the Best Place in America to Grab a Drink. Or snag that elusive unicorn bottle at Justins' House of Bourbon. No matter where you go, please be careful, enjoy responsibly, and be sure to designate a driver so you can get home safely.
---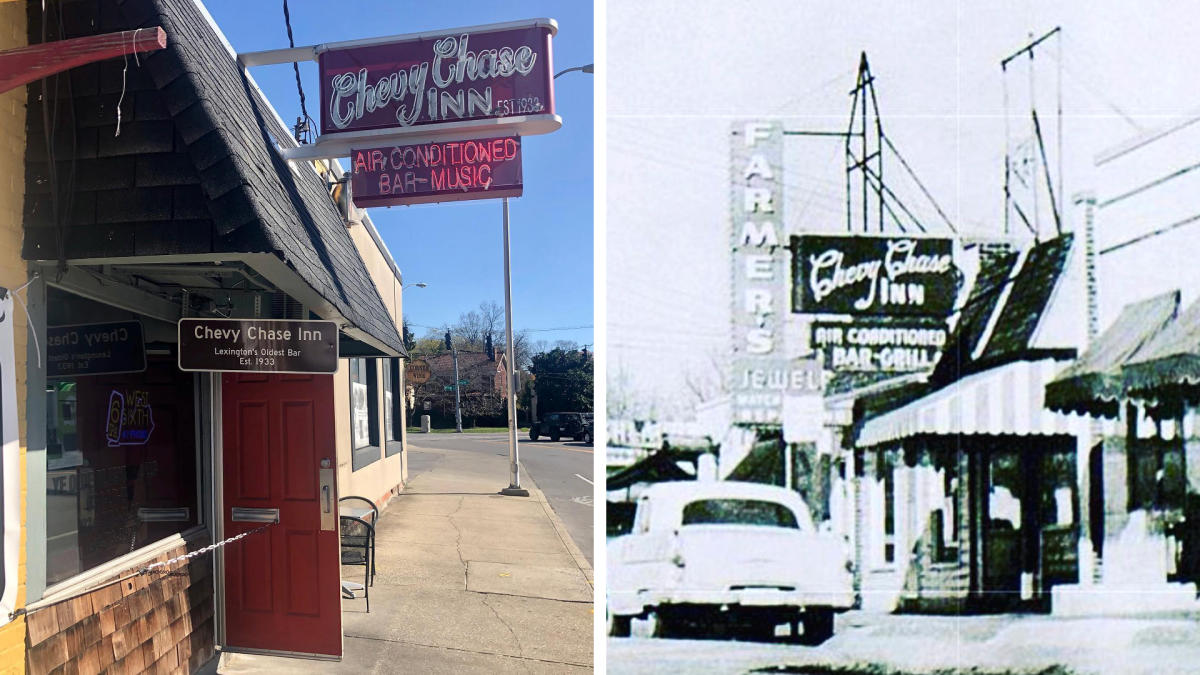 There's no rooms for rent at Chevy Chase Inn, the oldest bar in Lexington. But with so much character packed into this Euclid Ave. institution you'll wish you could stay the night.
8. Chevy Chase
No, not the guy from all those National Lampoon movies. This historic neighborhood in southeastern Lexington is like a community within the community with its own distinct character and Central Kentucky charm. Prior to penning The Hustler, Walter Tevis learned to play pool at a friend's house here. And the area's calm, tree-lined streets were no doubt an inspiration for Beth Harmon's residence in The Queen's Gambit. During the day, browse the shops on Clay Avenue for some Harmon-worthy attire. Later, for casual food and drinks, check out the worn leather couches, fireplaces, and distinct literary vibes of Charlie Brown's. Or the live music and "No Politics Allowed" atmosphere at Lexington's oldest bar, Chevy Chase Inn. Of course, no foray into Chevy Chase would be complete without a stop at Ashland, the massive wooded estate of 19th-century Kentucky statesman Henry Clay.
---

Walter Tevis, author of The Queen's Gambit, was a student at the University of Kentucky. The William T. Young Library (above) has the largest book endowment of any public university in America.​
9. University of Kentucky
It was Walter Tevis's enrollment at UK that brought him back to Lexington after a stint in the Navy and nurtured his love of literature. He received B.A. (1949) and M.A. (1954) degrees in English and studied with Pulitzer Prize-winning novelist A.B. Guthrie, Jr. With secluded nooks around every corner, the expansive and attractive campus is the perfect place for a quiet, reflective walk while you ponder that idea for the great American novel or the winning strategy for your next chess match.
Whether you're a vintage enthusiast, a chess savant, or just someone who's been binging Netflix all year and is looking for somewhere new to explore, this is a great time to start planning your visit to Lexington. We're less than a day's drive away from most of the U.S. population and we've been spending 2020 creating safe, socially-distanced and completely unique experiences for visitors like you to enjoy, including the Harmon Room at 21c. So come see the real Lexington—we're even better than we look on-screen.
---