There is much to be discovered in the scenic hills of Horse Country, which have been lauded by visitors and explorers since the early 19th century. From famous farms and nurseries to racetracks and feed mills, a visit to Horse Country will leave you reenergized, alive with Bluegrass traditions and one with nature. Anne Hardy at Visit Horse Country takes us through her comprehensive guide to the beautiful horse-related attractions in and around Lexington.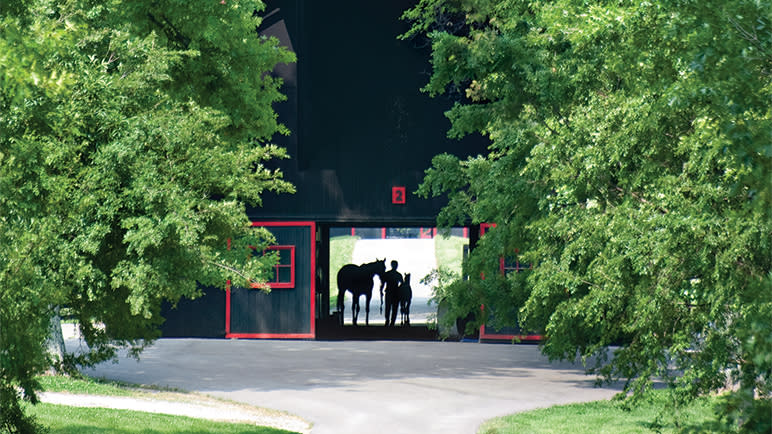 Check Out a Nursery
Many world-renowned stud farms also act as nurseries for future racing champions and their mothers to live and grow. Make an appointment to tour one of these acclaimed farms and you might catch sight of a future Kentucky Derby or Triple Crown winner, and you'll be able to say "I knew them when!"
Denali
1700 Georgetown Road, Paris
Ranked among the nation's leading consignors, Denali Stud bred Derby Winner Animal Kingdom and has sold more than $475 million worth of horses since 1990.
Hermitage
10500 West U.S. Highway 42, Goshen
See broodmares, foals and yearlings grazing on this fertile site where Kentucky Derby, Oaks, Breeders' Cup and stakes winners have resided for nearly two centuries.
Hurstland
484 Spring Station, Midway
Located in the heart of beautiful Midway, Hurstland has belonged to Lexington's Nukols family for more than 100 years, and is known world-wide for breeding, raising and selling outstanding Thoroughbreds.
Keene Ridge
4630 Bosworth Lane, Lexington
Situated on a hill overlooking the historic Keeneland Race Course, Keene Ridge covers 170 acres of Bluegrass pastureland and is the home of Breeders' Cup Turf Winners and Eclipse Winners.
Mill Ridge
2800 Bowman Road, Lexington
Racing enthusiast Alice Chandler started the Mill Ridge operation in 1962, and shortly thereafter became the first woman to breed an Epsom Derby Winner. She continues to live by her motto "Take care of the horse, and it will take care of you" in all the farm's endeavors.
Runnymede
600 Cynthiana Road, Paris
A 365-acre nursery in Bourbon County that has produced winners for centuries, Runnymede's history dates back to 1867 and has bred historic Hall of Fame horses like Derby Winners Ben Brush and Miss Woodford.
Saxony
469 Browns Mill Road, Lexington
Placing emphasis on the needs of each individual horse, the owners of Saxony offer a hands-on approach to raising and nurturing each horse that comes through their facility.
Siena Farm
1651 Winchester Road, Lexington
A "boutique" breeding farm where "tradition embraces innovation," Siena Farm dedicates itself to raising healthy, happy horses on their 225 acres of rich Bluegrass pastureland.
Stone Farm
200 Stoney Road Point, Paris
Fourth-generation horseman Arthur B. Hancock has produced Four Eclipse Champions, three Kentucky Derby Winners, two Breeders' Cup Classic winners, two Preakness Stakes winners and a Belmont Stakes winner since beginning the farm in 1970.
Stonestreet
3530 Old Frankfort Pike, Lexington
Owned by Jess Stonestreet Jackson, the founder of Kendall-Jackson Wines, Stonestreet launched the careers of acclaimed Thoroughbred legends Curlin and Rachel Alexandra.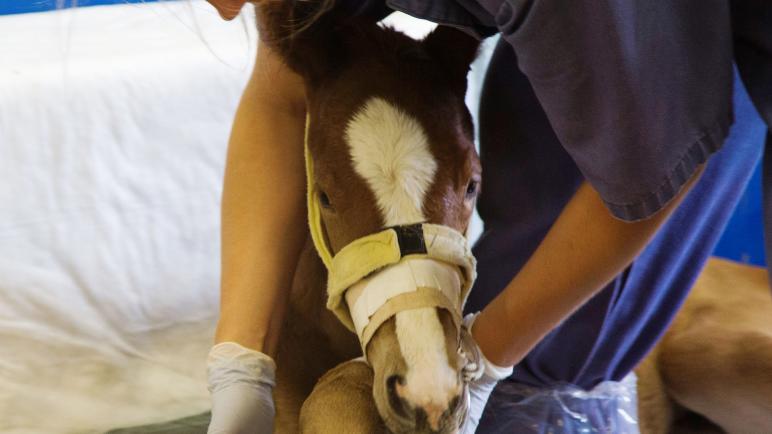 Visit an Equine Clinic
With a livelihood centered around the Thoroughbred, it's no wonder that we also have some of the world's best equine clinics. The staffs at these renowned clinics have dedicated their lives to the health and happiness of the horse, and frequently offer tours of their facilities so you can see just how much goes into caring for these animals.
Hagyard Equine Medical Institute
4250 Iron Works Pike, Lexington
With more than 140 years of dedication to the well-being of the horse, Hagyard has more than 50 veterinarians and a knowledgeable staff to assist in the health of some of the most famous racehorses throughout history. hagyard.com
Rood & Riddle Equine Hospital
2150 Georgetown Road, Lexington
Full-service equine hospital Road & Riddle focuses on the advanced treatment of horses with specialized medical care needs, and also offers preventative care, surgery, a specialized Reproductive Center and more. roodandriddle.com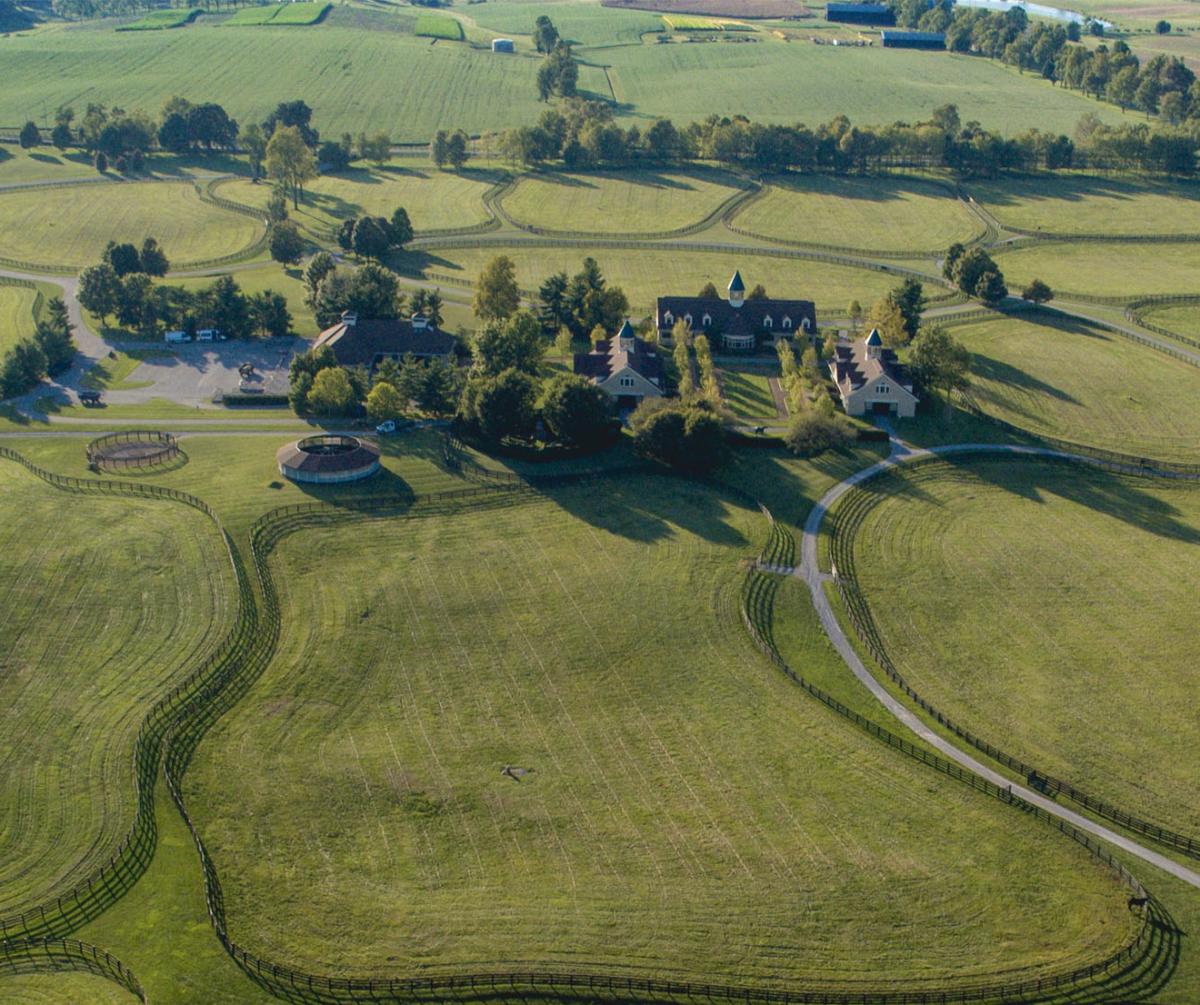 Tour a Stud Farm
There are more than 450 horse farms in the region, many of them world-renowned stud farms where legendary Thoroughbred champions are bred and raised. Snap a photo with one of these champions at a notable farm, but be sure to make an appointment or make arrangements through a professional touring company beforehand.
Adena Springs Stallions
701 Cane Ridge Rd., Paris
Featuring 36-stall barns and a one-mile main track situated on nearly 3,800 acres in Paris, Kentucky, Adena Springs has produced award-winning Thoroughbred racehorses, as well as broodmares, two-year-olds and yearlings. Top Stallions: Ghostzapper, Silent Name, Point of Entry Book your tour here.
Airdrie Stud
2641 Old Frankfort Pike, Midway
Take a drive out beautiful Old Frankfort Pike and visit this historic 2,500-acre stud farm, part of the famed Woodburn Stud, the home of five 19th century Kentucky Derby winners. Top Stallions: Upstart, MajesticPerfection, Summer Front
Claiborne
703 Winchester Road, Paris
A leader in the Thoroughbred farm industry for generations, Claiborne is famously home to the grave of Secretariat, widely believed to be one of the best racehorses of all time. Top Stallions: Runhappy, Orb, War Front Book your tour here.
Coolmore's Ashford Stud
703 Winchester Road, Paris
Behind Ashford's historic stone walls, you'll find some of the most sought-after horses in the world. The iconic stallion barns at Ashford Stud are home to Triple Crown and Breeders' Cup Classic hero American Pharoah and Triple Crown winner Justify, along with Kentucky Derby winner Fusaichi Pegasus and record-breaking sire Uncle Mo. Top Stallions: American Pharoah, Justify Book your tour here.
Darby Dan
5095 Frankfort Road, Versailles
With a history dating back to the early 20th century, Darby Dan is found on 1,000 acres of white-fenced pastureland and home to a modest number of champion stallions. Top Stallions: Shackleford, Dialed In, Tapiture Book your tour here.
Godolphin at Jonabell
3333 Bowman Mill Road, Lexington
You'll find 2011 Derby Winner Animal Kingdom at this modern stallion farm, one of HH Sheikh Mohammad's international breeding and racing operations in America. Top Stallions: Animal Kingdom, Frosted, Nyquist, Bernadini, Street Sense
Gainesway
3750 Paris Pike, Lexington
Encompassing the former Greentree Stud and Whitney Farm, this legendary breeding operation is home to award-winning racehorses and is a staple of the Lexington Thoroughbred breeding industry. Top Stallions: Afleet Alex, Tapit, Hat Trick
Lane's End
1500 Midway Road, Versailles
Frequently compared to a national park due to its impeccably kept grounds and beautiful pastures, Lane's End sits on 2,200 acres in Woodford County and is the seller of more than 365 stakes winners to date. Top Stallions: Candy Ride, Honor Code, Lemon Drop Kid
Pin Oak Stud
830 Grassy Springs Road, Versailles
With a past of Eclipse award-winning champions such as Laugh and Be Merry and Sky Classic, Pin Oak has been nurtured by Josephine Abercrombie and her passion for Thoroughbred breeding. Top Stallions: Broken Vow, Alternation
Spendthrift Farm
884 Iron Works Pike, Lexington
A state-of-the-art breeding farm founded by the colorful Leslie Combs, Spendthrift offers a breeding shed that sees more than 2,800 mares during any given breeding season. Top Stallions: Malibu Moon, Into Mischief
Spy Coast
3295 Spy Coast Lane, Lexington
Located next to the Kentucky Horse Park, Spy Coast Farm specializes in breeding and training performance horses. Visitors can learn about the farm's history and how they've grown to be a major player in the show jumping community. Top Stallions: Chaqui Z, Cyklon 1083, Diktator vd Boslandhoeve
Taylor Made Farm
2765 Union Mill Road, Nicholasville
Situated on more than 1,600 acres, Taylor Made is one of the leading sales agencies in the world and home to 2014 Kentucky Derby Winner, California Chrome. Top Stallions: California Chrome, Astrology, Graydar
Three Chimneys
1981 Old Frankfort Pike, Versailles
Spanning across both sides of scenic Old Frankfort Pike, Three Chimneys is the former home to champions such as Triple Crown Winner, Seattle Slew, and 1997 & 2004 Derby Winners, Silver Charm and Smarty Jones. Top Stallions: Will Take Charge, Palace Malice, Sky Mesa
WinStar Farm
3001 Pisgah Pike, Versailles
Encompassing a racing stable as well as divisions for stallions, broodmares, foals and yearlings, WinStar is the breeder of the 2010 Derby Winner, Super Saver, who still resides at the farm. Top Stallions: Super Saver, Distorted Humor
Other Equine Attractions
For those who can't get enough Horse Country, there are countless opportunities to get a closer look at the ins and outs of the equine industry. Take a scenic drive, visit a national landmark or chat with friendly locals who have dedicated their lives to the livelihood of the Horse Capital of the World.
Blackwood Stables
1217 Hedden Road, Versailles
At Blackwood Stables, guests will learn about the 350 acre farm, as well as the impressive six furlong dirt track and mile-long turf course—this is the Olympic-style training facility for the next generation of champions.
Hallway Feeds
251 West Loudon Avenue
Go behind the scenes at this family-owned feed mill, Hallway Feeds, which ships feed all over the world to nourish horses with the highest quality, custom-manufactured products.
visithorsecountry.com/hallway-feeds
Visit Keeneland
4201 Versailles Road
A national historic landmark, Keeneland is considered one of the most beautiful racecourses in the world and an iconic part of Lexington's history. The track is most alive during their Spring and Fall Meets in April and October, but you can tour the grounds or catch Thoroughbreds during their morning workouts throughout the year.
visithorsecountry.com/keeneland
Kentucky Horse Park
4089 Iron Works Parkway
Visit the 1,200-acre Kentucky Horse Park dedicated to all breeds of horse. The world-renowned park offers a variety of museums, galleries, theaters and working farm exhibits to explore, including the International Museum of the Horse, a Smithsonian affiliate dedicated to the man's unique relationship with the horse through time. Check the KHP website for seasonal events and equestrian shows to see what's going on during your visit.
Fasig-Tipton Sales
2400 Newtown Pike, Lexington
Headquartered in Lexington, Fasig-Tipton conducts 14 auctions annually from coast to coast, serving as the "trading post" for breeders, buyers and sellers. Tour the world-class facility in the days leading up to an actual sale and get a rare look at the auction process.
https://visithorsecountry.com/fasig-tipton/
Kentucky Equine Adoption Center
1713 Catnip Hill Rd, Nicholasville
This 70+ acre farm is a safe haven for horses in need, including those who have been surrendered by their owners or were rescued from an abusive environment. The end goal at this all-breed equine rescue is to find a permanent adoptive home for every horse. On a tour, you can visit the horses, see them in training and even make some healthy treats to feed them!
visithorsecountry.com/hallway-feeds
Scenic Byways
Greater Lexington Area
If you're in the mood for a lazy afternoon drive through the rolling hills of Horse Country, Lexington has no shortage of scenic byways for you to hit the road and explore. Paris Pike, the road that leads from Lexington to Paris, is lined with some of the most beautiful real estate and horse farms in the region. Old Frankfort Pike, the State Scenic Byway, passes through six historic districts and four National Historic Register properties. And you can take Ironworks Pike out to the Kentucky Horse Park, where you can learn about famous Thoroughbreds and visit the grave of famous race horse Man O' War.
Maker's Mark Secretariat Center
4089 Iron Works Pkwy
Located at the famous Kentucky Horse Park, the Maker's Mark Secretariat Center is a premier non-profit reschooling center for Thoroughbreds, dedicated to giving former racehorses new opportunities after their racing careers. The center is passionate about each horse that comes through the program, taking great care to rehabilitate, train and ensure these animals are individually matched with suitable second careers and new homes. The center has rescued hundreds of Thoroughbreds that have gone onto become ambassadors of the breed.
While You're Here…
See what seasonal events are going on in and around town! There are special ways to explore Horse Country any time of the year, whether it's breeding and foaling season, yearling prep or just beautiful snowy fields in winter. If you get hungry while you're here, stop into Windy Corner, Wallace Station & Ramsey's (Harrodsburg location) for a hot brown or a good ol' Southern biscuit. And while you're eating and exploring Horse Country, be sure to stop into the quaint local shops within the small towns peppered around the region for local goods, antiques and good company.