Welcome to the Heart of the Bluegrass
---
Venture outside of our city limits and you'll find unparalleled experiences waiting to welcome you. Explore picturesque wineries, Civil War sites, charming local museums, nature preserves, and of course, distilleries. Take the scenic drive to what was once the largest Shaker community in the country and ignite your curiosity. Go horseback riding or visit an equine retirement home for some of the century's most legendary Thoroughbreds.
Whatever you do, we assure you it's worth a little drive.
Whether you're looking for Civil War sites, historic homes, bourbon distilleries, folk arts and crafts, hiking, bird watching, antiques, horse farms, museums, art galleries or memorable dining, the Bluegrass has plenty of attractions to discover.
For a listing of attractions on the outskirts of Lexington and Fayette County, see Things To Do and filter for Regional. 
For the Bluegrass Region website, click here.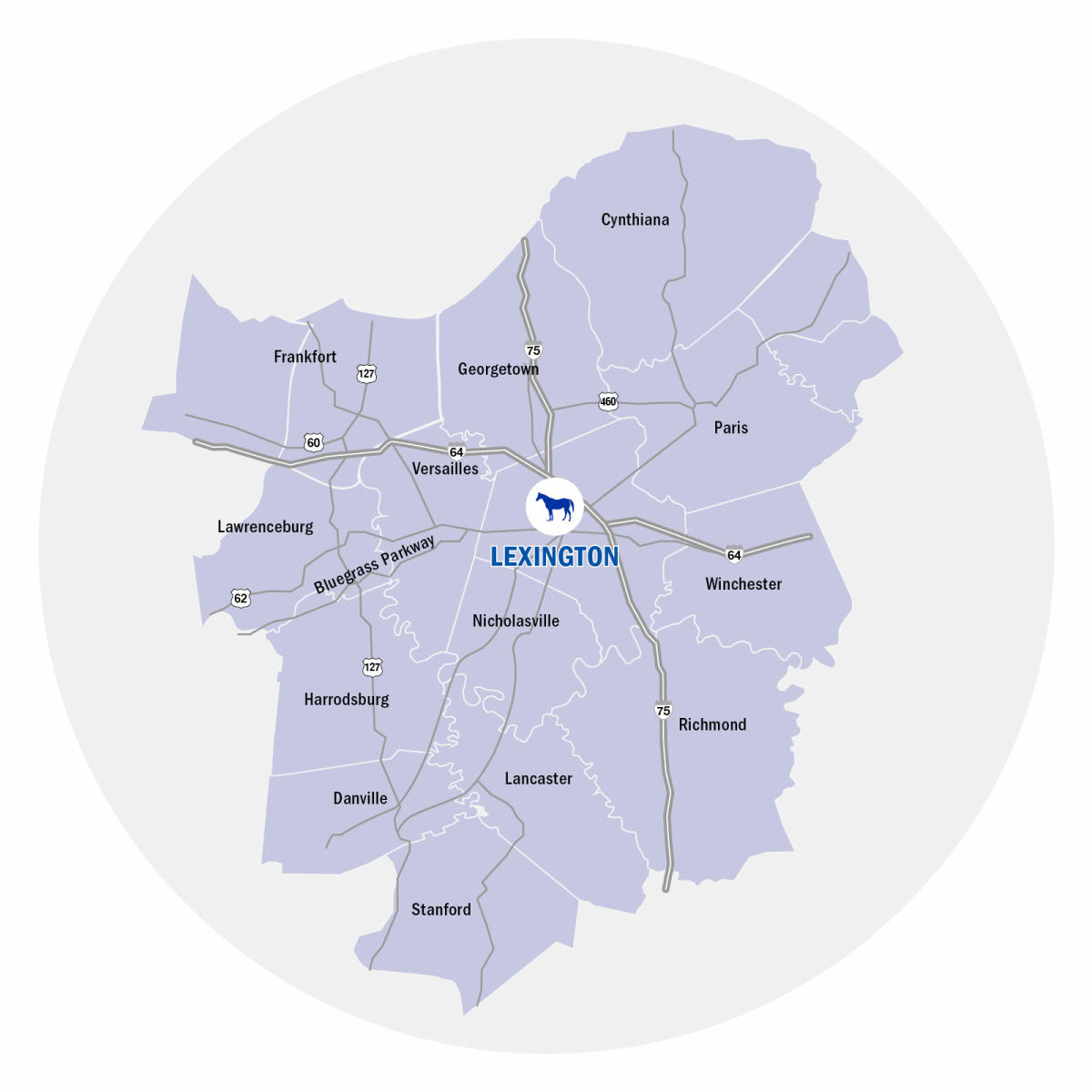 15 counties make up the Bluegrass Region:
| | |
| --- | --- |
| Anderson (Lawrenceburg) | (502) 839-5372 |
| Bourbon (Paris) | (859) 987-8744 |
| Boyle (Danville) | (859) 236-7794 |
| Clark (Winchester) | (859) 744-0556 |
| Fayette (Lexington) | (859) 233-7299 |
| Franklin (Frankfort) | (502) 875-8687 |
| Garrard (Lancaster) | (859) 792-3531 |
| Harrison (Cynthiana) | (859) 234-7179 |
| Jessamine (Nicholasville) | (859) 492-3115 |
| Lincoln (Stanford) | (606) 365-4547 |
| Madison (Richmond/Berea) | (859) 626-8474 |
| Mercer (Harrodsburg) | (859) 734-2364 |
| Nicholas (Carlisle) | (859) 749-7986 |
| Scott (Georgetown) | (502) 863-2547 |
| Woodford (Versailles/Midway) | (859) 873-5122 |