Welcome to the Heart of the Bluegrass
---
Listed in National Geographic Traveler's "50 Best Places of a Lifetime," Kentucky's famed Bluegrass region is not to be missed. Lexington, the Horse Capital of the World, is at the heart of this region of rare beauty, but the area is dotted with plenty of other great places to explore.
Whether you're looking for Civil War sites, historic homes, bourbon distilleries, folk arts and crafts, hiking, bird watching, antiques, horse farms, museums, art galleries or memorable dining, the Bluegrass has plenty of attractions to discover.
For a listing of attractions on the outskirts of Lexington and Fayette County, see Things To Do and filter for Regional. 
For the Bluegrass Region website, click here.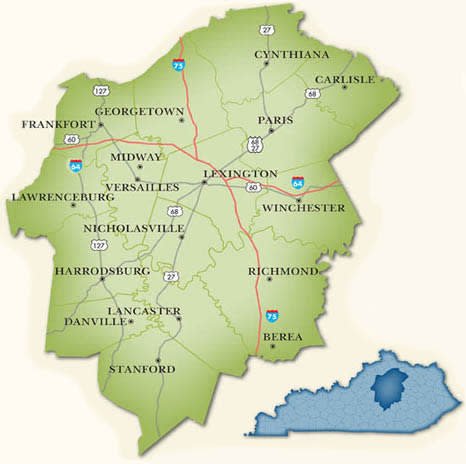 15 counties make up the Bluegrass Region:
| | |
| --- | --- |
| Anderson (Lawrenceburg) | (502) 839-5372 |
| Bourbon (Paris) | (859) 987-8744 |
| Boyle (Danville) | (859) 236-7794 |
| Clark (Winchester) | (859) 744-0556 |
| Fayette (Lexington) | (859) 233-7299 |
| Franklin (Frankfort) | (502) 875-8687 |
| Garrard (Lancaster) | (859) 792-3531 |
| Harrison (Cynthiana) | (859) 234-7179 |
| Jessamine (Nicholasville) | (859) 492-3115 |
| Lincoln (Stanford) | (606) 365-4547 |
| Madison (Richmond/Berea) | (859) 626-8474 |
| Mercer (Harrodsburg) | (859) 734-2364 |
| Nicholas (Carlisle) | (859) 749-7986 |
| Scott (Georgetown) | (502) 863-2547 |
| Woodford (Versailles/Midway) | (859) 873-5122 |