With its signature red vinyl booths, preserved 1950s façade and classic diner menu of everything from famous fried chicken to eat-with-a-spoon milkshakes, Parkette has held a special place in the hearts of the Lexington community for generations.
[The Parkette] belongs to Lexington. We're just preserving it. We saved history. It's rare you get the opportunity to do that.
Just as the country plummeted into a recession, two Lexington brothers decided to do something crazy: reopen a shuttered 1950s diner and drive-in eatery and return it to its former glory. By successfully doing so, Jeff and Randy Kaplan have become the guardian of people's memories, as well as the creators of countless new ones.
The Parkette's green-and-red neon sign looms over New Circle Road: Forty feet tall. In the shape of a tail fin on a classic Caddy. A waitress stands on top, her hands outstretched holding a tray. Below her is the name of The Parkette in giant, looping 1950s-style script. The restaurant was first opened in 1951 by Joe Smiley, a restaurant pioneer. Back then New Circle was a dirt road, and a Parkette milkshake cost around a quarter.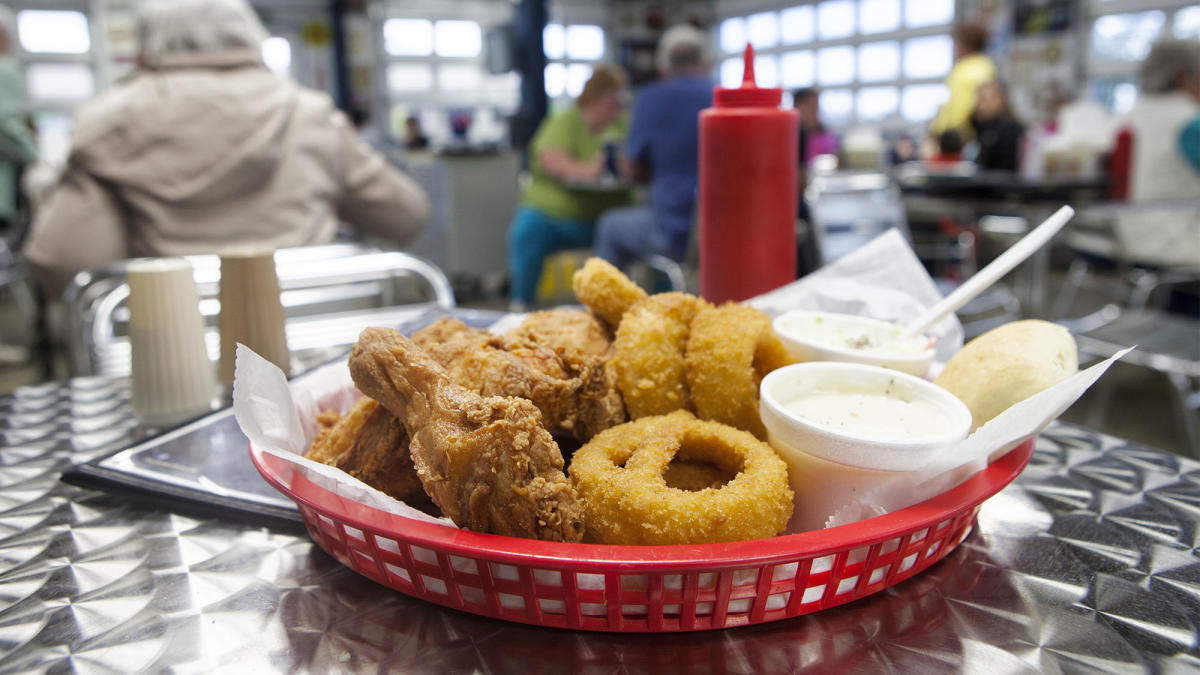 In 2008, Randy Kaplan was a retired Lexington police officer; his brother Jeff the owner of six Subway shops. The two bought The Parkette, which had been closed for a year and was in serious disrepair. They spent a grueling nine months remodeling it themselves. On opening day, the parking lot was packed; a line stretched out the door. The next day, a couple came in to celebrate their 60th wedding anniversary with their kids and grandkids. The two first met in The Parkette parking lot as teenagers.
"It's not like The Parkette is ours," says Randy. "It belongs to Lexington. We're just preserving it. We saved history. It's rare you get the opportunity to do that."
Jeff and Randy have kept Joe's famous fried chicken on the menu, using his original recipe. They also have his Poor Boy, a beloved double-decker burger. The revived Parkette's reputation spread from Day 1, putting them on places like The Food Network's "Diners, Drive-Ins and Dives" show and "Every Day with Rachel Ray." For the latter, Randy cooked up a Hot Brown Burger live, one of three finalists for co-host Bobby Flay's Nationwide Burger Challenge. (The Hot Brown is a beef patty smothered with Alfredo sauce and topped with turkey breast, bacon, cheese and sliced tomato.)
Other items on the menu include fish filets, chicken strips, patty melts, club sandwiches, veggie burgers, the Bourbon Barbecue burger and the Beer Cheese Burger.
Inside the diner are red vinyl booths with Formica tops and a long counter where sweethearts still share milkshakes. Out front are Joe's original drive-in stations, where you can order a meal and a carhop will come out to deliver it. Out back is a 90-seat "dine-in garage" with garage doors opened in nice weather. License plates from customers decorate the retro, auto-themed space.
Since its inception, The Parkette has been a place where people show off their rides. Jeff and Randy have kept up the tradition. Cruise-ins are held on the fourth Friday of each month in nice weather. People bring their classic cars and hot rods to the back parking lot. Engines are examined, paint jobs admired,and new friendships made.
Joyce Golden has been the manager at The Parkette for 34 years through multiple owners (she was hired by the original one). She says the diner's old-school environment gives people something rare in a distracted world: connection. "People may be on their phones when they come in, but once they're in here, they're not on them anymore. They're eating and talking to each other. It's kind of cool."
The Parkette, located at 1230 East New Circle Road, is open 11 a.m. to 10 p.m., Monday through Saturday. For more information, go to theparkette.com.