Driving & Walking Tours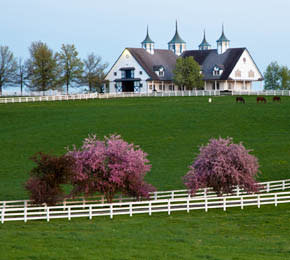 There is no better way to discover the legendary landscape of the Bluegrass Region than driving or cycling the country roads around the Horse Capital of the World. Lush pastures, mile after mile of plank and stone fencing, horses grazing, magnificent homes and barns: all for your viewing pleasure!
Love to walk? A variety of tour companies offer guided tours of downtown Lexington on foot. See the Biking and Cycling Thru the Centuries links to the left to learn more about cycling in the Bluegrass.
The Lexington Walk and Bluegrass Country Driving Tour.
This large format annotated paper map is one of our most frequently requested publications, and it's free. Call (800) 845-3959 or order online, and we'll mail you one. In Lexington? Stop by the Visitors Center and pick one up. Many hotels keep this map on hand for guests.
The Bluegrass Country Driving Tour is divided into three parts. Take a morning or an afternoon and do the whole thing, or just pick the circuit that interests you the most. There's easy access back to town after each circuit. You'll learn about the history and geography of the area and -of course- about our world-renowned horse industry. 
On the reverse side is a walking tour, The Lexington Walk, with 33 points of interest in historic downtown Lexington. It is best enjoyed on foot, but it can also be driven. There are plenty of places to stop and rest, or eat, along the route. You'll see first hand the charming mix of old and new buildings that comprise the compact downtown core of Kentucky's second largest city.
Want to know about gas prices in Lexington? Click here.
The Inquisitive Walker's Architectural Tour of Lexington
Available through the App Store, this free walking tour app focuses on the area around Lexington's Old Fayette County Courthouse. For more than 200 years, downtown commerce has been conducted in buildings designed by talented architects and constructed by skilled craftsmen. Download the app, pop in your earbuds, and enjoy listening to cultural geographer Karl Raitz talk about a fascinating selection of historical buildings. Photography by Richard Greissman.
Audio Tours from our public library
The Lexington Public Library produces several audio walking tours with a variety of topics focused on Downtown Lexington, KY. Music plays in between each stop, and the listener can pause the track while walking between stops. Available on their website.
Organized Guided City Walking Tours