Group Tour Packages
---
Customized group tour day and evening entertainment pre-priced packages offer distinct adventures and effortless tour planning. We're constantly updating this information, so check back often for the latest!


Historic Shaker Village Tour

Historic Homes Candlelight Tours

Guided Group Walking Tours

The Thoroughbred Center

Dusk at the Kentucky Horse Park

Buffalo Trace Distillery Group Tours

Group Outings at Lexington's Baseball Park, Whitaker Bank Ballpark
Historic Shaker Village
A variety of programs and activities are offered and vary depending on the season. Most require a minimum of 15 people. Here's just a sampling:
Guided tour of the pastoral grounds of the largest restored Shaker community in existence. $14 per person
Riverboat rides aboard the Dixie Belle.  $8 per person (also available for charter)
A 30-minute candlelight music program in the Meeting House. $125
Evening bonfire & entertainment. $125
Horse-drawn carriage rides. $6 per person
 
​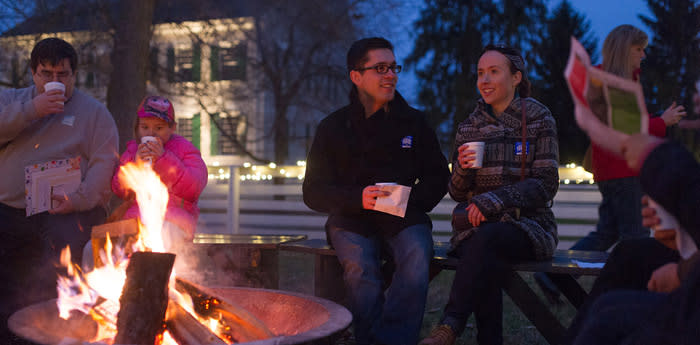 A candlelight tour of Ashland, the Henry Clay Estate, which could include light refreshments, historical character actors, and/or musical performances. (Call for pricing.)
December only: A candlelight tour of Waveland State Historic Site, the Greek Revival plantation home built by the grand-nephew of Daniel Boone. ($7 per adult, $6 for seniors and $4 for students)
Enjoy a private, after-hours Open House and tour of Mary Todd Lincoln's girlhood home. Open House events can accommodate 75 to 250 people. You can set up your own refreshments in the garden, and order Mary's famous white cake by special arrangement. (around $12 per person for groups 15 and larger)
 
"A House Divided: Lexington Cemetery Walking Tour" Sympathizers of each side owned lots in the cemetery.  The family plot belonging to Abraham Lincoln's in-laws is a highlight of this tour. ($10 - $15 per person.) Offered by arrangement with the Mary Todd Lincoln House.
"Lincoln's Lexington: Walking Tour of Lincoln & African American Sites from 1800 to 1860 " Lincoln visited Lexington several times before he became President. The tour includes sites significant to the Todd family, as well as sites related to the history of African Americans in Lexington. ($7 - $12 per person)  Offered by arrangement with the Mary Todd Lincoln House.
 
The Thoroughbred Center 
Prices on Request
A guided tour of The Thoroughbred Center, a working Thoroughbred training facility
Breakfast, lunch or dinner in the Lounge, complete with fireplace and chandelier lighting
Evening entertainment can be arranged with advance notice
 
Dusk at the Park
$50-60 per person (40 person minimum)
Can be customized
An evening in the bluegrass at the over 1,200-acre Kentucky Horse Park
A walking tour for an up-close look at a working horse farm including an opportunity to visit the burial site of the legendary Man O' War
A tour through the International Museum of the Horse, which traces man's relationship with the horse from the beginning of time
Experience a "Taste of the Bluegrass " with a choice of several traditional Kentucky meals
A movie presentation on horses and their breathtaking beauty and grace: Rein of Nobility
Additional options that can be arranged for an additional fee include:
Courtyard Presentation: Meet and greet two horses and riders/handlers in native costume or show attire
Hall of Champions: View champion horse celebrities while listening to an impressive narration of the horses' backgrounds
Horses of the World: An entertaining and colorful demonstration performed to lively music
Hayride: a scenic tractor driven hayride around the outskirts of the Park
 
The Trace Tour: a complimentary guided tour of Buffalo Trace Distillery, including a tasting of some of their award-winning products. Begin with an engaging video of the history of Buffalo Trace, then walk along the path of rolling bourbon barrels. Enjoy the alluring smell and atmosphere of bourbon sleeping inside the aging warehouses. Then tour the renowned Blanton's Bottling Hall where you will see signature bourbons being filled, sealed, labeled, and packaged-all by hand. No charge. From April through October, box lunches from the Firehouse Sandwich Stop can be pre-ordered and include any sandwich, any side, a candy bar, condiments, cutlery and a drink for $11.
Treat your group to a catered dinner at the Elmer T. Clubhouse, surrounded by the Distillery's distinct architecture and beautiful landscape. Buffalo Trace's facilities can accommodate anywhere from 15 to 350 guests and can adapt to your specific needs. Clubhouse rental begins at $550. This stunning facility was built in 1935 using the wood from authentic Kentucky log cabins dating back more than 200 years.
 
Baseball Outings at Whitaker Bank Ballpark
from $6 to $25 (based on 20 person minimum)
Catch a game at this state-of-the-art stadium that is home to Lexington's minor league professional baseball team, the Lexington Legends
Numerous seating options including box seats, the Pepsi Party Deck, and other picnic areas. Luxury seating options available
Menu options range from hot dogs to full catered meals.
For more specific information on rates and packages, call (800) 848-1224 or just register.