Lexington's scenic landscape—gorgeous any time of year—takes on a special beauty in autumn. Here are our suggestions for how to get the most out of it before the leaves fall!
Timing Your Trip Around Fall Color?
Call the Color Fall Kentucky Hotline at (800) 225-8747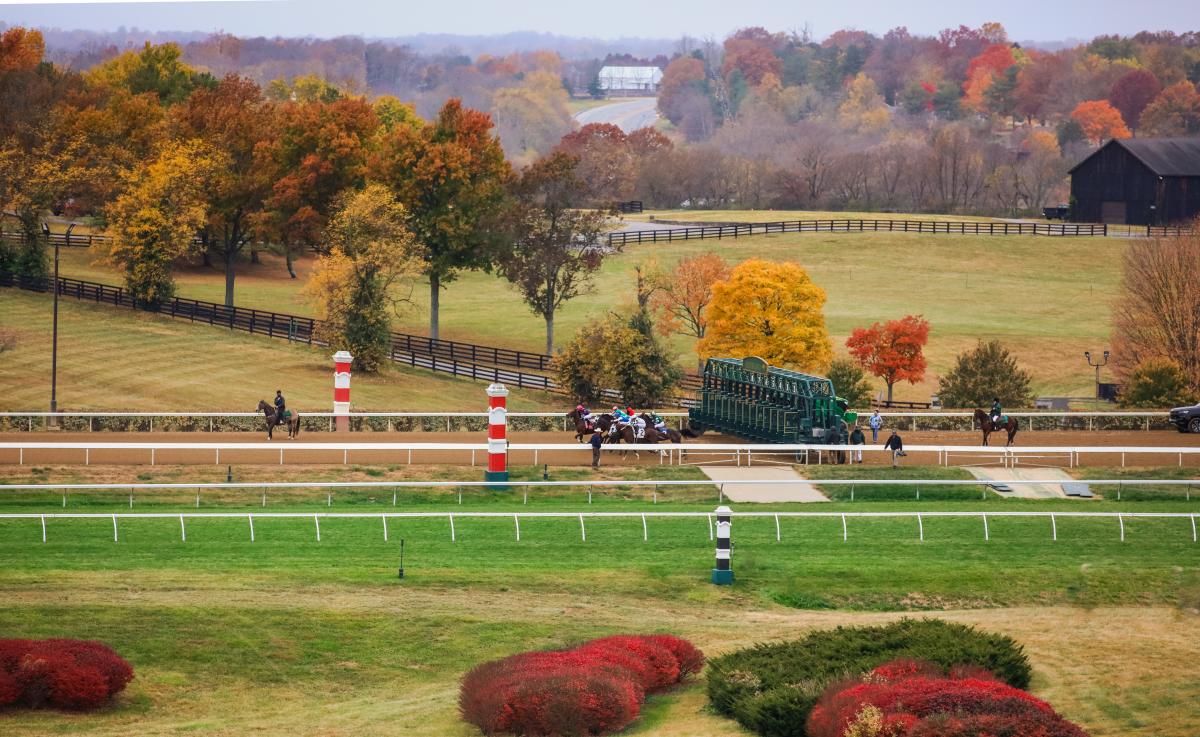 Keeneland Racetrack
Take the Long Way Home
Fall is a perfect time to take a self-guided driving tour of the Old Frankfort Pike Scenic Byway. The route winds past horse farms and through some of the prettiest scenic routes in and around Lexington.
Answer the Call to Post
It's not fall in Lexington without at least one day spent at Keeneland's Fall Meet, held every October. Get ready to enjoy the cool fall air and a warm cup of burgoo—a special Bluegrass stew—at what many consider the most beautiful racetrack in the world.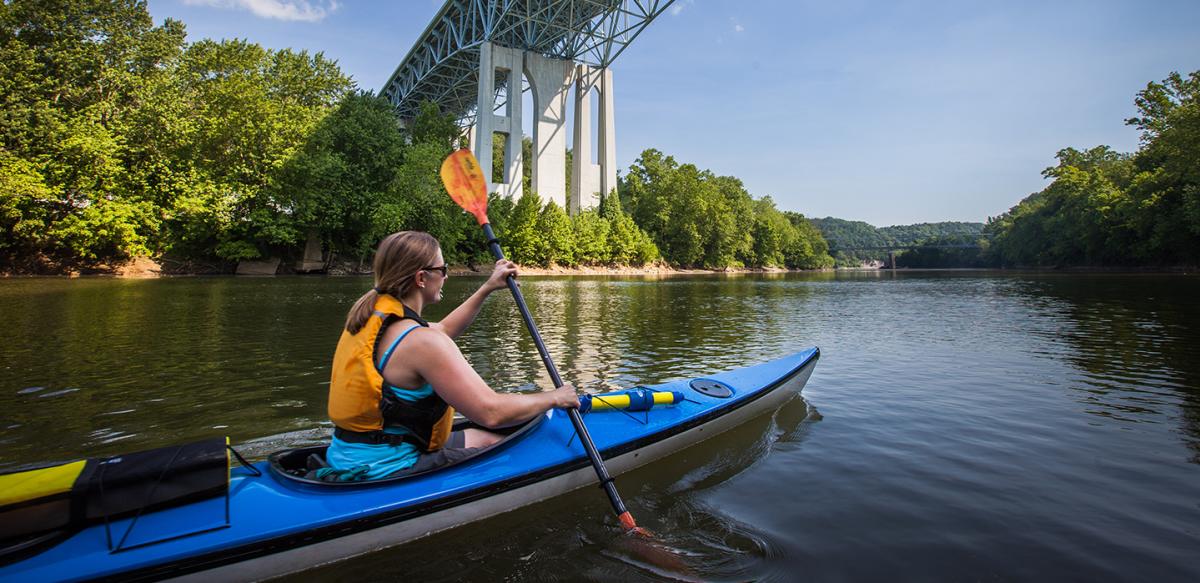 Kentucky River
See the Picturesque Palisades
The limestone cliffs known as the "Palisades" were cut by the Kentucky River some five million years ago. Today, they serve as a dramatic backdrop for fall scenery along the river. Take in the views by renting a stand-up paddle board or kayak from Kentucky by Paddle. You can also see autumn foliage from the water on the Elkhorn Creek. The Elkhorn winds through horse farms, historic sites, great picnic spots and provides plenty of fall color. Excursions can be arranged through Canoe Kentucky.
Tour on Two Wheels
The backroads surrounding Lexington are ideal for scenic bicycling. Ride under the canopy of trees along Old Frankfort Pike, an official Scenic Byway or Pisgah Pike, past The Kentucky Castle, historic Pisgah Church and lovely horse farms. The Legacy Trail, a beautifully landscaped 12 mile paved trail is another option. It runs from the Isaac Murphy Memorial Art Garden downtown to Kentucky Horse Park. About eight miles of the trail are off-street and fully paved.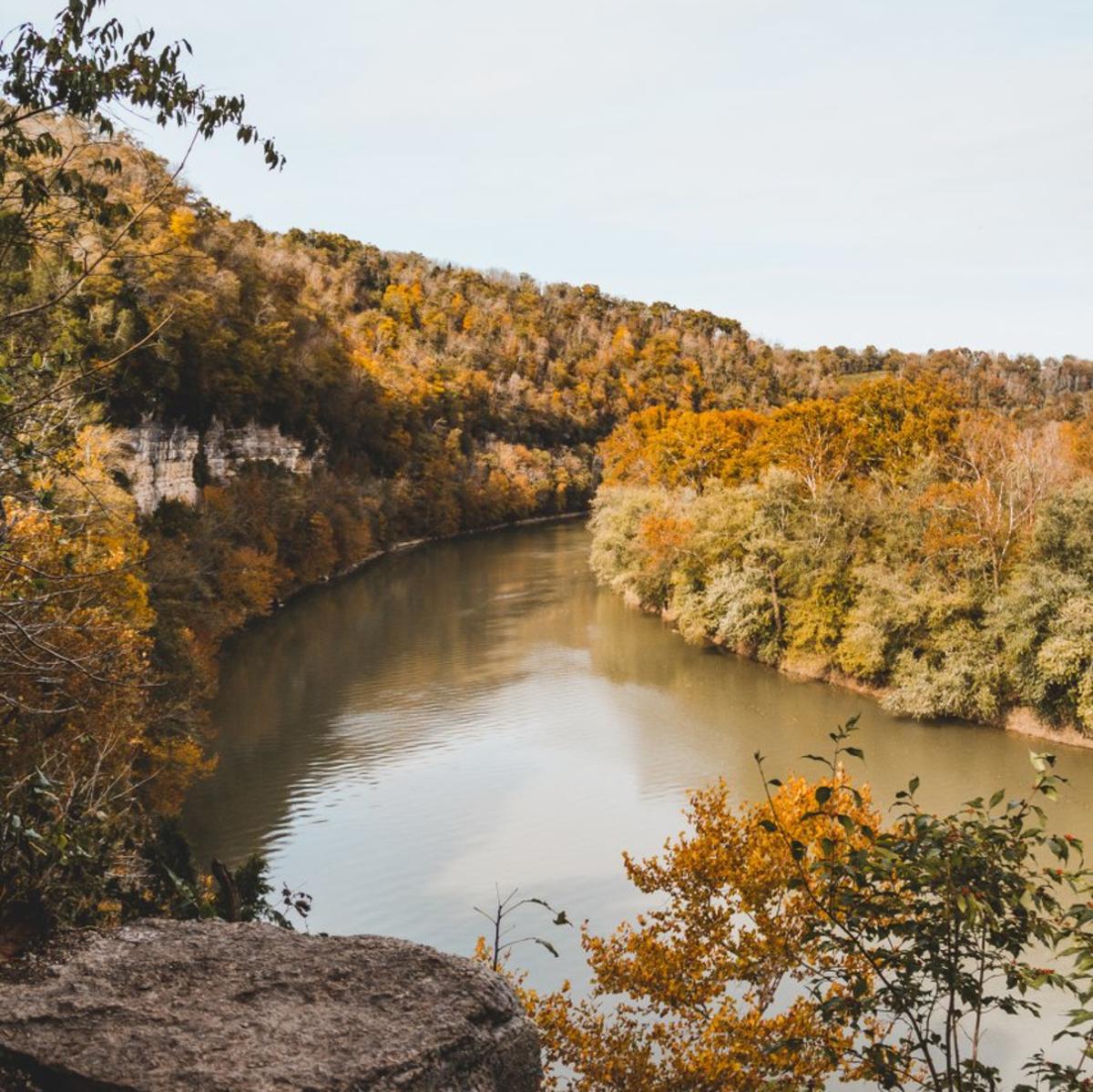 Raven Run Nature Sanctuary 
Go Where the Wild Things Are
Raven Run Nature Sanctuary is 734 acres of unspoiled natural scenery just minutes from downtown Lexington. In the fall, the sanctuary is a wonderful place to admire meadow wildflowers, catch sight of many varieties of birds passing through on their way south, and explore the Kentucky River Palisades area. You can just drop by to wander its ten miles of trails on your own, or call ahead to register for special programs ranging from Tree Walks to guided history hikes. There is no admission charge to enter the park. 
Discover Fall in the City
You don't even have to leave the city to enjoy fabulous fall scenery. Lexington Cemetery at 833 West Main Street includes more than 200 varieties of trees, along with lovely ponds, other plantings and an array of fascinating monuments. The cemetery is nationally recognized as an arboretum.
Large trees, interesting fountains, sculptures and colorful historic homes in the Gratz Park neighborhood (bounded by Third, North Mill, Market and Second streets) make it a gorgeous place to take a walk in the fall.
Fall also is a beautiful time to stroll the grounds of Ashland, the Henry Clay Estate. The hundreds of trees on the 20-acre setting include gingko, maple, beech, bur oak, a huge American elm and, of course, blue ash, for which the estate was named. There's no charge to tour the grounds. While you're in the area, take a stroll down nearby Catalpa Road—lined with massive gingko trees, the street turns gold in the fall, making it a popular photo spot for locals.
Orchards and Pumpkin Patches
Have Some Fun on the Farm
Fall isn't fall without a family trip to the farm. Find the perfect pumpkin, along with fresh apples, Indian corn, gourds and other fall bounty. Eckert's Boyd Orchard in Versailles is famous for its apple cider and pumpkins. Evans Orchard always has tons of family fun in the fall, which sometimes involves a pumpkin throwing contest.
Giddy Up and Go
Enjoy the crisp fall air and bright scenery from the best seat in the house: a horse. Through October, horseback riding is offered at the Kentucky Horse Park (Ironworks Pike off I-75, four miles north of Lexington).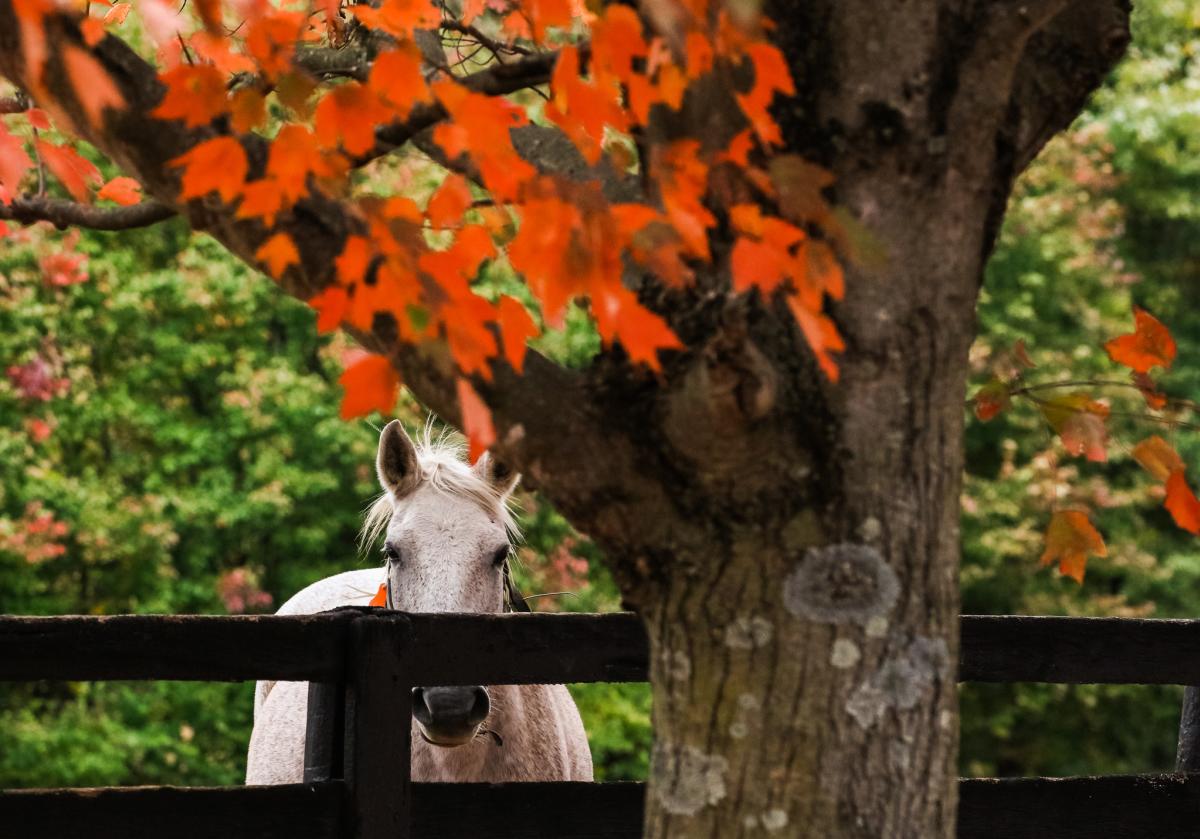 Horse Country in the Fall
Visit Horse Country 
There is much to be discovered in the scenic hills of Horse Country, which have been lauded by visitors and explorers since the early 19th century. From famous farms and nurseries to racetracks and feed mills, a visit to Horse Country will leave you reenergized, alive with Bluegrass traditions and one with nature. Head to Visit Horse Country to book your tour at beautiful horse-related attractions in and around Lexington.