Lexington is famous for its rolling hills and beautiful horse farms. But when you look a little closer at this region, you'll see parks and trails, cliffs and arches, rivers and streams, and a whole lot of adventure. Lexingtonians have a true love affair with the great outdoors, so we're here to show you all of our favorite places to get outside and act natural.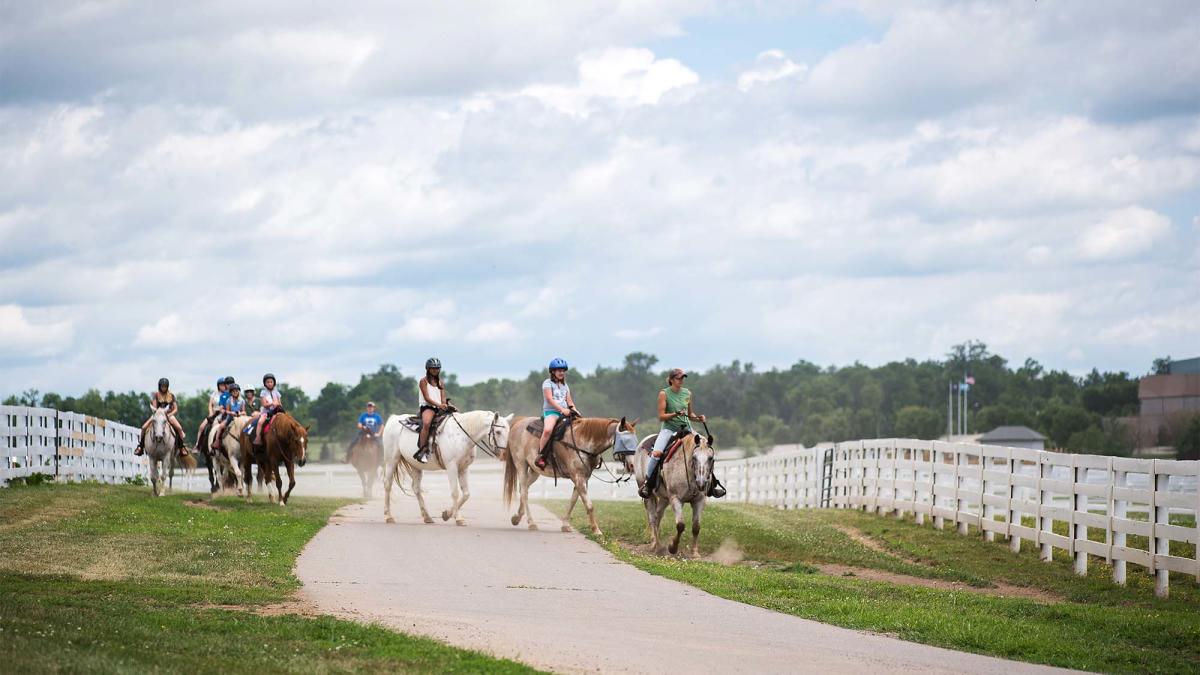 PARKS

Kentucky Horse Park
One of the best parks in Lexington is the Kentucky Horse Park. Meet Thoroughbred legends at the Hall of Champions or see interesting breeds at the Parade of Breeds Show. You can even ride a horse here. There's plenty to do, no matter your age or knowledge of horses.

The Arboretum State Botanical Garden of Kentucky
The Arboretum serves as a place to meet, walk, run and enjoy the serenity of the nature that surrounds you. The 2.5-mile loop trail is completely paved and spans across a 100-acre premier botanical garden. 

Jacobson Park
A trip to Jacobson Park could include taking your pup to the dog park, trying your luck at fishing or playing a round of golf. Head to the Jacobson Park Marina and rent a pedal-boat for the day, or to the Lakeside Golf Course to perfect your swing. With 216 acres to roam, how you spend your time at Jacobson Park is up to you!
Take a hike within the Lexington city limits and see where Lexington was founded. In May of 1775, a group of early explorers camping by the springs got word that the first battle of the American Revolution had been fought in Lexington, Massachusetts. They named their encampment "Lexington" in honor of the battle. Now a nature preserve with walking trails, there's barely a hint of the neighboring urban landscape once you get into the park.

Downtown Parks
If you walk through our vibrant downtown, you'll notice we have some beautiful parks sprinkled throughout. Triangle Park is in the middle of it all, right next to the legendary Rupp Arena. A few blocks away, you'll find the historic Gratz Park tucked into the cityscape and surrounded by 16 historic buildings. And be sure to pay your respects to some of the greatest figures in the Thoroughbred industry at Thoroughbred Park.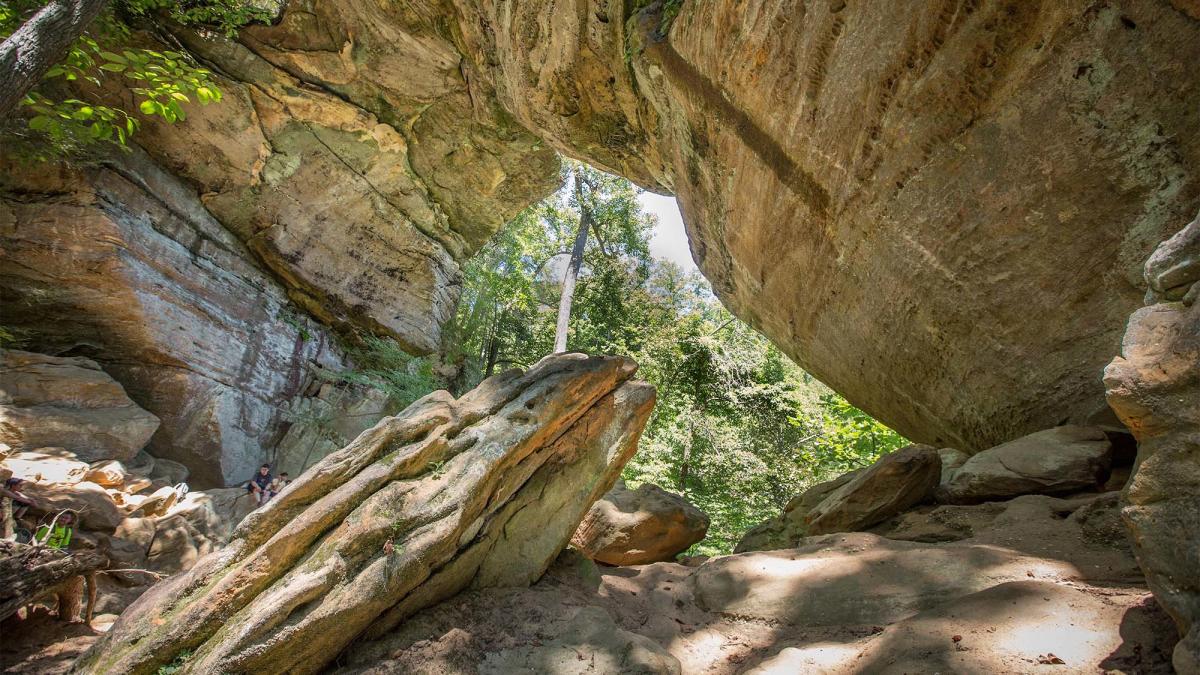 TRAILS

Raven Run
Right in Fayette County you can explore Raven Run, a massive nature sanctuary and trail system. It's the perfect spot to hike, observe the wildlife, overlook the Kentucky River and connect with nature. You'll find ten miles of trails that wind through meadows, woodlands and streams, showcasing the beautiful features of the Bluegrass.

Legacy Trail
The 12-mile Legacy Trail is best described as a trail for anyone, anywhere. The wide paved path, most popular for running and cycling, connects the downtown area with multiple neighborhoods and even the Kentucky Horse Park.

Red River Gorge
The hundreds of trails, hikes and climbs at The Gorge are unlike any you'll come across anywhere else in the world. Explore the area and you'll find steep cliffs, deep gorges, lush greenery and abundant wildlife. It's truly a must-see if you're in the region.
 
Tom Dorman State Nature Preserve
Enjoy the beauty of the Palisades at Tom Dorman State Nature Preserve south of Lexington. Set on over 900 pristine acres, the preserve is one of the largest protected areas in the Kentucky River Palisades region. Surrounded by the tall limestone palisades, you can hike two different trails – both moderately rated and under 3 miles each!

The Pinnacles -  Berea College Forest
A quick drive from Lexington, Berea is also a scenic and quiet place for a day hike at the Pinnacles, where the Appalachian Mountains meet the Bluegrass. With eight miles of trails of varying lengths, enjoy a day overlooking the city and valley that surrounds it.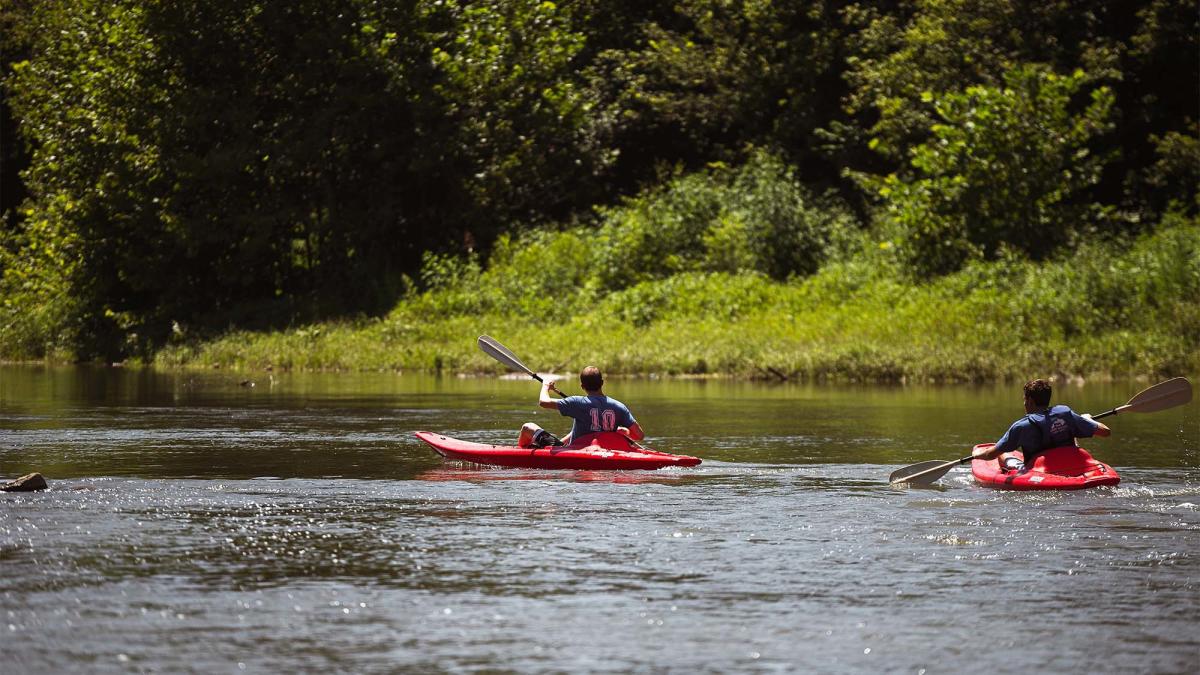 ADVENTURES

Canoe Kentucky
Between Elkhorn Creek and the Kentucky River there's a multitude of ways to have fun on the water. Rent a canoe, kayak or raft at Canoe Kentucky. You can even take a bourbon boat tour to learn about the Kentucky River's pivotal role in the bourbon industry.

Boone Creek Outdoors
If you need an adrenaline rush, Boone Creek is your go-to. Experience a world-class zipline canopy tour as you soar from one platform to the next. You'll see old growth hardwoods, rare palisades and beautiful wildlife. Breathtaking views are a guarantee.

Kentucky By Paddle
You deserve a fun day on the water. Rent an inflatable stand-up paddleboard for a day, weekend or more. Explore Kentucky's many miles of water ways – from the Kentucky River, Elkhorn Creek, and more!
CYCLING

Here in Lexington, we're lucky to be surrounded by some of the prettiest countryside anywhere. And while there's plenty of ways to explore and enjoy it (by car, on foot, and, of course, on horseback) it's hard to beat a bike ride. Whether you want to cycle through town or get out in the country, Lexington has plenty of options for exploring on two wheels.
Bike the Back Roads
Good cycling routes are found in all directions--whether you want to go five miles or 50, take an easy ride or really put yourself through your paces, there's a route for you. To get recommendations for the best routes, just ask an area bike shop!

Rent a Bike
Want to hit the Legacy Trail but don't have your bike with you? Rent one for a full or half day at the Marriott Griffin Gate Resort Golf Shop or Embassy Suites Cold Stream. From both hotels, you have easy access to the Legacy Trail.
FISHING & BOATING

With more inland waterways than any state except Alaska, Kentucky is a fishing and boating paradise. Before casting, make sure you get a fishing license if you're 16 or over. Licenses are available at local convenience stores and at many sporting goods and bait stores, or you can do it online: www.fw.ky.gov.

Jacobson Park
You don't even have to leave Lexington to fish. The 47-acre lake at Jacobson Park, 4001 Athens-Boonesboro Rd., is open year-round. The lake is also a popular spot for sailing, and pedal-boat rentals are available spring through fall.

Elkhorn Creek
Elkhorn Creek isn't just fun for canoeing and kayaking--it's one of the best smallmouth bass streams in the South. (It's also popular with largemouth bass and rock bass.) Head to Scott County for a few good fishing spots with boat ramps along the Elkhorn.
Herrington Lake
Located off KY 152 between Harrodsburg and Danville, this was Kentucky's first major man-made lake. About 3,600 acres and 35 miles long, it was built in the 1920s to generate hydroelectric power. Today, it's a popular fishing spot, known for largemouth bass, crappie, bluegill, hybrid striped bass and white bass. Rent a boat or buy camping and fishing supplies at one of the marinas around the lake.

Kentucky River
Many sections of the Kentucky River between Boonesboro and Frankfort are popular for fishing and boating. The closest Kentucky River boat ramp to Lexington is at Clays Ferry, Exit 99 off I-75, south of Lexington.
 
HORSEBACK RIDING
Naturally, the Horse Capital of the World is a great place saddle up. Here's a few of our favorite ways to see the world from horseback.
Kentucky Horse Park
Take a trail rides at the Kentucky Horse Park from mid-March through the end of October for both adults and kids!

Hisle Farm Park
Bringing your own horse? This Lexington park features equestrian trails. Hisle Farm was deeded to Lexington in 1989 to become a park space. Two trails are open to hikers and horseback riders. It also has an archery course.
Big Red Riding Stables
Located in Harrodsburg, this private stable offers guided trail rides through 210 scenic acres of Bluegrass countryside.
Deer Run Stables
Located in Madison County, south of Lexington, this stable offers guided trail rides as well as pony rides for kiddos ages 2 through 7.

Whispering Woods
This unique riding adventure can include trail rides and pony rides. All experience levels can be accommodated. You can also bring your own horse.