Lexington is famous for its rolling hills and beautiful horse farms. But when you look a little closer at this region, you'll see parks and trails, cliffs and arches, rivers and streams, and a whole lot of adventure. Lexingtonians have a true love affair with the great outdoors, so we're here to show you all of our favorite places to get outside and act natural.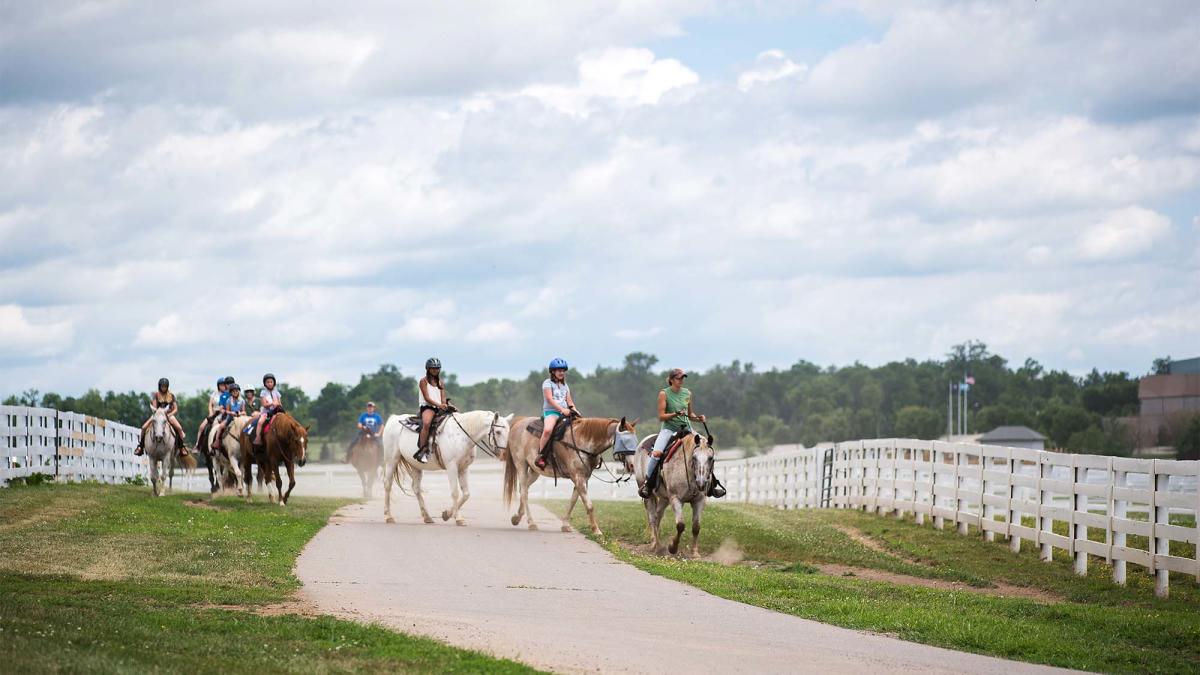 PARKS

Kentucky Horse Park
We take a lot of pride in being the Horse Capital of the World. Thoroughbreds go with Kentucky like bees go with honey, so it makes sense that one of the best parks in Lexington is the Kentucky Horse Park. Meet Thoroughbred legends at the Hall of Champions or see interesting breeds at the Parade of Breeds Show. There's plenty to do, no matter your age or knowledge of horses.

The Arboretum State Botanical Garden of Kentucky
The Arboretum serves as a place to meet, walk, run and enjoy the serenity of the nature that surrounds you. The 2.5-mile loop trail is completely paved and spans across a 100-acre premier botanical garden. It's an outdoor classroom and an urban sanctuary ready to be explored.

Jacobson Park
A trip to Jacobson Park could include taking your pup to the dog park, trying your luck at fishing or playing a round of golf. Head to the Jacobson Park Marina and rent a pedal-boat for the day, or to the Lakeside Golf Course to perfect your swing. With 216 acres to roam, how you spend your time at Jacobson Park is up to you!

Masterson Station
Masterson Station is the perfect place to explore. A grass trail takes you off the pavement, alongside a stream and past equine cross country obstacles. In the warmer months, you can even take horseback riding lessons here. Masterson also features a sprawling dog park that gives your furry friend the chance to (safely) run free.

Downtown Parks
If you walk through our vibrant downtown, you'll notice we have some beautiful parks sprinkled throughout. Triangle Park is in the middle of it all, right next to the legendary Rupp Arena. A few blocks away, you'll find the historic Gratz Park tucked into the cityscape and surrounded by 16 historic buildings. And be sure to pay your respects to some of the greatest figures in the Thoroughbred industry at Thoroughbred Park.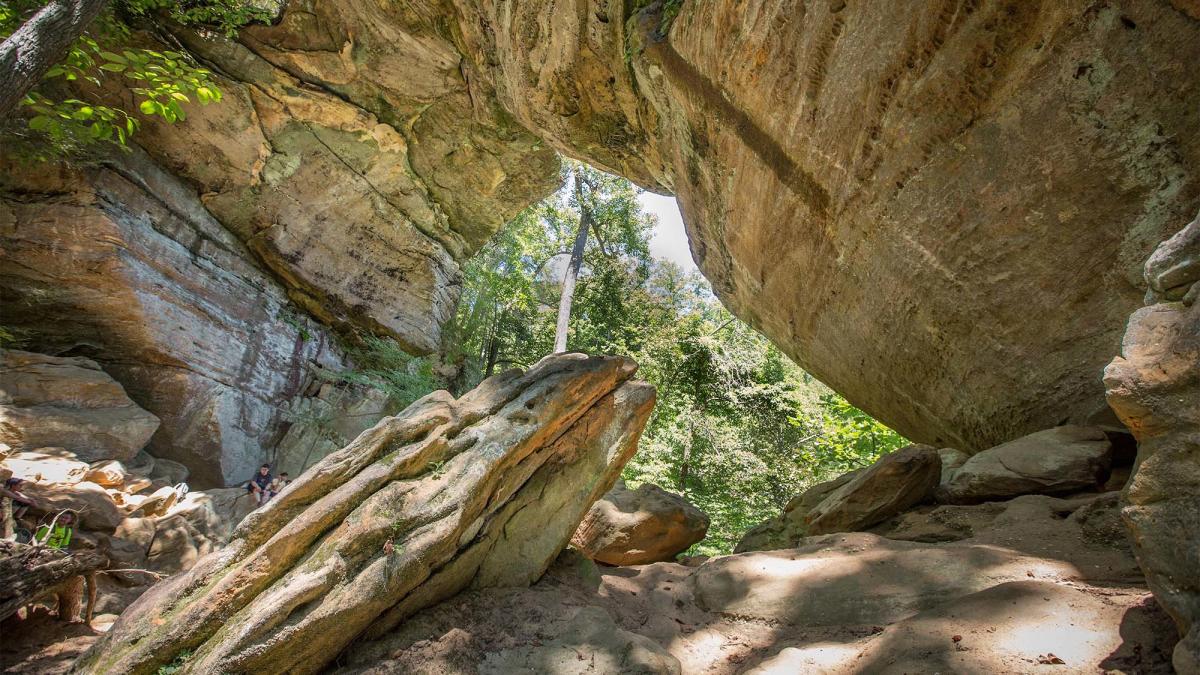 TRAILS

Raven Run
Just outside of Lexington you can explore Raven Run, a massive nature sanctuary and trail system. It's the perfect spot to hike, observe the wildlife, overlook the Kentucky River and connect with nature. You'll find ten miles of trails that wind through meadows, woodlands and streams, showcasing the beautiful features of the Bluegrass. And make sure to keep your eye out for historic remnants of early settlers that can be found throughout the park.

Veterans Park
Take your bike out for a spin at Veterans Park and blaze through unique trail system tailored specifically for mountain biking. Whether you're a beginner or experienced biker, there's a trail-loop for you to explore.

Legacy Trail
The 12-mile Legacy Trail is best described as a trail for anyone, anywhere. The wide paved path, most popular for running and cycling, connects the downtown area with multiple neighborhoods and even the Kentucky Horse Park.

The Red River Gorge
If you're looking at a Kentucky trail list and the Red River Gorge isn't on it, you should probably find a new guide (like this one!). The hundreds of trails, hikes and climbs at The Gorge are unlike any you'll come across anywhere else in the world. Explore the area and you'll find steep cliffs, deep gorges, lush greenery and abundant wildlife. It's truly a must-see if you're in the region.
 
Jim Beam Nature Preserve
Enjoy the beauty of the Palisades at Jim Beam Nature Preserve, off US 27 in Jessamine County, south of Lexington. Set on 115 pristine acres, the preserve includes a 1-mile loop trail, Jacob Beam's Path. In summer, you might catch a glimpse of two endangered bat species, the gray bat and the Indiana bat, that call the caves of the Palisades area home.

Buckley Wildlife Sanctuary
Bordered by a Kentucky River gorge in Woodford County, this preserve includes loop trails ranging from 0.25 to 2.5 miles long. The sanctuary is located on Germany Rd., 6 miles off US 60 West between Versailles and Frankfort. (859) 873-3271.

Berea College Forest
Off Ky. 21, three miles east of Berea in Madison County, this is the location of the Kentucky Guild of Artists and Craftsmen's craft fair. But it's also a scenic and quiet place for a day hike, with eight miles of trails of varying lengths. (800) 598-5263.

Quiet Trails Nature Preserve
Located off Pugh's Ferry Rd. in Harrison County, this 170-acre preserve includes about thee miles of walking trails. Two trails lead to the riffle area of the main Licking River, where you'll see more than 20 species of freshwater mussels, over 100 different species of native trees and 130 species of birds. Take US 27 ten miles north of Cynthiana. Turn right onto 1284 to Sunrise. The nature preserve is 1 1/2 miles on the right at 1755 Pugh's Ferry Road. (502) 573-2886.

Shaker Village
Wander the trails that cross the 3,000 acres of this incredible nature preserve, or sign up for daily adventures like paddle boarding, canoeing, and outdoor yoga. Head out Harrodsburg Road from Lexington. It's about a 45 minute drive. (859) 734-5411.
 
McConnell Springs
Take a hike within the Lexington city limits--and see where Lexington was founded. In May of 1775, a group of early explorers camping by the springs got word that the first battle of the American Revolution had been fought in Lexington, Massachusetts. They named their encampment "Lexington" in honor of the battle. Now a nature preserve with walking trails, there's barely a hint of the neighboring urban landscape once you get into the park. McConnell Springs is open seven days a week, year-round. (859) 225-4073.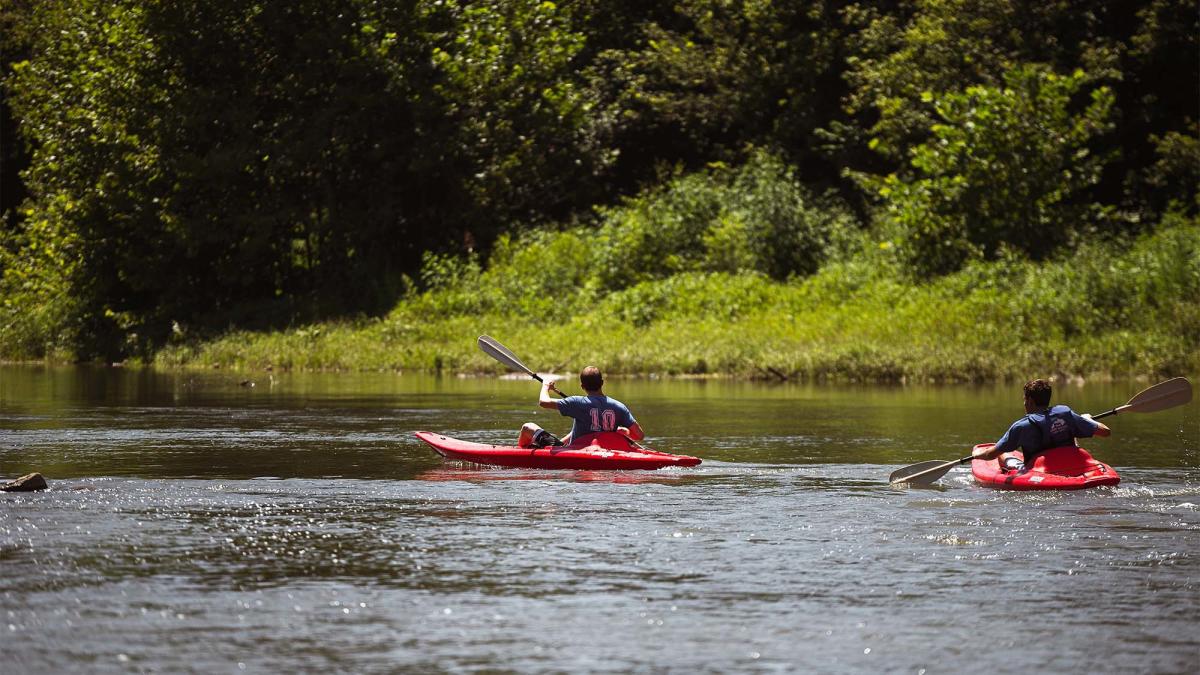 ADVENTURES

Canoe Kentucky
Between Elkhorn Creek and the Kentucky River there's a multitude of ways to have fun on the water. Rent a canoe, kayak or raft at Canoe Kentucky. You can even take a bourbon boat tour to learn about the Kentucky River's pivotal role in the bourbon industry.

Boone Creek Outdoors
If you need an adrenaline rush, Boone Creek is your go-to. Experience a world-class zipline canopy tour as you soar from one platform to the next. You'll see old growth hardwoods, rare palisades and beautiful wildlife. Breathtaking views are a guarantee.

Three Trees Canoe-Kayak Rental
Head out on the Kentucky River and get a great view of the massive limestone Palisades from this location in Winchester, just a mile from Boonesboro State Park. This area is great for beginners and experienced paddlers alike. 

Shaker Village of Pleasant Hill
It's not just for hiking. One of the area's most intriguing attractions, Shaker Village was once home to the third largest Shaker population in the United States between 1805 and 1910. Try seasonal Kentucky dishes at The Trustees' Table, stay a night at The Inn or simply explore the beautiful, perfectly preserved grounds for a glimpse into a simpler life. A trip to Shaker Village is one you'll remember.
CYCLING

Here in Lexington, we're lucky to be surrounded by some of the prettiest countryside anywhere. And while there's plenty of ways to explore and enjoy it (by car, on foot, and, of course, on horseback) it's hard to beat a bike ride. Whether you want to cycle through town or get out in the country, Lexington has plenty of options for exploring on two wheels.
Bike the Back Roads
Good cycling routes are found in all directions--whether you want to go five miles or 50, take an easy ride or really put yourself through your paces, there's a route for you. To get recommendations for the best routes, just ask an area bike shop: Bicycle Face, 331 East Short St. (859) 888-2453; Pedal Power, 401 S. Upper St. (859) 255-6408; Broomwagon, 800 North Limestone (859) 554-6938;or Scheller's at 1987 Harrodsburg Rd. (859) 276-1071.

Rent a Bike
Want to hit the Legacy Trail but don't have your bike with you? Rent one for a full or half day at the Marriott Griffin Gate Resort Golf Shop. From the Marriott, you have easy access to the Legacy Trail. Call (859) 288-6193. Bikes are due back by 6:00 p.m.
 
Organized Rides
Join your fellow cyclists at one of the many organized rides held in Central Kentucky throughout the year. The Bluegrass Cycling Club's Horsey Hundred, held every Memorial Day weekend, attracts about 2,000 bicyclists. There's a Red River Rally in the Red River Gorge in early October. Shorter excursions are scheduled throughout the year. For information on special cycling events through the Bluegrass Cycling Club, visit www.bgcycling.net.
FISHING & BOATING

With more inland waterways than any state except Alaska, Kentucky is a fishing and boating paradise. Before casting, make sure you get a fishing license if you're 16 or over. Licenses are available at local convenience stores and at many sporting goods and bait stores, or you can do it online: www.fw.ky.gov.

Jacobson Park
You don't even have to leave Lexington to fish. The 47-acre lake at Jacobson Park, 4001 Athens-Boonesboro Rd., is open year-round. The lake is also a popular spot for sailing, and pedal-boat rentals are available spring through fall.

Elkhorn Creek
Elkhorn Creek isn't just fun for canoeing and kayaking--it's one of the best smallmouth bass streams in the South. (It's also popular with largemouth bass and rock bass.) Head to Scott County for a few good fishing spots with boat ramps along the Elkhorn: Oser Landing Park, US 460, east of downtown Georgetown; Cardome Landing, US 25, north of downtown Georgetown, and Great Crossing Park, US 227, northwest of Georgetown.
Herrington Lake
Located off KY 152 between Harrodsburg and Danville, this was Kentucky's first major man-made lake. About 3,600 acres and 35 miles long, it was built in the 1920s to generate hydroelectric power. Today, it's a popular fishing spot, known for largemouth bass, crappie, bluegill, hybrid striped bass and white bass. Rent a boat or buy camping and fishing supplies at one of the marinas around the lake, including Royalties Fishing Camp, 940 Norman's Camp Rd. (859-748-5459) and Chimney Rock Marina, off Ky. 152 (859-748-7625). For more information, call the Harrodsburg/Mercer County Tourist Commission at (859) 734-2364 or (800) 355-9192.

Kentucky River
Many sections of the Kentucky River between Boonesboro and Frankfort are popular for fishing and boating. The closest Kentucky River boat ramp to Lexington is at Clays Ferry, Exit 99 off I-75, south of Lexington.
Laurel River Lake
Some of the best trout fishing in the state is found at the 6,000-acre Laurel River Lake, near London, about 75 miles south of Lexington. This scenic lake, surrounded by the steep bluffs of the Daniel Boone National Forest, is popular for fishing and houseboating.
Cave Run Lake
This 8,270-acre lake, located 65 miles east of Lexington near Morehead, is surrounded by the northernmost part of Daniel Boone National Forest, and is especially popular for sailing and trophy muskie fishing.
 
HORSEBACK RIDING
Naturally, the Horse Capital of the World is a great place saddle up. Here's a few of our favorite ways to see the world from horseback.
Kentucky Horse Park
Take a trail rides at the Kentucky Horse Park (859-233-4303 or 800-678-8813) from mid-March through the end of October.

Big Red Riding Stables
Located in Harrodsburg, this private stable offers guided trail rides through 210 scenic acres of Bluegrass countryside. It's located at 1605 Jackson Pike, off US 127, about five miles north of Harrodsburg. (859) 734-3118.
Deer Run Stables
Located in Madison County, south of Lexington, this stable offers guided trail rides as well as pony rides for kiddos ages 2 through 7. 2001 River Circle Dr., Richmond, KY 40475. Take I-75 South to exit 97, turn left and follow the signs. (859) 227-7636.

Whispering Woods
This unique riding adventure can include trail rides and pony rides. All experience levels can be accommodated. You can also bring your own horse. 265 Wright Lane, Georgetown, KY 40324. (502) 570-9663.
Sunburst Horsemanship School
Experienced riders may want more than a trail ride. Enjoy jumping or dressage? Make an appointment at Sunburst Horsemanship School, 30 minutes from downtown Lexington at 1129 Durham Lane in Nicholasville. (859) 224-8480. If you have little ones in your life who want an introduction to horses, this is also a great place for it--they'll get to pet and feed a horse and take a short ride.
Bicknell Racing Stables
Enjoy a trail ride around the farm, take a lesson, or get a thorough introduction to Thoroughbred racing. They are located in Lexington on scenic Paris Pike. (615) 418-9825.
Kenridge Farm
If you have your own horse, you can enjoy the beautiful trails at Kenridge Farm, outside of Paris. Call at least a week in advance. (859) 321-7783.
The Life Adventure Center of the Bluegrass
This is another option for horse lovers. Their Equine Center in Versailles has an outdoor and indoor arena for riding lessons in all types of weather, and their well-trained school horses are great for a variety of skill levels, from beginner through advanced. Their trails are also open to people who want to bring their own horse. (859) 873-3271.
Hisle Farm Park
Bringing your own horse? Lexington's newest park features equestrian trails. Hisle Farm was deeded to Lexington in 1989 to become a park space. Development of the property is ongoing, but two trails are open to hikers and horseback riders. Hisle Park is five miles northeast of downtown at 3551 Briar Hill Road. (859) 288-2900.

Shaker Village of Pleasant Hill
Another great place to explore with your own horse is Shaker Village, 3501 Lexington Rd, Harrodsburg, (800) 734-5611. Enjoy 33 miles of shared-use trails meandering through beautiful rolling hills.


CAMPING
Whether you like to rough it in a tent or prefer a well-equipped place to park your RV or trailer, you'll find plenty of great camping areas in the Bluegrass.
Kentucky Horse Park Campground
Just four miles from downtown, enjoy a horse-farm setting and lots of amenities at the Kentucky Horse Park Campground, 4089 Iron Works Pike (take exit 120 off I-75). The campground is open year-round, with 260 sites open spring through fall and 130 sites open November 1 through April 1. Water and electrical hookups are available. An outdoor swimming pool with two bathhouses, volleyball court, tennis courts and basketball courts are a few of the amenities. For reservations, call (888) 459-7275.
Here are some other campgrounds in the Bluegrass region--some operate seasonally, so call ahead.
Berea
Oh! Kentucky Campground, KY 21 W off I-75 Exit 76. (859) 986-1150.
Walnut Meadow Campground, KY 21 W off I-75 Exit 76. (859) 986-6180.
 
Carlisle/Mount Olivet area
Blue Licks Battlefield State Resort Park, US 68. (859) 289-5507.
 
Danville/Harrodsburg area
Chimney Rock RV Park & Campground, Chimney Rock Road off KY 152 on Herrington Lake near Burgin. (859) 748-5252.
Cummins Ferry Resort and Campground. KY 1988 near Harrodsburg. (859) 865-2003.
Gwinn Island, KY 33 N on Herrington Lake. (859) 236-4286.
Pioneer Playhouse, 840 Stanford Rd. near Danville. (859) 236-2747.
 
Frankfort
Elkhorn Campground, 165 N. Scruggs Lane, off US 460. (502) 695-9154.
Kentucky River Campground, off US 127 N at 1489 Steele Branch Rd. (502) 227-2465.
Still Waters Campground, US 127 N. (502) 223-8896.
 
Lawrenceburg
Beaver Lake Marina, off US 62 on State Road 749. (502) 839-4402.
 
Georgetown
Whispering Hill RV Park, just off I 75. (502) 863-2552.
 
Paris
Paris Landing Glamping Resort, 387 Chamber St. (859) 321-2293.
 
Richmond
Fort Boonesborough State Park, KY 627, near exit 95 off I-75 south. (859) 527-3454.
 
Winchester
Three Trees R.V. Park, on the Kentucky River near Ft. Boonesboro. 300 Athens-Boonesboro Rd. (859) 749-3227.