While there's no shortage of fantastic ways to start exploring the "Horse Capital of the World", why not start in the heart of Downtown Lexington? I love learning about a city's history and culture while sampling local food favorites along the way (paired with a tasty cocktail, of course-CHEERS!). With history, southern hospitality, and creative, dedicated chefs around every corner, Downtown Lexington is the perfect place for a walking food tour. If you can't join us on a Bites of the Bluegrass tour, don't worry…. I'm here to help!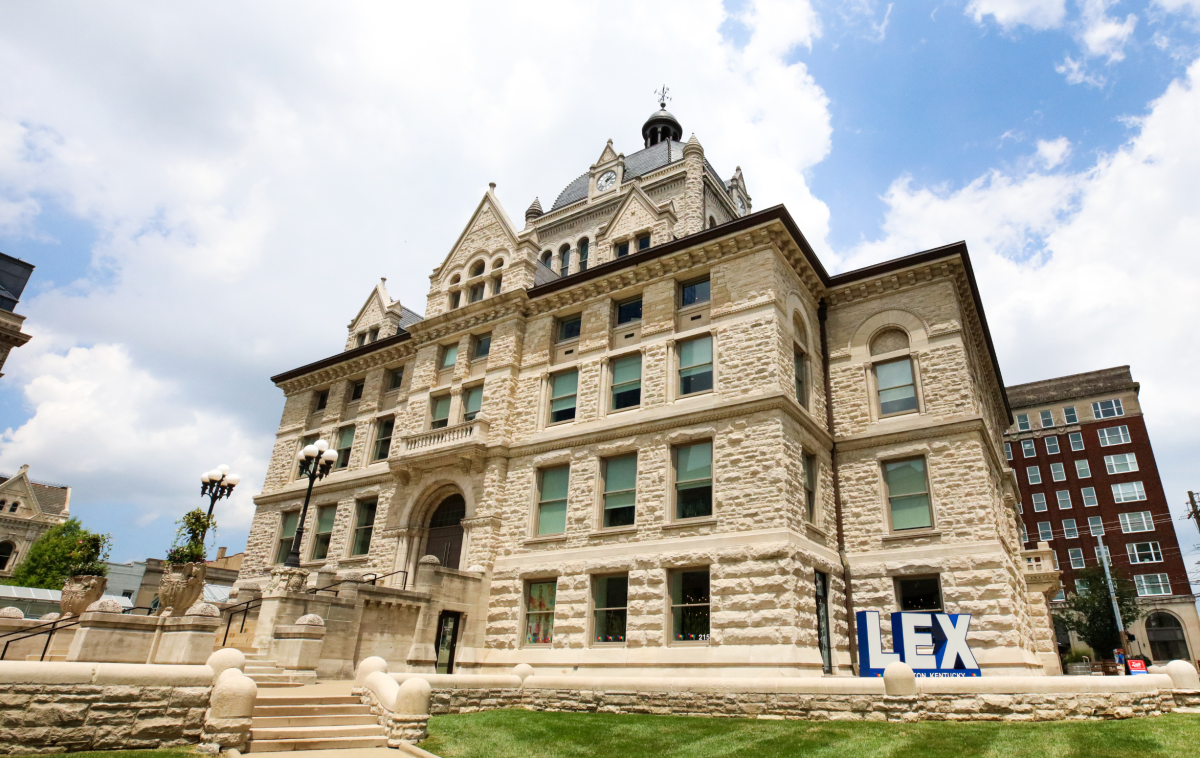 You're already doing something right just by being on this website! VisitLex makes it so easy to #sharethelex by housing a host of resources within the limestone exterior of the old courthouse. Constructed in 1898, this Richardsonian Romanesque beauty houses the Visitors Center, where you'll find maps to the Kentucky Bourbon Trail, the Brewgrass Trail, and even the Beer Cheese Trail (that's right…we have it all!). You'll find more horse, nature, and art attractions than you thought possible, and you'll also find that Lexington is a city that welcomes EVERYONE! Grab some information on downtown's street art, the African-American Heritage Trail, and the "Pride of Place" and "I Was Here" initiatives to help guide you through the visible histories on the streets of downtown. But first, get prepped with a tasty bite and cocktail at the perfect starting point without even having to step outside….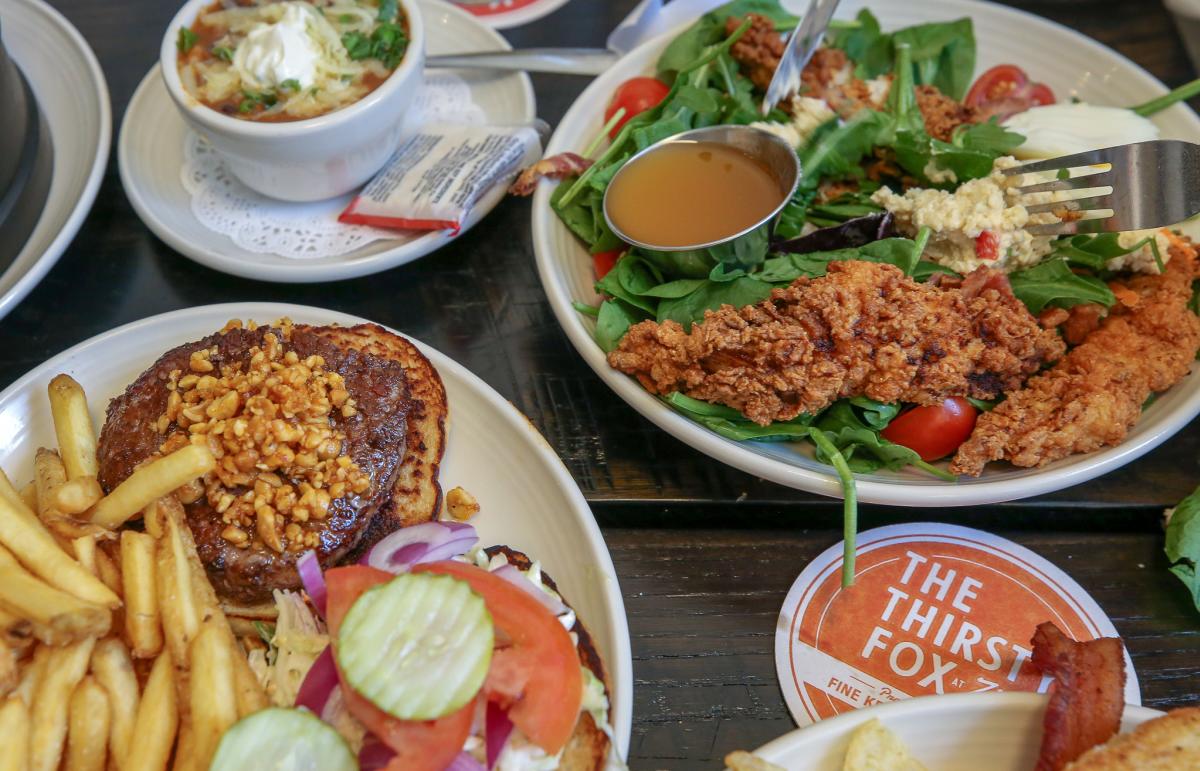 Under the same roof as the Visitors Center, you'll find one of eight restaurants by the award-winning first lady of farm-to-fork, Chef Ouita Michel. With a true dedication to Kentucky's farms and communities, Ouita has played a tremendous role in paving the way for Kentucky's explosive food scene.  I've never heard anyone speak of asparagus like the zeal you'll hear from Chef Ouita!  She truly sees the Kentucky farmer as a business partner and has been doing the whole farm-to-table thing way before it was cool.  Beyond all of the James Beard nominations, Ouita is a community builder and activist who uses food as a unifying vessel, so it's no surprise that her restaurant names all have intentional ties to the community. This one is named for Ouita's Great Grandpa Zim, who fed his family from his huge garden and found fun around every corner.    
Pro Tip: Order a cocktail at your table or head next door to The Thirsty Fox where you can try signature cocktails like "The Zim" or "Honeywood".
By the 1800's, Lexington was the largest and wealthiest town in Kentucky, earning it the nickname, "Athens of the West".  A very dark part of that history includes slave auction, which took place in this spot once called "Cheapside". Cheapside was the largest slave-trading locality in the state and one of the most well-known slave markets in the South. Today, this space has been renamed Tandy Centennial Park for Henry A. Tandy. Tandy was born enslaved in nearby Estill County, came to Lexington after the war, and became a skilled mason and successful businessman. Today, this space hosts the Farmer's Market, Thursday Night Live, and the Latin Festival.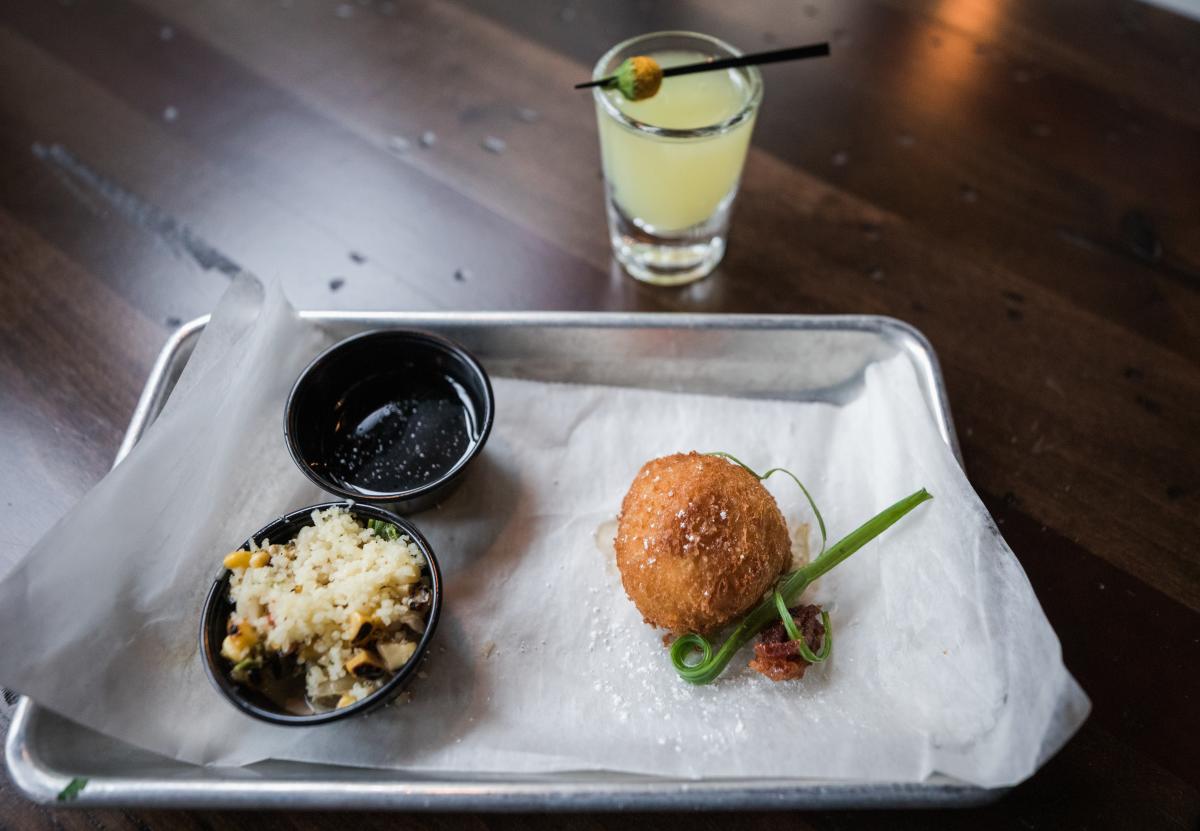 Agave & Rye is a vibrant taqueria housed within "The Square", a historic block of Victorian buildings dating back to the 1800's.  Owner, Yavonne Sarber, is the passionate restaurateur behind this modern take on the simple taco. Designed to create an epic experience from food to service, you'll find lobster, pizza, hotdog, and even kangaroo tacos. The vibrant atmosphere and overflowing tacos create more than enough Instagram-able moments that'll have your friends wishing they'd joined the trip…don't forget to get a picture in "The Britney Room".     
Pro Tip:  Don't overlook the bacon and macaroni beignets or the house-made tater tots on the Munchies Menu. Also, try the Bee Sting, a perfect rocks margarita complete with edible flower. I'll let you guess how the drink got its name.
Over the years, different buildings have stood on this block, but today Triangle Park serves as a spot for tranquility as busy main roads cross. It offers movies in the summer, an ice rink in the winter, and the perfect view for goings-on at Rupp Arena any time. It also serves as the first stop of the African American Heritage Trail, an interpretive sign program to learn about the people, places, and events that played a significant role in the advancement of equality. Here, you can read about the extraordinary life of RCO Benjamin before heading up to the South Hill District.
Tucked inside a charming South Hill home, you'll find a fresh sandwich eatery that lives by its motto: "Good Food. Great Friends. Easy Liv'n".  Owner, Bryan Henderson, lived and owned restaurants all over the U.S. before falling in love with Lexington.  Experienced in recognizing what customers want, he delivers high above the bar in southern hospitality and big, delicious sandwiches named for the cities that got him here.
Pro Tip:  Try "The Winchester", named for the city that invented beer cheese. Manager, Matty, makes his spicy blend in-house to spread atop a specially-made patty and bacon from the beloved local butcher shop, Critchfield Meat. Also grab a specialty house cocktail made with organic Tractor juice.
The Phoenix Hotel once stood at this marker for 180 years and was frequented by droves of important people and Presidents like Monroe, Jackson, Grant, and Kennedy. It originally opened in 1797 as Postelhwaite Tavern and became a famous saloon during the Civil War. Renamed in 1820, it was quickly noted as one of the most famous institutions of its time, hosting grand dances, political rallies, and the beginnings of many important organizations that are still around today.    
While standing in the park, you'll also see some other must-visit spots. Go inside the Central Public Library to see the world's tallest hanging pendulum clock or to sift through the Kentucky Room. Visit the Pam Miller Downtown Arts Center to get a map of art galleries and to ask if you're in town during a LexArts HOP event. On down, take a picture under the 100-year-old Kentucky Theatre marquee and stroll through the lobby of this Italian Renaissance gem. And, definitely, checkout Lexington's fabulous drag scene at The Bar Complex, designed by the same architect behind NYC's Studio 54 and opened in 1963 as the second openly gay bar in the nation.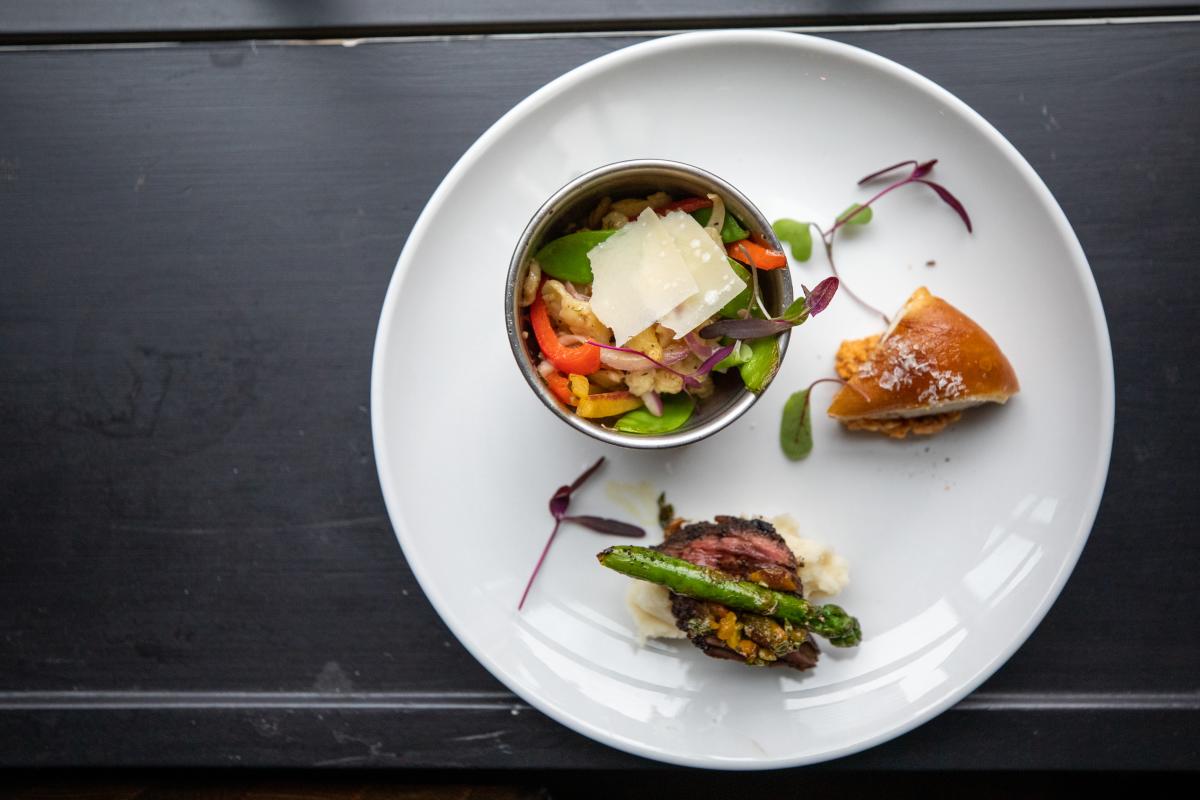 Dating back to the late 1700's, this historic white brick building is where you'll see the collaborative nature of Lexington's food scene. Salt & Vinegar and Ethereal Public House prove that excellent food and drinks don't have to be pretentious. Chef Greg Spaulding grew up in Lexington and worked his way from Domino's pizza as a teen, to the US Pizza Team, winning awards in Italy and Australia. After working under the tutelage of Lexington's great chefs, Chef Spaulding now has his own zero-waste, scratch kitchen where he blends Old World cuisine with modern science to create uniquely flavored dishes.
Pro Tip: Grab a flight from Ethereal's revolving taps and checkout the hidden bookcase door on the first floor.
This beautiful shop serves as an extension of Keeneland, Lexington's long-standing racetrack and the backdrop to nearly every great horse movie. Keeneland is an industry leader in horse sales and hosts world-class racing twice per year, but don't worry if you've missed race season!  Here, you can still get a truly unique shopping experience that captures Keeneland's transcendent equestrian culture.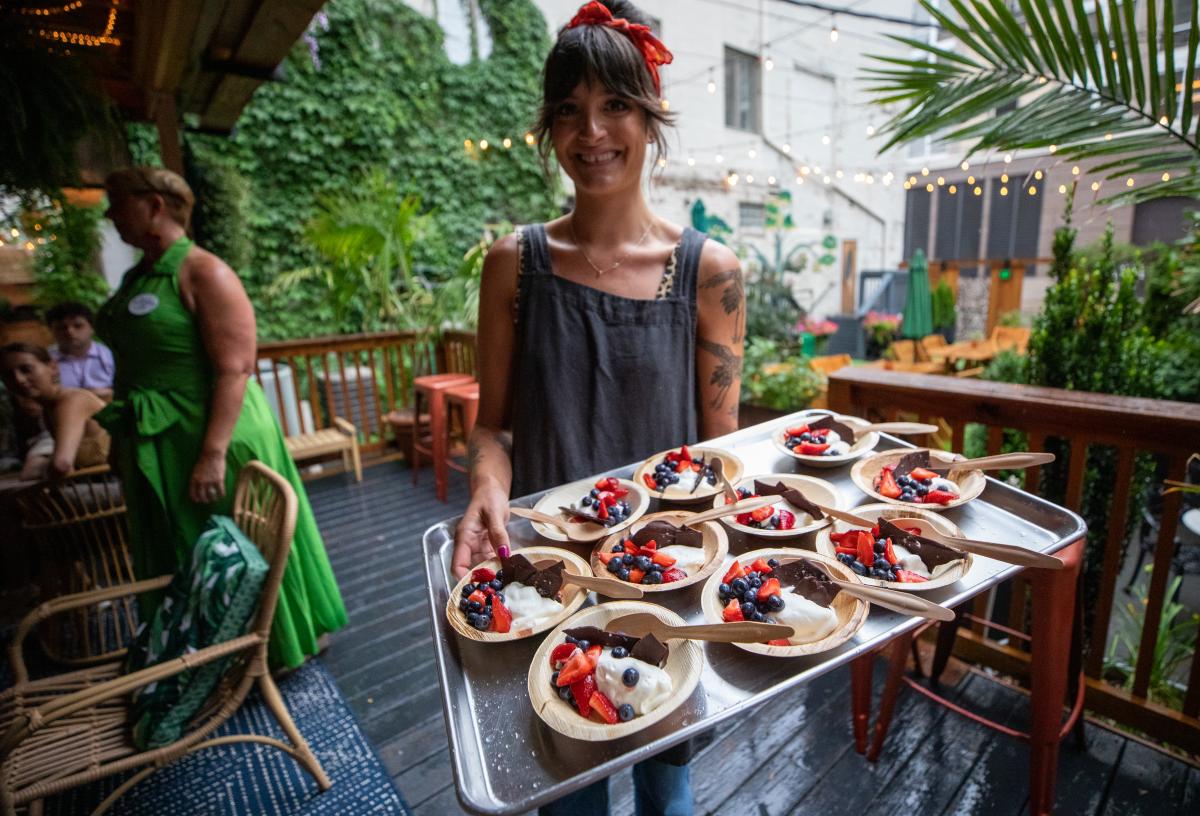 Step into this transformative urban garden to checkout another terrific collaboration in Downtown Lexington. Behind what was once the McAdams and Morford Building dating back to 1849, you'll find a space shared by Luna cutie food truck, Fable charcuterie, Nate's Coffee, The Melodeon event space, and Harvey's Bar. Relax in the shade of a citrus tree, enjoy a game of ping pong, or kick back in the cabana to peruse through your Visitors Center information and figure out what's next.
Pro Tip:  While in Harvey's Bar grabbing a drink, try to spot Kentucky-born "Hatchet Granny" on the wall.  Carrie Nation was a radical member of the temperance movement who attacked alcohol-serving establishments across the nation during the early 1900's.  Also, ask a friendly bartender what's scheduled at The Grove for the weekend.  You could find anything from a yoga class to a vintage clothing pop-up.
Good luck and come see us again in horse country!