Lexington has more than 30 street murals and counting. Learn a little about each and see if you can spot them all – from the hidden gems to the giant masterpieces.
Lexington has beautiful, imaginative and thought-provoking street art just about everywhere you look. From creative, whimsical doodles to sky-high commissioned works of art, street artists from all over the world are turning our entire city, piece-by-piece, into a vibrant art gallery.
While you're at it, take our Mural Challenge and see if you can find at least five of the below murals in town. Email your photos to biglex@visitlex.com with the subject line "Mural Challenge" and we'll send you a free poster to commemorate your challenge. Happy hunting!
Tulip Poplar
Lucy Hale | Broadway between Short and Main
Painted in October 2014, this colorful mural coats a stairwell inside the Lexington parking garage. Originally from Knott County, Hale is a graduate of the Pratt Institute in Brooklyn.
Moonshine *
How & Nosm | Short Street between Broadway and Mill
Only visible by foot, this whimsical yet industrial mural was painted by artists and twin brothers, How & Nosm. See if you can count the number of black spheres in the mural, or better yet, take a jump photo in front of it!
The Night Watchers *
Andrew Hem | The 100 block of West Short Street
Los Angeles artist, Andrew Hem, has been known to paint otherworldly beings like the ones seen in this mural, which was painted in 2014. See if you can spot a Hello Kitty cameo.
Daughter of Immigrants *
Jessica Sabogal | 167 West Main Street
Sabogal is a first-generation Columbian-American graffiti artist. Her art serves as a creative outlet of adoration for women with stories often untold, and Daughter of Immigrants does just that.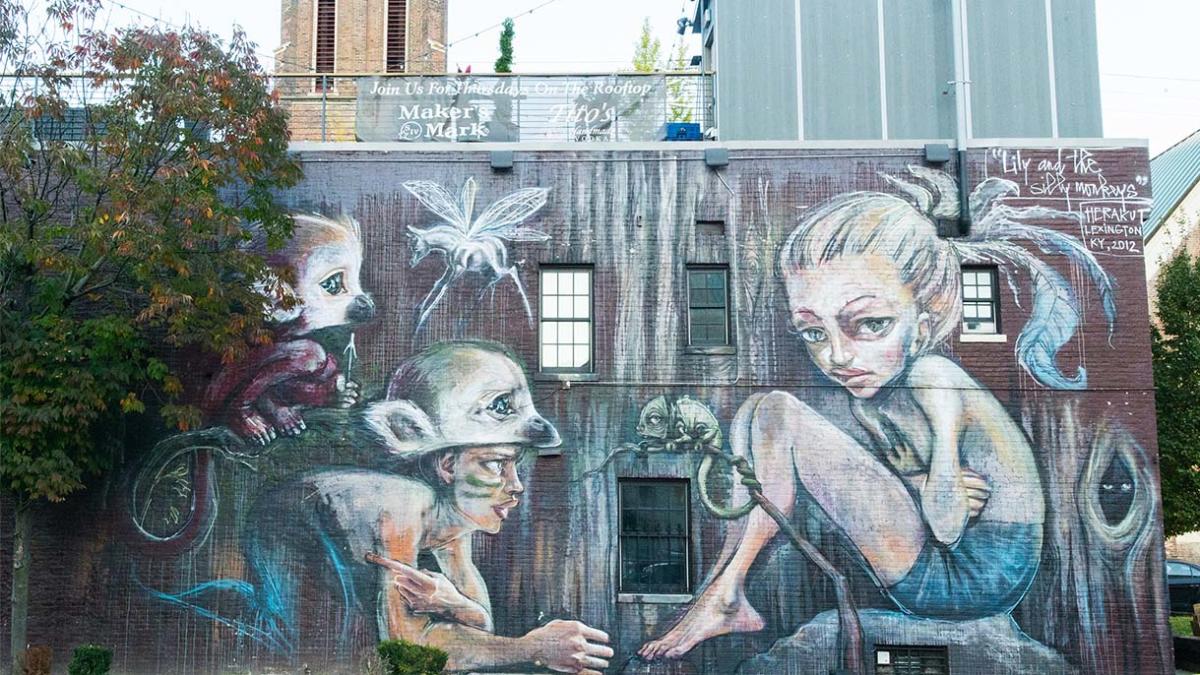 Lily and the Silly Monkeys *
Herakut | Belle's Cocktail House on Market Street
Part of a storybook series by Herakut, Lily and the Silly Monkeys was created in 2012. German artists Hera and Akut, joined forces under the name Herakut to erect murals around the world. Its sister mural, Where Dreams Come From, can be found on North Limestone.
Lincoln *
Eduardo Kobra | 200 block of Water Street
Standing 60 feet high on the back of the famous Kentucky Theater, this colorful kaleidoscope mural
is, as far as we know, the world's largest mural of Abraham Lincoln. It was painted by acclaimed Brazilian street artist Eduardo Kobra, whose other works can be found all over the world in cities like New York, Los Angeles and Moscow.
Mind, Body and Soul
Wasseem Touma | 200 block of Vine Street
Born in Sydney, Australia, artist Wasseem Touma lets his Arabic heritage shine in pieces like this 2011 mural, which can be found along the High Street side of the YMCA building.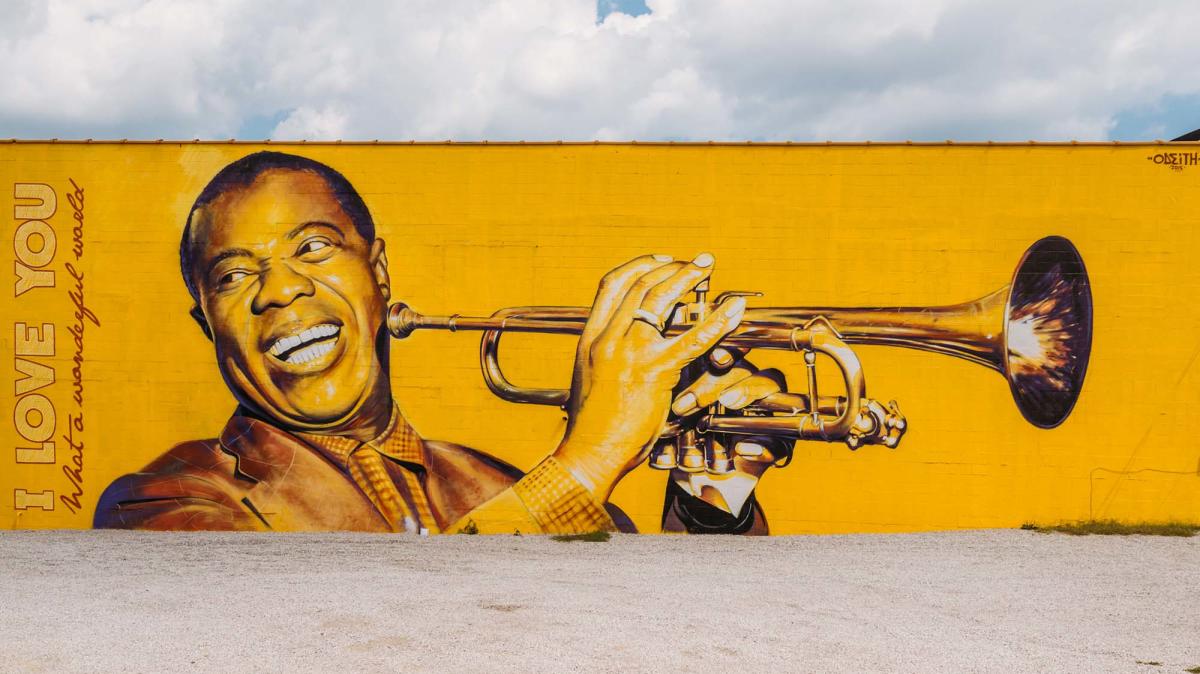 Louis Armstrong *
Odeith | Corner of Elm Tree Lane and Corral Streets
Celebrating the storied musical past of Lexington's east end, this 30 by 70-foot Louis Armstrong mural was painted by renowned graffiti artist Sérgio Odeith after his first Lexington mural was accidentally power-washed away.
Know Your History. Then Make History.
Sundiata Rashid | 300 block of Race Street
This mural was designed to tell the story of the neighborhood where it resides, and it even features some of the neighborhood's children. Rashid wanted to tie the past and present together by painting the past in black and white and the future in color.
Stockyard Commons
Dronex, Inc. | 200 block of Lisle Industry Road
This funky mural was created by Dronex, and features a colorful collage of cattle, chickens and pigs.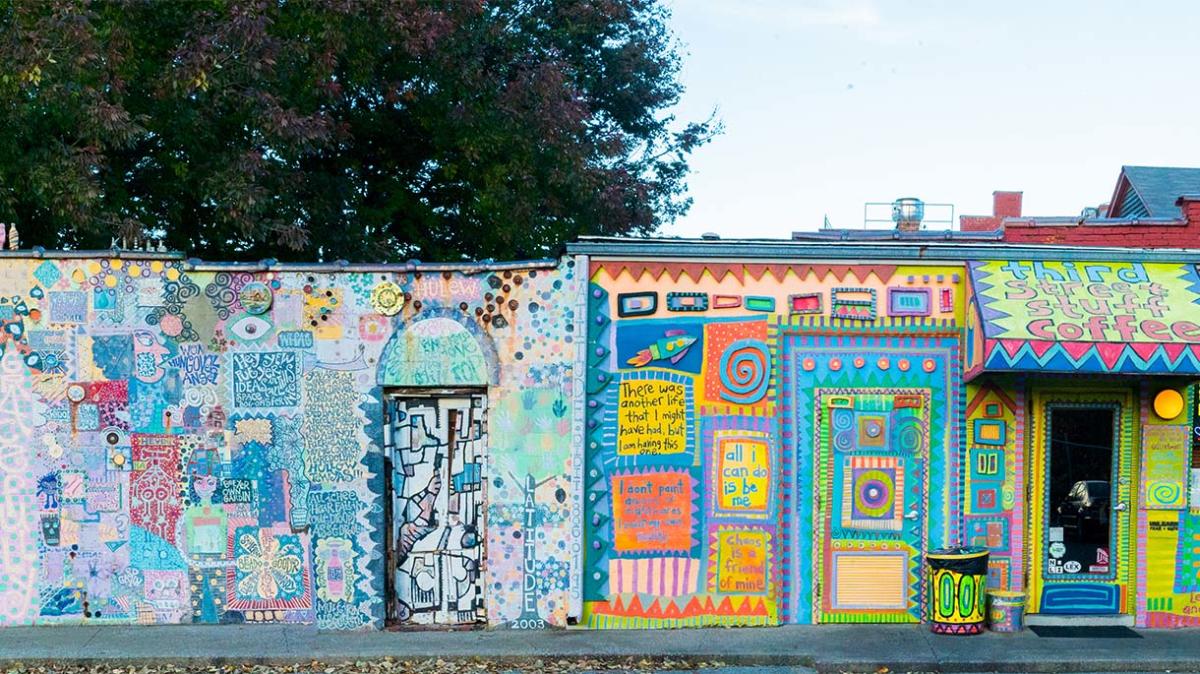 Wall Paintings on side of Third Street Stuff
Unknown | 257 North Limestone
As whimsical outside as it is inside, Third Street Stuff features colorful paintings along its exterior walls and often features everyday items turned into art.
Strange Characters
Unknown | 600 North Limestone
Little is known about these strange characters that can be found on the side of Progress Market, but the characters appear to be colorful cartoon versions of the statues at Easter Island.
Where Dreams Come From *
Herakut | 574 North Limestone
The sister mural to Lily and the Silly Monkeys, this piece was painted by two-person German street art team Herakut. This is another installation in their "Giant Storybook Series" that spans multiple continents.
Buffalogirl
BroCoLoco | 712 N Limestone
This mural was painted by BroCoLoco to coincide with the renaissance of the hip North Limestone area. It can be found on the side of the Vintage Creations on Lime shop.
A Tradition of Music on North Limestone
Michael Burrell | 601 N Limestone
Focusing on the history of blues music in the Limestone area, this celebratory mural is on
the facade of Al's Bar. It is one of two music-centric murals in Lexington, the other being Odeith's 'Louis Armstrong.'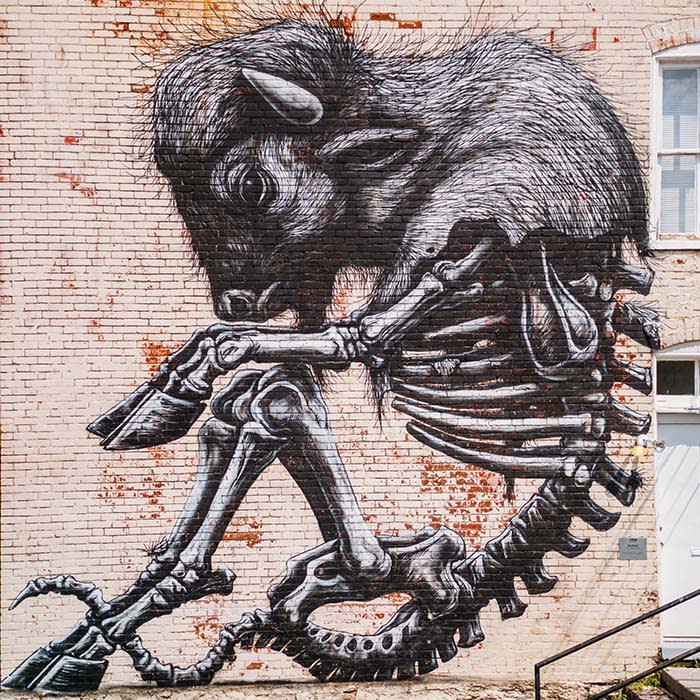 The Buffalo *
ROA | Off North Limestone on the 100 block of Luigart Ave
Belgium street artist ROA painted this mural. ROA is somewhat of an elusive artist who often plays with the concept of life and death in his paintings and has an affinity for including animals and rodents in his work.
Bus Barn Murals Lexington Transit Authority
Unknown | 100 block of West Loudon Ave
This collection of murals depicts the history of public transportation in Lexington.
Lexington History and Culture
Esteban Camacho Steffensen | Whitaker BankBall Park
Home to the Lexington Legends baseball team, the Whitaker Bank Ballpark features four different murals painted by this Portland artist. Each reflects the history of Lexington baseball and Lexington culture.
Einstein Mural on a garage
Unknown | 1110 block of Manchester Street
This mysterious mural is painted on a garage door near the Distillery District, and very little is known about its artist. It depicts a pensive-looking Albert Einstein.
I Am MO *
MTO | the Distillery District
Perhaps the most head-turning and controversial mural in Lexington is the 75 by 270 foot MTO mural on the side of the Pepper Distillery Warehouse near the Distillery District. MTO is known for painting giant murals of famous celebrities, but this particular character is not one.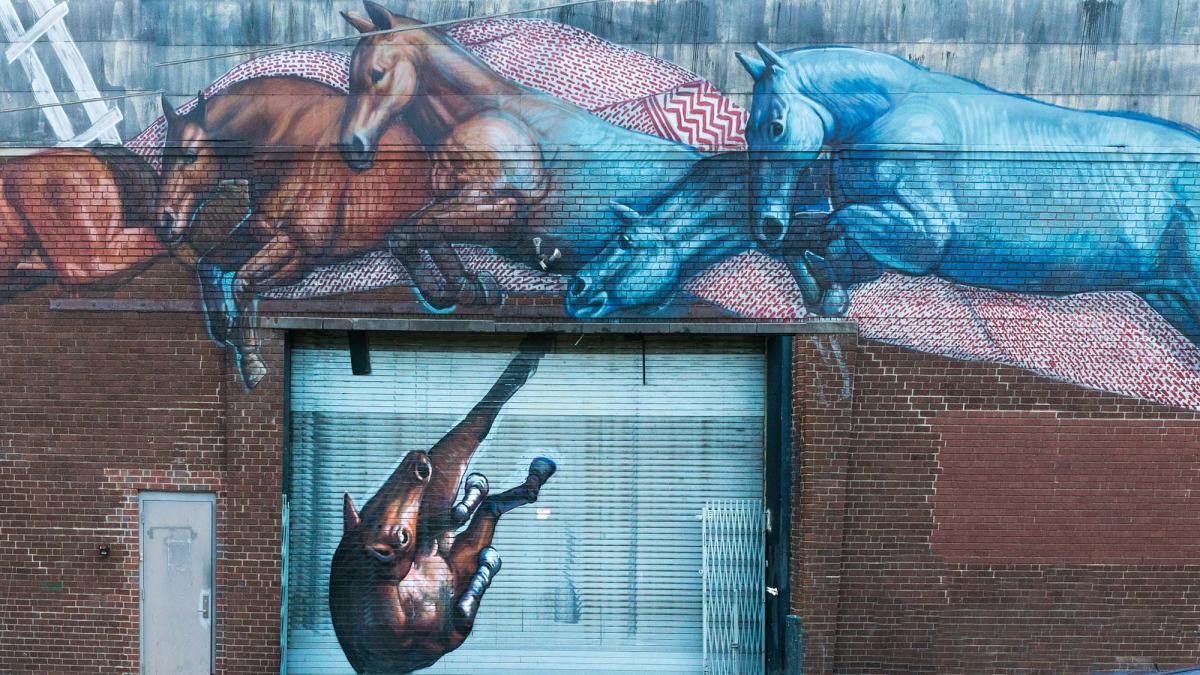 Horses Jumping *
Gaia | 600 block of Bellaire Ave in the "Bread Box"
This large mural features five Thoroughbred horses leaping off an empty equestrian pedestal as keffiyeh print from the United Emirates unfurls in the background. It can be found in front of West Sixth Brewery.
Harry Dean Stanton
Graham Allen & Geoff Murphy | 720 Bryan Ave
In honor of the late Kentucky-born actor, Harry Dean Stanton, artists Graham Allen and Geoff Murphy created a portrait mural that was unveiled during the Harry Dean Stanton Fest. The mural is displayed on the front of the Kentucky for Kentucky Fun Mall.
Old Style Advertising Wall Art
Unknown | 1808 Alysheba Way
Saul Good Restaurant commissioned an artist to paint this traditional wall advertising on the side of its restaurant. The mural features an Anita Madden quote.
The Market for Music
Michael Burrell | 500 block of Southland Drive
Lexington artist, Michael Burrell, painted this piece of the Southland Farmer's Market. This mural features a group of bluegrass musicians playing various instruments.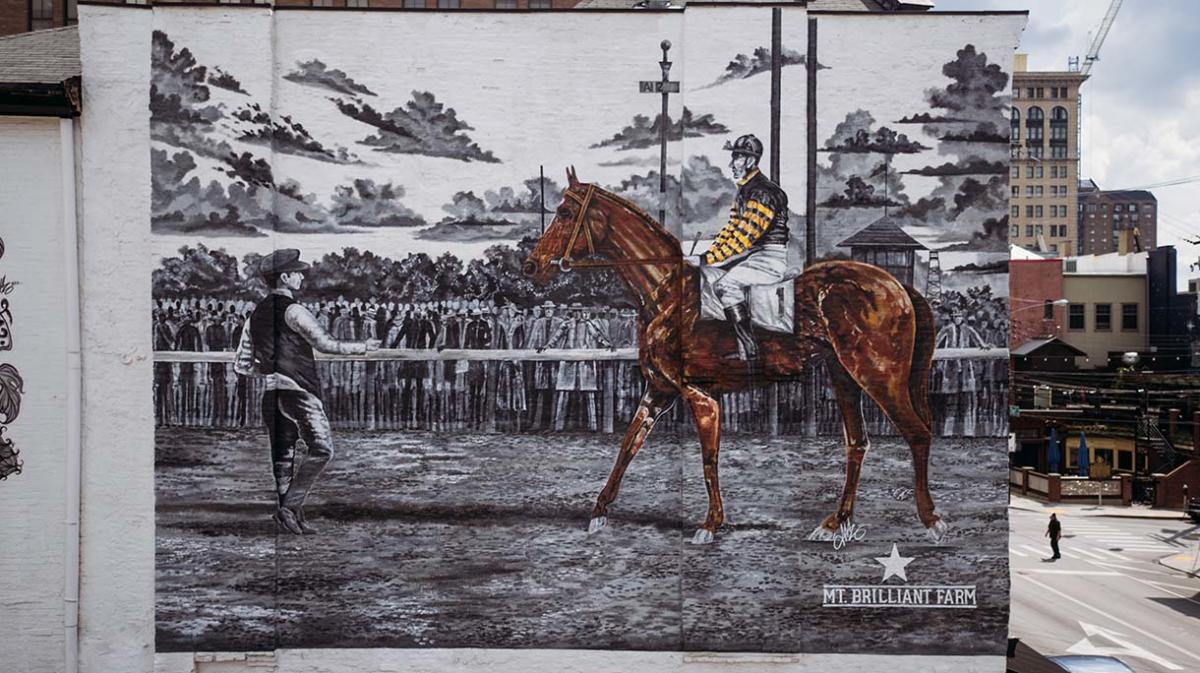 Man o' War
Agustin Zarate | 300 block of Short Street
Unveiled in 2017, this 30×30 mural was erected to commemorate the 100th birthday of the legendary Man o' War, one of the greatest racehorses of all time. The artist, Agustin Zarate, is a longtime Lexington resident and was selected by Mt. Brilliant for his authenticity in capturing Man o' War's greatness.
Untitled *
MrDheo & Pariz One | 266 Jefferson Street
Portugal artists MrDheo and Pariz One team up to bring this eccentric mural to the side of Jefferson Street's Chase Taproom. The mural is divided into several sections and features vintage oversized artwork in vibrant, eye-catching colors.
Mural-Poster-small.jpg
The Mural Challenge
Download a digital pdf of our mural brochure for all locations on a map, click here.
Find the locations on your device with Google Maps, click here.
*Because our street art scene is constantly evolving, some of our newest murals may not be reflected on the current edition of this brochure. For the most up-to-date list of murals, check out visitlex.com/mural-challenge.
*Murals with this symbol indicate artwork commissioned by PRHBTN. Learn more about their organization as well as upcoming exhibitions at prhbtn.com.