Lexington has beautiful, imaginative, and thought-provoking street art just about everywhere you look - with more than 50 street murals and counting. From creative, whimsical doodles to sky-high commissioned works of art, street artists from all over the world are turning our entire city, piece-by-piece, into a vibrant art gallery.
While you're at it, download the Lexington Mural Challenge Pass. Visit 6 murals and then pick up your screen-printed poster prize at the Lexington Visitors Center.
DOWNTOWN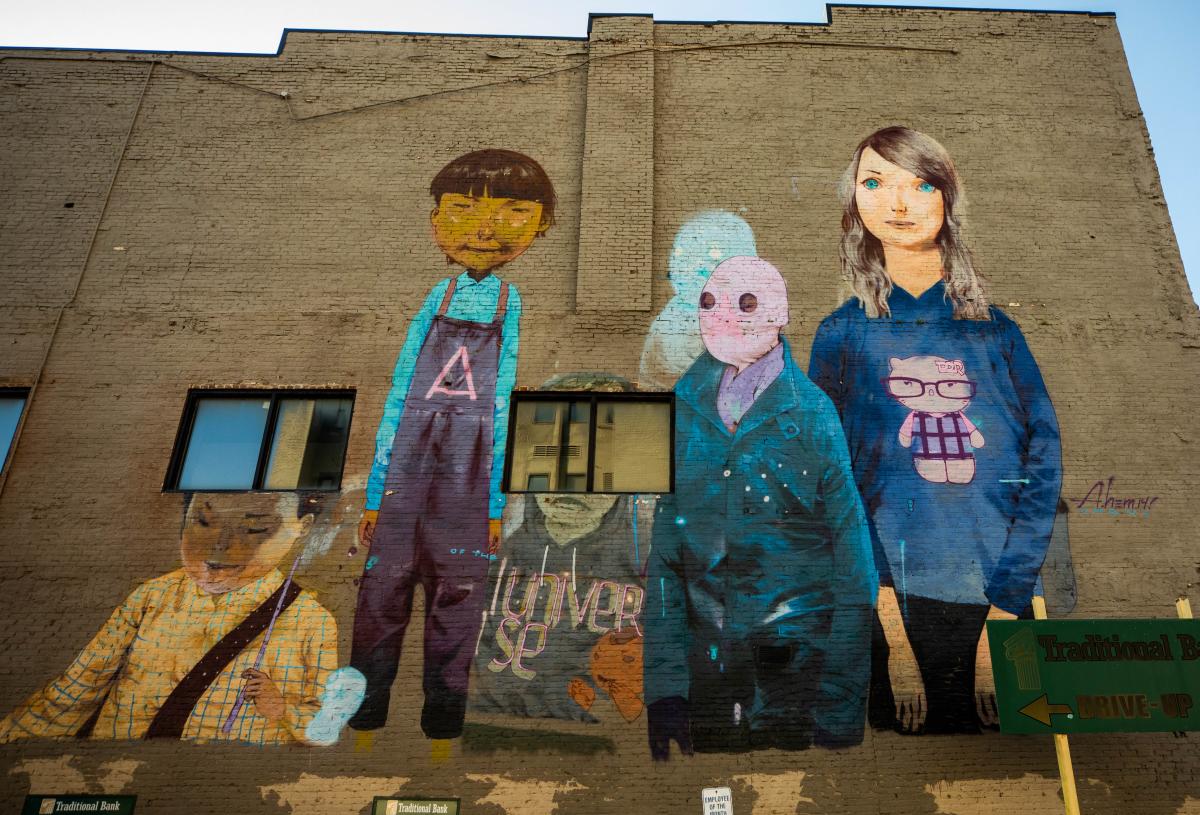 The Night Watchers
Andrew Hem | 100 block of West Short Street
Los Angeles artist, Andrew Hem, has been known to paint otherworldly beings like the ones seen in this mural, which was painted in 2014. See if you can spot a Hello Kitty cameo. Turn around to see another mural!
Mother of Us All
Gaia | 167 North Limestone
This portrait is of Lexington icon Sweet Evening Breeze, a transwoman who started the city's drag scene in the 1940s and 1950s. The different panels celebrate different moments of her life.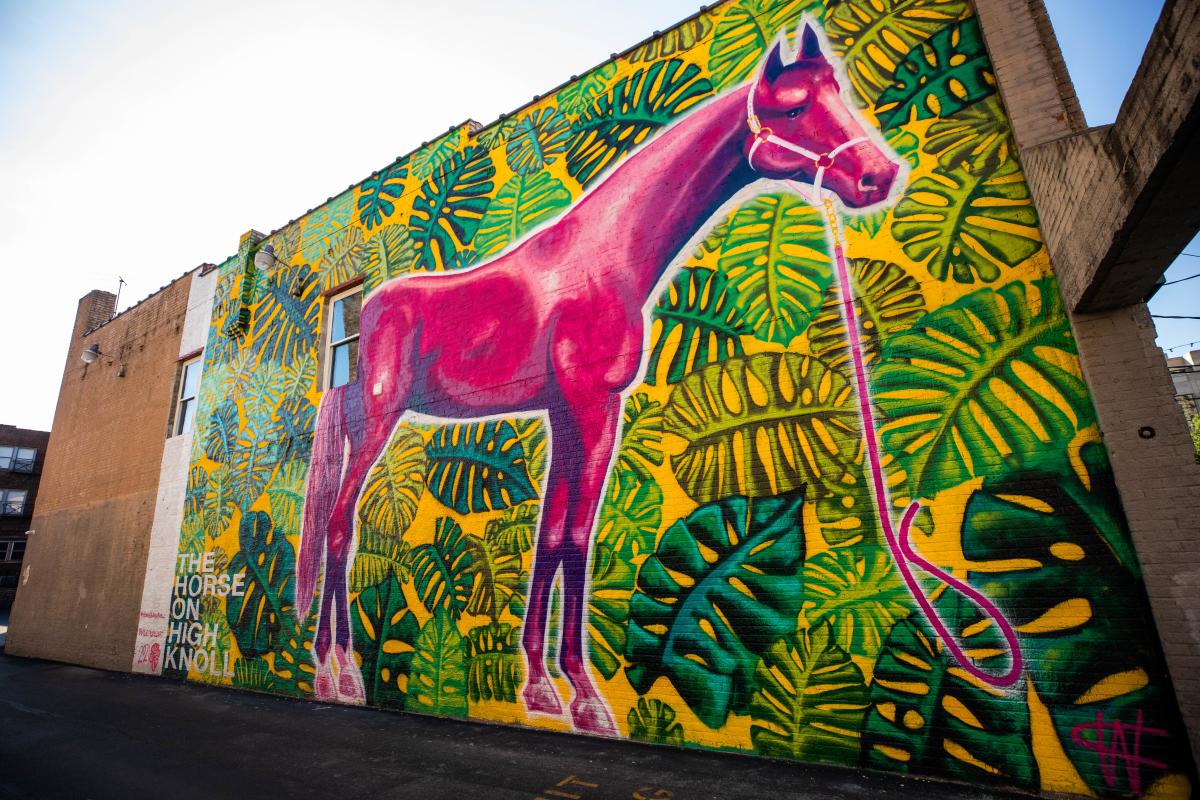 Horse on High Knoll
Wiley Caudill | 100 block of West Short Street
Local artist Wiley Caudill painted this tropical pink horse. You can find several more of Wiley's murals throughout Lexington and the region – head to the Grove to see the one he painted there!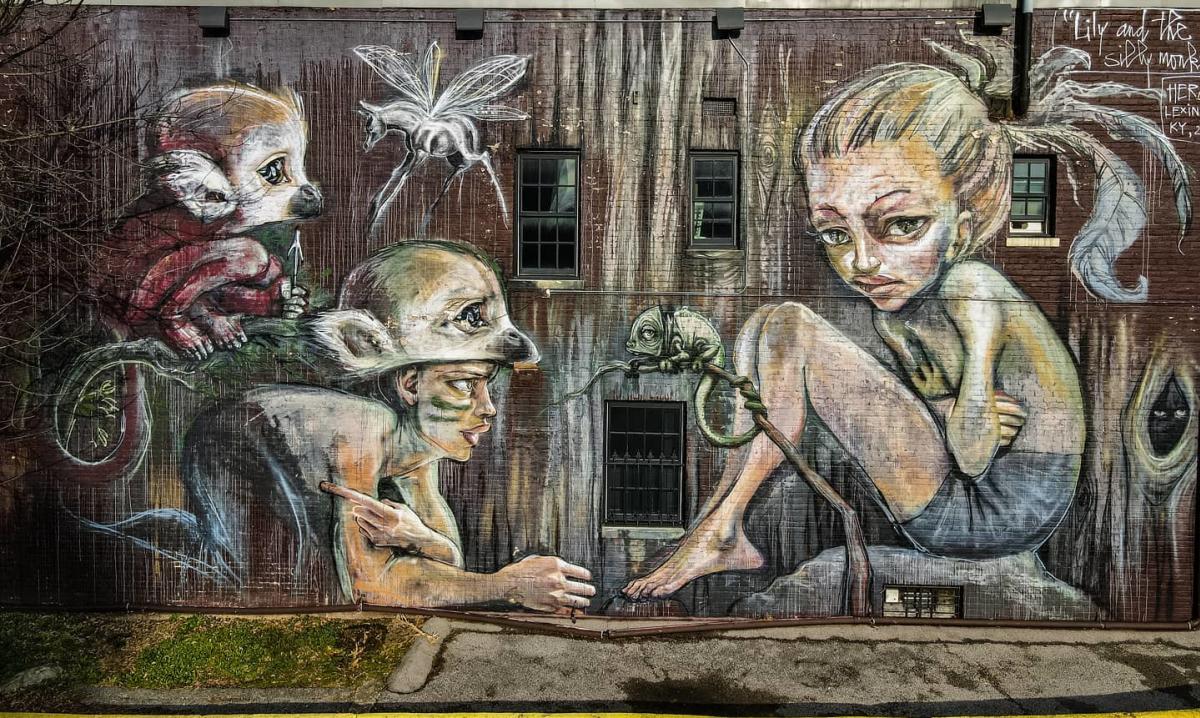 Lily and the Silly Monkeys
Herakut | Belle's Cocktail House on Market Street
Part of a storybook series by Herakut, Lily and the Silly Monkeys was created in 2012. German artists Hera and Akut, joined forces under the name Herakut to erect murals around the world. Its sister mural, Where Dreams Come From, can be found on North Limestone.
My Black Is Beautiful
Ciara LeRoy | 130 North Broadway
Lexington artist Ciara LeRoy wanted people to stop and think about what this piece means to them. The mural is meant to encourage and uplift African Americans and to challenge others to advocate for the Black community.
EAST LEXINGTON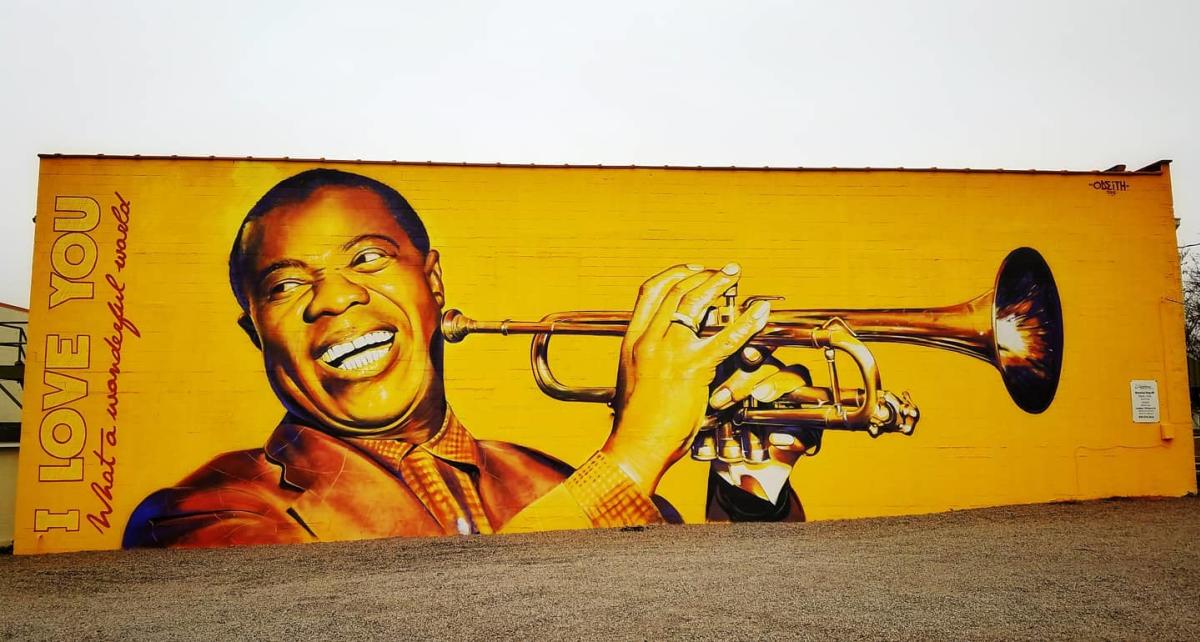 Louis Armstrong
Odeith | Corner of Elm Tree Lane and Corral Streets
Celebrating the storied musical past of Lexington's east end, this 30 by 70-foot Louis Armstrong mural was painted by renowned graffiti artist Sérgio Odeith after his first Lexington mural was accidentally power-washed away.
Lincoln
Eduardo Kobra | 200 block of Water Street
Standing 60 feet high on the back of the famous Kentucky Theater, this colorful kaleidoscope mural is, as far as we know, the world's largest mural of Abraham Lincoln. It was painted by acclaimed Brazilian street artist Eduardo Kobra, whose other works can be found all over the world in cities like New York, Los Angeles and Moscow.
Letters of Gratitude: Dear Mom
Alice Mizrachi | 165 Midland Avenue
To complete this eighty-foot-wide mural, artist Alice Mizrachi commissioned local Lexington artists to help. The mural is dedicated to the love of mothers and welcomes people to Lexington's East End.
NORTHSIDE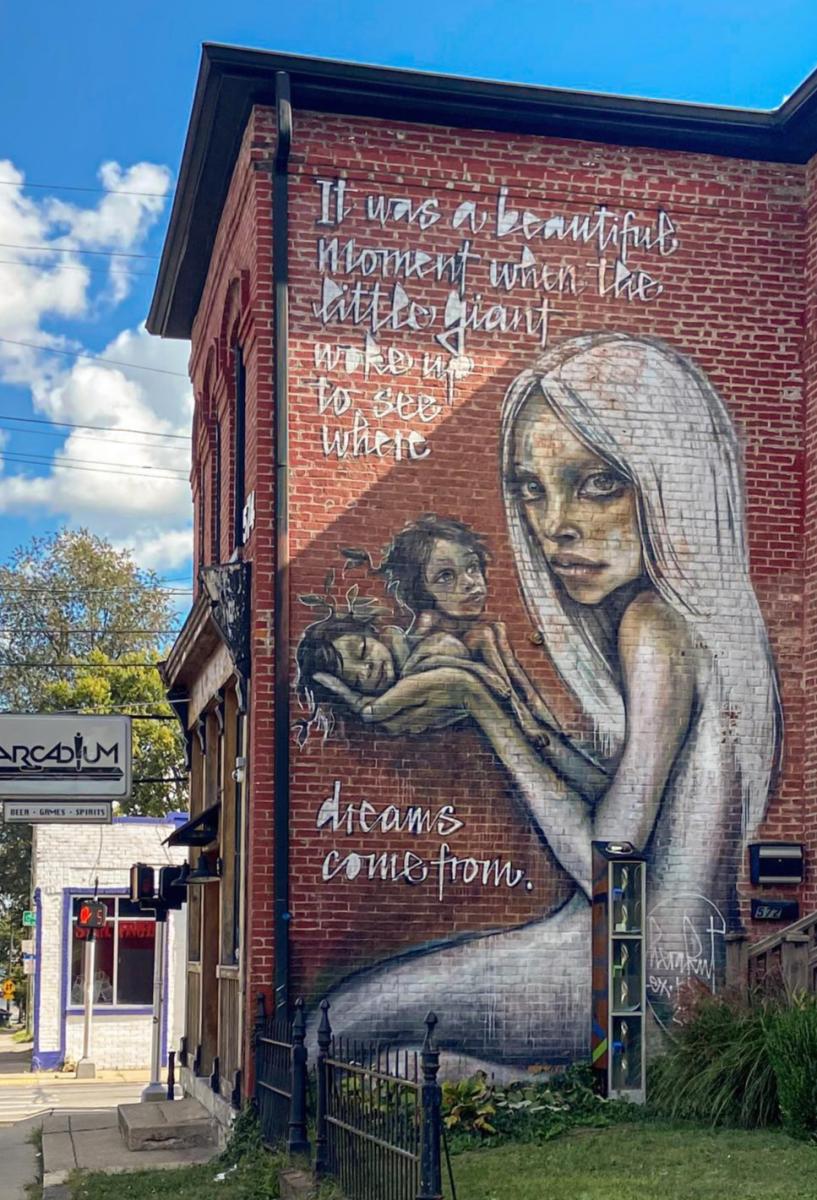 Where Dreams Come From
Herakut | 574 North Limestone
The sister mural to Lily and the Silly Monkeys, this piece was painted by two-person German street art team Herakut. This is another installation in their "Giant Storybook Series" that spans multiple continents.
The Buffalo
ROA | Off North Limestone on the 100 block of Luigart Ave
Belgium street artist ROA painted this mural. ROA is somewhat of an elusive artist who often plays with the concept of life and death in his paintings and has an affinity for including animals and rodents in his work.
Harry Dean Stanton/Muhammad Ali/Lexington Rainbow
Graham Allen & Geoff Murphy, Wiley Caudil | 720 Bryan Ave
A collection of murals can be found on the Kentucky for Kentucky Fun Mall building in NoLi. Honoring Kentucky-born Harry Dean Stanton and Muhammad Ali, duo Graham Allen and Geoff Murphy created the portrait murals. You can find their John Prine portrait across town on Leestown Road.  Local artist Wylie Caudill painted the classic Lexington Rainbow.
WEST LEXINGTON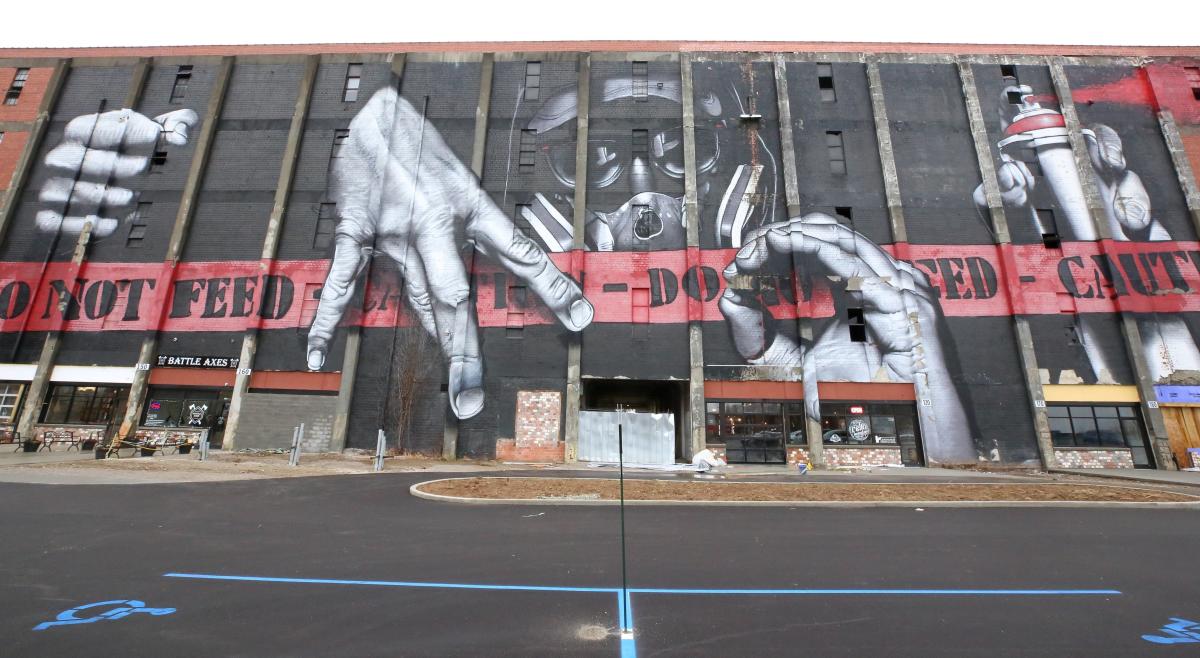 I Am MO
MTO | Distillery District
Perhaps the most head-turning and controversial mural in Lexington is the 75 by 270 foot MTO mural on the side of the Pepper Distillery Warehouse near the Distillery District. MTO is known for painting giant murals of famous celebrities, but this particular character is not one.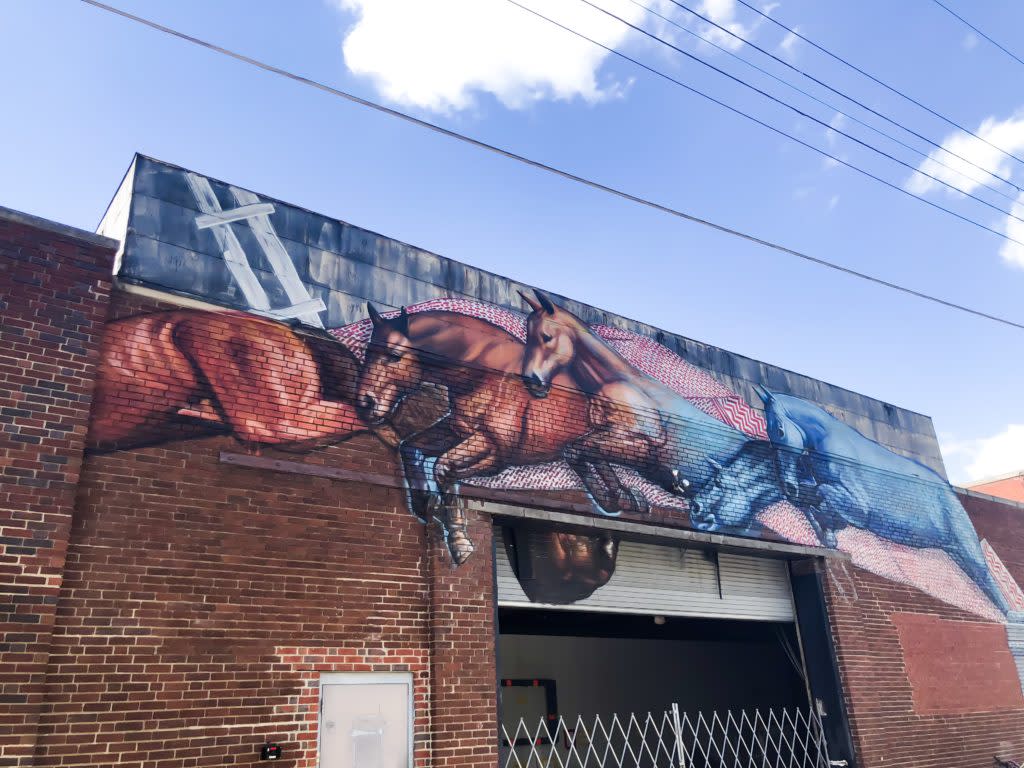 Horses Jumping
Gaia | 600 block of Bellaire Avenue on the "Bread Box"
This large mural features five Thoroughbred horses leaping off an empty equestrian pedestal as keffiyeh print from the United Emirates unfurls in the background. It can be found in front of West Sixth Brewery.
Fox
Alexandra Pangburn | 471 Jefferson Street
Born and raised in Lexington, artist Alexandra Pangburn moved to Colorado and turned her business of pet portraits into large scale murals. With her work all over Denver, Alex partnered with PRHBTN in 2019 to paint this regal fox in her hometown. Her passion for flora and fauna reigns in her work and she works to bring light to species that people may or may not be able to see at such a large scale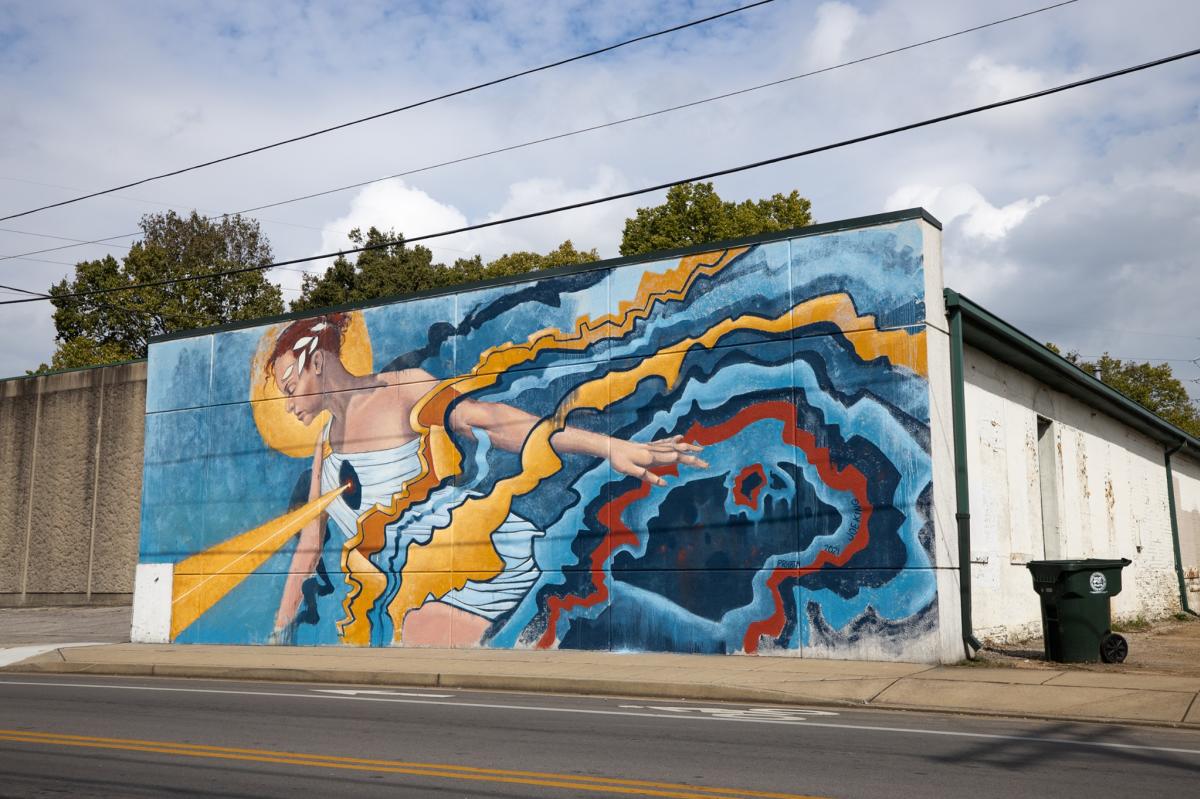 Pythia in Agate
Joe King | 505 Jefferson Street
As part of the 2021 Prohibition festival, local artist Joe King painted this mural near Transylvania University's campus. It tells the story of the Oracle of Delphi and brings this part of town to life.
The Mural Challenge
*Because our street art scene is constantly evolving, some of our newest murals may not be reflected on the current edition of this guide. For the most up-to-date list of murals, check out visitlex.com/mural-challenge.
To see all the murals in Lexington (that we know of!) check out this map.