Lexington is full of culinary gems—from restaurants that serve perfectly fried chicken, to fall-off-the-bone barbecue, to Cajun food with a kick, we really have it all. But have you ever wondered which of these restaurants are the most bang for your buck?
Joelle Riding, full-time travel blogger and former Lexingtonian, gave us her take on Lexington's most delicious budget friendly restaurants. As a travel blogger, she knows how to find a great meal for just a few bucks—below you'll find her suggestions for dining in Lexington on $15 or less.
If there is anything you should know about me, it's how much I love to eat. No matter where I travel, food is always the part I look forward to the most. Food brings people together in a way that nothing else can. And if I can get great local food that won't break my wallet in the process, I'm one happy gal.
Lexington has countless amazing restaurants to try but throughout the years, these budget-friendly spots have become staples. They're delicious, they never disappoint and they're all under $15. So whether you're in college trying to save money, exploring Lexington on a budget or looking for some new local spots to try out, give these places a try. Your stomach will thank you and your wallet will, too.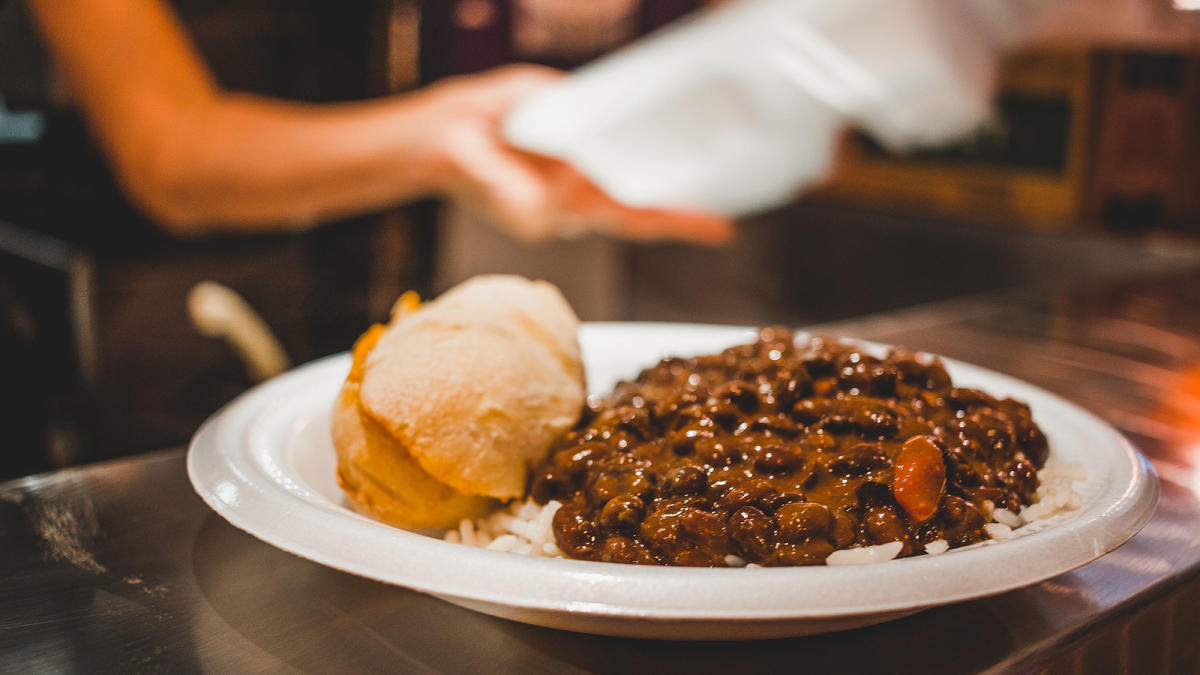 Bourbon n' Toulouse
When you walk into Bourbon n' Toulouse, you can just tell that it will be good. It has a hole-in-the-wall feel, but the staff is super friendly and you get a lot of food for under $10. I've never been to New Orleans so I can't say much, but I can say it's the best Cajun food I've ever had. During Mardi Gras, there's a line out the door and around the block.
Recommended: Chicken Etouffee over Jambalaya with extra bread and side of Cajun Power Garlic Sauce.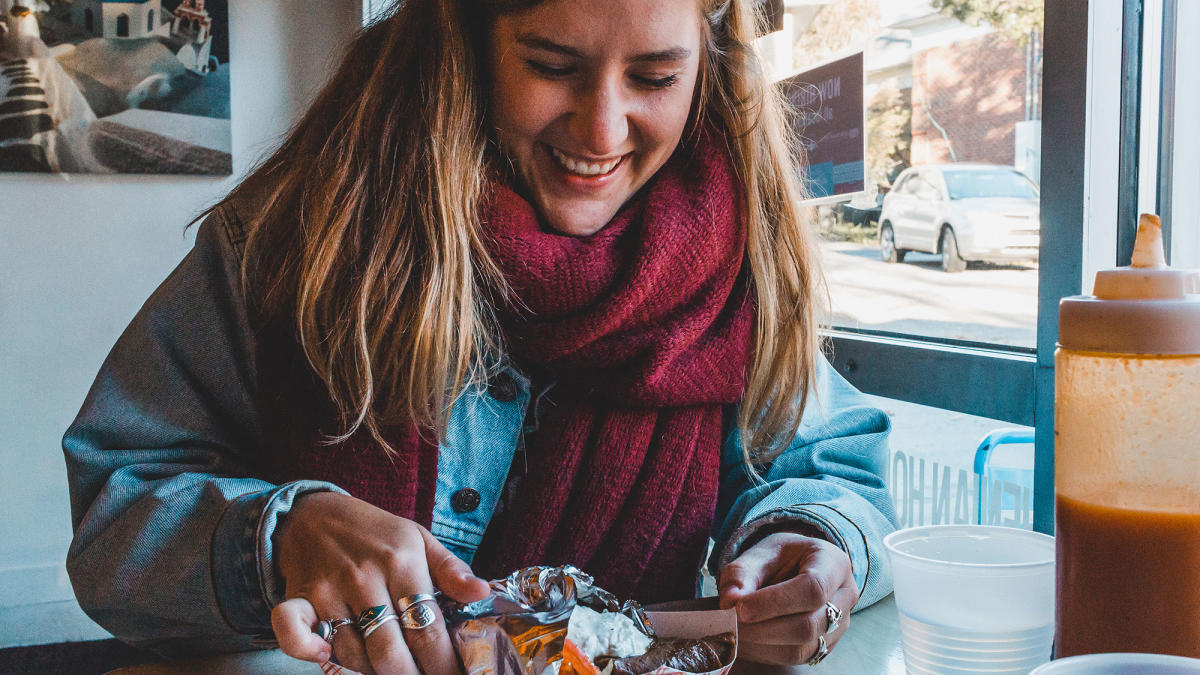 Athenian Grill
If you want authentic Greek food, Athenian Grill never disappoints. You can choose from gyros, traditional dishes and dips, salads and more. This is also a great spot for the vegetarians because they have some really flavorful vegetable dishes. There are multiple locations around Lexington so be sure to check which one is closest to you.
Recommended: Lamb Gyro with extra Tzatziki or the Moussaka.
Nat's
Of all the Thai spots in Lexington, I love Nat's the most. After returning from Thailand, Nat wanted to bring authentic Thai dishes to Kentucky—so he did. My favorite part about Nat's is that they feature dishes that are representative of different regions in Thailand. Keep in mind that they manage other Thai restaurants in Lexington, so call in advance to make sure they're open and be prepared that it's not a sit-down restaurant. If it's nice out, get Nat's and enjoy it at McCarthy's patio.
Recommended: Kobe Basil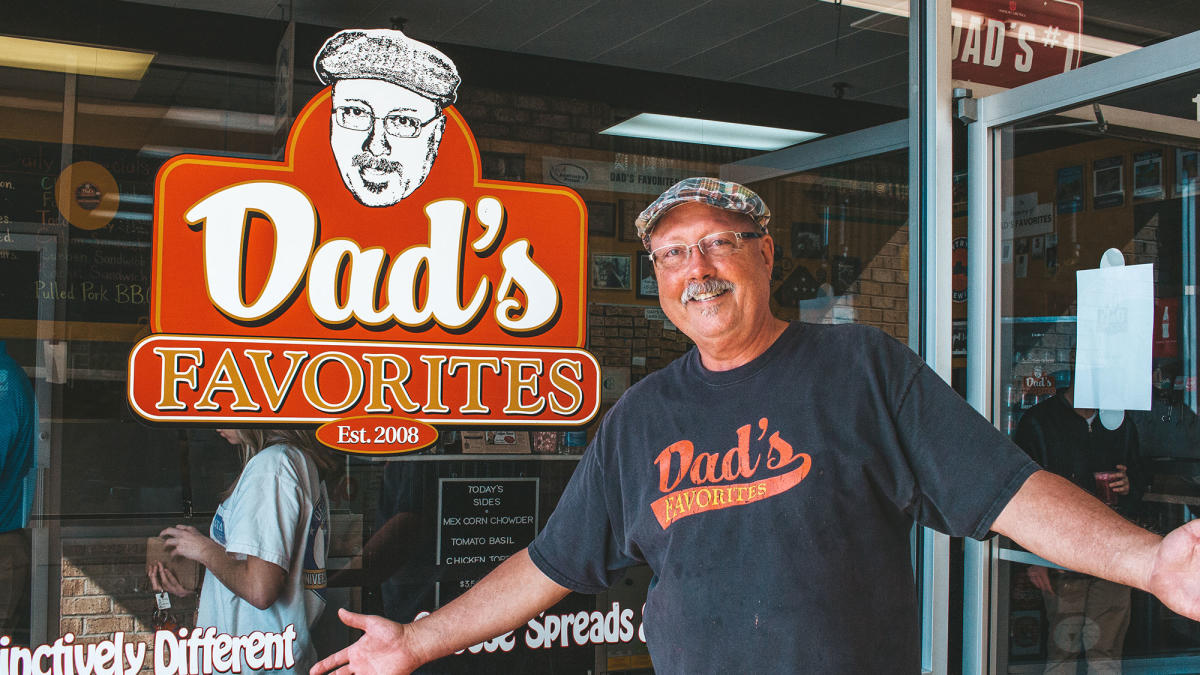 Dad's Favorites Deli
Dad's Favorites takes classic sandwiches and makes them exponentially better. Only open from 11AM-3PM on the weekdays, be prepared for a line and for things to run out. Most of the time, you will see "Dad" walking around and talking to customers. And what makes this place different than the rest is their unique selection of cheese spreads. You'll most likely want to buy a tub just to take home with you.
Recommended: Try to go on a Friday to get their BBQ special or on Tuesday for Taco Tuesday. I'm a big fan of their Pimento BLT as my regular order.
Campus Pub
If you want a sports bar with a great happy hour, delicious bar food and games like darts, pool or beer pong, then Campus Pub is the place for you. It's not actually located on campus, but it's a student hot-spot and a great place to watch a UK game with friends. And I love it because I can have a night with my friends sharing beer and appetizers for under $15.
Recommended: Nachos, Wings, or Fried Pickles. Or all the above.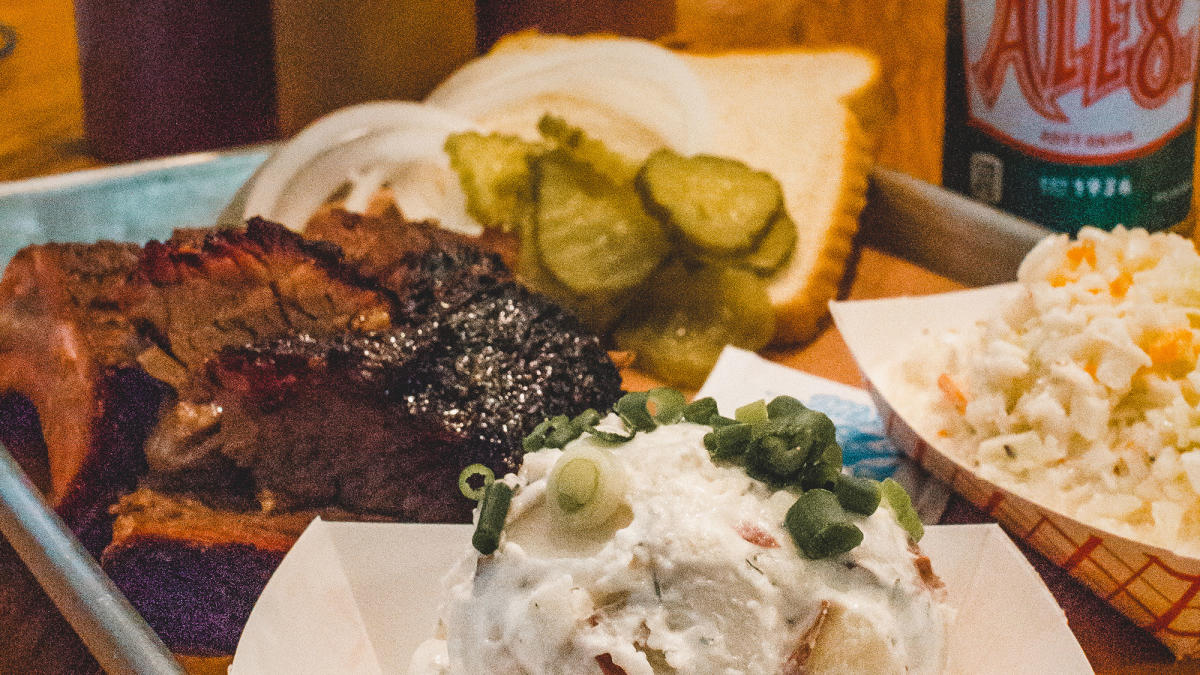 Blue Door Smokehouse
When I order barbecue, I always go for the pulled pork…unless I'm at Blue Door. The brisket here is amazing. In fact, my mouth is watering just thinking about it. There's not a lot of seating inside and when they run out of food they close for the day, so be sure to get there early. Blue Door is open from 11AM-3PM on weekdays and 11AM-8PM on Fridays and Saturdays, closed on Sundays.
Recommended: Brisket, potato salad, collard greens and an Ale-8. The ribs and pulled pork are great too.
The Local Taco
If you visit Lexington, don't even think about missing this place. The Local Taco serves up unique tacos like Buffalo Chicken or Korean BBQ, plus they rotate specialty tacos that change every few days. You can order tacos a la carte or get a basket with sides, but make sure to ask for Bang Bang Sauce if you like it hot. They also have great margaritas and weekend drink specials, like $1 mimosas on Saturdays and Sundays for brunch. Their guacamole also rocks.
Recommended: Buffalo Chicken Taco, Fish Taco, Mexi Tator Tots, Queso OR a Buffalo Chicken Quesadilla and a Frozen Margarita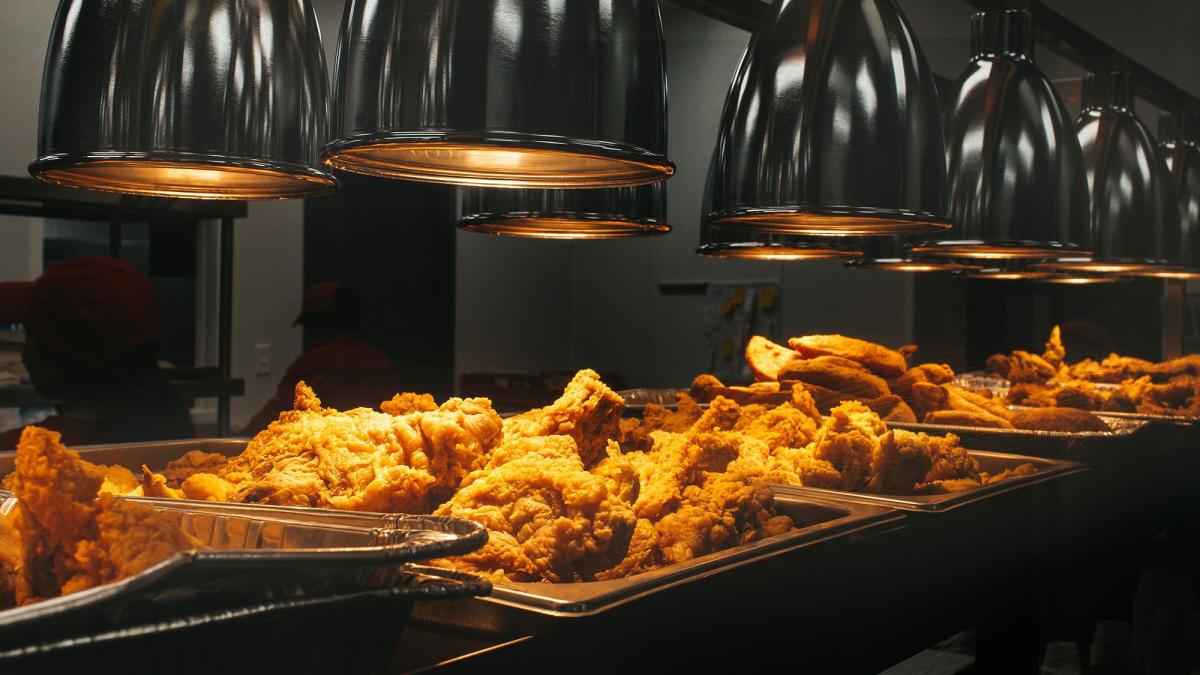 Grimes
Previously known as Richie's, Grimes is the best fried chicken in Lexington, hands-down. It's a family establishment that's passed down a patented spice blend for generations. They have wings, breasts, seafood, barbecue and everything in between. And it's cheap—you can get a full meal for under $8. It's not a sit-down restaurant but it's great for the nights you don't want to cook and are craving some fried chicken.
Recommended: Hot & Spicy Wings with Three Wedges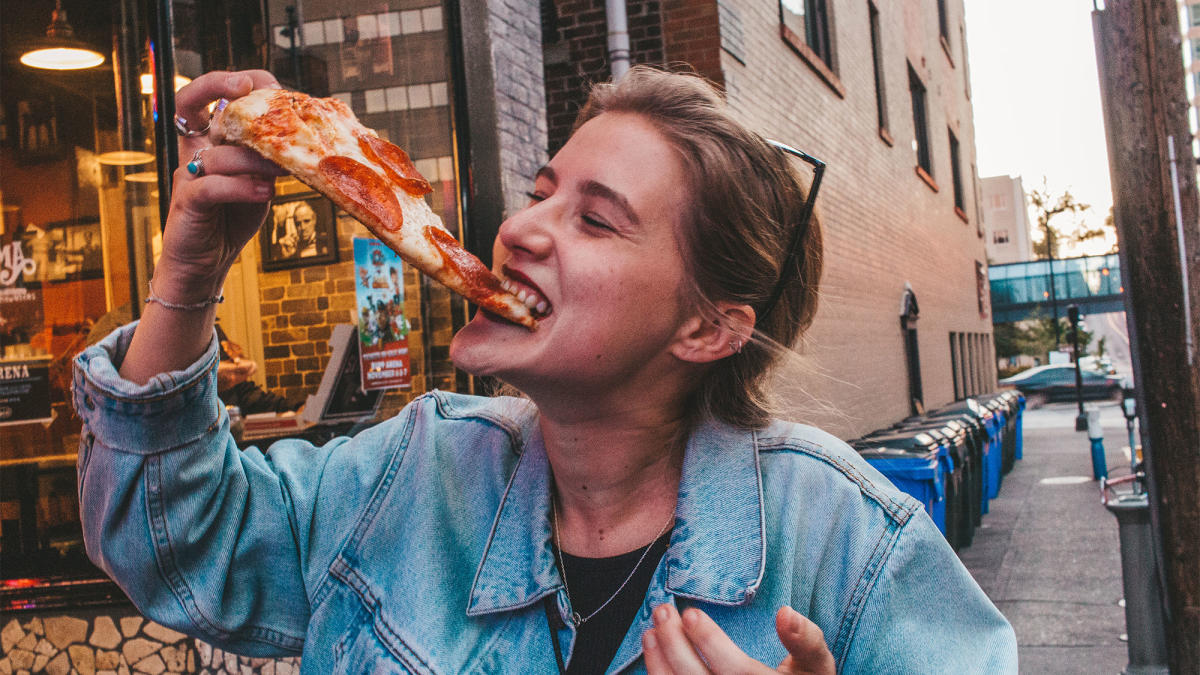 Goodfellas Pizzeria
What I love most about Goodfellas is that you only need one slice—the slices are huge. They have two locations, downtown and Manchester Street, but I personally like going to the Manchester Street location for its vibe. It's an old bourbon distillery that has outdoor seating with a fireplace and a killer artisan cocktail bar. You order at a counter and can choose from a selection of premade slices that can be heated in the oven, or you can order a custom pizza of your choice.
Recommended: A giant breadstick with a side of ranch. And pizza.
Wheeler Pharmacy
This spot is one of Lexington's best kept secrets—you're not a true Lexingtonian until you've eaten breakfast here. Wheeler's has been around for over 50 years and serves as a pharmacy, store and diner. Growing up, this was one of my favorite spots to go with my family. It's delicious, cheap comfort food just like you would imagine it. They're only open for breakfast and lunch but no matter what you order, you will love it. There's a certain feeling I get when I go here that I can't describe. Call it nostalgia. Call it optimism. Whatever it is, I know you'll quickly fall in love with the charm of this place.
Recommended: The #1 on the breakfast menu is a classic.