Changing a stigma, one slice of bread at a time.
DV8 Kitchen, one of the best brunch spots in Lexington, is staffed by those overcoming addiction, giving opportunity for higher quality of life to those in recovery.
Owners of DV8 Kitchen, Rob and Diane Perez, are the types to restore your faith in humanity. Their mission hits close to home for Rob who has been sober from alcohol abuse for 28 years but admits beforehand "I did every drug known to man."
Meeting at 19 and 17 years old as a server and hostess, Rob says his first day working in a restaurant he was initially introduced to Diane. Perez shares he found his calling and soul mate in a single day. "So that was the best day I've ever had," he said.
They have now been married 31 years and own Saul Good Restaurant and Pub, which has three locations in Lexington. Rob often gives Diane credit for opening DV8, her huge heart leading the way. "My wife kept prodding me, 'We should do it,' but I didn't want to manage people like me," Perez said.
They proposed a strategy to change the way they hire—validate those in recovery. Robert explains even once the former habits are gone, those in recovery have trouble qualifying for decent housing and work, especially if possessing a record.
"There's no financial reason to do it," he says about opening a social enterprise restaurant. "It has to be because you love it and the impact it has."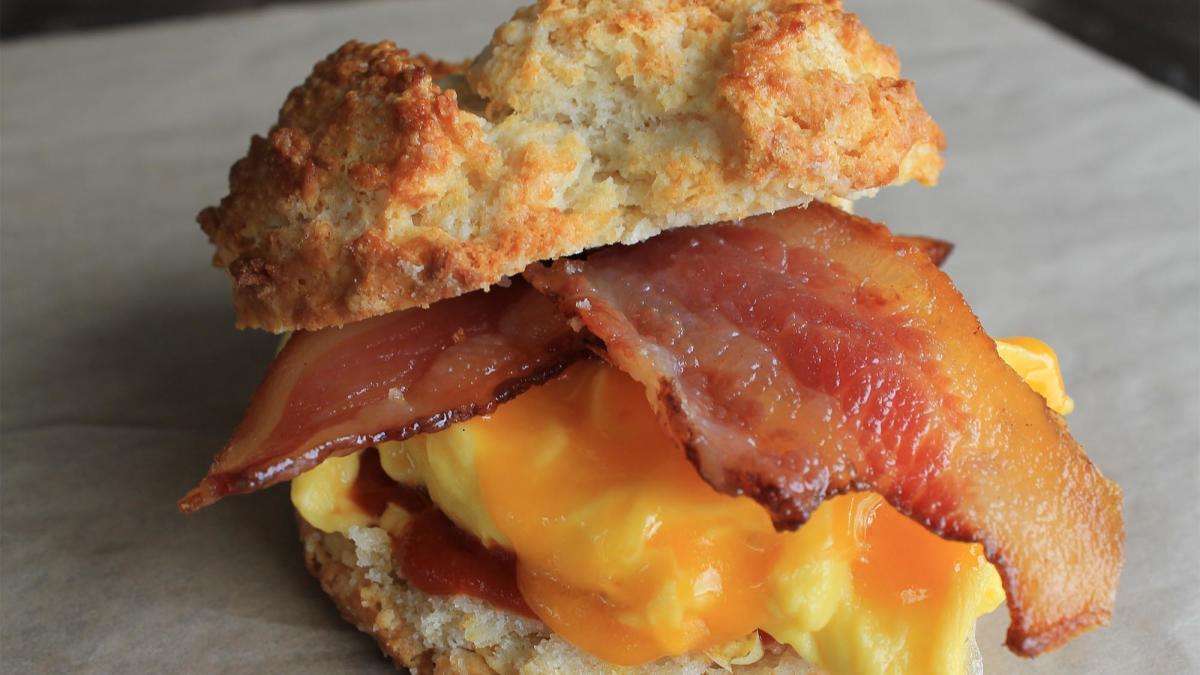 The DV8 concept was considered a two-year process, but it all came together in just four and a half months. "It was the strategic challenge of my life. We choose to believe it's God," said Rob.
They happened upon the building from a generous couple who simply wanted out of the lease—given as long as they worked out the agreement ending in four and a half months. They had the logo and idea, but still had to arrange loans, financing, menu, recipes, staff, HR, social workers, furniture, kitchen equipment, etc. before rent was due. He brings up the adage in the restaurant business of needing 'a million dollars and a year just to plan,' and no one ever hears of a restaurant opening early.
As a restaurateur with formal background in building a restaurant, his budget was $400,000. Local lawyers, CPAs and artists, among others, gave their services for free once they heard the mission. Twenty-five families also invested, even with a reminder from Rob that seven out of ten restaurants fail in the first year.
"This community has the biggest heart of anywhere you've ever seen," he said. "The support, commitment and love the community has given us is out of a Hollywood movie, such an outpouring. To think $400,000 could do what corporate America couldn't makes me emotional because it's hard work."
"Some thought that second chance meant second rate," said Robert. "A lot of people may have donated but didn't want to come in and eat. We were empty for the first few months. My wife kept telling me to have faith." But once the Yelp reviews hit an average of five stars, business started pouring in and people were excited about the cause.
To work at DV8, one has to be in a housing district—DV8 currently has contracts with five different homes. A social worker also tests employees for drugs or alcohol and if they don't pass, they lose not only their housing, but it means immediately losing the support system at DV8 as well as their job.
DV8 has a definite spiritual component—their graffiti style typeface logo with a diverged arrow (the letter V) points upward to a halo. Employees explained that Perez wants each to strive for physical, emotional, mental and spiritual fitness. The affiliation doesn't matter to Perez, even meditation works, as long as there is a desire to seek something bigger.
In a sense, DV8 changes the stigma of those in recovery one slice of bread at a time. Menu inspiration came from researching social enterprises, and two in particular were focused on baked goods, Homeboy Industries in Los Angeles, CA. and Dave's Killer Bread of Portland, OR.
"One of my steaks at Saul Good cost $16 and takes 45 seconds of labor," Perez explains. "With bread, it's flipped. With an untrained workforce, you get the hours you're looking for and if you mess it up, it's not as costly, so you can be more forgiving."
Every Tuesday, workshops are hosted for employees to provide resources for managing their personal finance, dealing with expungement as well as potentially receiving dental or medical help and trauma therapy.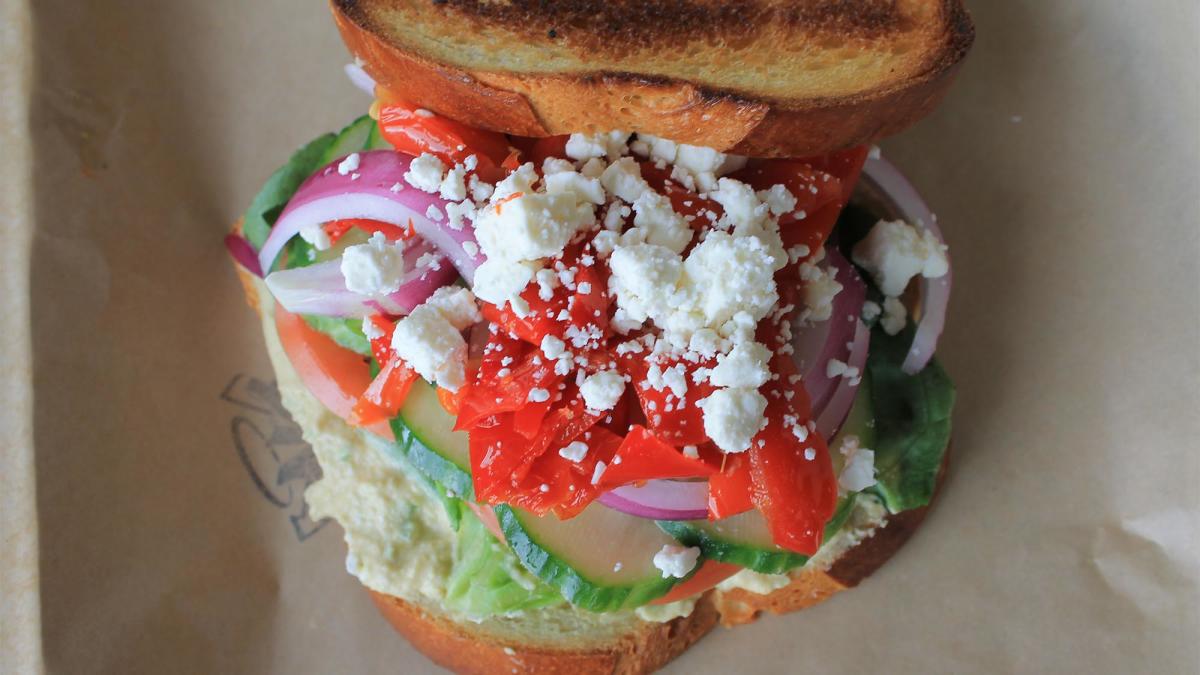 It's clear that DV8 operates for the greater good of their employees, but the food is amazing, too. The cinnamon rolls a standout, made with laminated dough, it's a three-day process from start to finish.
Chef Jarod Thornton explains that their brioche dough is chilled overnight, with butter folded into and rolled through out, then it's folded and passed through a laminator resulting 84 flaky layers of deliciousness.
Thornton, 34 years-old, has been with DV8 since August of 2017. He met the Perez family through a mutual friend. Today, Thornton has been clean for 16 months, his longest time being clean in 10 years. He is cross-trained in every aspect of the business, a supervisor of the bakery—he even built the delivery program. "Without DV8 I would be living life like a mad man… I should've died so many times," said Thornton.
He attends church services with the Perez family and feels more in touch with his higher power, an idea of something greater than himself. His staple is a grilled cheese on sourdough with an over medium egg, often the pimento cheese chicken biscuit, but sometimes tacos.
Daniel Rison left DV8 in February to pursue a bachelor's social work. He came to DV8 while in recovery, looking to volunteer before falling in love with the atmosphere and food. Spending one year and four months at DV8, he became front of house manager. His friends Alan (now in nursing school,) Janna (now in retail,) Avery (reenrolled in college) and Jill his confidant (current Assistant General Manager) gave him major support through recovery. He explains it was a chain reaction of help, all talking with another to help improve based off similar personal experiences. He also took away lifelong social skills like better management, ownership, expectations and boundaries. It was the first job Rison felt he was safe, given a fulfillment of purpose and fair wage.
"Every visit and every dollar has a dual impact," Rison said. "Not only are you rewarding yourself with some of the freshest, high quality food, but helping to address one of the most important human crisis today." Rison also attends church with the Perez family and looks forward to celebrating three years sober this July.
I took note both Thornton and Rison separately mention first liking the Perez's due to their work ethic, and remembered a laughably honest portion of the interview, "I can be more like Chef Gordon Ramsey than my pastor," Robert said. "I never want to besmirch the Christian name."
However, it seems positive vibes abound in this restaurant, spilling into the city and beyond.
"We love Lexington," Diane said. "There has not been a city so supportive."