In 1838, Kentucky became the first state to pass any type of law granting women the right to vote—the law granted women who were head-of-household, mostly widows with children, the right to vote in school board elections. This happened ten years before the Seneca Falls Convention, which was the first women's rights convention to be held in the United States.
Located in the heart of central Kentucky, Lexington has always been home to progressive and courageous women. Many of them have left marks in history that will be admired for centuries to come…and many more are working to leave their mark now. Read on to learn about some of Lexington's most remarkable women and where you can pay homage to them today.
Women Who Fought for Equality
Charlotte Dupuy
African American Heritage Trail Historical Sign #9: 175 N Mill Street, next to Henry Clay's law office.
As slaves of Henry Clay, Charlotte Dupuy and her family moved to Washington D.C. with Clay during his time as Secretary of State. After Clay's tenure, the Dupuy's were forced to move back to Kentucky, sealing their fates as slaves. In February of 1829, Dupuy petitioned the U.S. Circuit Court in Washington D.C. to sue the Clays for her freedom and the freedom of her children. Eleven years after the start of her journey towards emancipation, she and her daughter Mary Anne were granted their freedom.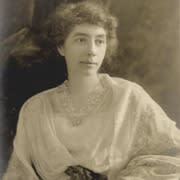 Madeline McDowell Breckinridge
Women's Voices Tour at Ashland: The Henry Clay Estate (where she grew up)
She was Kentucky's most active suffragist and fervent supporter of the nineteenth amendment. She edited the women's pages of the Lexington Herald Leader (which was owned and edited by her husband, Desha Breckinridge) emphasizing civic and social issues that pushed women's suffrage. A skilled writer and orator like her great-grandfather, Henry Clay, Madge served in many positions including President of the Kentucky Equal Rights Association and Legislative Chairwoman of the Kentucky Federation of Women's Clubs. She also had a friendly relationship with Susan B. Anthony who attended a celebration dinner at Ashland on the night Kentucky ratified the nineteenth amendment.
Laura Clay
The Lexington Cemetery, where she is buried beside her mother.
Laura Clay organized and served as the first president of the Kentucky Equal Rights Association, which worked to secure equal rights for women through legislative changes in education, property rights and wages. As the daughter of Cassius Marcellus Clay, the politician and emancipationist who worked for the abolition of slavery, she was inspired to fight for women's rights after her father divorced her mother and left her mother penniless, property-less, and without custody of her four children. She grew up on 193 North Mill Street.
Sophonisba Breckinridge
The Lexington Cemetery (near her grandfather John C Breckinridge)
An 1888 Wellesley College graduate, Sophonisba returned to her hometown of Lexington to study law at her father's law office. She became the first woman to be admitted to the Kentucky Bar. She then left Kentucky to serve as Marion Talbot's secretary, who was the Dean of Women at the University of Chicago. Sophonisba received a PhD in political science and economics in 1901 and then became the first woman to graduate from the University of Chicago law school. In 1933, President Franklin Roosevelt sent her as a delegate to the 7th Pan-American conference in Uruguay, making her the first woman to represent the U.S. government at an international conference.

Dr. Mary Ellen Britton
African American Heritage Trail Sign #11: 545 N Limestone, her former home and medical practice.
Dr. Mary Ellen Britton was born in Lexington as a free person of color. She taught throughout central Kentucky, coming back to in Lexington in 1876. Britton received her medical degree in 1903 and became the first licensed woman to practice medicine in Lexington. She built her home on N. Limestone in 1903, and it housed her medical practice until 1923. She continued to advocate for women's rights until her death. She is buried at Cove Haven Cemetery in Lexington
Julia Etta Lewis and Audrey Grevious
"Women of the Movement African American Heritage Trail" Sign on North Limestone
Julia Etta Lewis and Audrey Grevious helped to lead the fight for racial equality during Lexington's Black Freedom Struggle. They were both members of the Congress on Racial Equality (CORE) and the National Association for the Advancement of Colored People (NAACP) and protested businesses that practiced discrimination.  Before the famous Greensboro sit-ins, Lexington staged their own starting in July of 1959, and they worked to fill segregated lunch counters, sitting in vacant seats meant for whites only. Grevious went on to become the Vice President of CORE and was the principal at Maxwell Elementary School. You can now experience local makers in the market named after Lewis, Julietta Market at Greyline Station.
Lucy Hart Smith
498 Georgetown Street The former Booker T. Washington School, now the Black and Williams Neighborhood Center.
Lucy Hart Smith worked to improve education and health services for Kentucky's African Americans. She was principal of Booker T. Washington grade school and promoted the importance of teaching African American history.
Women Who Shined in Education and the Arts
1440 Delaware Avenue, The International Book Project Warehouse
Harriet D. Van Meter was the founder of the International Book Project. She was dedicated to the belief that exposure to cultural differences enriches lives, fosters global friendships, and strengthens world unity. After a trip to India where she witnessed hugely long lines for people to get a book, she operated the IBP from her home basement for many years until opening a warehouse on Delaware Avenue. Van Meter was nominated for a Nobel Peace Prize in 1986 for her efforts to increase world literacy and placed among the eight final nominees.
Doris Wilkinson
University of Kentucky Campus
Doris Wilkinson was the first African American student to graduate from the University of Kentucky after Brown v. Board of Education. She then became the first full-time African American female faculty member and was the founder and long-time director of UK's African American Studies program.
Adalin Winchman
Foucault Pendulum at the Downtown Public Library
Adalin Winchman was an American sculptor and artist who designed the Eclipse Award trophy in 1971, which is an award given to horses and individuals who have made outstanding contributions to the equestrian sport. She was Keeneland's advertising director from 1969-1989 and received the Milner Award, the highest award given by the Governor's Awards in the Arts. She also designed the Foucault pendulum at the downtown Lexington Public Library.
Charlotte Mentelle
Mentelle Park, where her house was.
A Parisian immigrant, Charlotte Mentelle married and moved to Lexington in the midst of the French Revolution. Friends with Henry Clay and his family, she started Mentelle's for Young Ladies, a school known for its rigorous curriculum and fashionable pupils. Her most famous student was Mary Todd, who lived at Mentelle's from 1832-1836 before marrying Abraham Lincoln. Mentelle's school was one of the reasons Mary Todd was considered one of the brightest women of her generation.
Margaret Isadera King
The King Library at the University of Kentucky
Margaret King was born and raised in Lexington. In 1909 UK President James K. Patterson asked her to organize a library at the University of Kentucky. As the first librarian of the University, she played an important role in the collecting and organizing of the library as it is today. She grew the library from 53,746 volumes in 1923 to 77,332 in 1927. She went on to earn a B.S. degree from the Columbia University School of Library Science in 1929. The King Library, which today houses Special Collections books and items, is named after her.
Eliza "Belle" Jackson
150 N Limestone, the location of her and husband Jordan Jackson's historical marker.
Born to free-black parents in Perryville, KY, Belle dedicated her life to education. As a teenager, she became the first African-American teacher at Camp Nelson and went on to teach in Lexington, owning the only African-American hat shop in the city. She and her husband Jordan Carlisle Jackson Jr. became prominent community leaders, dedicating their lives to movements and organizations that offered Lexington's African-Americans greater opportunities in education, political involvement, and economic empowerment.
Women Who Ruled the Racetracks and Farms

Anita Madden
The current shopping destination, Hamburg Pavilion, was once part of the Madden farm
Known for extravagant Kentucky Derby parties, which were attended by socialites, politicians, and Hollywood celebrities at the Madden's family farm in Hamburg, Anita helped to put Lexington on the map as a Derby destination. She was also a social activist, who spoke out for the need of gender equality and won the National Association of Women Business Owners Winner's Circle Award. She named many of the streets in Hamburg after horses on the farm, including Sir Barton (their first Triple Crown winner) and Alysheba.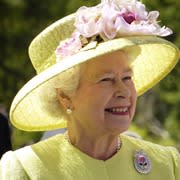 Queen Elizabeth
Keeneland Race Course
A well-known rider and horse-lover, Queen Elizabeth visited Lexington twice during her reign as Queen, first in 1984 and again in 2007. In the 1980s, she stayed for five days and visited various horse farms, chose horses for her royal stables, and even worshipped at an Episcopal church in Versailles. In 2007, she returned to Lexington to visit horse farms and the iconic Keeneland Race Course, and then attended the Kentucky Derby in Louisville.
Marylou Whitney
Maple Hill C.V. Whitney Farm                
A well-known Lexington and Saratoga socialite, Marylou Whitney is a horse racing legend. She started "Marylou Whitney Stables," which bred and raced Kentucky Derby winner Mine That Bird, Bird Town (the fastest horse in Kentucky Oaks history), and Birdstone (who beat Smarty Jones in the 2004 Belmont Stakes, denying him the Triple Crown). She received the Eclipse Award of Merit in 2010, was elected to the Jockey Club, declared the "Queen of Saratoga" by the governor of New York, and was honored as "First Lady of the Oaks" in 2015 by Churchill Downs. Aside from her success in horseracing, she was also a generous philanthropist.

Alice Headley Chandler
Mill Ridge Farm
The daughter of a farmer, she inherited four mares and 286 acres of land near Lexington that became Mill Ridge Farm. And in 1968, Chandler became the first woman to breed an Epsom Derby winner. Mill Ridge Farm went on to produce Sir Ivor who became a highly successful stallion and sired more than 145 stakes winners. She married veterinarian John Chandler and they turned Mill Ridge into a leading destination for top sires and mares. She won the Eclipse Award of Merit in 2009, served as chairperson for the UK Equine Research Committee and president of the Kentucky Thoroughbred Association and the Thoroughbred Owners and Breeders Association.
Pansy Yount
Spindletop Hall
In 1925, Pansy's husband, Miles Franklin Yount, struck oil in Spindletop field in Beaumont, Texas and became an instant millionaire. They then opened a stable of American Saddlebred horses in Beaumont, Kentucky. Miles died just two years later and Pansy left Texas for Lexington and built Spindletop Hall in 1935 on 836 acres. It cost $1 million to build and Pansy declared it to be a showplace of Kentucky. In 1959, Spindletop Hall was sold and donated to the University of Kentucky and became the staff, faculty, and Alumni club.
Extraordinary Women in History
Mary Desha
The Lexington Cemetery, where she is buried.
Mary Desha was the granddaughter of Kentucky's ninth governor, Joseph Desha. During the Civil War, her and her mother opened a private school in Lexington. Several years later she accepted a position with the Lexington Public School System and remained there until she took a job as a clerk in Washington, D.C. She then accepted a teaching position in Sitka, Alaska, in 1888 and found the living conditions endured by the Alaskan natives unacceptable and her written protest to the government in Washington resulted in a federal investigation. She was also a founder of the Daughters of the American Revolution—her grave at The Lexington Cemetery has a Daughters of the American Revolution seal on it.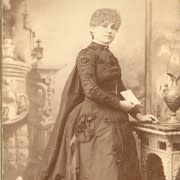 Belle Brezing
314-318 N Upper Street, where her first brothel was located.
Belle Brezing is one of the most famous American prostitutes and brothel madams of the 19th century. She began renting a house on North Upper Street in 1881 and was determined to make it the finest brothel in Lexington. She was well-known for her charity, like donating to local hospitals in times of need, supporting the war effort, and paying for the proper burial of a local prostitute. The Herald Leader had a front-page eulogy for her, and her tombstone reads "Blessed Be the Pure in Heart." She was also rumored to be the inspiration for Belle Walting in Margaret Mitchell's Gone with the Wind.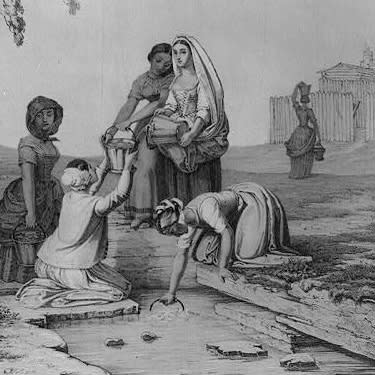 Women of Bryan's Station
In August of 1782, the Bryan Station Fort found itself under siege by over 400 Native Americans, Canadians and British officers. The women of the fort decided to follow their normal routine and fetch water from the nearby springs, ignoring that there were men hiding in bushes. Led by Jemima Suggett Johnson, 12 women and 16 girls walked to the creek under the watch of would-be attackers. Later that night, after the women returned to the fort with water and details about where the attackers waited, an attack took place but Bryan Station was prepared and were able to beat back the Royalists who were then chased off to Blue Licks.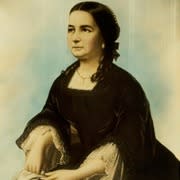 Mary Todd Lincoln
The Mary Todd Lincoln House
Born on Short Street in 1818, Mary Todd went on to be the wife and most trusted confidant of US President Abraham Lincoln. Mary Todd was one of the most educated women of her generation which made her a successful First Lady during the American Civil War. Although history remembers her as troubled, Mary Todd's life traumas included her mother dying young, her father dying in a cholera epidemic, witnessing her husband's assassination, and three of her four children dying before adulthood.