There are quite a few things that Kentucky Knows. And one of them is bourbon barrel aged coffee.
DAVIS' BOURBON BARREL AGED COFFEE IS MADE FROM A LENGTHY AND LABOR-INTENSIVE PROPRIETARY PROCESS HE DEVELOPED HIMSELF.
There's a small coffee shop in Frankfort where you can find the best bourbon barrel aged coffee anywhere. Up until recently it had been located in the former James Pepper Distillery on Manchester Street in Lexington until Tony Davis decided to move Kentucky Knows closer to the source of his barrels. Davis' bourbon barrel aged coffee is made from a lengthy and labor-intensive proprietary process he developed himself. He also makes Grillin' Charr, barrel hoop pendant lights, and cutting boards with the used bourbon barrels he gets from nearby Buffalo Trace Distillery.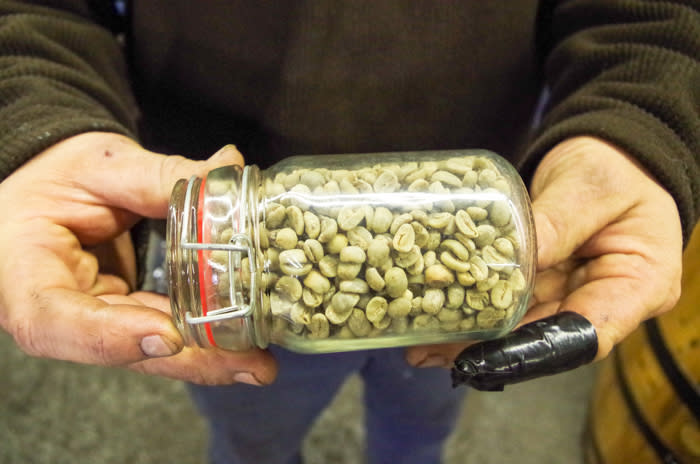 Davis started making cutting boards from used bourbon barrels in his backyard workshop, initially giving them to people as gifts. Eventually Liquor Barn started carrying the cutting boards, which often feature the logos of Buffalo Trace brands or the likelihood of Elmer T. Lee and other whiskey legends.
Over time Davis' crafts evolved to include bourbon barrel aged coffee. He roasts the coffee himself on a 75-year-old Probat coffee roaster, relying on the sound of the beans crackling to determine when it is ready. Not unlike much of what goes on in the bourbon industry, this process is notably low-tech. After roasting, the beans are put into bourbon barrels where they undergo a painstaking hands-on process that requires 13 steps per day until completion.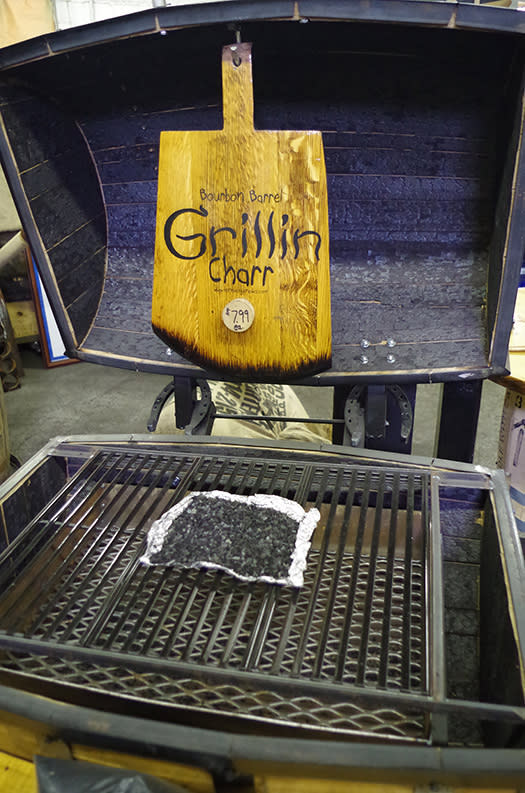 In Davis' former workshop nothing would go to waste. Rustic barrel hoop pendant lights hung overhead, while stacks of barrel staves sat along one wall awaiting their final destination. What's more, Davis has opted to use his talents to give back to the community from the start. The former Marine had a mentoring program for local kids, allowing them to work in his shop and giving them something to do after school while learning valuable life skills. Some kids served coffee while others used the burlap sacks the coffee beans came in to sew cases for Davis' wooden sunglasses.
When he's not mentoring kids, Davis is leading workshops at the local library where kids can make their own barrel head artwork. He also supports The Wounded Warrior Project. Giving back to the community seems to be the biggest lesson Davis took away from his service in the Marine Corps.
These days the "Bourbon Derby" is one of Davis' hottest selling items. A sort of lazy Susan made from a bourbon barrel head, it spins the same direction as a horse race and is set up to display a full collection of Blanton's bottle stoppers (each stopper has a letter in Blanton's and shows a horse in a different stride).
In addition to traditional bourbon barrel aged coffee, Davis also offers Pumpkin Bourbon Barrel Aged coffee seasonally and also sells his Bourbon Barrel Aged Coffee in miniature bourbon barrels for the Holiday gift season. Stay tuned for details on his website for upcoming projects.
You can find Davis' bourbon barrel aged Kentucky Knows coffee and cutting boards at all area Liquor Barn stores, or you can stop into his shop to visit the crafter himself. Select items are for sale in the gift shop at Buffalo Trace Distillery in Frankfort. Kentucky Knows is located at 337 W Broadway St. Frankfort, KY 40601. Hours of operation are Monday-Friday from 4:30 p.m. to 8 p.m. and Saturday from 9 a.m. to 7 p.m. and Sunday from 12 p.m. to 5 p.m.
Check out Kentucky Knows' feature on American Lifestyle TV here.
Photos Courtesy of Maggie Kimberl