The legendary Four Roses Distillery has made strides since its founding, growing through the 21st century with the vision of its Master Distillers.
When you hear people talking about non-distilling producers in the context of bourbon, usually the conversation is not favorable toward them. There's a feeling that buying bourbon from another producer, batching it to your specifications, and then bottling it under your label is somehow inauthentic. Historically nothing could be further from the truth. Four Roses, an iconic and multi-award-winning brand, began as a rectified brand under founder Paul Jones.
According to Four Roses Historian Al Young, Four Roses was first sold in 1888. There's some disagreement as to the source of the name, however. The official legend is that Jones proposed to a woman and she was supposed to signify her acceptance by wearing a corsage of four roses to a dance. There's another theory that he bought four different kinds of bourbon from the Rose distillery to batch together his first rectified bourbon for sale. The truth is lost to history, but the speculation will always live on.
The Paul Jones Company bought the current distillery in Lawrenceburg, Kentucky in 1922. The Spanish Mission-style distillery had been built in 1910 as the Frankfort Distilling Company, made to look like a California winery. The brand has called the site home ever since. Today the distillery is expanding from 4 million proof gallons per year to 8 million proof gallons per year. The architecture will remain consistent throughout the expansion.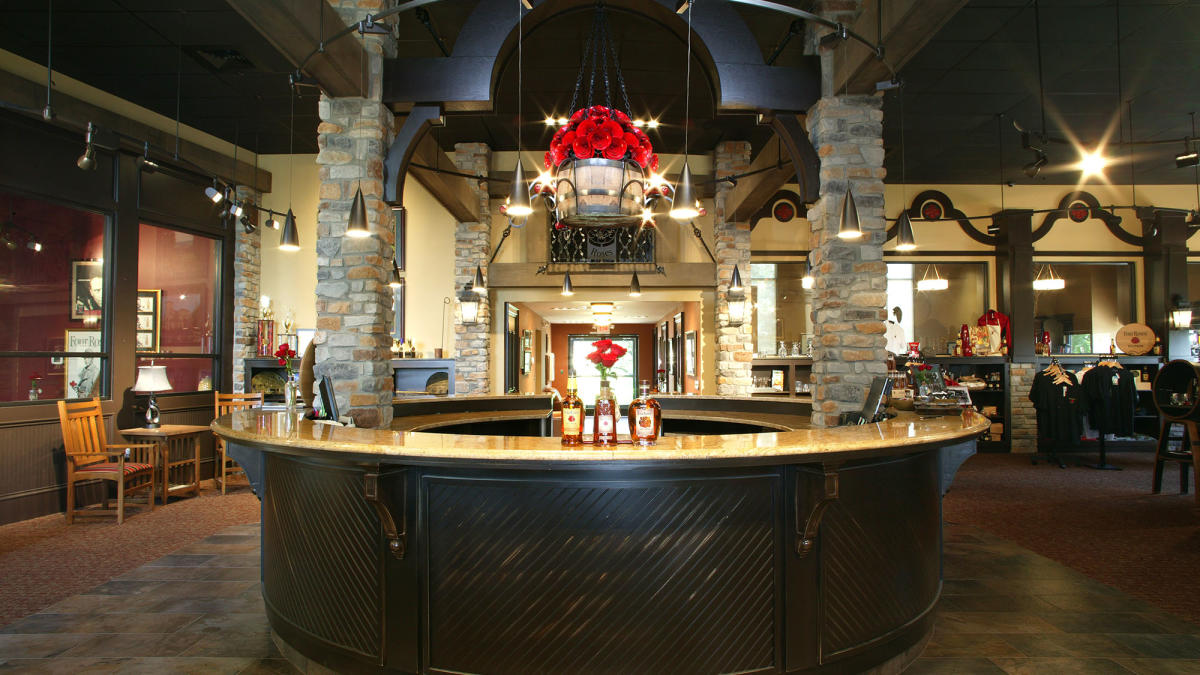 After Prohibition, Seagram's bought the Four Roses distillery and many other distilleries throughout North America. They ceased to sell Four Roses bourbon in the United States, focusing instead on Japan and France. The Four Roses sold in the United States during that time was a blended whiskey made in Indiana, Maryland, which did substantial damage to the Four Roses name. High quality Four Roses bourbon was still being made at the Four Roses distillery in Lawrenceburg, first by Master Distiller Ova Haney and then by Master Distiller Jim Rutledge. In the late 1990s and into the early 2000s the company began to sell off most of their distilleries. Four Roses went to Kirin, and Jim Rutledge seized the opportunity to bring Four Roses back to the United States. Rutledge faced an uphill battle thanks to the blended whiskey everyone had come to expect from the Four Roses label, but he was relentless in his mission to turn the brand around. Since then both Jim Rutledge and Al Young have been inducted into the Whisky Magazine Hall of Fame, and Four Roses has been awarded numerous Icons of Whisky awards. Today Master Distiller Brent Elliott is leading the brand into the future.
Tours take place in two locations, a unique feature in bourbon tourism. The distillery itself hosts tours of mashing and distilling, while the Cox's Creek location about 45 minutes away hosts tours of the warehousing and bottling aspects of the operation. Tours at both facilities are $5 per person, and if you take your ticket to the other facility within 60 days your tour at the second location will be free of charge. Always call ahead before taking a distillery tour- they are often closed for holidays and special events, as well as production problems and weather.
Four Roses Distillery, 1224 Bonds Mill Road, Lawrenceburg, KY 40342, Phone: (502) 839-3436. Tours run Monday – Saturday 9:00 a.m. – 3:00 p.m., on the hour, Sunday 12:00 p.m. – 3:00 p.m., on the hour.
Cox's Creek Warehouse and Bottling Facility, 624 Lotus Road, Cox's Creek, KY 40013, Phone: (502) 543-2264. Tours run Monday – Saturday • 9:00 a.m. – 3:00 p.m., on the hour, Sunday • 12:00 p.m. – 3:00 p.m., on the hour.