Sign #5 150 N. Limestone Street
Jordan Carlisle Jackson Jr. (1848-1918) and Eliza "Belle" Mitchell Jackson (1848- 1942) were an extraordinary married couple. The Jacksons became prominent community leaders, dedicating their lives to movements and organizations that offered Lexington's African-Americans greater opportunities in education, political involvement, and economic empowerment.
In February 1871, the Jacksons married and later adopted two children. Active on many boards, the Jacksons help found the Colored Fair and Colored Orphan Home. The Jacksons supported each other while independently pursuing their passions. In 1892, Mr. Jackson became a partner in the funeral and livery business of Porter and Jackson located at this site. Mrs. Jackson and Amanda Hathaway opened the only African-American hat shop in Lexington.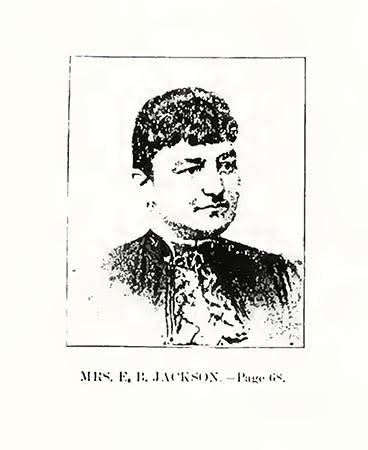 Their dedication to the community was only matched by their dedication to each other. Jordan was quoted as saying Belle "was the best investment he ever made, and that he owed much of his success to her".
Mr. Jackson was born in Lexington into slavery. Denied an education, he taught himself to read and write. Mr. Jackson had a zeal for education and political activism. He served as a Republican National Convention delegate in 1876 and 1892, edited several of Lexington's newspapers, chaired the creation of Douglas Park, protested against Kentucky's 1892 Separate Coach Law, and spoke for the committee to establish the State Normal School for Negros (now, Kentucky State University).
Mrs. Jackson was born in Perryville, KY, to Mary and Monroe Mitchell who purchased their freedom before her birth. Mrs. Jackson devoted her life to education and as a teenager became the first African-American teacher at Camp Nelson. The American Missionary Association teachers who refused to share common areas with "a woman of color", petitioned for her removal. Mrs. Jackson would later teach in Lexington and own the only African-American hat shop in the city.