Connoisseur, enthusiast, aficionado, devotee – whatever you want to call yourself, if you like beer you'll love it here.
If there's anything the influx of craft breweries and bars in the area tells us, it's that Lexington is passionate about its beer. Whether you're an adventurous spirit who loves trying new brews, a connoisseur who seeks out hard-to-find concoctions, or just a lover of the classics done right, you'll love exploring the hundreds of awesome bars and creative craft breweries around Lexington – and you can start your Beer Enthusiast journey with our picks.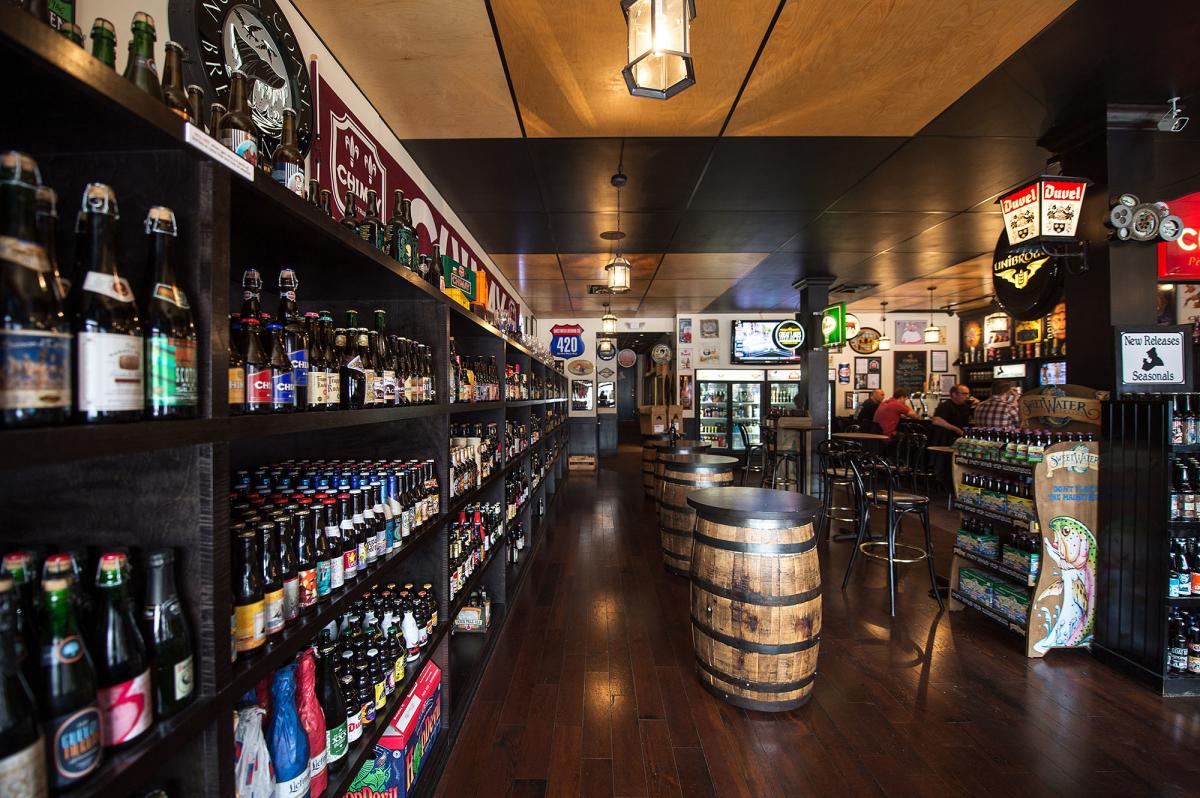 The Beer Trappe
811 Euclid Avenue
A "Beer Lover's Mecca," this neighborhood beer joint has eight rotating taps of rare craft beer and hundreds of specialty bottles from around the world, which you can sift through with the help of personable and knowledgeable staff. The Beer Trappe has the title of being Lexington's first craft beer store, and was rated one of the 100 best beer bars in the country by Draft Magazine. thebeertrappe.com
Lexington Beerworks
213 North Limestone
For the beer lover with a penchant for home brewing, Lexington Beerworks offers a full-stocked home brew shop in addition to 12 rotating taps and more than 100 beers. Enjoy some of the world's best craft beer in a cozy, dark-wood setting complemented by a menu of artisan pizzas and shareable appetizers. lexingtonbeerworks.com/
Distillery District
Manchester Street
The site of the historic James Pepper Distillery is now home to one of the hottest areas in town, the Distillery District. Stop by Ethereal Brewing, a craft microbrewery that explores the "funkier side of farmhouse brewing." If you're in the mood for a bite to eat, you can walk next door to Middle Fork Kitchen Bar, recently named one of the 100 Hottest Restaurants in America by Open Table, or you can enjoy a cold one by a fire pit next to a creek across the way at the Break Room. This whole area is a favorite among local beer enthusiasts, so you'll be in good company wherever you wander. thedistillerydistrict.com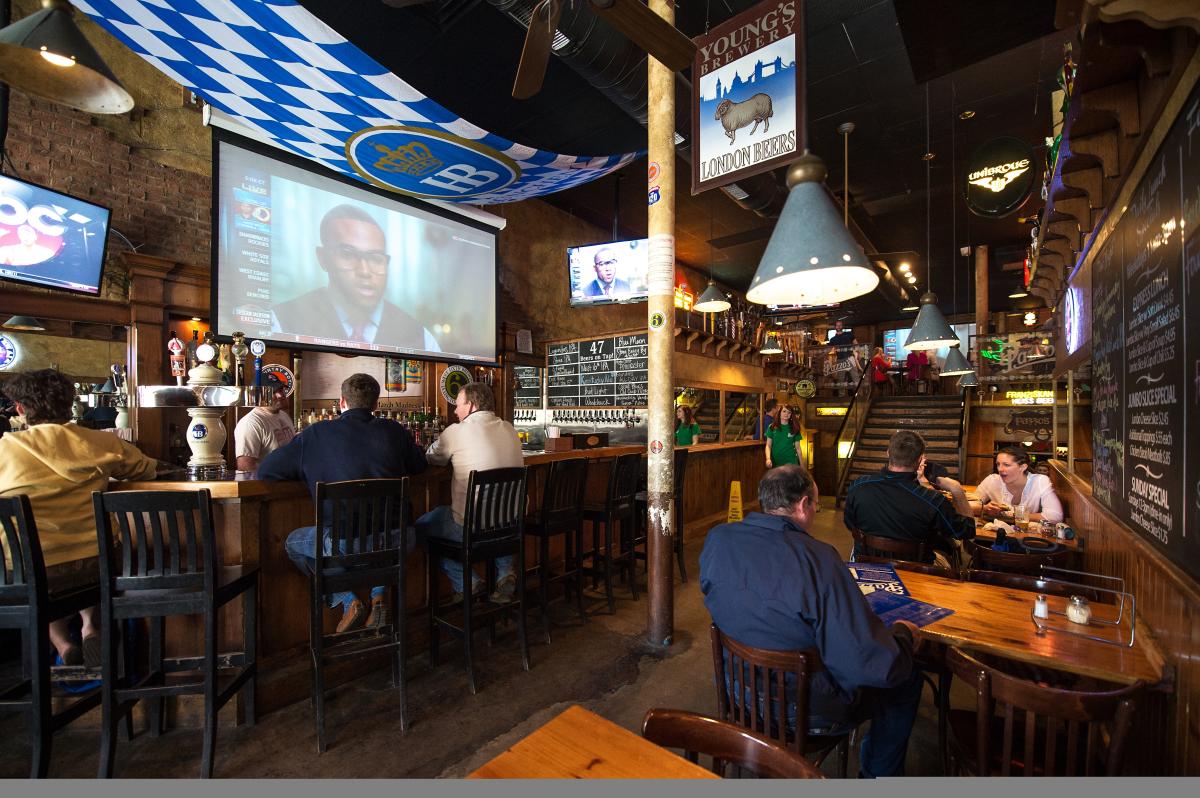 Pazzo's
385 South Limestone
With 47 beers on tap, weekly Pint Nights, 30 TVs and a menu of delicious hand tossed pizzas, Pazzo's is a fantastic campus hotspot if you like your beer with a side of sports and pizza (and who doesn't?). Pazzo's is a maze of dining areas and bars and offers a completely new experience nearly every time you come, so you can't go wrong no matter when you decide to come. pazzospizzapub.com
Hop Cat
410 West Short Street
With an impressive number of accolades including Top 50 bars in the US (Draft Magazine), #3 Beer Bar in the World (Beer Advocate Magazine) and #2 bar in the U.S. (Craftbeer.com), Hop Cat has over 100 rotating taps from Kentucky and around the world, giving them the largest selection of craft beer in Kentucky. You won't find macro beers like Miller, Bud or Coors on tap, but if you're in the mood to be adventurous, just ask a bartender. hopcat.com
The Brewgrass Trail
Bluegrass Region – Central KY
Encompassing several featured breweries in and around Lexington, the Brewgrass Trail is the best way to sample the best breweries and craft beers if you can't pick just one from this guide. Passports are available at any participating brewery or at the Lexington Visitors Center. Be sure to get your Passport stamped at each brewery you visit to receive a commemorative t-shirt – score!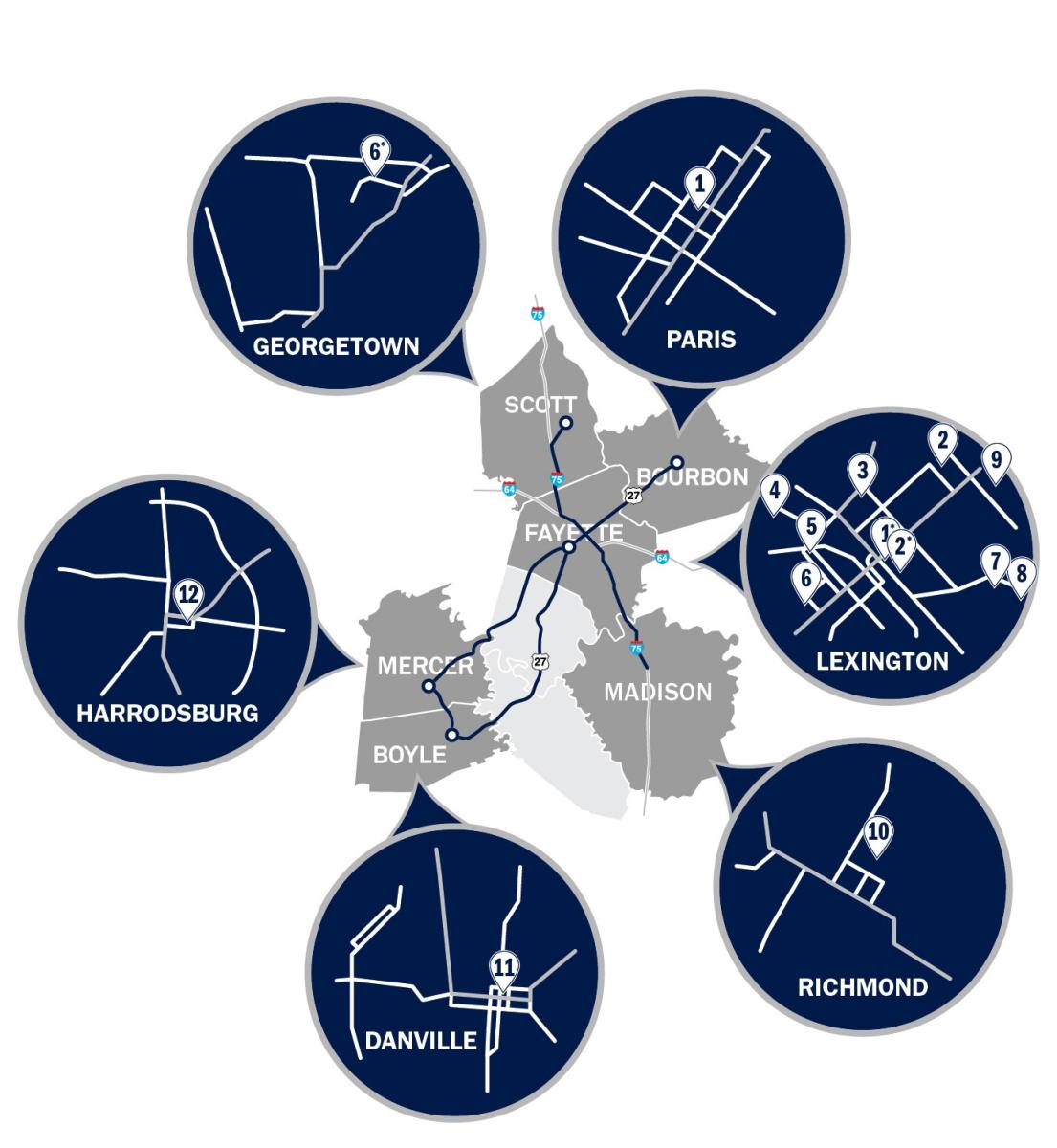 609 Main Street, Paris | (859) 707-3436
1*. ROOSTER BREWING AT OSCAR DIGGS
609 Main Street, Paris | (859) 707-3436
501 West Sixth Street, Lexington | (859) 705-0915
501 West Sixth Street, Lexington | (859) 705-0915
610 West 3rd Street, Lexington | (877) 928-2337
1224 Manchester Street, Lexington | (859) 309-1254
5. ALLTECH LEXINGTON BREWING & DISTILLING COMPANY
401 Cross Street, Lexington | (859) 255-2337
436 Chair Avenue, Lexington | (859) 554-6200
6*. COUNTRY BOY: GEORGETOWN TAPROOM
436 Chair Avenue, Lexington | (859) 554-6200
725 National Avenue, Lexington | (859) 447-8146
436 Chair Avenue, Lexington | (859) 554-6200
119 Luigart Court, Lexington | (859) 368-7064
436 Chair Avenue, Lexington | (859) 554-6200
107 Larrimore Lane, Danville | (859) 209-4211
166 Marimon Avenue, Harrodsburg | (859) 265-0872
Insider tip: While you are brewery-hopping, be sure to keep an eye out for the eclectic street art around town (there are more than 30 murals). Check out PRHBTN.com for the full list of murals, or use this helpful map.