In October of 2017, the city of Lexington made the decision to permanently remove Civil War statues of two Confederate Generals located in its historic downtown, relocating them to the Lexington Cemetery.
Throughout its history, Lexington has often been more progressive than its Southern neighbors, setting an example for others to follow. Looking back on that history, it's important to recognize every part of Lexington's past—the good, the bad and the ugly -  so that we can celebrate just how far we have come.
We hope you explore the African-American Heritage Interpretive Sign Program to learn about the people, places and events that played a significant role in the advancement of equality, shaping Lexington into the city it is today. Below you'll find a summary of each sign on the trail.
Standing Up for Social Injustices
Sign #1 400 W Main Street
Robert Charles O'Hara (R.C.O.) Benjamin, was a vocal critic of racial violence and voter intimidation. Born in 1855, he practiced law throughout the U.S. and was the first African-American admitted to the California Bar Association. He settled in Lexington in 1897 and vigorously challenged Jim Crow practices in his writings, legal cases, and activities of daily life.
South Hill, a Neighborhood for Free Black Entrepreneurs
Sign #2 275 S. Limestone Street
In the mid-1800s, Lexington's free black community was filled with driven individuals who purchased their own freedom and went on to either free or purchase their enslaved family members. As this community grew, they were not residentially segregated—freed blacks lived alongside white households throughout the city. South Hill was as important a neighborhood for Lexington's white elite as it was for prominent members of the freed black community.
Lunch Counter Sit-Ins
Sign #3 250 W. Main Street
Before the famous Greensboro sit-ins, Lexington staged their own starting in July of 1959. Members of the Congress on Racial Equality (CORE) and the National Association for the Advancement of Colored People (NAACP) protested businesses that practiced discrimination, and working-class lunch counters downtown were among those targeted. Demonstrating peacefully, they worked to fill segregated lunch counters, sitting in vacant seats meant for whites only.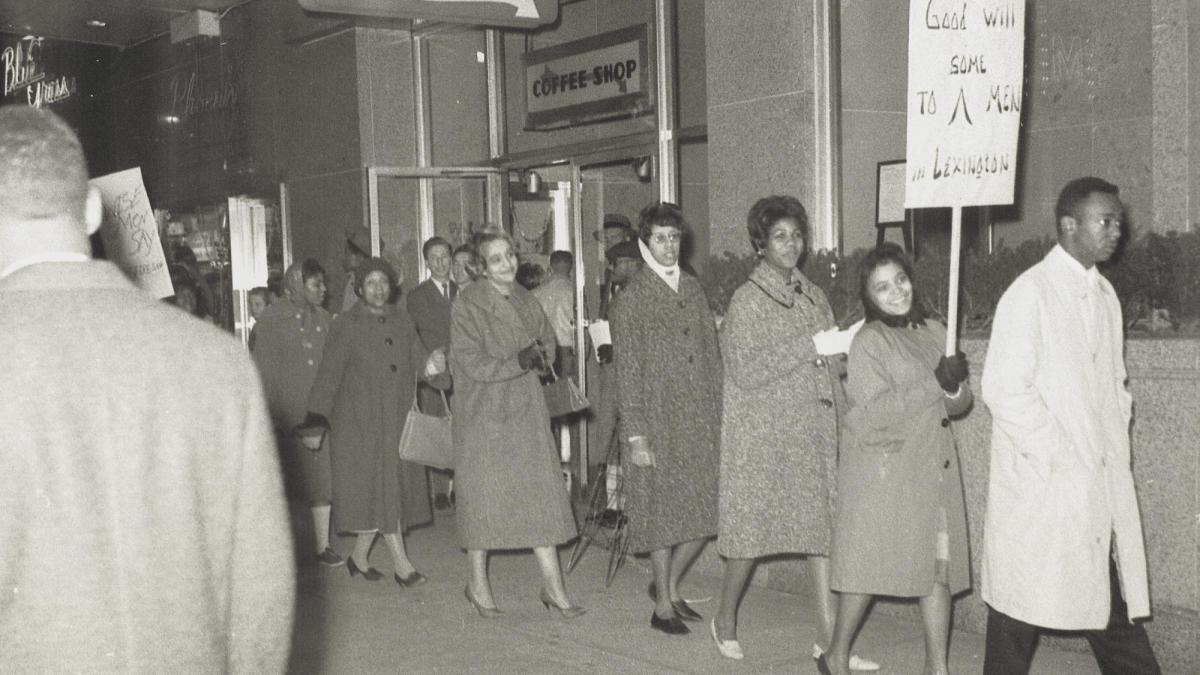 Equality Protests at Modern Day Park Plaza Square
Sign #4 100 E. Main Street
The Phoenix Hotel, which is now Park Plaza Square, is where peaceful sit-ins took place by black women who led the fight for racial equality in Lexington's Black Freedom Struggle. They sat day after day in the Phoenix Hotel's restaurant waiting for someone to acknowledge their patronage—despite the lack of news coverage by the Lexington Herald and the Lexington Leader, the hotel quietly changed its policy and eventually served the civil resisters.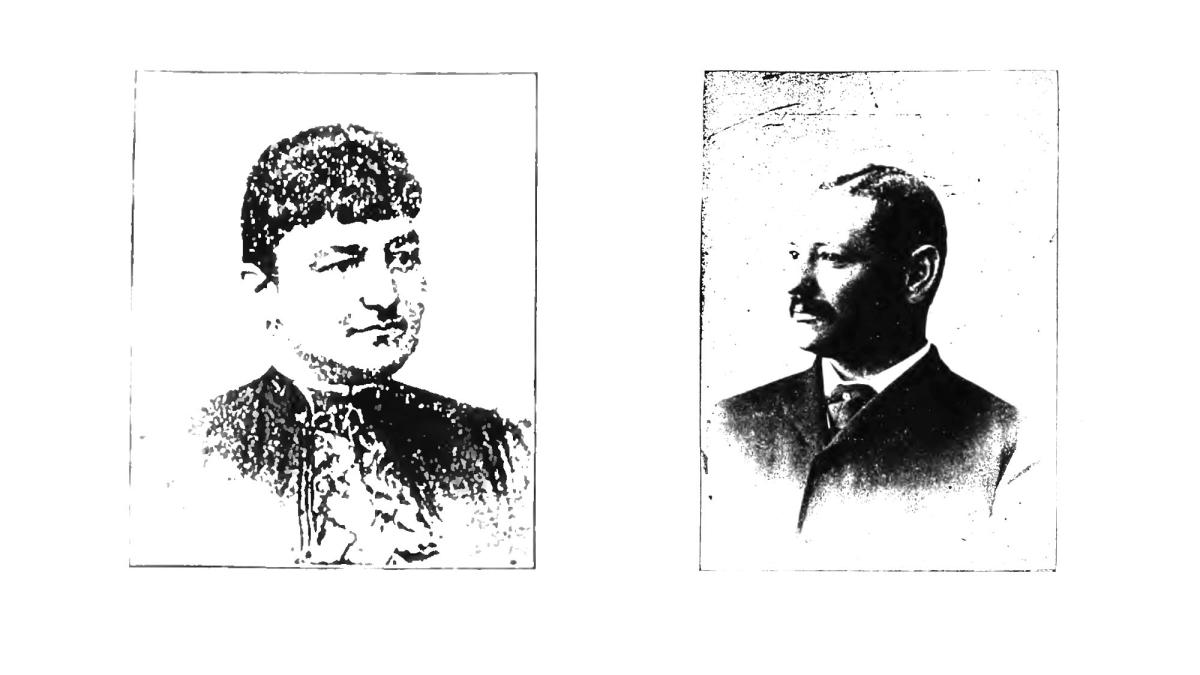 The Jacksons
Sign #5 150 N. Limestone Street
Jordan Carlisle Jackson Jr. and Eliza "Belle" Mitchell Jackson became prominent community leaders, dedicating their lives to movements and organizations that offered Lexington's African-Americans greater opportunities in education, political involvement, and economic empowerment.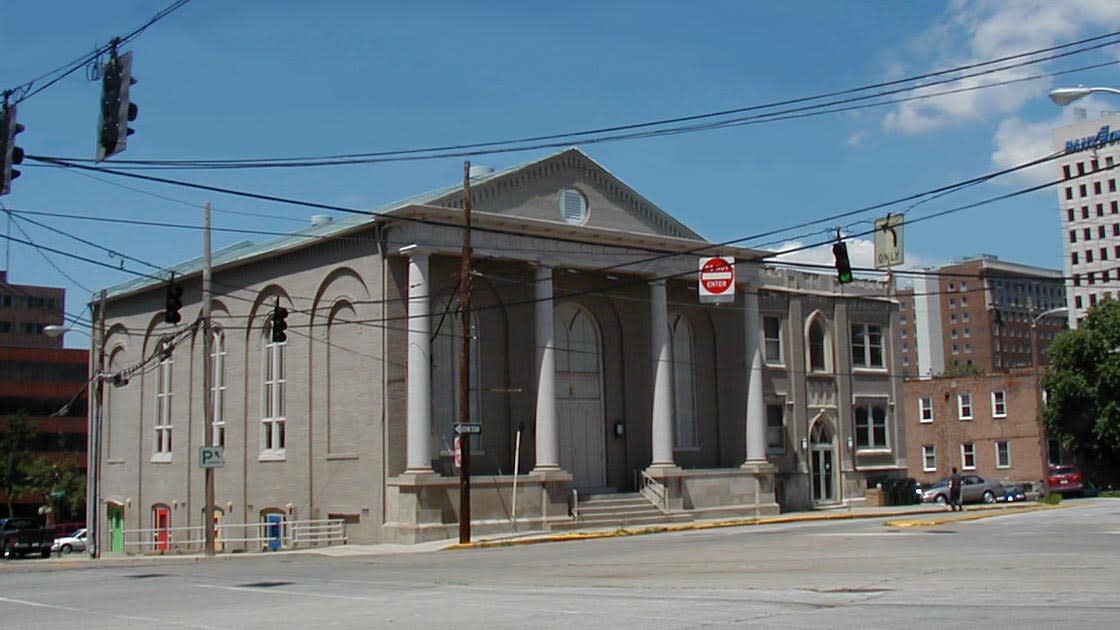 Churches and Social Places
Sign #6 266 E. Short Street
Lexington's First African Baptist Church was the first black church west of the Allegheny Mountains. Established around 1790 by Peter Durrett "Old Captain", church congregations split over the decades to create both the Main Street Baptist Church and the Historic Pleasant Green Baptist Church. Between 1850 and 1854, First African Baptist was Kentucky's largest congregation, black or white, with about 2,000 worshipers.
Slavery and Slave Trade in Lexington
Sign #7 102 W. Short Street
Over the centuries, Lexington has been a political, social, and economic reflection of the Bluegrass State. Ties to slavery have been no exception. As an early metropolitan center, Lexington was a trading hub for all forms of exports, including human beings. Motivated by financial gains, bands of men formed slave patrols that captured runaway slaves and re-enslaved free African-Americans who had the misfortune of crossing their paths.
Ladies Hall: Empowerment through Education
Sign #8 154 Church Street
This sign is located at the site of the first free school for African-Americans in Lexington, named the Howard School. African-Americans in Lexington believed strongly in education, establishing private schools before the Civil War. By 1899, three public schools for African-Americans were supported by taxes.
Charlotte Dupuy: Suing for Freedom
Sign #9 175 N. Mill Street
As slaves of Henry Clay, Charlotte Dupuy and her family moved to Washington D.C. with Clay during his time as Secretary of State. After Clay's tenure, the Dupuy's were forced to move back to Kentucky, sealing their fates as slaves. In February of 1829, Dupuy petitioned the U.S. Circuit Court in Washington D.C. to sue the Clays for her freedom and that of her children. Eleven years after the start of her journey towards emancipation, she and her daughter Mary Anne were granted their freedom.
Alfred Russell: From Slavery to Liberation
Sign #10 535 W. Second Street
Alfred Francis Russell lived with his mother Milly Crawford in Glendower where they were enslaved. With a legal maneuver and a court case with the Todd family (including Abraham Lincoln), Polly Todd Russell Wickliffe emancipated Milly and fourteen-year-old Alfred in 1833. Through Wickliffe's donations to the American Colonization Society, Milly and Alfred eventually sailed to the west coast of Africa. Alfred was elected vice president of Liberia in 1881 and then served as president from 1883 to 1884.
Mary Ellen Britton, Civil Rights Pioneer
Sign #11 545 N. Limestone Street
Mary Ellen Britton was born in Lexington as a free person of color. She taught throughout central Kentucky, coming back to in Lexington in 1876. Britton received her medical degree in 1903 and became the first licensed woman to practice medicine in Lexington. She built this home on N. Limestone Street in 1903, and it housed her medical practice until 1923. She continued to advocate for women's rights until her death.