THAT HORSE HAS HEART.
 Thoroughbred owners, trainers and jockeys, and anyone else connected to racing – from fans to equine veterinarians – have a phrase that is reserved for the rare horse with a combination of grace, guts and talent: "That horse has heart." One of those horses was Secretariat, the 1973 Triple Crown winner who smashed the Belmont by a record 31 lengths. Secretariat, a shining chestnut colt with three white socks, gave a country struggling with the Vietnam War and the Watergate political scandal hope and joy. He was a folk hero plastered on magazine covers and voted one of the top athletes of the century by ESPN.
Every year, hundreds of people come to the Bluegrass to visit a landmark known primarily only to horse people: Secretariat's grave at Claiborne Farm in Paris, just outside Lexington. Claiborne is the Fenway Park of Kentucky horse farms, one of the oldest and most respected operations. In existence since 1910, Claiborne has bred, raised and sired some of the most important thoroughbreds in history. After his racing career, Secretariat stood at stud at Claiborne until he was 19, when he died of laminitis, an incurable condition affecting a horse's hooves.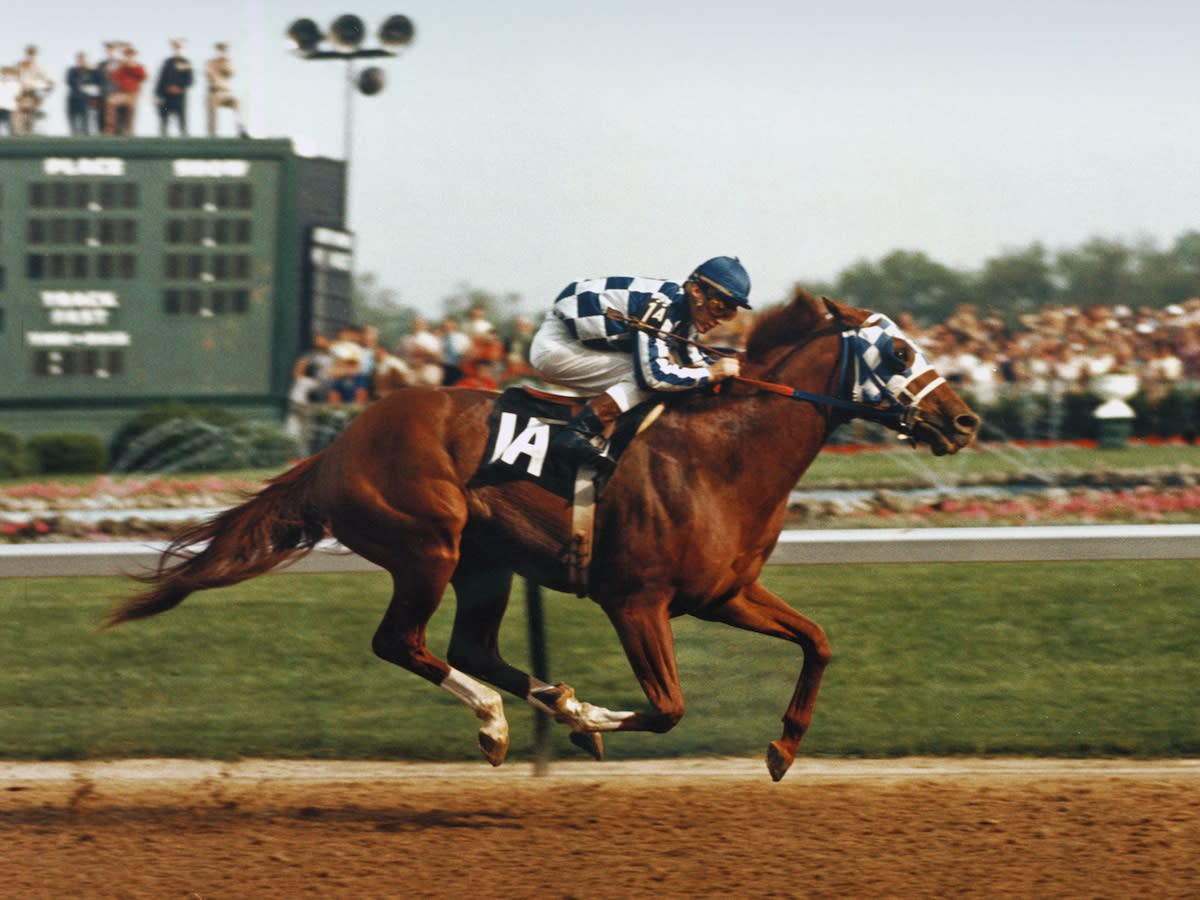 Secretariat's grave is located in an understated horse cemetery, past two brick pillars with granite roosters atop them, behind Claiborne's main office. It's a simple headstone that's often surrounded by flowers, apples and peppermints left by fans. Claiborne is owned by the Hancock family, and Dell Hancock, the granddaughter of Claiborne's founder, met us over by Secretariat's grave to tell VisitLEX what the horse meant to her farm and her family.
"We all believe in genetics," said Dell, but analyzing pedigrees to create a horse cannot predict magic. Secretariat came along soon after Dell's father, "Bull" Hancock, died at 63. Her brother, Seth, took over the farm when he was only 23. Seth bet on Secretariat as a 2-year-old, making the pivotal decision to syndicate the colt for $6 million, a mind-boggling figure at the time and over $34 million in today's dollars. When Secretariat won the Triple Crown, Seth proved he could take the reins of Claiborne and helped the colt's owner, Penny Chenery Tweedy, save her own family's farm in the fairy-tale story recounted in sportswriter William Nack's book and the 2010 Hollywood movie. "Our father was a huge figure," says Dell, and when Secretariat triumphed, everyone at Claiborne exhaled and thought, "We're gonna go on."
Secretariat was so popular in his day, Claiborne had to create special sessions for visitors so they wouldn't disrupt the working farm. Visiting fans included John Wayne. "Secretariat was so incredibly charismatic, elegant and lovely," says Dell.
The horse was a selfie lover before they were invented. Says Dell, "When he'd hear a camera click, his ears would go up. He still gets flowers on his birthday, on the day he died and on the day of the Triple Crown. That horse gets more flowers today than a lot of people get when they're alive."
After his death, Secretariat was autopsied by Dr. Thomas Swerczek, a professor of veterinary science at the University of Kentucky. What Swerczek discovered "shocked" him. Secretariat's heart was twice the size of a regular horse's heart. And of the thousands of horses Swerczek had necropsied, "…no other horse came close to Secretariat's heart size."
"You go to the racetrack and bet $2 on a horse, and then he's your horse," says Dell. "Secretariat was America's horse. It was an honest privilege to have had him here."
To make an appointment to visit Secretariat's grave, call Claiborne Farm at (859) 987-2330. Photo courtesy of the Tony Leonard Collection and Secretariat.com.