A new distillery with a past that stretches back to the late 1700s, Jeptha Creed aims to distill "spirits as authentic as the legacy they're built on."
THE NETHERY FAMILY IS HARKENING BACK TO THE DAYS BEFORE PROHIBITION WHEN EVERY FARM HAD A STILL TO BUILD A UNIQUE DISTILLERY EXPERIENCE.
When Squire Boone explored Kentucky in the late 1700s with his more famous brother, Daniel, he lived a short time in what would eventually become Louisville before moving on to present-day Shelbyville. It was there he founded the first permanent settlement in present-day Shelby County, Squire Boone's Station. He named the nearby hill Jeptha Mountain, known today as Jeptha Knob. It is the highest point in the Bluegrass Region of Kentucky, and it marks the geographic halfway point between Lexington and Louisville.
Today the Jeptha Knob backs up to Rut n Strut Farm, owned by the Nethery Family. It is from this little-known local landmark they took the name for their brand-new distillery, Jeptha Creed. The Nethery Family is harkening back to the days before Prohibition when every farm had a still to build a unique distillery experience. Not only will the family own and operate the distillery, they will also grow the corn both on site and at their nearby family farm.
Jeptha Creed's bourbon will be distilled from an heirloom, non-GMO variety of corn called "Bloody Butcher," named for its red color. It's not an easy variety of corn to grow- it's taller and has thinner stalks than most commercially grown corn, so it tends to fall over once it is ready for harvest. This makes harvesting a particular challenge. Currently there are 4 acres of Bloody Butcher corn growing on the distillery property and a total of 180 acres growing throughout Shelby County. The family plans to grow 250 acres next year.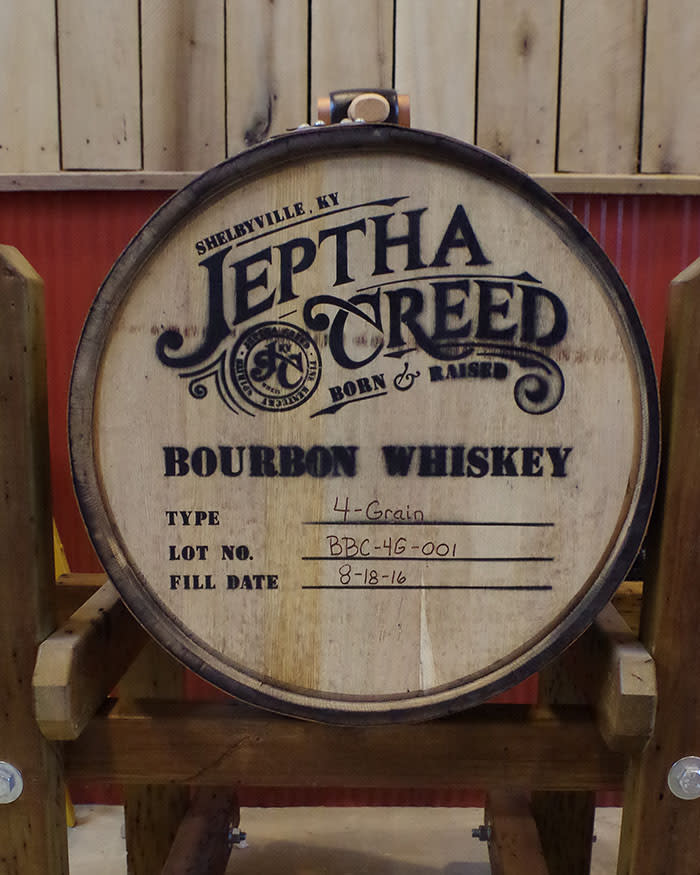 Distillation has already begun at the Shelbyville site. Construction is nearing completion and they expect to welcome their first visitors in late October 2016. Though the details are not completely hammered out yet, tours are expected to last 45 minutes to an hour and cost somewhere around $15 per person. When the doors open there will be clear spirits and merchandise for sale as well as a very small quantity of bourbon from an experimental distillation they did in Middleton, Wisconsin. It will be labeled as the "test batch edition" and will be the only bourbon available for a few years while their new distillate is aging in the two on-site barrel barns.
In August, Jeptha Creed distilled the first legal barrel of bourbon made in Shelby County since before Prohibition. At current speed and capacity, they will be able to produce 4-5 barrels per day. They are currently making vodka for their opening, which will be bottled as plain, blueberry, honey, and apple. They will also offer a moonshine product in plain, blackberry, apple pie, and Louisville Lemonade. The farm will begin growing fruit trees, grapes, and other produce, and the production of fruit brandies is already in the works.
In the spring Jeptha Creed has plans to begin offering a farm tour. This tour will take 2-3 hours and will include an in-depth look at the entire process beginning with growing the grains.
Stay tuned to Jeptha Creed's website, Facebook page, and Twitter account for more details on the opening dates.
Photos Courtesy of Maggie Kimberl and Jeptha Creed Distillery.