As American Pharaoh charged down the final stretch at the 2015 Breeders' Cup, he didn't just make history. He found a permanent place in the hearts of all who were watching—especially his fellow Kentuckians.
This was the first time that Lexington, the Horse Capital of the World, hosted the Breeders' Cup World Championship. Held at the iconic Keeneland Race Course, the Breeders' Cup is Thoroughbred racing's richest event, attracting crowds from all over the world.
A win for American Pharaoh in the Breeders' Cup Classic was meaningful in more ways than one. He became the first horse to ever win the Grand Slam of horse racing—the Kentucky Derby, Preakness and Belmont Stakes (the Triple Crown) and the Breeders' Cup Classic. And his Grand Slam title happened on his home course, Keeneland, in his hometown, Lexington.
Bred by Ahmed Zayat of Zayat Stables, he was born in Lexington on February 2, 2012 at Stockplace Farm, just 10 miles south of the famous Rupp Arena. Of course, when he foaled it would have been impossible to predict his success, but he does come from a long line of greats in the sport of Thoroughbred racing.
His sire, Pioneerof the Nile (also bred by Zayat Stables) placed second at the 2009 Kentucky Derby, his grandsire Empiremaker came in second at the 2003 Kentucky Derby and his great grandsire, Unbridled, won the Kentucky Derby in 1990. His mare, Littleprincessemma, comes from an impressive pedigree as well, tracing all the way back to Secretariat.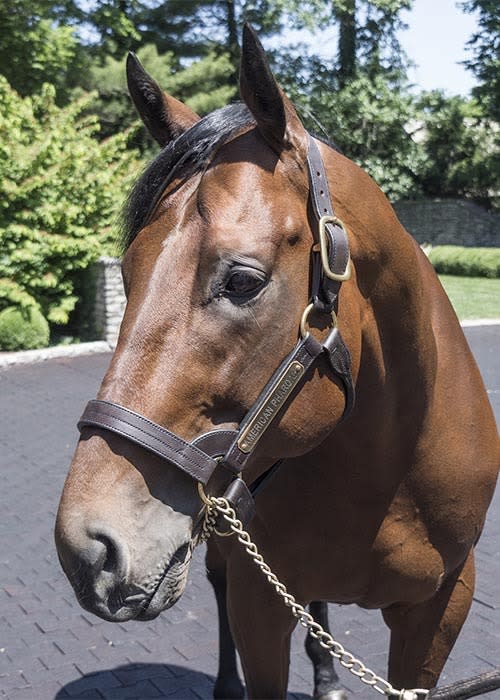 Following a highly anticipated yet unsuccessful sales attempt at Fasig-Tipton, he began to train as a racehorse and immediately stood out from the rest. Horses of his caliber aren't bred for friendliness, rather for speed and strength. But American Pharaoh's distinctive gentle demeanor, combined with his inherent speeds, set him apart.
He trained in Florida's warmer weather and after a few weeks, trainer Bob Baffert was called in to help him find his stride. At the time, Baffert had trained the likes of four different Kentucky Derby winners and multiple other first-class stallions. Even to Baffert, he stood out as a future champion.
Months later, he began to run in a series of graded stakes races, which eventually led to an invite to compete in the Kentucky Derby. This invitation would turn into a win, followed by three more Classic wins, earning him the title of Grand Slam winner, which is the highest achievement for a Thoroughbred, ever.
Today, you can find American Pharaoh standing as stud at Coolmore's Ashford Stud, right outside of Lexington, with a stud fee that started at $200,000. He spends his days rolling in the grass, mingling with visitors and working in up to three breeding sessions a day during the breeding season.
Lexington's position in the heart of Horse Country, complete with fence lined pastures, rolling hills and hundreds of premier horse farms, plus the historic Keeneland Race Course, makes this the Horse Capital of the World. We often say that horses are bred, born, raised, raced and retired here. And for American Pharaoh, it couldn't be truer.
From his birth to his retirement, Lexington has been a big part of the legendary story of American Pharaoh. To us, he's not only a hometown hero—he's stomped his hooves into our history books and secured a place in our hearts forever.