Welcome to Lexington: the Horse Capital of the World. Drive in any direction and before you know it, you'll be surrounded by rolling hills of gorgeous bluegrass countryside. You'll pass horses grazing in the fields and see farms with familiar names like Calumet and Claiborne. It doesn't take long to realize you're surrounded by racing royalty. Because this is horse country: the center of the Thoroughbred universe.
Champion racehorses, like Triple Crown winner American Pharoah (and before him, Secretariat and Seattle Slew), are bred here, born here, raised here and raced here. This is where American Pharoah completed the first Grand Slam in Thoroughbred racing history, capturing the Breeders' Cup Classic before retiring to breed at a nearby farm. When it comes to horses, there's nowhere else in the world like Lexington—and it's been that way since the very beginning. Our equine roots go way, way back, starting millions of years ago. In fact, it's quite literally at our very foundation. 
What Makes Lexington Horse Country?
There's a reason Lexington is the Horse Capital of the World. Well, there's lots of reasons. But one of the most important starts with the land itself. This place is designed to grow strong, fast, powerful horses from the ground up—literally.

Lexington sits on top of a limestone shelf that acts as a natural filter. It lends calcium to our famous bluegrass, making it the perfect fuel for growing racehorses, helping them build strong bones. The limestone also filters our water, further helping our horses (and our bourbon—but that's a different story). Our rolling hills make for a great playground and training ground for foals and yearlings. All in all, this is a great place to be a horse—and our earliest settlers knew it.

Racing Since the Early Days
While most settlers to Kentucky brought horses with them, one of the first to make his mark on Kentucky horseracing was Revolutionary War veteran William Whitley. In the late 1700s, he built a home south of what is now Lexington in Crab Orchard—a home that included one of the country's first clay racetracks. According to legend, Whitley also decided that American horses would race counterclockwise, as a protest against the clockwise races of England. Whether that origin story is true or not, that tradition of counterclockwise racing continues today here in the United States.
Meanwhile, Lexington was developing a culture of horseracing all its own. Around 1780, early settlers established a course for straight quarter-mile races on what is now South Broadway, just past Rupp Arena. After racing in the city streets was prohibited (something about it being "inconvenient"), Lexington's first formal racetrack opened in 1789—a time when horses outnumbered people in the town. Around 1830, the Kentucky Association, a group of prominent locals including Henry Clay built a Thoroughbred racetrack on the east end of downtown—and now you know how Race Street got its name.
While Thoroughbreds were racing on the east end of town, another type of racing was happening on the west end. In 1875, the Red Mile was constructed—the second-oldest harness track in the world, known for its iconic mile-long red clay oval and lightning-fast harness races. The horses that competed during the earliest Red Mile races were also some of the earliest examples of a new breed: the Standardbred.
By the 1930s, the Kentucky Association track had closed, and the tradition of Thoroughbred racing in Lexington was picked up by a familiar name: Keeneland. Established by a group of local horsemen and businessmen, Keeneland was founded as a model race course, with the mission of bringing Thoroughbred racing "as it should be" to the people of Lexington. The new track opened in 1936 with twice-annual meets in the spring and fall—and they've kept it up for the past 80 years and counting. Today it's one of the most beautiful, historic, and well-respected racetracks in the world, and it's still driven by that same original mission.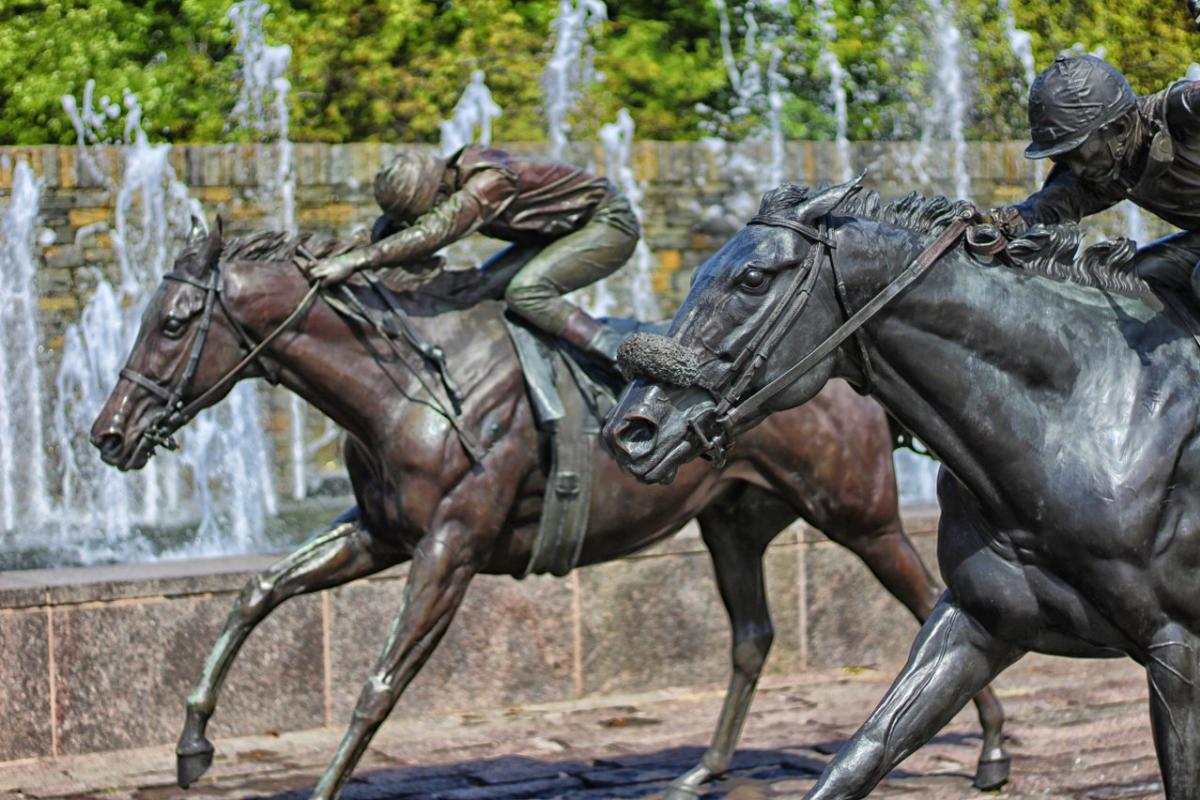 Bred Here, Born Here, Raised Here, Raced Here
It's not just the land that made Central Kentucky an attractive target for early horsemen—the politics helped, too. In the late nineteenth century, some states were banning gambling, including betting on horse racing. As you probably guessed, Kentucky wasn't one of those states. Legal gambling? Perfect land? Mild climate? A built-in culture of horse racing? No wonder equine enthusiasts came here in droves, setting up breeding operations that would shape the Thoroughbred for generations to come. (Of course, it goes back further than that: Daniel Boone himself introduced a bill for "improving the breed of horses" at Kentucky's first legislative assembly.)

Many of those historic breeding operations are still around today, numbered among the 450-plus horse farms in and around Lexington. Runnymede Farm, established in 1867 (yes, you read that right) by Civil War veteran Ezekiel Clay, is still breeding and racing champions—and still in the Clay family, 150 years later. Claiborne Farm, founded in 1910, has been the home of racing and breeding legends like Secretariat, Danzig, Mr. Prospector, and Unbridled, and is now in its fifth generation of Hancock family leadership. Calumet Farm, a powerhouse racing stable in the mid-twentieth century and home of eight Kentucky Derby winners, was founded in 1924 and is still active today.
Lexington wasn't just the center of the racing and breeding worlds, though—it was also the center of the equine sales industry.  Standardbred sales house Tattersalls has been selling harness-racing horses in Lexington since the late nineteenth century. Keeneland held its first Thoroughbred auction in 1938, and has been holding annual sales since the 1940s. Today, they're the largest Thoroughbred auction house in the world, with countless Triple Crown and Breeders' Cup winners among their sales graduates.

Of course, with all these world-class horses around, world-class veterinary care wasn't far behind. In 1876, Dr. E. T. Hagyard established a veterinary practice just down the road in Winchester. Nearly 150 years later, that practice has evolved into the Hagyard Equine Medical Institute, one of the most well-regarded equine veterinary practices in the world, serving equine athletes of all types right here in Lexington.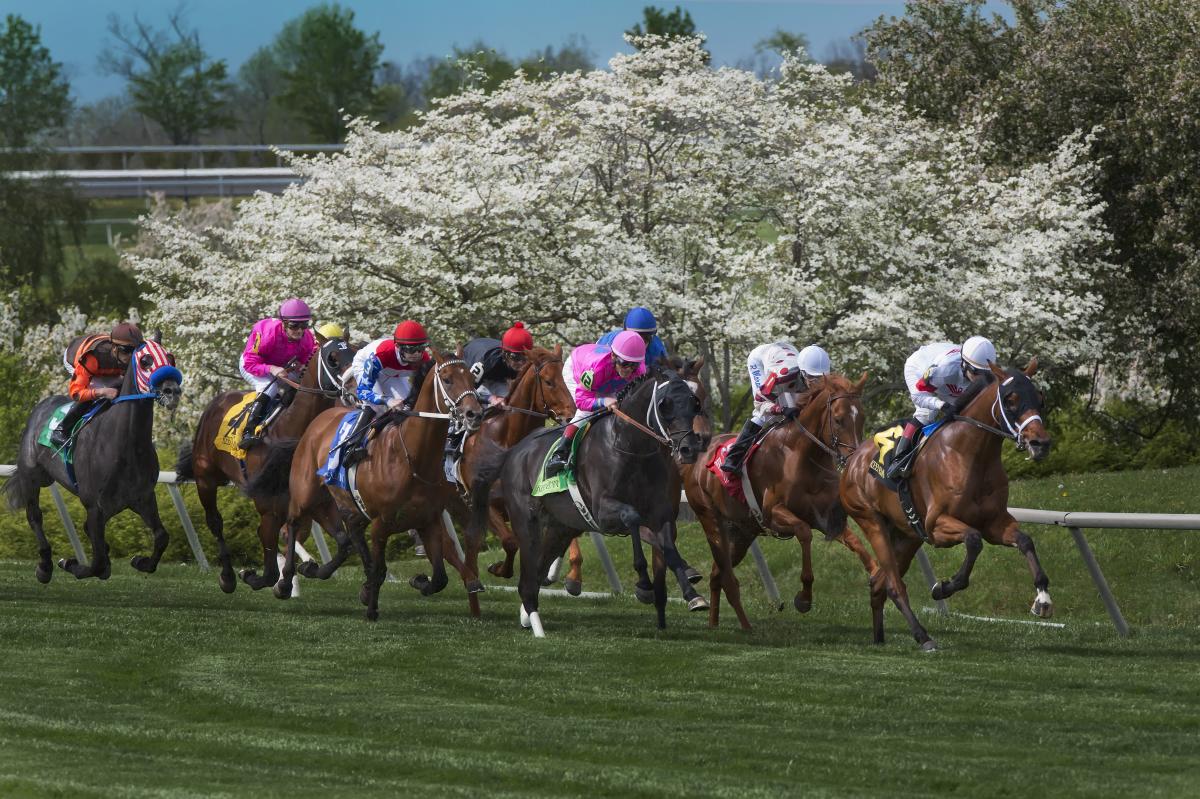 Still Making History
When it comes to horses in Lexington, we're making history all the time. In 2010, we were the first city outside of Europe to host the World Equestrian Games. In 2015, Keeneland hosted the Breeders' Cup World Championships for the first (but definitely not last) time. In 2016, Keeneland sales grad won all three Triple Crown races. We have a wide-ranging industry to support horses, from the best equine veterinary practices in the world to family-owned horse feed suppliers to thousands and thousands of dedicated, hardworking farm staff to keep it all going. We're built to make equine history from the ground up. And let's be honest here—we're the Horse Capital of the World. We're just getting started.
 
Explore Lexington's Equine History Today
Ready to dive into the equine history of the Horse Capital of the World? We've got so many ways to do it. Visit a historic farm (or three) through Horse Country Tours. Pay your respects at Secretariat's grave. Experience the thrill of racing at Keeneland or Red Mile. Explore all things horse-related at the Kentucky Horse Park. Or just take a drive through the city—wherever you go, you're never far from our equine history. Check out our list of horse-related locations throughout Central Kentucky and start planning today.