Kit Graham's Bourbon Distillery Recommendations.
We reached out to food and travel blogger Kit Graham from The Kittchen to see which bourbon distilleries are at the top of her list when she's in Lexington. Below you can find her suggestions for touring and tasting bourbon in the Bluegrass.
Lexington is primarily known for two things: bourbon and horses. My friend Jenny and I flew down to Lexington for just 48 hours and discovered so much to do in the small city. Like many of Lexington's visitors, one of our primary goals was to learn about–and taste–bourbon. I am excited to tell you about the distilleries we visited.
CAN'T MISS BOURBON STOPS
The distilleries in and around Lexington are special because they are located above an underground limestone shelf. It naturally filters the iron out of the water, making it perfect for distilling bourbon. The water is also rich in calcium, which is said to give the horses in Kentucky strong bones. This natural water source is used by distilleries and is the reason why many distilleries are located on bourbon trail–they are all near the water source.
Did you know that the population of Kentucky is 4.5 million…but there are more than 10 million barrels of bourbon aging in Kentucky warehouses? Bourbon is a big business in Kentucky. During our time in Lexington we visited three distilleries and we loved each one for different reasons.
James E. Pepper
Our first stop was the James E. Pepper Distillery in the Distillery District. James E. Pepper is a modern-day reincarnation of the historic distillery of the same name.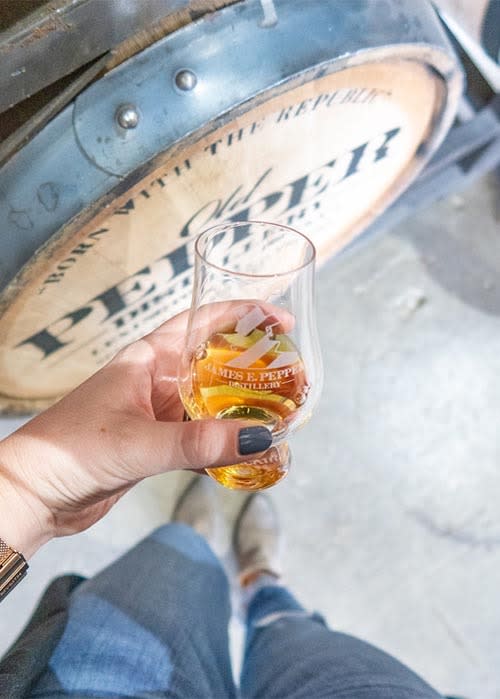 We met up with Marjorie who was super friendly and knowledgeable. She taught us all about James E. Pepper, the history of bourbon in Kentucky and the story of how the distillery has been brought back to life. We learned so much–and she kept the tour fun.
The original James E. Pepper first started producing bourbon after the American Revolution and it stayed open all the way until 1958. The brand was relaunched in 2017 and is now producing award-winning whiskeys.
I definitely recommend doing a tour at the first distillery you visit. This way, you can learn all about bourbon and how to taste it, so that you'll be ready to stop into other distilleries for tastings.
James E. Pepper made some of our favorite bourbons and Jenny and I both bought some to bring home.
I recommend going to this distillery before dinner since it is located beside some great bars and restaurants in the Distillery District. We went to Goodfellas and then Crank & Boom after our tour and tasting. It was a great way to spend half a day!
Woodford Reserve
Woodford Reserve is on a beautiful piece of land surrounded by horse farms–it is a National Historic Landmark. They offer a variety of distillery tours, tastings and mixology tasting presentations.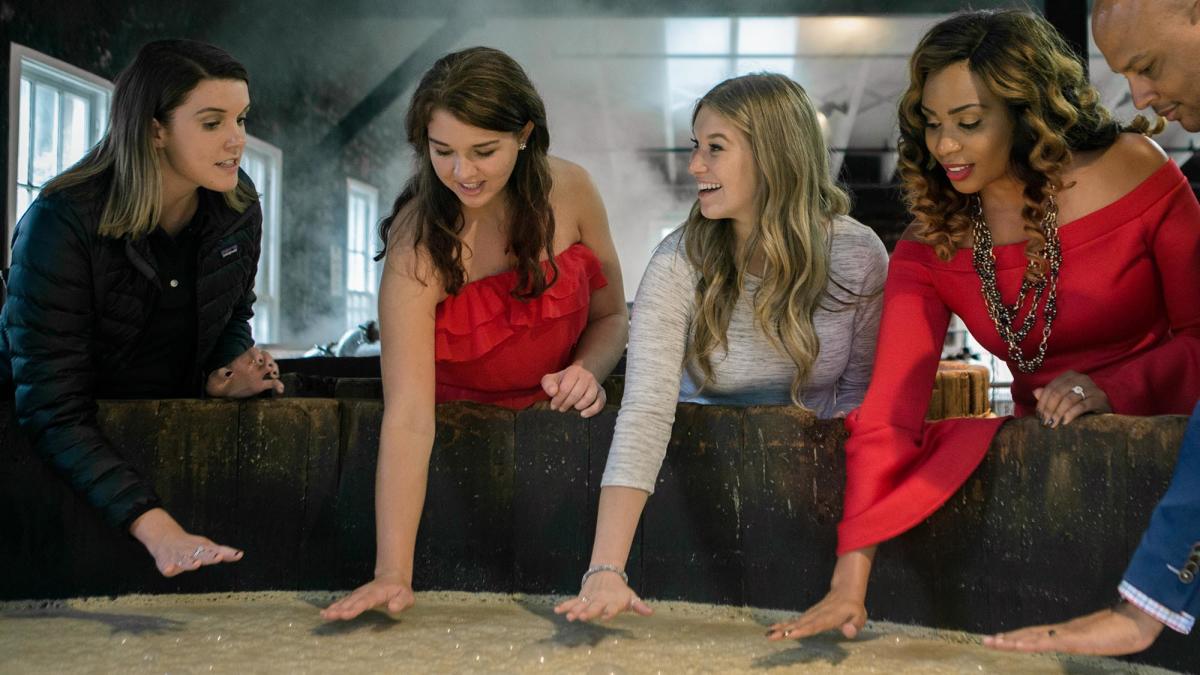 There is a patio where you can enjoy a drink, and there is a cafe–this is important to note since the other distilleries we visited did not offer food. You may want to time your visit to Woodford Reserve around lunch.
Our favorite bourbon we tasted there was the Double Oaked–it was so smooth!
Buffalo Trace Distillery
Buffalo Trace is a big operation and the oldest continuously-operating distillery in America. During the Prohibition, Buffalo Trace was permitted to make whiskey for "medicinal purposes" and Kentuckians had a staggering number of prescriptions for whiskey.
Today, Buffalo Trace Distillery offers six different tours where you can opt to spend an entire day. The tours range from a National Historic Landmark Tour that focuses on the architecture, to a behind-the-scenes Hard Hat tour or even a Ghost Tour. There is something for everyone.
Blanton's and Eagle Rare are also made at this distillery. Some of the tours stop at the Blanton's bottling area and a very friendly guide named David gave us a peek inside.
FINAL THOUGHTS
One thing that Jenny and I talked about throughout the trip was how Lexington is a perfect destination for a weekend away with friends. Lexington is so easy to get to from a city like Chicago. It would be so much fun to spend a weekend visiting the distilleries and seeing a horse races at Keeneland! Plus, Lexington isn't super touristy or crowded like other nearby cities. And the food is top notch.