Take a stroll down Lexington's North Limestone corridor, referred to affectionately as "NoLi" by locals, and explore the artistic urban culture unfolding.
THE NORTH LIMESTONE CORRIDOR OF LEXINGTON IS UNDERGOING A FUNKY, URBAN REBIRTH MUCH LIKE WILLIAMSBURG IN BROOKLYN.
Artists, entrepreneurs and change makers are drawn to the edges of cities, where affordable rents allow creative energy to coalesce, bloom and thrive. The North Limestone corridor of Lexington, once an industrial and manufacturing center, is undergoing a funky, urban rebirth much like Williamsburg in Brooklyn.
Take a ramble with us through NoLi, starting with North Lime Coffee & Donuts at 575 N. Limestone. Go wicked and try the Cinnamonkey or Funnel Cake donuts. In 2015, one of the shop's owners, Joe Ross, won big on the Cooking Channel's "Sugar Showdown" with a St. Patrick's Day-themed donut. For treats and liquids with a literary vibe, hop over to Wild Fig Books & Coffee at 726 N. Limestone, a "local/global, writer-owned, black-owned, counter-gentrification bookstore." Wild Fig is owned by noted Kentucky writers and partners Crystal Wilkinson and Ronald Davis. The neighborhood hangout has events for adults and kids; literary-themed tchotchkes; and of course, an excellent selection of books. Browse away in this sweet, little-box (as opposed to big-box) store.
For antique lovers, there's Vintage Creations on Lime (712 N. Limestone). If you're lucky you'll discover equestrian finds. And for more shopping, there's The Night Market, a free, pop-up, open-air market held from 6 to 10 p.m. on the first Friday of each month, April through December (in case of rain, check the Night Market Facebook page to see if it's still on). The 700 block of Bryan Avenue is closed off to make way for vendors, art installations, live music, food trucks and a beer garden. Dogs, kids and bikes welcome. (Speaking of bikes, you can get yours repaired in a café setting at Broomwagon Coffee and Bikes at 800 N. Limestone.)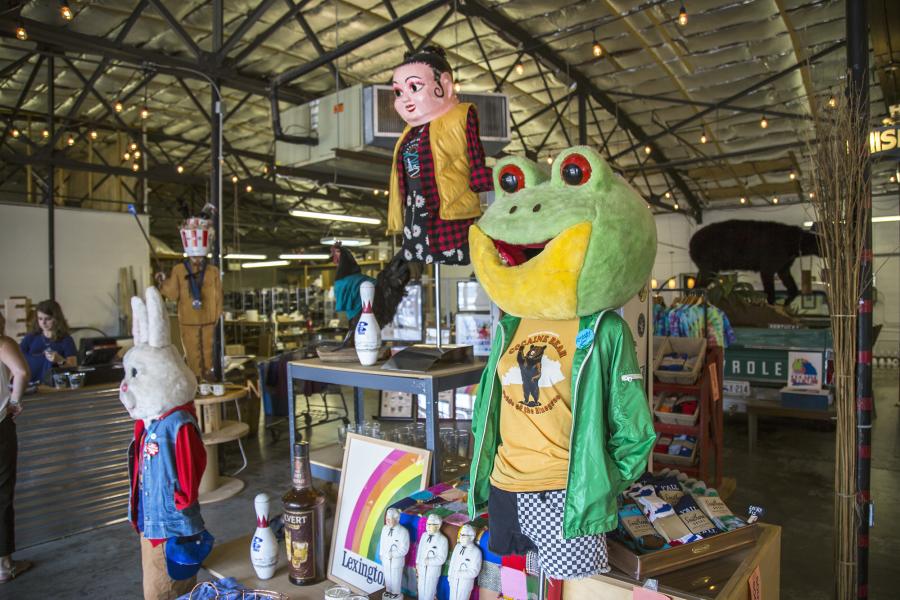 If you're looking for gifts and mementos to bring home, no better place exists than the Kentucky for Kentucky store at 720 Bryan Avenue. You'll find everything from "Y'ALL" T-shirts, totes and socks to posters, bourbon gear and fried-chicken-scented candles. For breakfast or lunch, check out Minton's at 760 N. Limestone, featured in Southern Living magazine's "Off the Eaten Path" tour guide/cookbook. The menu is "Southern eclectic" and vegan and vegetarian-friendly. For dinner, check to see if Lucie's Red Light has opened yet at the corner of North Limestone and Loudon Avenue. Lucie is considered by many to be the queen of Lexington's restaurant universe, having owned five previously successful places. She plans to serve noodle bowls, soups, stews, burgers, cheese boards, bourbon and beer, among other things. For dessert, Sorella Gelateria at 219 N. Limestone is your spot. Sisters Selma Sulejmanagic and Alma Kajtazovic, natives of Bosnia who came to Kentucky with their parents at the height of the Bosnian war, are the owners. Selma went to Italy to learn how to make gelato in flavors like hazelnut, coffee and strawberry. And for bar hoppers, there's Arcadium at 574 N. Limestone with classic arcade games, and diagonally across the street, Al's Bar at 601 N. Limestone, which often has live music.
Meanwhile, NoLi is undergoing all the joys and challenges gentrification and urban renewal bring to neighborhoods eager to revitalize but worried about leaving longtime residents behind. To see one of NoLi's attempts to help solve this problem, check out York Street off North Limestone, where at least six primarily vacant or condemned properties are being rehabbed into beautiful, affordable, owner-occupied housing. The project is called the Luigart Makers Spaces in honor of Joseph Luigart, an entrepreneur who helped NoLi flourish in the 19th and early 20th centuries with a brewery he started in the neighborhood.