A cultural anomaly, the "starving artist" is often marginalized and left to create on his or her own accord without proper recognition or compensation. Take Henri Matisse, for example. Known for his fluid use of color, Henri Matisse modernized Modern Art, yet came from very humble beginnings. It's in the artist's DNA–– to create. And, while the uprising trend of street art is gaining notoriety with mysterious artists like Bansky setting the standard for impermanence, everyday folk are stopping to smell the roses contextually in urban settings.
Drive or walk around downtown Lexington, Kentucky and you can't miss the bold murals by artists from around the globe. How can you miss the larger-than-life Lincoln perched upon the backside of the Kentucky Theatre, or the MTO mural greeting visitors upon entering The Lexington Distillery District? Serving as new cultural landmarks, these murals are Lexington's answer to public flora and are part of an annual celebration known as PRHBTN.
But, this isn't your everyday weekend festival. Co-founder, Jessica Winters, says this media "provides free art for a younger crowd that may not be interested in engagement at a traditional art gallery." The city of Lexington is the PRHBTN "gallery." And, there are 29 murals currently showing in the PRHBTN "gallery." You can download the map to see all 29 exhibits and maybe smell a few roses along the way.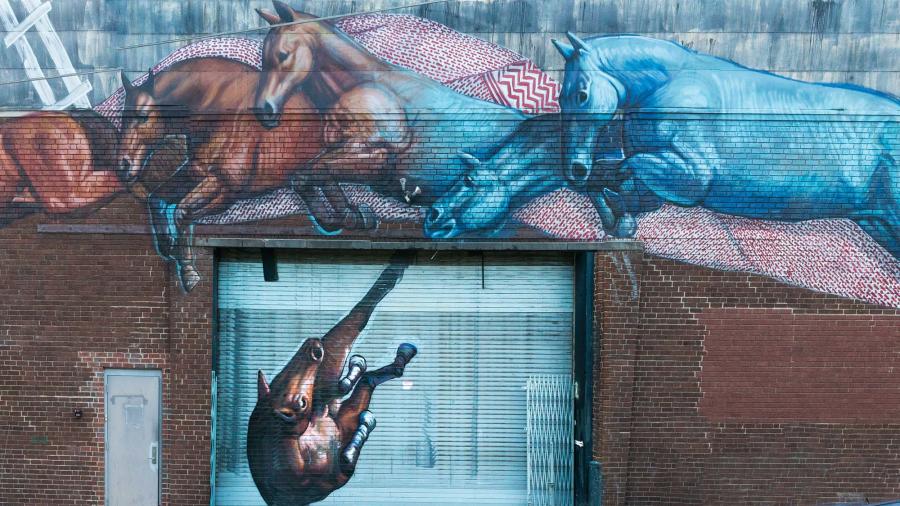 Jessica and her husband, John, had no idea what they were doing when they first started the project, but they had experience in event organization. Now in its ninth season, PRHBTN is a renowned street art festival which just so happens to coincide with Keeneland's Fall Meet.
The very first PRHBTN happened in 2011, before the couple married in 2013. You could say they fell in love with each other over mural art. Even though their first fight wasn't actually over art, "we definitely have had many," Winters laughs about the overwhelming work and unexpected road blocks their labor of love presents. The couple now has a defined division of labor where John is in charge of day-to-day operations and Jessica is the behind the scenes ninja, as she works full-time as an attorney focusing on small businesses and entrepreneurs.
Partnering with the Lexington Art League for gallery space, PRHBTN supports local and regional artists that might not have traditional support. The edgier and up-and-coming artists springing from this collaboration offers a fresh approach for the Bluegrass art community. Winters says that the street art movement has a certain political and social commentary and oftentimes has a political justice bend to it. Come October when the festival commences with an opening party, there's a panel discussion adding to the community engagement aspect of this art form.
THE ART JUST DOESN'T APPEAR, HOWEVER. THERE'S A PROCESS.
During the winter months, Winters sends a call out to upwards of twenty top-tier, mid-range and budding artists. Then, she waits to see who bites. Usually, she says that four to six artists respond and vows that one hundred percent of the artists that come have never been to Kentucky.
"International artists don't usually have Kentucky on their radar because of the region's rural reputation," she says. Balancing the roles of art curator and tourism director, Winters attracts the artists with Lexington resources such as Horse Country, Bourbon Country and even rock climbing at Red River Gorge (a trait which comes in handy when your canvas is the side of a tall building.)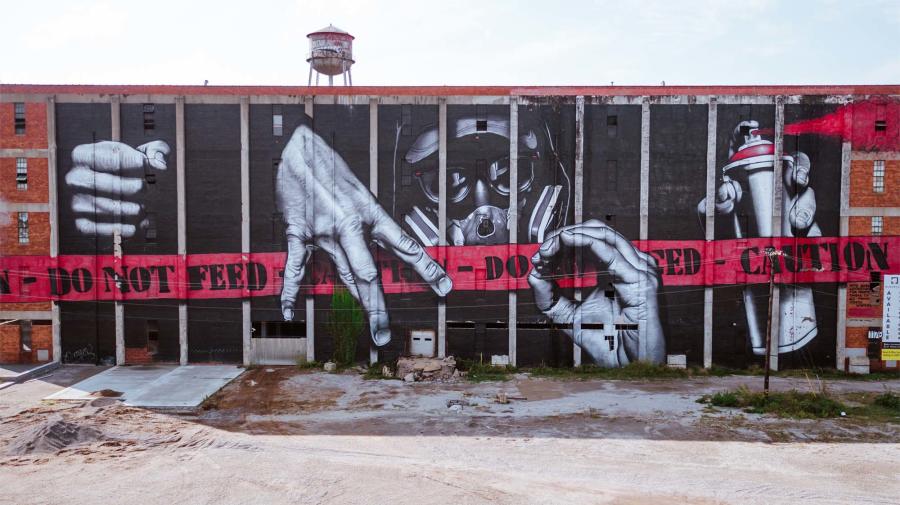 The weeks and days leading up to the PRHBTN opening reception, the Winters family (including Jessica and John's son, Ward, and nephews Cole Barber and Gavin Coy) host the artists in their private home and at their neighbor's Airbnb. Think of it as a pop-up bed and breakfast co-lab for starving artists with extra perks as the mural installations happen.
"We are definitely cultural ambassadors. Every artist we have wants to come back and often they do. People form ties here and tell their other artist friends. We've gotten a reputation for the festival. We're a small festival which gives the artist a more personal grassroots nature of our approach. The intimate size makes them feel like rock stars from the time they come in," says Winters. And, since the PRHBTN funding is run on a shoestring budget of $16-20k per year, the Winters gladly supplement with personal resources.
When it comes to the actual canvas space, artists have a certain orientation in mind according to Winters. They are provided a roster of walls from which to choose. If they don't see one they think their vision can work one, PRHBTN proceeds to scout for additional locations. New walls are acquired yearly, but the owners are never required to sign an agreement to secure the art. "The artists know their work is fleeting. Yet, we've only lost a couple of murals over the years. A lot of times those artists have come back to paint new murals," says Winters.
Utilizing the talents of University of Kentucky and Steam Academy art interns to assist with the mural installation also gains exposure, as some of them even get to paint and interact with incoming artists.
Traditionally a male-dominated art form, Winters explains it was "extremely machismo at its inception, as something that a young man did to get bragging rights." But, these days women are finding their rightful voice in every industry, including this one. "We're trying to locate and reach out to up-and-coming female artists. In fact, we always will have at least one female in our artist line-up," she says.
At the corner of Midland and Short, New York interdisciplinary artist and educator, Alice Mizrachi, painted her expression in 2018 on the female-owned Cycle You building. Winters says, "She's made promoting women in the arts part of her mission." The mural Letters of Gratitude: Dear Mom pays homage to maternal figures as Mizrachi says, "This mural is one of my largest walls to date. I am so excited I was able to focus on a piece near and dear to my heart. Dear Mom: Letters of Gratitude was created for my mother and all the mothers out there who sacrifice so much for their children."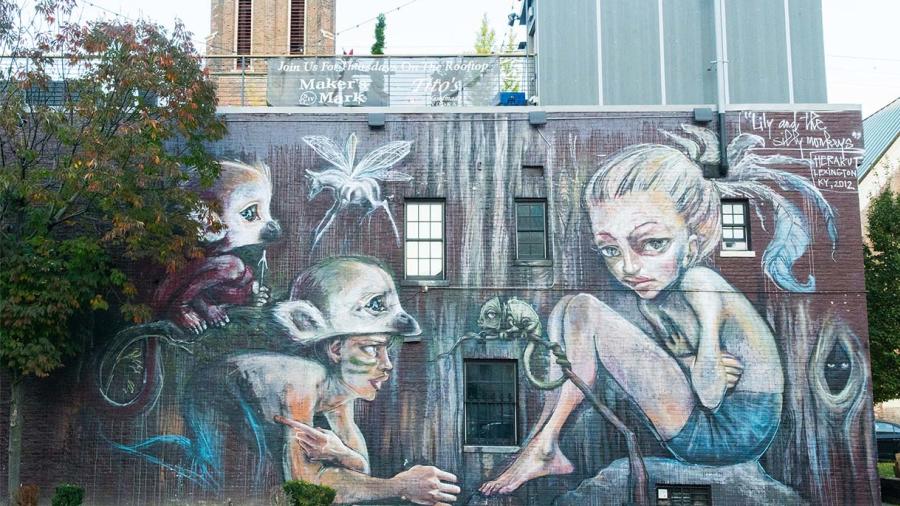 Since the early days of PRHBTN, the murals have awakened local interest igniting a slew of other murals to pop up that are not directly related to PRHBTN. "We don't have an association, but are super excited for art like the horse-themed one that The Village Idiot commissioned. We also have noticed an upswing in local businesses opting for hand-painted signs," Winters says.
As PRHBTN is a complete labor of love from which the Winters do not profit, they hope to form a 501 C non-profit soon to gain even more momentum. And, while it's too soon to tell if the Winters kids will follow the legend of Lexington's mural dynasty, one thing is for sure… art is for everyone.