The Red River Gorge is known as one of Kentucky's greatest treasures, and in recent years it's gained popularity for being the perfect outdoor destination. With unforgettable hiking trails, scenic drives, premier rock climbing and spots to fish, kayak, swim and mountain bike, The Gorge is a nature lover's dream.
And at the center of any trip to The Gorge is a stop at the iconic Miguel's Pizza. So we sat down with Miguel's son, Dario Ventura, who now runs the shop. He gave us the inside scoop on everything we need to know about the place Southern Living called one of the Seven Wonders of the South.
As a resident of the Red River Gorge for over 35 years and an avid rock climber, Dario knows the trails and climbing routes like the back of his hand. Here are some of his favorite trails and insider tips on how to get the most out of a day at The Gorge.
I've lived at the Red River Gorge since 1983, so you could say I'm somewhat of an expert on this area. I run Miguel's, I'm a dad and I'm a rock climber. I've seen this area grow from a small community into a major tourist destination.
I've even helped to pave some of the trails and rock climbs that are popular today. It's an interesting dynamic when you find something this beautiful and untouched, because it's hard to share it. But I always do and I'm excited to share some of these spots with you.
The following suggestions are 35 years in the making. But first, here are some tips that apply to any trip at The Gorge, whether you're here for the whole day or just a few hours.
BRING A LUNCH AND PLENTY OF WATER
Bring something for lunch. There are definitely places to eat, but if you're going out into The Gorge to hike, it's pretty removed from the restaurants and that's the beauty of it. Be sure to bring plenty of water as well.
PACK IN A BAG FOR TRASH
Make sure to bring a bag for your own trash. The Gorge is absolutely beautiful, so it's important to take care of it when you make a trip out. If everyone put a bag in their backpack for the purpose of picking any mess they leave behind, it would really make a difference.
DECIDE WHAT YOU WANT TO SEE
If you like waterfalls and lush greenery, choose a hike on the bottomland. Drop down into the valleys to find rainforest-like conditions at trails such as Gray's Arch Trail or enjoy the pines and drier arid climate by hiking the ridgelines. You can visit cave or rock shelters, and lookout points too. We really have it all here.
STOP BY THE LOCAL BUSINESSES
If you're coming out and are unfamiliar with the area, any local business will point you in the right direction. The Gladie Visitor Center is also an excellent place to get information about The Gorge. They provide an easy-to-understand map of what The Gorge offers and the history behind it all.
Gladie Visitor Center
3451 Sky Bridge Road
Stanton, KY 40380
606-663-8100
Now that we've gone through the essential tips for any day at The Gorge, it's time for the fun stuff.
TRAIL RUNNING
Rock Garden Trail, Auxier Bridge, Turtle Back Arch, Hood's Branch, Sand Gap
I love trail running at the Red and one of my favorite trails is Rock Garden Trail at Natural Bridge State Park (which is a part of The Gorge). It's a beautiful trail and it's not too steep. Plus, you get to do some Indian staircases and those are always fun. I also like Auxier Bridge and Turtle Back Arch for trail running. Both follow the river out to The Gorge and you don't run into a lot of people (when running, that's a huge bonus). The running here is great, especially on the lesser known trails. On many trails, the ground is humus so it's easy on the knees, and you can just take off and go.
There are also some great loops here, like Hood's Branch or Sand Gap. Hood's Branch is about a 4-mile loop and Sand Gap is a 7.5-mile loop, but both are nice, wide trails so you can really kick it into gear and gain some speed.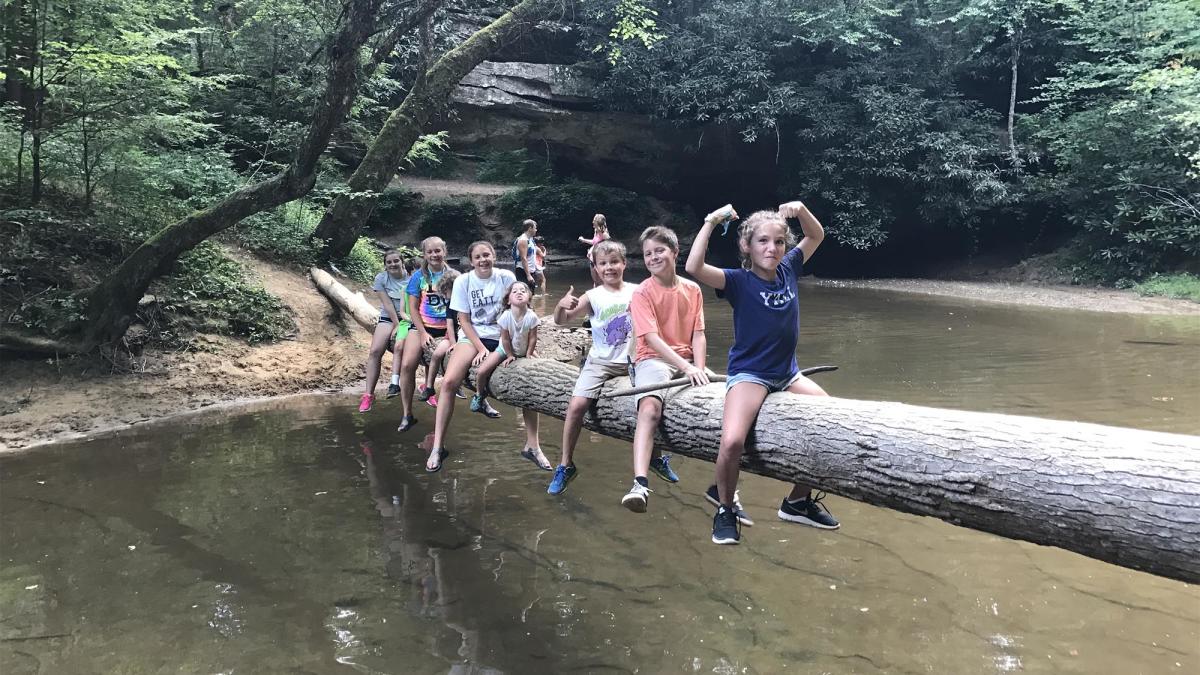 BEST HIKES FOR KIDS
Rock Garden Loop, Rock Bridge Trail, Whittleton Trail, Natural Bridge
Rock Garden Loop is my favorite hike for kids. Unlike most of the trails here, there are no portions next to a cliff edge and it has sturdy railings with a wide path that starts out completely paved.
Rock Bridge Trail is another great hike for kids because it drops down into a valley immediately and then you hit Creation Falls. The kids can play in the water and you get to see Rock Bridge as well, so you get a waterfall and an arch in the same trail. It's right under a mile, so you can easily talk your kid into hiking it. It's also a good spot to have a picnic.
Whittleton Trail is also a great spot for kids, but it's a little bit longer. It's two miles out uphill and two miles back gently downhill. Natural Bridge Trail is perfect for a family because you can choose to hike half of it if your kids are tired. You can choose to take the sky lift down or do that in reverse. So if they give up halfway you have an exit plan.
MUST-SEE SPOTS
Chimney Top Rock, Rock Bridge Trail, Natural Bridge, Pilot's Knob
When I think of must-see places at The Gorge, Chimney Top Rock always comes to mind. It's probably the best lookout point and it's one of the most famous because it gives you a 360-degree view of The Gorge. Natural Bridge is another trail I highly recommend because it's just so cool. I'd suggest doing it during a weekday though because it can get really busy on weekends.
If you're heading towards The Gorge, another great hike is located in Clay City, KY. It's right in between Lexington and The Gorge, called Pilot's Knob and it's a total hidden gem. It's a 4-mile loop and it's completely overlooked. It sits on a nature preserve and it's the only place where you can hike up and see where the Bluegrass meets The Gorge. From Pilot's Knob you can even see Richmond, which is about 40 miles out. It's really beautiful.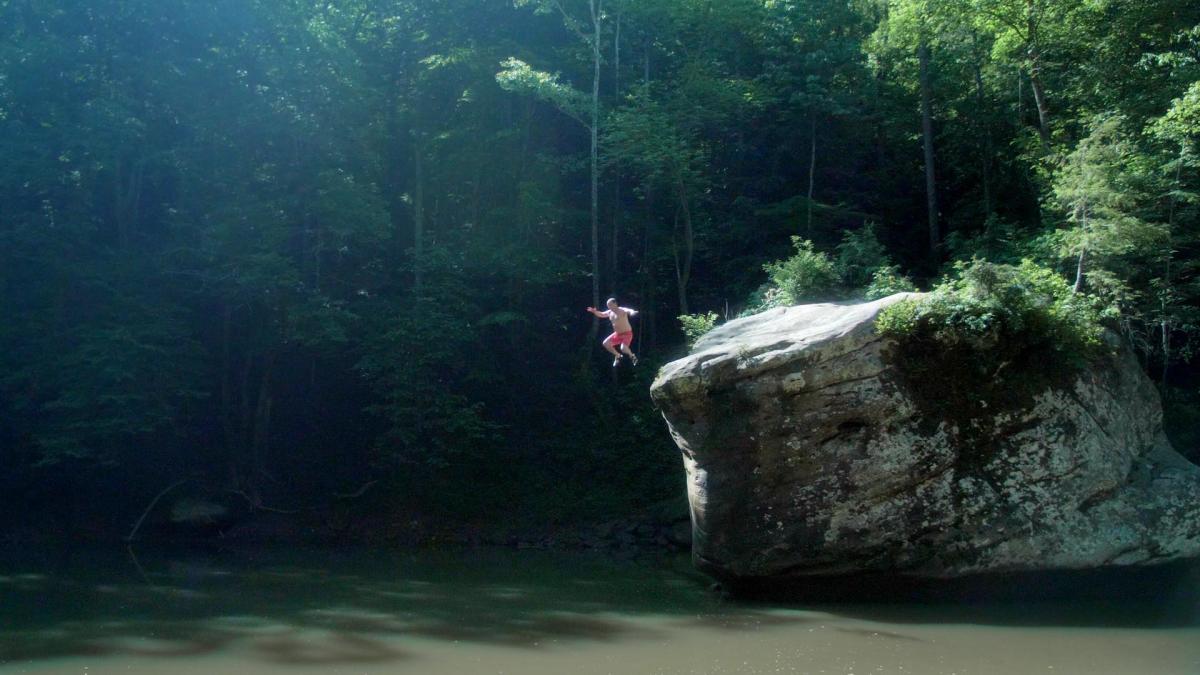 BEST PLACES TO SWIM
Swift Camp Creek, Mill Creek Lake, Jump Rock
The whole Swift Camp Creek area is awesome, especially on a hot summer day because you're hiking along a creek. Plus, if you have kids or dogs they can play in the water.
Mill Creek Lake is another awesome place to swim and it's beautiful. It's at the State Park and it's the perfect spot for a day trip. You can park there right there, so bringing picnic items to where you seat yourself is a breeze. You can hop in the water and soak up the sun.
Jump Rock is a great swimming hole with a giant boulder that's safe to jump off of. I wouldn't encourage diving but the river is definitely deep enough for jumping. It's a beautiful place to have some fun in the water.
There's really never a bad time to come to The Gorge because it's a four season destination and each season brings a unique beauty with it. This place means the world to me and I love sharing it with the people I meet. Remember, you can only drink so much bourbon and see so many horses. So come and get dirty at The Gorge. And grab a slice of pizza at Miguel's while you're here!