This sign program and its content was created by Together Lexington. (info@togetherlexington.com)
Walk and discover the rich history of African-Americans in Kentucky. These signs feature people and places that played a significant role in the advancement of equality. Stories stretch from times of slavery, through Jim Crow discrimination, and up to the Black Freedom Struggle. A great place to begin is at Courthouse Square where you will find an orientation sign and a map of sign locations.
Slavery (1782-1865)
Lexington's early success was built upon the enslavement of its residents. Those who did not directly profit from the enforcement of slavery indirectly supported those who owned, jailed, captured, bred, or sold Lexington's African-American residents. In 1860, a little under half (45%) of Lexington's population were enslaved. Of the total African-American men and women within the city, six percent were free. These subjugated individuals did not passively accept their station; they fought to define their independence through religious institutions, business networks, and legal systems.
Jim Crow (1865-1950s)
Legal and financial networks during this time refused to serve or protect African-Americans. They were spatially segregated in housing options, transportation systems, and public spaces, and deprived of quality education, healthcare, and employment.
Those who challenged these systems were met with violence, but threats did not prevent resistance. Many did not accept these practices and used activities in their daily lives to shape their own identities. Lexington was home to a range of vocal activists, philanthropists, and successful entrepreneurs that did not let oppression define them.
Black Freedom Struggle (1950s-Present)
The Black Freedom Struggle was most visible during the 1950's and 60's where groups such as C.O.R.E, the N.A.A.C.P, and the Urban League fought against discriminatory policies. Lexington's desegregation achievements were reached through peaceful demonstrations. The growth towards equality continues today. Local accomplishments such as the removal of confederate statues through the movement "Take Back Cheapside", and national organizing like "Black Lives Matter" show that activism for racial equality are still necessary.
Click here to see information about each sign.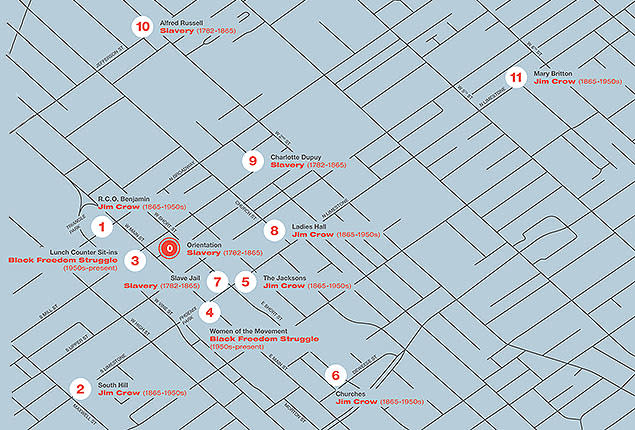 Use this link to download and print the map above.