The best Lexington experiences involve distilleries, craft breweries, a day at the track, plenty of food and maybe a street mural or two.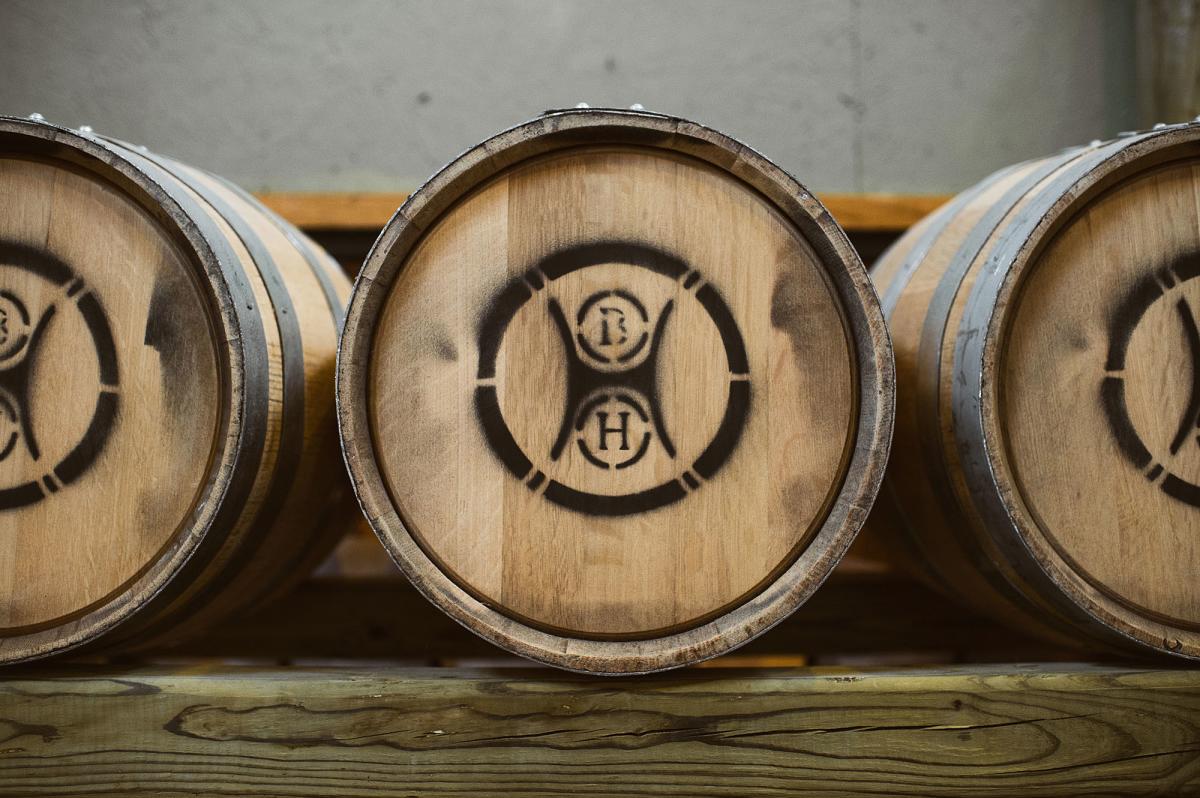 I'm Kristin, and I'm a certified bourbon fanatic, but it wasn't until my late-20s when I discovered the endless well of spirits that Kentucky had to offer. Five years back after returning to Middle Tennessee, my California-born husband Scott and I have all but changed that and make a (bourbon) run for the border any chance we get.
And if ever there were a city that catered to our whims, Lexington was it. While it's situated smack in the middle of bourbon country, this bustling Kentucky university city is much more than a trail of distilleries; it's a trove of culinary hotspots, a Mecca for urban art lovers, a bastion for beer.
Though come to think of it, the distilleries are exactly where our journey began: in the heart of the city, bumming about Lexington's Distillery District.
On my past few visits, I'd neglected to visit this historic area west of downtown, known as the Distillery Distrcit, that was a major hub for bourbon production in the 19th century, so this time, it was a priority: We'd go there first before we wasted a moment of time.
The Distillery District is home to a number of whimsical food and drink concepts, including Ethereal Brewing, Wise Bird Cider, Crank & Boom Dessert Lounge and the Break Room.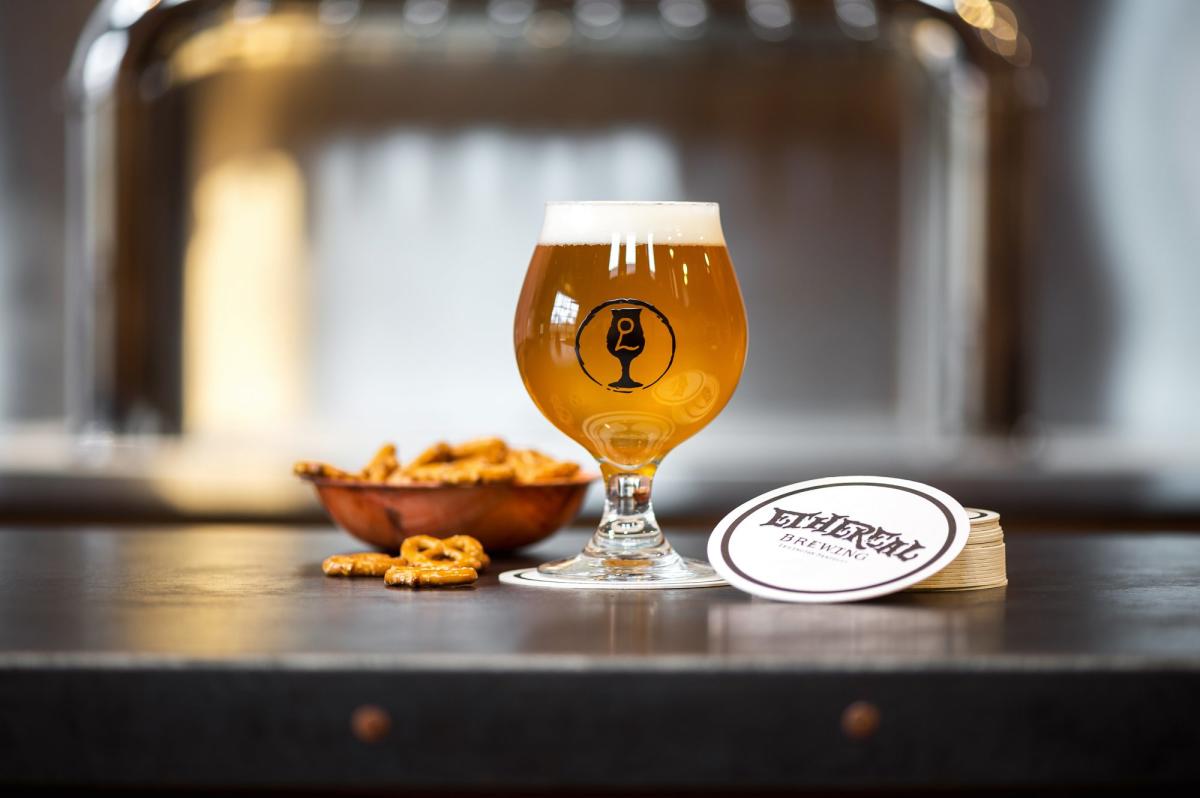 But, first up—and no surprise here: Ethereal Brewing Co.
While bourbon is my jam, I've also really gotten into beer the past two years, and Ethereal didn't disappoint. The space itself was roomy with lofted ceilings and a rotating selection of hand-crafted microbrews on draft to sample.
Scott praised the cream ale while I guzzled a pint of the oatmeal stout. Then, we had another round for good measure (we'll pretend it was for the sake of quality control), which was every bit as delicious as the first.
But what's beer without an ice cream to wash it down? I'd heard all about Crank & Boom, and the moment I walked in, I went into a state of sensory overload. Did I opt for the S'mores Bar? A spiked scoop (with bourbon)? A root beer float (my eternal favorite)? Or better yet, a Prosecco float?
In the end, I had the Butterbeer Float, despite having been at Hogsmeade in Florida just days prior, and I'm still kicking myself for not making a second return to taste the flight (yes, flight!) of ice cream later on in the trip.
Our time in Lexington was limited to three days, which is all too short if you ask me, one of which was reserved for an afternoon at Keeneland, so we couldn't waste any time—it was off to brewery number two. While we were already on the beer train, we might as well try another great brewery in town, too, and so upon the urging of many on social media, we headed to Mirror Twin Brewing for a quick round.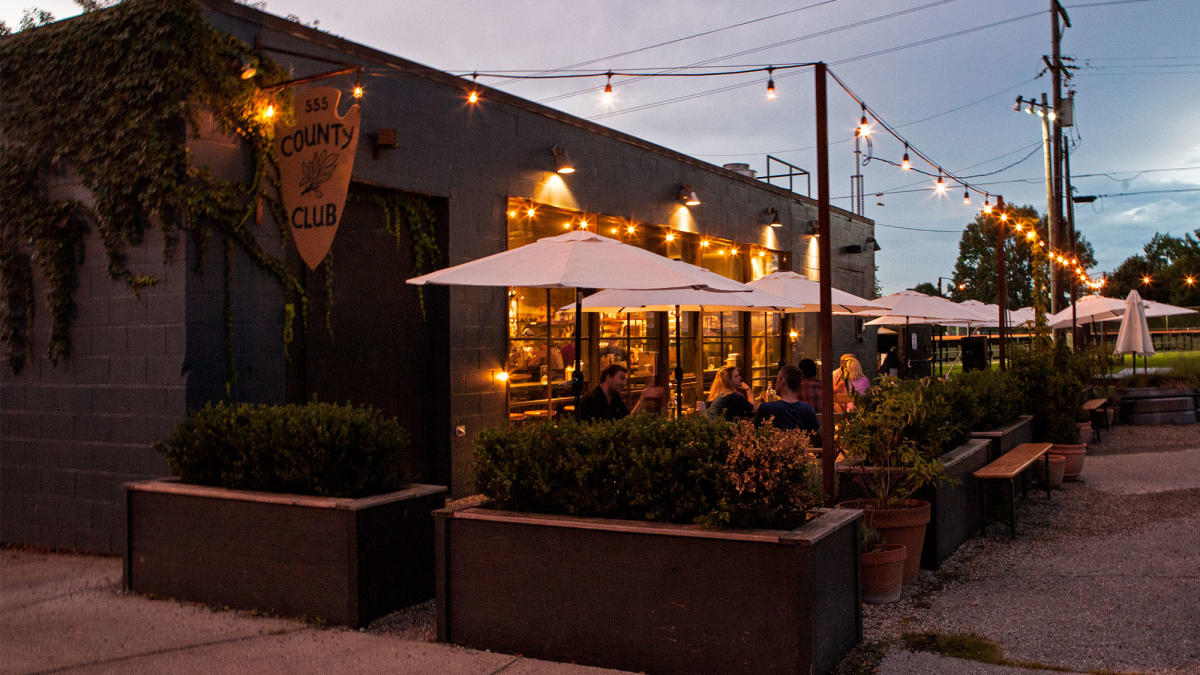 Though it was a Wednesday and we were there on just their second weekend since opening, Mirror Twin was absolutely abuzz with activity, and we could have hung out there all night were our stomachs not steering us in another direction. So, once again, Lexington's Instagram followers pointed us to our next stop—County Club Restaurant—and once again, they did not lead us astray.
Though this laid-back smoke house has a small menu, its selection was incredibly well curated and on point.
On our drive back to The Sire late night, we found our first mural of the trip: The locally born celebrity, Abraham Lincoln, painted 60 feet high on the back of The Kentucky Theatre.
The following morning, we had a couple of distilleries on the agenda, so we coated our stomach with a layer of Lex's finest donuts from North Lime Coffee & Donuts in the hip NoLi district, where we found plenty of additional murals.
Like Crank & Boom, this specialty donut shop blew my mind with options. How's a girl to choose? In the end, I had to order a Lavender Chai Latte and bag full of donuts—there was simply no other choice—because I didn't want to leave any stone unturned (or donut uneaten).
Count Chocula on a donut? Forget about it. I'll never be able to eat a plain glazed ever again.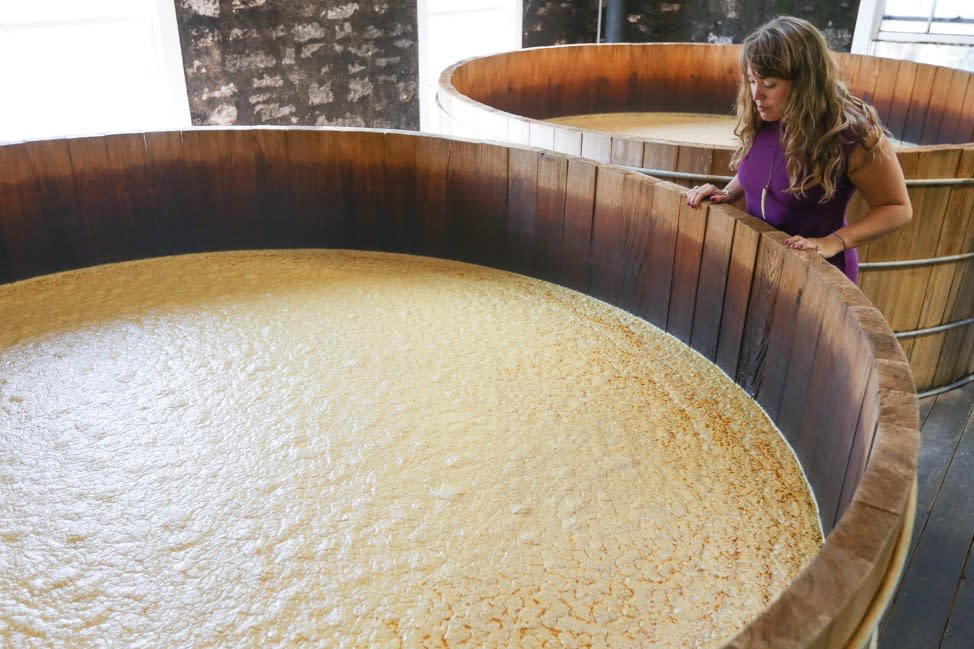 As we began to feel the effects of a sugar coma coming on, we drove the 30 minutes out to Versailles, which is home to both Woodford Reserve and Castle & Key Distillery, the latter of which was our first stop.
If you haven't heard of Castle & Key, don't worry, you will soon. It's the former headquarters of the Old Taylor Distillery, which was constructed in 1887 but hasn't been used for 40 years. There, they use the 113-acre property's botanicals trail to mix up a number of delightful gin concoctions.
For the better part of two years, the quartet behind Castle & Key—plus, a team of talented hired hands—has been busy restoring this old distillery to her former glory. It is a true destination, particularly given it's just three miles up the road from Woodford Reserve, one of the most visited spots in all of Kentucky.
There are so many fascinating spaces in the process of being transformed, like this beauty that will serve as the gift shop and tasting room.
I'm just going to go ahead and call it: Castle & Key is going to quickly become one of if not the most popular stops on the entire Bourbon Trail.
The sugar in our stomachs had given way to hunger by this point in the day, so again, via Twitter, we were directed to Wallace Station for lunch where I quite possibly ordered the least car-friendly meal on the menu to go: a hot brown. But hey, when in Kentucky, am I right?
Next up, we were slated for a tour at Woodford Reserve, which was the third time we'd each been there.
This distillery tour is every bit as interesting and informative on visit three as it is visits one and two, and I have decided that when I die, I would like Heaven to smell like Woodford's fermentation room. Do you suppose they make a perfume in this very scent?
Perhaps the best part of Woodford's tour is the comprehensive tasting that comes at the end. The tour guides are total whiskey geeks, which serves them well when they dole out sip-by-sip advice at the end of the hour.
As if we hadn't had enough booze for the day—no but really, we only had the small tastes at Woodford up until this point—after a little work break and conference call from the comfort of our hotel room, we made our way over to Bourbon Social, a five-day event and celebration of all things bourbon that Visit Lexington sponsored and is produced by local company, LexEffect.
The event only lasted an hour and a half, so we still had some time to kill before dinner, which is how we found ourselves at Country Boy Brewing, one of Lexington's original craft breweries,
While Scott may not be one for fun, flavored brews, I'm all about it and quickly threw back a flight that included Shotgun Wedding, Jalapeno Smoked Porter, Ghost Gose and Nacho Bait (seriously, how fun are those names?).
Then, it was off to West Sixth Brewing, which quickly became my favorite brewery of them all—saving the best for last, as we do—to meet up with my sister's old roommate, Dina. While there, we also ordered food at the adjoining Smithtown Seafood, which serves up a mean shrimp po'boy It was the perfect low-key dinner we needed to soak up all the alcohol consumed.
I got sidetracked as we drove back to the inn for the night when I saw Triangle Park all lit up—and no one there. So, Scott dropped me off while I took a little walk on my own to snap some photos and enjoy the balmy October evening.
On the following morning, our final day in Lexington, we decided to go on a little mural hunt. We'd seen evidence of many gorgeous murals like this one hiding behind alleys and on unassuming corridors all over town but hadn't actually spotted them in person, so we made a concerted effort to seek out as many of the Mural Challenge as we could in under two hours.
After a few misses, we turned down North Limestone, and between West Fourth Street and Loudon Avenue, we were graced with a number of bright, splashy installations.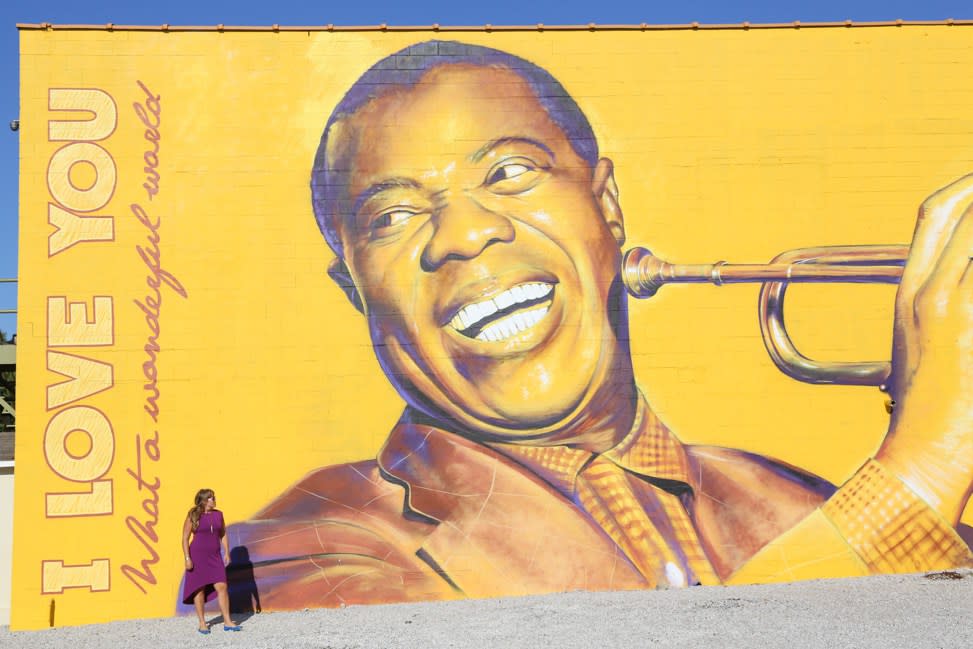 We felt like we'd done the Lex Mural Challenge justice, then on our way back to the inn to get our car, stumbled upon the holy grail of street art: a mural in progress.
We stopped and watched the artists as they worked and came to found they were a couple from NYC who had been hired by PRHBTN to work on a brand new installation. They told us they worked five straight 12-hour days to complete this masterpiece and just had a handful of hours left to go.
I can't wait to see the entire building now that it's complete. Lexington and its art culture were sufficiently blowing my mind.
As we were headed out of downtown and out to the racetrack, we made one more stop to Stockyard Commons to this colorful rural mural right on Lisle Industrial Road.
There were another dozen or so pieces of street art we didn't have time for, which will surely be our starting point for our next visit to Lex—as will the new installations that will undoubtedly crop up in our absence.
Because as if I weren't already sure that Lexington and I were meant to be, our three indulgent days of eating, drinking and art hunting definitely cinched it as my new favorite Southern city.
Kristin Luna
Kristin Luna is a Nashville-based magazine journalist who shares her adventures around the South (and beyond) on her travel and lifestyles site, Camels & Chocolate.