Planners might guess the top reasons to host a meeting in Lexington, Kentucky are the horses and bourbon. No destination does either better than Lexington. But there is much more to this go-to region in the Bluegrass State.
As home to the University of Kentucky, Lexington is brimming with some of the country's top minds. Innovation is evident across industries. Global companies are saddling up here as their home—and for good reason.
Now is the perfect time to bring your next event to Lexington. A $300 million expansion of Central Bank Center is complete. Groups are already experiencing the difference this state-of-the-art convention center is making.
The horses, bourbon and Southern hospitality are as vibrant as ever. We've just upped our game. Read on for the top six reasons your group will be hot to trot in Lexington.
1. Look At Our New Convention Center

The day we've all been waiting for has finally arrived. The new and improved Central Bank Center is open for business. The statistics speak for themselves:
200,000 square feet of flexible convention and event space

44,000 square feet of club and flexible space

100,000 square feet of exhibition space with four halls

29,000 square feet of meeting space with 16 rooms

24,300 square feet of ballroom space with three rooms

20,500 seats at Rupp Arena, connected to the convention center

State-of-the-art technical capabilities
Rave reviews keep rolling in:
"It's so easy to navigate for our attendees. All the ballrooms are on the first floor, all the meeting rooms are on the second floor, all the exhibit halls are on the third floor, and that just makes it so easy to get around!" —Bobby Hart, CEO of the National Beta Club
"We used the facilities at the Central Bank Center and catering service. They were very cooperative with all of the setups for our events and things we needed as the week went along. We were very satisfied with the meeting rooms, etc." —Ronnie Biggerstaff, Kentucky Mining Institute
"VisitLex was instrumental to our event from start to finish! We received incredible feedback from our attendees and multiple people commented that they made memories that will last their lifetime. VisitLEX was receptive to our needs, offering creative options and over-the-top assistance in making a successful and memorable experience for our guests. Just INCREDIBLE!" —Allyson Eyermann, Child Neurology Foundation
2. Look How Close We Are

Whether attendees are driving or flying in, Lexington is extremely easy to reach. Did you know two-thirds of the country's population is within a day's drive? For many major markets, it's a breeze:
Louisville: 77 miles
Cincinnati: 82 miles
Indianapolis: 189 miles
St. Louis: 337 miles
Detroit: 345 miles
Chicago: 373 miles
Atlanta: 382 miles
Blue Grass Airport is home to several direct flights—many in and out of major hubs—for air travel. Once attendees land, it's a mere 15 minutes to most of the hotels planners would use for an event. Free hotel parking is common, as is shuttle service to and from the airport.
3. Look At Our All-Star Team 

Events coming to Lexington are personal to us. That shines through with the attentive care the VisitLEX sales team shows. Our representatives go the extra mile to brainstorm ideas for your group, ensure the event is running smoothly and find deals attendees will love.
"Roseanne Mingo was absolutely fantastic and incredibly responsive with suggestions and advice," says Nancy Gooding, Harlan Family in America Association. "The staff very helpful. The overall experience will make future sites pale in comparison. We have never had this kind of help available for planning and it was fabulous!"
Adds B.J. Hanson, Financial and Security Products Association, "Sandy Johnson took us around and showed us all Lexington has to offer—and we used that information to plan a conference that was just amazing. Our attendees were delighted and LOVE Lexington."
Allyson Eyermann was duly impressed too: "From start to finish, Stephen Barnett was with us every step of the way. He helped with location referrals, brainstorming events, gifts and special touches, VisitLEX swag, name badges... I could go on and on. If Stephen didn't hear from me for a bit, he'd check in on our needs. We are so grateful to have such amazing partners as the VisitLEX team!"
Click here for a sampling of the services our team provides.
4. Look What We Have To Offer

Lexington isn't just horsing around when it comes to what the destination provides for meeting and event planners. The richness of this community shines through when taking stock of the myriad expertise and venues we possess. Regardless of what market segment your meeting is categorized, VisitLEX is ready and able to provide unique solutions that will add value to your attendees' experience. This includes our LEXperts, locals who can provide valuable insights to specific industries and segments meeting in Lexington.  Here are just some examples of the local offerings we can provide for your group:
Several top medical facilities are located in the Bluegrass region, including the University of Kentucky's hospital and six medical colleges. These elite minds are searching for ways to make the world a healthier place through cancer research and other specialized practices. LEXperts include medical professionals and marketing specialists in the health care space.
With more than 600 farms, greenways and a dedicated Greenspace Commission, Lexington flourishes when agriculture and environmental-focused groups are in town. Attendees can learn about the latest initiatives and hear from the researchers dedicated to making the most of what our planet offers.
There are 70,000 undergraduate students enrolled among the 14 colleges and universities within 40 miles of Lexington. The stellar public education and well-educated community add to the commitment of knowledge, creativity and innovation. Administrators, event planners, admissions officers and researchers are primed to enlighten your attendees.
We are the largest gigabit city in the country, which is one of the technology achievements coming from the emphasis on science, tech, engineering and mathematics at the University of Kentucky and corporations based here. UK faculty members would be ideal speakers for events centered on innovation and development.
There is no better destination in the world to host equine events than Lexington. Not only are there unique venues at the top of the field, but tens of thousands of professionals also dedicate themselves to the industry here. The Kentucky Horse Park is an international treasure focused on man's relationship with horses. All aspects of the industry, from medical needs to competition trends, are in our DNA and can be covered by any number of LEXperts.
Fortune 500 companies and national brands have already discovered why Lexington is so appealing to corporations. Take your group to see for itself, witnessing how we've mastered the art of working hard and playing hard too.
5. We're Hands Down the Horsey-est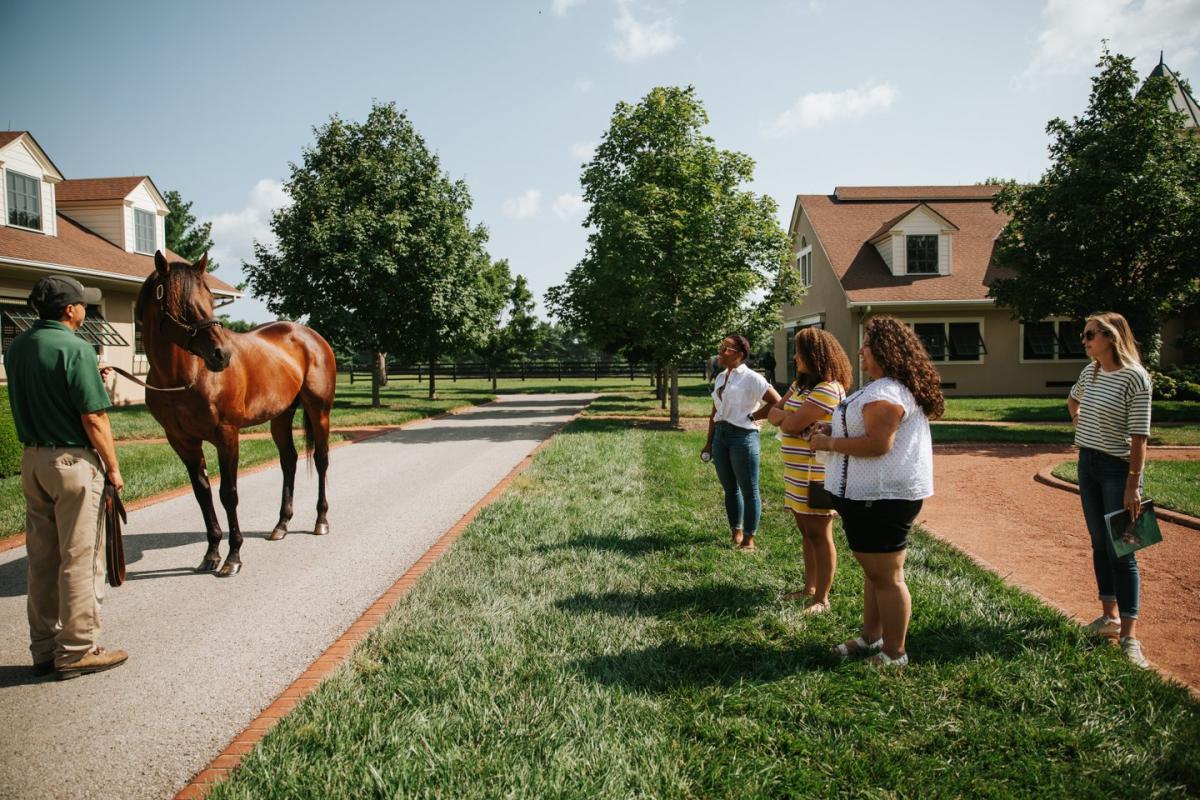 Once you settle into town, you're never more than 10 minutes from breathtaking rolling hills, fence-lined pastures and more than 450 horse farms. The community takes pride in being the center of the thoroughbred breeding universe and being home to the Kentucky Horse Park and historic Keeneland racecourse. These famed facilities are open year-round for iconic private events that give attendees a true sense of place. 
6. We're Absolutely the Bourbon-est

Equally important is that in and around Lexington you can explore old warehouses where row upon row of charred-oak bourbon barrels stretch into the horizon, waiting for their chance to shine. Groups can take a tour and see how America's only native spirit is made, then pull up a stool at one of Lexington's iconic drinking holes and start with a classic like the Old Fashioned. But that's just the first pour, as we like to say. There's plenty more where that comes from.  And be sure to explore the Distillery District, it's packed with local breweries, distilleries, shopping, restaurants, and more.
Conclusion: We Are By Far The Bluegrassy-est
Horse and Bourbon Country will live up to their reputation, but there is much more to Lexington than you and your attendees may expect. Explore our unique venues, reach out to our top minds and take advantage of the stellar service you will receive. See what you've been missing and Look at Lexington for your next event.
We believe that Lexington's a pretty perfect place for a meeting—and we think you'll agree.