How one man's drive, backed by a loyal Lexington fan base, helped a West African grill master achieve the American dream.
"In Africa, hospitality is everything. When you come into our restaurant, you are coming into our living room at home."
—Mamadou "Sav" Savané
Destiny bends our lives; how we respond inside those angles is up to us. Mamadou "Sav" Savané grew up in Guinea, West Africa, under authoritarian leader Lansana Conté, who grabbed his power through a military coup. Like almost everyone else around him, Sav learned that, no matter what, "you have to appreciate what you have. In life, there are no guarantees."
Sav hustled as a kid to help his mom feed their large family, doing jobs like selling bottles of Pepsi at the market. His dreams of going to university were unreachable. Then he met and fell in love with his American wife, Rachel, when she was working in Guinea for the Peace Corps. Sav moved to Lexington to be with her. Sav didn't speak English, and the newly married couple soon discovered they had a baby on the way. His dream of attending college was sidelined again, and Sav went to work for UPS.
Sav and Rachel moved into the tightly knit Kenwick neighborhood, where over the next decade, Sav became the neighborhood's grill master at block and dinner parties. His ribs and peanut chicken were legendary.
Neighbors kept telling Sav he should open a restaurant. He tried to round up partners, but they kept falling through. Finally, as he and his wife sat on their porch one evening, Sav said to her: "Do you trust me?"
"Yes," she replied.
"Then I'm going to refinance our house and open a restaurant," Sav replied.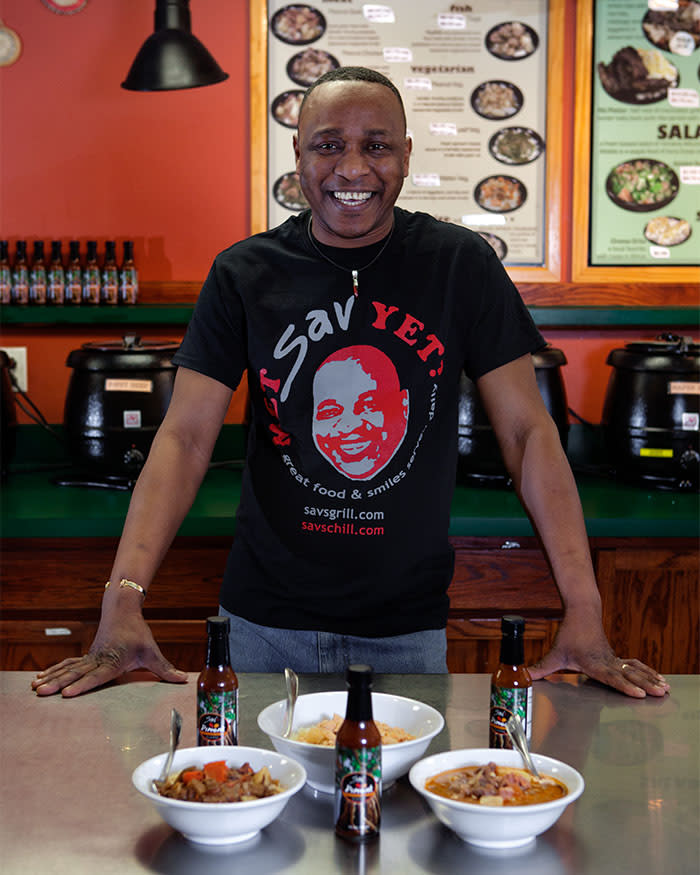 Sav's Grill opened in 2008; it's been a Lexington fixture ever since, featuring West African dishes like Peanut Goat, with local goat meat and potatoes in a peanut-based, seasoned vegetable broth. And Tiagé, featuring tilapia with seasoned corn-flour balls. Vegetarian dishes include Mafen, with carrots, eggplant and potatoes in a tomato-and-onion broth.
For the first year and half, Sav worked at both UPS and his new restaurant. He'd get up at 2:30 a.m., go to work until 9 a.m., get off, change clothes and come into the restaurant for a 15-hour day. "You can have your American Dream," says Sav today. "But it doesn't come easy. You have to work for it. Fight for it."
Sav's Grill is a patch of West Africa, with African wax print fabric on the tables and carved masks on the walls, as well as paintings of Guinea, including one with Sav in traditional garb next to a giant Baobab tree. But what makes the restaurant emblematic of his country, says Sav, is "the hospitality. In Africa, hospitality is everything. When you come into our restaurant, you are coming into our living room at home." Customers become friends and then family.
A few years ago, Sav opened a second place on the opposite corner: Sav's Chill. The spot sells homemade ice cream and gelato in flavors like lavender, Kentucky coffee and bourbon chocolate.
In 2014, Sav was making a large batch of peanut chicken stew when the pot slipped, and he spilled the boiling liquid on over half his body. He was in intensive care with second-degree burns, and a long recovery followed. The restaurant was at risk of closing. But the Lexington community rallied, raising over $50,000 in 36 hours through a crowdfunding platform. The video blew up on the Web. Sav was stunned by the response.
"We expected something to happen, but did we expect to raise $67,000? No," says Chuck Creacy, who spearheaded the campaign. (Creacy owns Smiley Pete Publications, which has a number of neighborhood magazines in the city. "Did we expect calls from CBS news and other news outlets around the country? No. I didn't want to see Sav lose his business, and I don't think anyone else did either."
Sav's Grill, 304 South Limestone, is open seven days a week, 11 a.m. to 9 PM. Sav's Chill, 289 South Limestone, is also open seven days a week, noon to 9 PM.