Girlfriends - Shopping Smart
Shopping Smart: Three Day/Two Night Suggested Itinerary
Here's a Girlfriend Getaway itinerary that squeezes as many of Lexington's best shopping options as possible, with a little time to recharge before each destination.
Day 1
Arrive in time for lunch at the Julep Cup at Main and Woodland. (859) 226-0300. Yes, they serve Mint Juleps year round, not just at Derby time! Start your shopping right next door at Julie's Closet. (859) 255-0990. Next, head next to the largest mall in the state: Fayette Mall. (859) 272-3493. There are lots of options for dinner from upscale Mexican at Abuelo's to a great British pub atmosphere at The Pub Lexington. Tired of walking? Round out the evening with a movie in one of the fourteen theaters at Cinemark Fayette Mall. (859) 971-0718.
Click here to learn more about Shopping in the Horse Capital of the World.
Day 2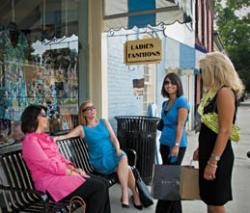 Visit the charming Clay Avenue Shops just off Main Street. Lovely cottages have been converted to shops selling everything from fine linens to children's clothing. Get a coffee treat at Starbucks at the corner of East High and South Ashland, (859) 266-8470, and take a break at nearby Woodland Park. From the park, it's an easy walk past a number of small boutiques in the area called the Woodland Triangle. Be sure to peek in at the Black Market and Lucia's. Hopefully, you made a reservation for a massage at The Massage Center at Dudley's Square. (859) 231-1782. Don't miss browsing the beautiful clothes at Bella Rose just around the corner. If you'd like to eat nearby, Joe Bologna's, located in a converted church, is a local favorite for pizza. Don't worry, they have salads, too! (859) 252-4933.
Click here to see more information about malls and shops in Lexington, Kentucky.
Day 3 
Today, start off with a hearty breakfast at Alfalfa's downtown, (859) 253-0014, before heading out to the Lansdowne Shops. Need some St. John's knitwear, or a fur coat? Embry's is your spot. For resort wear check out Chico's or the Cotton Patch. Head back downtown and treat yourself to tea at the Greentree Tearoom. (859) 455-9660. Step across the foyer into Greentree Antiques, and then next door to see the fine tableware and quality gift items at L.V. Harkness. Nearby at The Shops at Lexington Center are more true Kentucky originals: Old Kentucky Chocolates, Sheila Bays Fine Jewelry, Lexi + Lou, Kentucky Korner, and more. (859) 233-4567. Be sure to stop in at Urban Outfitters just across Triangle Park in The Square. (859) 425-1251.