3 Night Itinerary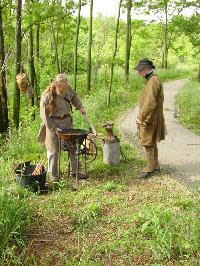 Explore the land, relics and sites that reflect the deep traditions of the Bluegrass.
DAY 1
AFTERNOON.
Go to the actual spot where Lexington began - McConnell Springs. This 26-acre park offers trails and a visitors center. After hearing of the first battle of the American Revolution, frontiersmen who camped at this natural spring in 1775 named their future settlement "Lexington."
DAY 2
MORNING.
Drive along Old Frankfort Pike where you'll pass under canopies of trees and past elegant farms and dry-laid limestone fences. Along the route, stop at the Headley-Whitney Museum. Afterwards, turn onto Pisgah Pike. This beautiful stretch takes you past historic Pisgah Presbyterian Church and Lexington's unusual "castle."
AFTERNOON.
Irish Acres in Nonesuch, Kentucky offers 32,000 square feet of antiques and a fun dining experience at The Glitz. Next, visit the Woodford Reserve Distillery. It's nestled along Glenn's Creek and offers bourbon tours, gift shopping and scenic vistas.
DAY 3
MORNING.
The town of Berea is Kentucky's official "Crafts Capital" and home to Berea College where students work for the school in exchange for tuition. Students create beautiful handmade crafts and furniture that can be purchased at the Berea College Log House Craft Gallery.
AFTERNOON.
Have lunch in Berea at historic Boone Tavern then head to Fort Boonesborough State Park in Richmond for a pioneer experience. Fort Boonesborough was founded by....? Daniel Boone of course!
DAY 4
MORNING.
The story of African-Americans in Lexington is multifaceted. Start at Waveland State Historic Site and tour restored slave quarters. Other sites include the Robert H. Williams Cultural Center at 644 Georgetown Street and the former Chandler Normal School Building and Webster Hall, 548 Georgetown Street. Additional cultural exhibits can be found at the Martin Luther King Jr. Cultural Center on the University of Kentucky campus. "A Guide to the African-American Heritage Trail in Downtown Lexington" is available at the Lexington Visitors Center on Main Street.
AFTERNOON.
Take a picnic lunch to historic Cheapside Park beside the old county courthouse. There is a covered pavilion. Spend the afternoon strolling through the Lexington Cemetery. Sound unusual? It's a beautiful arboretum, full of interesting historical monuments and statues, as well as a small pond where you can feed ducks and swans.