What Folks Are Saying About Lexington
---
Travel writers and bloggers have no shortage of things to say about Lexington's Bluegrass Region. Explore these links to see what intrigues and inspires them about the Horse Capital of the World.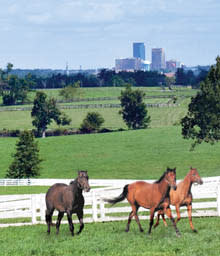 Day-trip destination: Historic distillery anchors Lexington, Kentucky's newest destination. Steve Stephens.  Although known more, perhaps, for basketball and horses, Kentucky's second-largest city also has a rich history of bourbon. And one of Lexington's newest entertainment destinations was once one of the most famous and productive distilleries in the entire Bluegrass State.
The 25-acre Distillery District, as it's called today, is located a little more than a mile outside downtown Lexington at the once and current site of the James E. Pepper Distillery about a three-hour drive from Columbus. The distillery had been abandoned for 50 years before the brand was resurrected, albeit in a more modest form. Read the article.
Thrillest: Here's How You Can Do Horse-Led Yoga. Opheli Garcia Lawler.  Lexington, Kentucky is known as the Horse Capital of the World. That's typically associated with the Kentucky Derby, but that's not the only thing the city has to offer. At Hallway Feeds, an equine-only feed mill dedicated to holistic wellness for horses. Dan James, the master horseman at Double Dan Horsemanship, is guiding three horses to become the world's first yoga instructing horses at Hallway Feeds. Yes, that's correct—horse yoga, which is yoga led by horses. At Hallway Feeds, you can attend the Horse Yoga Retreat. The retreat is billed as "a destination experience designed for the most adventurous yoga enthusiasts" by Hallway Feeds. The experience is led by three "expert horse gurus," named Swampy, Vanilla Ice, and Applejack. Read the article. 
Fodor's Travel: 15 Best Fall Foliage Road Trips in North America. Molly O'Brien. It's finally autumn and the colors of the season are bursting out in vibrant shades of red, gold, and orange throughout North America. Perhaps the best way to see Mother Nature's best show isn't just in one destination–but on a multi-city road trip, exploring a collection of different destinations all at once. Here are 15 fabulous fall foliage routes across the U.S. and Canada to take in the transforming tones first hand–from California to eastern Canada. Read the article. 
Forbes: No Car Necessary For These Colorful Fall Foliage Experiences. Fall foliage season is always a special time of year for anyone who appreciates the bounty of nature at its finest. A leisurely leaf peeping drive throughout a scenic countryside is a very enjoyable way to spend a Sunday afternoon with stops along the way at roadside stands for apple cider or homemade pies. Read the article
Fodor's Travel: Meet the Black Farmers Making Agritourism the Next Big Thing in Travel. Kristine Hansen. In a state best-known for bluegrass music and horse racing, Kentucky's Black farmers are putting their lands on the list of can't-miss destinations. "We're world-renowned for our equine and horse-racing history," says Ashley Smith, co-founder and COO of Black Soil KY, of Kentucky. But the agricultural use of the state's rolling, green hills? Not so much. Especially when those farmers are Black. Read the article
Men's Travel: These Epic Guys' Trips Will Send Your Boys Packing. Perri O. Blumburg. Rounding up all your buddies for communal guys' trips you'll be telling your future grandkids about never gets any easier to pull off as the years pass—let alone this past year. But now that travel is possible again, there's really no excuse to put it off any longer. Horses and bourbon. Those two pastimes might not always go so great together, but geographically they do in historic Lexington—a.k.a. "The Horse Capital of the World—conveniently situated in the birthplace of bourbon. Read the article
Southern Living: The South's Best Cities on the Rise: Tara Massouleh McCay. If the South's big cities are the lauded older sibling and its small towns the beloved youngest child, then the region's up-and-coming cities could very well be relegated to middle-child status, sometimes overshadowed and left to go about their business quietly. But in the past few years, many of these smaller urban spots have stepped into the limelight, earning their stripes as destinations in their own right. Read the article
Travel + Leisure: The 50 Best Places to Travel in 2021. Travel + Leisure Editors. A handful of pilgrimage-worthy culinary and cultural developments will draw travelers to the Bluegrass State's second-largest city in 2021. It's not just The Queen's Gambit that has drummed up excitement around Lexington. After sitting empty for 20 years, Greyline Station has been newly reimagined as a 70-stall open market populated by dozens of local small businesses like North Lime Coffee and Donuts and Old North Bar, which will have a "sip and stroll'' license so visitors can enjoy a beverage while they browse. Read the article
Travel + Leisure: The Best Places to Travel in November. Patricia Doherty.  We're well into autumn, and if you're wondering what happened to spring and summer, you're not alone. Our unusual season of staying at home, dining outdoors, camping, , and remote work and school is moving towards winter. Fall weather and  are reminders that natural events continue, and it's time to get out and enjoy the scenery. We offer a few destinations that may be within driving distance, along with some further away for those of us anxious for a real change.
Read the article
Southern Living: Kentucky's Horse Country Has Launched Virtual Tours and We Can Almost Smell the Green Grass. Perri Ormont Blumberg. Amidst the coronavirus outbreak, Kentucky horse farms are bringing the action to your screens. Understandably, anxiety is running high as the coronavirus pandemic spreads throughout the country. Like many, we're looking for all the at-home distractions we can get.Shooting to the top of our list? Virtual Kentucky horse farm tours from Visit Horse Country, an organization of horse farms, equine medical clinics, and equine attractions, now giving you the chance to pop onto a bucolic farm and live vicariously for a few as you toast horse birthdays, watch foals go about their day, and check in for feedings and nose scratches galore. Read the article
Town & Country: Distilleries Around the Country Are Now Making Hand Sanitizer. Lauren Hubbard.
Some of the biggest names in liquor are fighting back against the coronavirus. As social distancing and quarantine measures continue in the wake of the COVID-19 outbreak, spirits distilleries around the U.S. are pitching in in their own way by altering their production lines to focus on the manufacture of hand sanitizer. Read the article
Forbes. American Craft Distilleries Are Making Hand Sanitizer To Help Fight The Spread Of Coronavirus. Abigail Abesamis. As tasting rooms shut down nationwide in an effort to slow the spread of coronavirus, many distillers are switching gears to turn their spirits into hand sanitizer in order to supply hospitals, doctor's offices, nursing homes, food pantries and other organizations and people in need. Read the article
Atlanta Journal Constitution: Horses and bourbon go hand-in-hand in Lexington, Kentucky. Tracey Teo. LEXINGTON, KENTUCKY — A parade of thoroughbred horses thunders around Keeneland racecourse, their meticulously groomed coats glistening in the brilliant autumn light. One strong-willed stallion suddenly pulls ahead of the pack as though he has sprouted wings and may take flight like the mythical Pegasus. It's quite a show, but this isn't a race. It's just an ordinary day of training, part of the Year-Round Tour offered at this picturesque racecourse that is a National Historic Landmark. Read the article
Travel Channel: Ten Things to Do in Lexington, Kentucky This Fall. Autumn in Lexington
Any season is a good time to visit Lexington, Kentucky which is also known as the Horse Capital of the World. But the city is particularly inviting in the fall with its colorful autumn foliage and numerous events and activities for both residents and tourists. Read the article
Rolling Stone Magazine. Garret Woodward. Sitting in his Ford Econoline Van on Saturday afternoon, Justin Wells wiped the sweat off his face and cranked up the air-conditioning. Just exiting the Burl stage at the inaugural Railbird festival in Lexington, Kentucky, the rising country/roots-rock singer couldn't help but smile thinking of how wild that hometown gig just was. "Lexington is kind of the biggest small town," Wells told Rolling Stone. "Keeneland is a pretty quintessential spot. And I'm glad that this is a lot of folks' first view of our town."
Read the article
Good Grit: Miranda Shaffer. Get ready to plan your next summer excursion to Lexington, Kentucky, because the hottest new music festival to hit the summer circuit is coming to you this August. Railbird is making its grand debut at Lexington's Keeneland Race Course, but you can expect more than just your average music festival from this event. If live music, delicious culinary creations, bourbon tastings, and beautiful horse country tours sound like your cup of tea you won't want to miss this. Read the article
House Beautiful: Carisha Swanson. So you missed the Kentucky Derby?! No worries. You can live out your fantasies of big hats and mint juleps next door in Lexington, KY, which is way less crowded and much greener than its big sister city in Louisville, where the Derby takes place. Here are the best ways to live out your horse-betting fantasies and get a good dose of some of the most charming parts of this Southern city.  Read the complete article 
DC Refined: Rina Rapuano. An organization called FoodChain in Lexington, Ky. held its third annual FEAST fundraising dinner earlier this week, and chefs Amy Brandwein of Centrolina in D.C. and Joy Crump of Foode in Fredericksburg were once again among the featured all-female chef lineup for the event.
But what exactly were two beloved DMV chefs doing at a fundraiser in Kentucky? It turns out that both attended a Chefs Boot Camp for Policy and Change put on by the James Beard Foundation in 2016, where they met and bonded with Kentucky superstar chef Ouita Michel. Read the article. 
New York Times:  In Lexington, Selfies With American Pharoah, Then 'Bourbon and Branch'. October is also racing season at Keeneland in Kentucky's Bluegrass country, where farm visits, locavore restaurants and revived bourbon distilleries beckon. The Kentucky Derby, held annually at Churchill Downs in Louisville, outdraws other American horse races, from the Belmont Stakes in Elmont, N.Y., to the Santa Anita Derby, in Arcadia, Calif. But thoroughbred lovers champion Keeneland Race Course in Lexington, 70 miles east, as the intimate alternative with the hospitable practice of welcoming fans behind the scenes, from morning training sessions to the backside barns. Read the entire article
Washington Post: The first words I hear when I deplane in Lexington are: "The bourbon store is open if you're thirsty." It's 11:28 a.m., and indeed, the airport liquor shop is open. I'm then greeted by several statues of horses stately planted in the grass outside the baggage claim. As a Southerner — New Orleans-born with stints living throughout the South — I'm particularly sensitive to the ways our towns are often stereotyped. But as more than one person, in varying dialects, points out to me, if you do something well, celebrate it. By the Kentucky locals' estimation, no one does bourbon and horse racing better than Lexington. Read the entire article
Good Grit. The Million Dollar Minute. Imagine an NBA drafter spotting a five-year-old Michael Jordan and knowing the kid would dominate professional basketball one day.The true gambling in the state of bourbon, bluegrass, and blue bloods comes long before 1,500 pounds of horseflesh spring from a starting gate and hurtle around the track. The high-risk action in the "sport of kings" begins when these magnificent creatures are still practically babies, albeit oversize ones, in the Lexington, Kentucky, sale ring each fall.  Read the complete article
Esquire. The Best Bars in America, 2018. Twenty-one exemplary places to start a tab. What makes a bar a best bar in Esquire's ever-growing hall of fame? It's the feeling: There is no other place you'd rather be right now. How that emotion arises is a mystery, however. For the past twelve months, our lead barflies, Jeff Gordinier and Kevin Sintumuang, with an assist from many friends, set out to solve it. Mysteries aside, these are the places that made them want to go back. Lexington, KY: Bar Ona. The small, mingling crowd outside the hazy bar sign on the narrow side street gives it away, but otherwise Ona would be hard to find. Read the entire article
Travel + Leisure. Why This Southern City Has One of the Most Exciting Culinary Scenes in the Country. Lexington, Kentucky's biggest culinary evangelist on how immigrant cuisines are shaping the new face of southern cooking. Lexington is known for many quintessentially Kentucky things. It's the unofficial capital of Bourbon Country (no small feat in a state that produces 95% of the world's bourbon), and the self-proclaimed Horse Capital of the World, with an equine population of over 300,000.
But like so many cities in the South, Lexington also has deep-rooted immigrant food stories that aren't so often told. Travel + Leisure recently spoke with chef Dan Wu, the city's resident "culinary evangelist" and the mastermind behind new restaurant Atomic Ramen, who is passionate about the city's rich and diverse culinary heritage. Read the complete article
Trip Advisor. Tops Destinations on the Rise. Welcome to Bluegrass Country,  the "Horse Capital of the World." But you don't have to be an avid racehorse fan to enjoy the natural beauty, culture and history that this exciting city has to offer. Read the complete article in Trip Advisor
Michaela Trimble. With over 400 horse farms and home to 90 percent of the world's bourbon production, Lexington is already well known by equine and spirits enthusiasts. But with a number of new restaurants and the newly announced craft beer Brewgrass Trail, there's plenty of reason for gourmands to visit the Bluegrass State's leading city. Read the complete article in Vogue
Kristen Sullivan. Lexington, Kentucky, is one of the most underrated Southern destinations, but definitely a must-visit location this year. With an array of openings coming, including a new boutique hotel and two historic distilleries, Lexington is quickly becoming a hidden gem of the South. Read the complete story in Newsday
Devorah Lev-Tov. It was an incredible year for dining across the U.S. in 2017. With chefs from New York, Chicago and San Francisco moving to smaller markets like Denver, Raleigh, Seattle and Charleston (among others), culinary innovation is booming in cities big and small. But which food town had the biggest growth spurt this year? Louisville's smaller, lesser-visited neighbor, is finally starting to compete in the food arena (it already puts up a strong fight for horses and bourbon). This year the city got Kentucky's first food hall, The Barn, with an all-local, all-independent lineup including craft ice cream at Crank & Boom, pasture-raised fried chicken at Pasture by Marksbury Farm, and Japanese ramen at Atomic Ramen (from MasterChef star Dan Wu). Read the complete story in Zagat
Ellen Creager. She touched his silky chestnut shoulder and felt like the luckiest person in the world. Shannon Brown of South Lyon had just met equine royalty, Triple Crown winner American Pharoah. Where is he now? Living the good life in the sweet rolling Kentucky countryside. But here's where the story takes a twist. Normally, fans never get to see these multi-million dollar horses, let alone pet a Triple Crown winner. Read the complete story in USA Today 
Daniel McGinn.  THERE ARE PLACES in this country where geology has played an obvious role in creating a vacation destination - think of the Grand Canyon, for instance, or the volcanic Hawaiian Islands. Though you might not think it, the same is true of Lexington, Kentucky. Beneath its gently rolling hills, geology has exerted a subtle force that's helped make this a spectacular place to spend a weekend. Read the complete article in the Boston Globe
Jackie Hutcherson Parker. Bluegrass, basketball, bourbon, and beer give springtime in Lexington, Ky., a sense of place like no other. Tiny, purplish blooms pop up on redbud trees against acres of rolling bluegrass in central Kentucky. March Madness is like a holiday, especially if the local favorites, the University of Kentucky Wildcats, are playing in the NCAA Tournament. Win or lose, the phrase, "How about them 'Cats?" will be all you need to start a conversation with the Big Blue Nation locals over drinks at any of the bourbon distilleries, breweries, and restaurants in and around Lexington. 
Read the complete article in AAA's Midwest Traveler
Dan Dickson. When people think of Lexington, Kentucky, several things often jump to mind: bluegrass, basketball and bourbon. There's plenty of gorgeous scenery to enjoy in the greenbelt surrounding this city of 308,000 in what locals call the Horse Capital of the World. University of Kentucky basketball is a passion of the Big Blue Nation, as is the distilling of arguably the best bourbon in the world. Read the complete article in Small Market Meetings.
Matt Lee & Ted Lee. Bobby Flay is the ultimate New Yorker. But transport him to Kentucky, where he owns Thoroughbred racehorses, and he seems even more at home. Here, his story and his feel-good food. Read the complete article in Food & Wine magazine.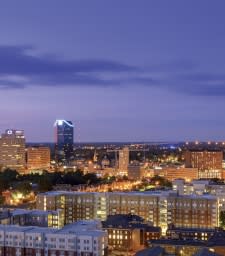 Megan Smith. The editor of Cake & Whiskey magazine writes a compelling love letter to Lexington on the Huffington Post. Read it here.