Recent Coverage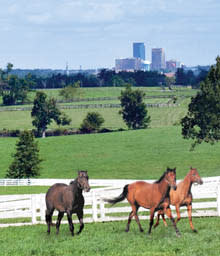 Travel writers and bloggers have no shortage of things to say about Lexington's Bluegrass Region. Explore these links to see what intrigues and inspires them about the Horse Capital of the World.
New York Times:  In Lexington, Selfies With American Pharoah, Then 'Bourbon and Branch'. October is also racing season at Keeneland in Kentucky's Bluegrass country, where farm visits, locavore restaurants and revived bourbon distilleries beckon. The Kentucky Derby, held annually at Churchill Downs in Louisville, outdraws other American horse races, from the Belmont Stakes in Elmont, N.Y., to the Santa Anita Derby, in Arcadia, Calif. But thoroughbred lovers champion Keeneland Race Course in Lexington, 70 miles east, as the intimate alternative with the hospitable practice of welcoming fans behind the scenes, from morning training sessions to the backside barns. Read the entire article
Washington Post: The first words I hear when I deplane in Lexington are: "The bourbon store is open if you're thirsty." It's 11:28 a.m., and indeed, the airport liquor shop is open. I'm then greeted by several statues of horses stately planted in the grass outside the baggage claim. As a Southerner — New Orleans-born with stints living throughout the South — I'm particularly sensitive to the ways our towns are often stereotyped. But as more than one person, in varying dialects, points out to me, if you do something well, celebrate it. By the Kentucky locals' estimation, no one does bourbon and horse racing better than Lexington. Read the entire article
Good Grit. The Million Dollar Minute. Imagine an NBA drafter spotting a five-year-old Michael Jordan and knowing the kid would dominate professional basketball one day.The true gambling in the state of bourbon, bluegrass, and blue bloods comes long before 1,500 pounds of horseflesh spring from a starting gate and hurtle around the track. The high-risk action in the "sport of kings" begins when these magnificent creatures are still practically babies, albeit oversize ones, in the Lexington, Kentucky, sale ring each fall.  Read the complete article
Esquire. The Best Bars in America, 2018. Twenty-one exemplary places to start a tab. What makes a bar a best bar in Esquire's ever-growing hall of fame? It's the feeling: There is no other place you'd rather be right now. How that emotion arises is a mystery, however. For the past twelve months, our lead barflies, Jeff Gordinier and Kevin Sintumuang, with an assist from many friends, set out to solve it. Mysteries aside, these are the places that made them want to go back. Lexington, KY: Bar Ona. The small, mingling crowd outside the hazy bar sign on the narrow side street gives it away, but otherwise Ona would be hard to find. Read the entire article
Travel + Leisure. Why This Southern City Has One of the Most Exciting Culinary Scenes in the Country. Lexington, Kentucky's biggest culinary evangelist on how immigrant cuisines are shaping the new face of southern cooking. Lexington is known for many quintessentially Kentucky things. It's the unofficial capital of Bourbon Country (no small feat in a state that produces 95% of the world's bourbon), and the self-proclaimed Horse Capital of the World, with an equine population of over 300,000.
But like so many cities in the South, Lexington also has deep-rooted immigrant food stories that aren't so often told. Travel + Leisure recently spoke with chef Dan Wu, the city's resident "culinary evangelist" and the mastermind behind new restaurant Atomic Ramen, who is passionate about the city's rich and diverse culinary heritage. Read the complete article
Trip Advisor. Tops Destinations on the Rise. Welcome to Bluegrass Country,  the "Horse Capital of the World." But you don't have to be an avid racehorse fan to enjoy the natural beauty, culture and history that this exciting city has to offer. Read the complete article in Trip Advisor
Michaela Trimble. With over 400 horse farms and home to 90 percent of the world's bourbon production, Lexington is already well known by equine and spirits enthusiasts. But with a number of new restaurants and the newly announced craft beer Brewgrass Trail, there's plenty of reason for gourmands to visit the Bluegrass State's leading city. Read the complete article in Vogue
Kristen Sullivan. Lexington, Kentucky, is one of the most underrated Southern destinations, but definitely a must-visit location this year. With an array of openings coming, including a new boutique hotel and two historic distilleries, Lexington is quickly becoming a hidden gem of the South. Read the complete story in Newsday
Devorah Lev-Tov. It was an incredible year for dining across the U.S. in 2017. With chefs from New York, Chicago and San Francisco moving to smaller markets like Denver, Raleigh, Seattle and Charleston (among others), culinary innovation is booming in cities big and small. But which food town had the biggest growth spurt this year? Louisville's smaller, lesser-visited neighbor, is finally starting to compete in the food arena (it already puts up a strong fight for horses and bourbon). This year the city got Kentucky's first food hall, The Barn, with an all-local, all-independent lineup including craft ice cream at Crank & Boom, pasture-raised fried chicken at Pasture by Marksbury Farm, and Japanese ramen at Atomic Ramen (from MasterChef star Dan Wu). Read the complete story in Zagat
Ellen Creager. She touched his silky chestnut shoulder and felt like the luckiest person in the world. Shannon Brown of South Lyon had just met equine royalty, Triple Crown winner American Pharoah. Where is he now? Living the good life in the sweet rolling Kentucky countryside. But here's where the story takes a twist. Normally, fans never get to see these multi-million dollar horses, let alone pet a Triple Crown winner. Read the complete story in USA Today 
Daniel McGinn.  THERE ARE PLACES in this country where geology has played an obvious role in creating a vacation destination - think of the Grand Canyon, for instance, or the volcanic Hawaiian Islands. Though you might not think it, the same is true of Lexington, Kentucky. Beneath its gently rolling hills, geology has exerted a subtle force that's helped make this a spectacular place to spend a weekend. Read the complete article in the Boston Globe
Jill K. Robinson. It may be before lunch, but it's a good time to be sitting on a barstool at Lexington's West Sixth Brewing in a building known as the Bread Box. In this redevelopment of the century-old Rainbo Bread factory, I'm tasting through a selection of beers - from IPA to amber to porter - which, not coincidentally, are part of the new flavor of Lexington.  Read the complete article in the San Francisco Chronicle
Amy Laughinghouse.  Given my surroundings - a jumble of old warehouses, graffiti murals, a craft beer pub manned by a bearded youth - I could be in one of New York's trendiest neighborhoods or London's uber-cool Shoreditch. But as I belly up to a cold steel bar, which crouches low and lean within the cavernous brick-and-concrete box that is Ethereal Brewing, the bartender's distinctive accent plants me firmly in Dixie.
"What are y'all havin'?" he drawls with a smile.
Yes, sir, I'm in Lexington, Kentucky, alright.
Read the entire article in the Philadelphia Inquirer
Jackie Hutcherson Parker. Bluegrass, basketball, bourbon, and beer give springtime in Lexington, Ky., a sense of place like no other. Tiny, purplish blooms pop up on redbud trees against acres of rolling bluegrass in central Kentucky. March Madness is like a holiday, especially if the local favorites, the University of Kentucky Wildcats, are playing in the NCAA Tournament. Win or lose, the phrase, "How about them 'Cats?" will be all you need to start a conversation with the Big Blue Nation locals over drinks at any of the bourbon distilleries, breweries, and restaurants in and around Lexington. 
Read the complete article in AAA's Midwest Traveler
Dan Dickson. When people think of Lexington, Kentucky, several things often jump to mind: bluegrass, basketball and bourbon. There's plenty of gorgeous scenery to enjoy in the greenbelt surrounding this city of 308,000 in what locals call the Horse Capital of the World. University of Kentucky basketball is a passion of the Big Blue Nation, as is the distilling of arguably the best bourbon in the world. Read the complete article in Small Market Meetings.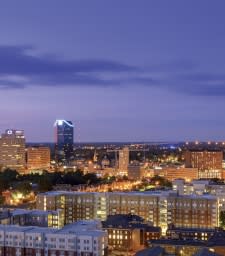 Matt Lee & Ted Lee. Bobby Flay is the ultimate New Yorker. But transport him to Kentucky, where he owns Thoroughbred racehorses, and he seems even more at home. Here, his story and his feel-good food. Read the complete article in Food & Wine magazine
Michele Peterson. "If you want a great horse photo, try making a mating sound," suggested my tour companion who had managed to catch the attention of Big Brown, a champion breeding stallion grazing in the paddock at Three Chimneys Farm. Read the article in Dreamscapes magazine.
Patricia Harris. Several restaurants have upped the dining fun factor by offering good food in quirky old locations. Here are some of the most colorful. Read more about Lexington restaurants in the Boston Globe
Megan Smith. The editor of Cake & Whiskey magazine writes a compelling love letter to Lexington on the Huffington Post. Read it here.
Betsa Marsh. A horse could carry only four bushels of corn over the rough roads to the Eastern markets, but if you distilled it into liquor, the same horse could carry the equivalent of 24 bushels. Learn more about the heritage of Bourbon in this USA Today online article.
Katie Van Syckle. Despite being tucked into the heart of Kentucky bluegrass country, Lexington boasts an eclectic music scene that thrives in sweaty punk bars and Irish pubs as well as local barbecue joints. Read more on Men's Journal.
Zach Everson. East of Louisville, through fenced-off rolling green fields where horses with a higher net worth that yours graze, lies Kentucky's Bluegrass region and Lexington, the "Horse Capital of the World." Read more of Zach's article on AOL Travel.
Robin Soslow. Blue grass, roving minstrels, fiery potions, peanut-butter breezes, dancing zombies, symbol-encrusted loaves of bread: This is either a hallucination or a day in the park. Specifically, Cheapside Park, the public square in Lexington, Ky. Read this article in the Washington Post.
Erin Shaw Street: Bourbon will always be king in Kentucky, but there's a new sipping trend in the Bluegrass State-craft beer. Read more from Southern Living.
Katherine Nero: It's the gateway to wraparound front porches and waving at strangers.... Read more about why Katherine Nero understands that "Southern starts here".
Esther Marr: Gently rolling hills carpeted in rich pastureland surround an energetic downtown. See what else Ms. Marr has to say in the August edition of US Airways.
Charlene Mixa: Whoa! Hold on to your horses, Lexington, Kentucky reins as the "Horse Capital of the World!" Check out this article on travelroads.com
Mary Ann DeSantis: Move over, Bourbon. Kentucky wines are winning international awards as the Bluegrass State reclaims its wine-making heritage, one that began with America's first commercial vineyard in 1798. Read more at www.marysantis.com.