Jefferson Street - African American Horsemen
146 Old Georgetown Street, Lexington, KY 40507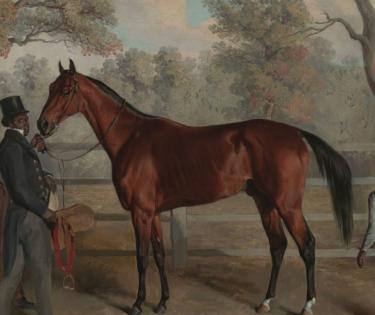 The names of horses, owners, and breeders were found in newspapers as early as 1787. The reports, however, did not provide the names of hundreds of enslaved men who bred, trained, and rode the horses. We know of a few, thanks to Edward Troye (1808-1874), portrait painter of livestock and Thoroughbreds, who came to the United States in 1831. Harry Lewis (c.1805-?), a well-groomed trainer in top hat and tailored cutaway, was standing at the head of Thoroughbred Richard Singleton, owned by Willa Viley of Scott County when his image was painted. By 1850, Harry Lewis was a free-man-of-color. In 1853, he "leased the racing quality" of Darley, owned by breeder Elijah Warfield. Darley was purchased by Richard Tenbroeck and others after his first two wins and the stallion's name was changed to Lexington. The thoroughbred became "Big Lex," the blue horse symbol of the city of Lexington in 2010.
In the neighborhood?
Here are a few of the best places to visit within walking distance or a quick drive
Travel Guides
Here are a few of our favorite guides to help you plan your Lexington experience. Dig in!