Free Black Neighborhood
275 S Limestone, Lexington, KY 40507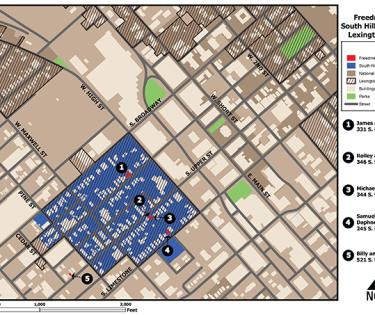 Lexington's free black community was filled with driven individuals who, more often than not, purchased their own freedom and went on to either free or purchase their enslaved family members. As this community grew, they were not residentially segregated. Rather, freed blacks lived alongside white households throughout the city. Although still severely restricted in their movements and rights, freedmen provided a range of services for Lexington's economy. A quarter of freed-peoples were able to acquire enough wealth to join the middle and upper-classes of the Antebellum Era. Despite many obstacles, a few free black elites owned and/or built homes throughout Lexington. In 1840, 41 freedmen held 58 pieces of real estate. Multiple homes are concretely linked to Lexington's free black community and are concentrated in the South Hill Neighborhood.
In the neighborhood?
Here are a few of the best places to visit within walking distance or a quick drive
Travel Guides
Here are a few of our favorite guides to help you plan your Lexington experience. Dig in!