Names To Know, Then And Now
Proving that horse racing isn't just a man's world, these women stood tall in the horse industry – producing and racing top racehorses and reflecting the long history of strong Kentucky women.
Anita Madden (1933-2018)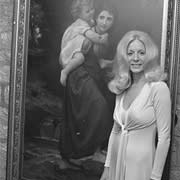 Known for her extravagant Derby parties attended by socialites, politicians, and Hollywood stars, Madden was also a social activist. She spoke out for the need for gender equality, especially in horse racing, and even won the National Association of Women Business Owners Winner's Circle Award. She and her husband sold part of their farm, which now includes Hamburg Shopping Center.
Queen Elizabeth II (b. 1926)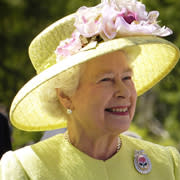 While not a native Kentuckian, Queen Elizabeth II is a well-known equestrienne and horse lover with Kentucky ties. She has visited Lexington twice during her reign. In 1984, she visited Central Kentucky farms housing prominent stallions to gain inspiration for her royal stables and also presented the trophy at Keeneland for the annual fall race in her namesake, the Queen Elizabeth II Challenge Cup. In 2007, the Queen and Prince Philip were guests of William and Sarah Farish at Lanes End Farm and attended the Kentucky Derby as their guests.  Several horses from Queen Elizabeth II's racing stable have competed at Keeneland over the years.
Mary Lou Whitney (1925-2019)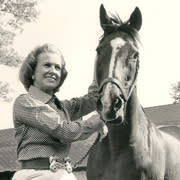 Reigning for decades as the social queen of the Lexington racing scene, Whitney was just as well known for her horses. Her Mary Lou Whitney Stables horses include Kentucky Derby and Kentucky Oaks winners. Whitney was also an avid philanthropist, donating generously to the Headley-Whitney Museum, the Stroke Recovery Center at Cardinal Hill, and the Mary Lou Whitney and John Henrickson Cancer Facility for Women at the University of Kentucky.
Alice Headley Chandler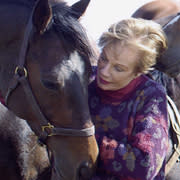 Mrs. Chandler inherited four mares and 286 acres of land near downtown Lexington in 1962 and named the farm Mill Ridge. In 1966 Sir Ivor, a descendant of Alicibiade, one of the original four mares, was sold at auction at Keeneland. In 1968, Sir Ivor won the Epsom Derby making Alice Chandler Headley the first American woman to breed an Epsom Derby winner.  Her farm produced multiple stakes winners including 2005 Kentucky Derby champion Giacomo. Mrs. Chandler welcomed Queen Elizabeth II to Mill Ridge in 1984 on her tour of Central Kentucky farms. Mrs. Chandler was given the Eclipse Award of Merit in 2009, and served as chairperson for both the University of Kentucky Equine Research Committee and as president of the Kentucky Thoroughbred Association. 
Pansy Yount (1887-1962)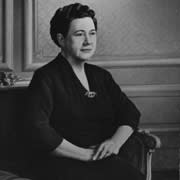 After her husband struck oil in Texas, Yount and her husband founded a stable of American Saddlebred horses. She moved to Lexington after her husband died and built Spindletop Hall in 1935 – a place Yount described as the showplace of Kentucky. Before she died, she donated Spindletop to the University of Kentucky and it became the staff, faculty, and alumni club.
Barbara Banke (b. 1953)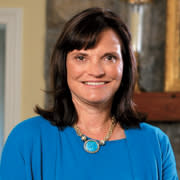 A horsewoman and a vintner, Banke has a hands-on role in Stonestreet Farm, one of the leading commercial breeders in the country. She is also chairman and proprietor of Kendall-Jackson Winery, running the Jackson Family collection of wineries and vineyards. Stonestreet Farm has bred and raised more than 70 graded stakes winners. Banke is committed to service within the Thoroughbred industry and is a member of the Breeders' Cup, the Jockey Club, the Thoroughbred Owners and Breeders Association and the National Racing Museum and Hall of Fame.  She is also on Keeneland's Advisory Board of Directors.