While we don't claim that Bourbon was invented in Lexington, we do claim that it was born of Kentucky's natural bounty and the skill of our early settlers. Plan a trip to explore the birthplace of Bourbon with Lexington as your home base. Experience our Bourbon distilleries, Bourbon bars and regional cuisine, and you'll gain an appreciation of America's native spirit and our connection to a product whose popularity is booming around the world.
Lexington was home to the first registered distillery in Central Kentucky, the Ashland Distillery (R.D. #1) later known as "Old Tarr." Built in the mid-1800s on Manchester Street, one of its warehouses still stands and is home to Manchester Music Hall, a popular venue for live music concerts. In the 19th century, this area at the west end of Lexington was a major hub for Kentucky's Bourbon industry. Exciting initiatives continue in the Distillery District utilizing these historic buildings for shopping, restaurants, housing and entertainment venues.
Today, in the heart of Lexington's revitalized Distillery District, Barrel House Distilling Company is crafting its very own small batch Bourbon. Rockcastle Straight Kentucky Whiskey is distilled using the highest quality locally sourced corn and wheat ground by nearby Weisenburger Mills, and mountain spring water from King Springs in Rockcastle county.  The James E. Pepper Distillery is distilling on the site of Pepper's original 1879 distillery, and is now open for tours. Just around the corner, the first brad new distillery to be built in Lexington in about 100 years is producing Town Branch Bourbon.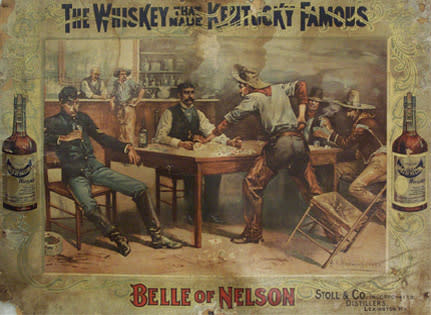 What do we know about the origins of Bourbon? We know that people have been turning grain into distilled spirits for centuries, and we know that early Kentucky settlers brought their techniques, and probably their stills, with them. Corn was abundant in this region, and a popular choice as a major ingredient when distilling whiskey.
Time spent in charred oak barrels gives this whiskey a distinctive color and flavor. But how did it come to be named Bourbon? Some historians say Kentucky whiskey was shipped down the Ohio and Mississippi rivers in barrels stamped "Bourbon", its county of origin. Others contend much of it ended up in the area of Bourbon Street in New Orleans. Kentuckians like to debate this topic, preferably over a fine example of America's Native Spirit.
Click here for additional resources on the earliest distilleries in Lexington.