8.  Site of the Old First Baptist Church

Corner of Short and Deweese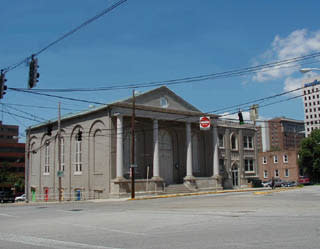 For decades, First Baptist--a legendary church--stood at the corner of Short and Deweese, "the heart of the African American" community.  It is "one of the oldest African American congregations in the state of Kentucky" and also has roots in the African Baptist church.  Established during slavery, the original First Baptist served as a major religious and cultural institution throughout the 19th and 20th centuries.  This celebrated house of worship has been referred to as "one of the connecting links in the underground railroad."  In the latter part of the 20th century, the historic church relocated to Price Road as First African Baptist.
Deweese and Short, formerly the site of First Baptist 
Photo courtesy of Lexington  Convention and Visitors Bureau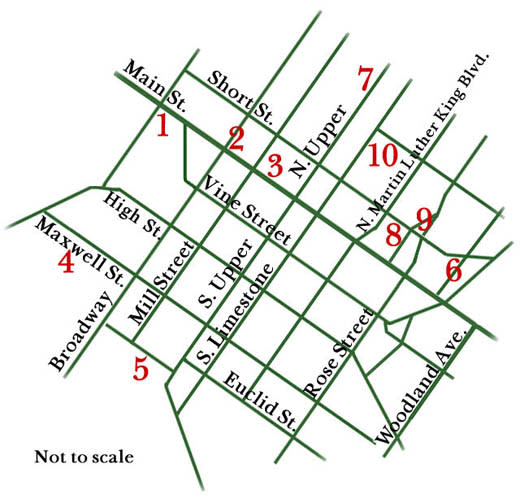 1. Main Street Baptist Church, 582 West Main Street 
2. "Forgotten Pioneers," A doctor's office that was located at 118 North Broadway 
3. Cheapside 
4. Historic Pleasant Green, 540 West Maxwell Street 
5. Baptism scene, between Bolivar and Scott Streets 
6. Home of Isaac Murphy, Eastern Street 
7. St. Paul AME Church, 251-253 North Upper Street 
8. Old First Baptist site, corner of Short and DeWeese 
9. Polk-Dalton Infirmary, 148 DeWeese 
10. East Second Street Christian Church, 146 Constitution Street
Click on each number to learn more about these 10 sites.
Click here to the print the African American Heritage Trail in pdf format. (4 pages)
Doris Wilkinson, Retired
Department of Sociology 
University of Kentucky 
Lexington, Kentucky 40506-0027
Click here for selected references on Lexington's African American Heritage.