The family-owned, homemade Tortilleria y Taqueria has been gracing the Bluegrass with truly authentic Mexican cuisine for years.
Walking in from Alexandria Drive, olfaction fills with the deeply warm smell of roasted corn. Today, owner Laura Patricia Ramírez, 49, is holding the store phone between her shoulder and cheek, speaking speedy Spanish with her sister, sorting through dried pinto beans ready to be soaked and simmered into refried beans. Laura's oldest son Ricardo, 32, is moving quickly behind the gas stove and two blazing flat tops running hot production for dinner service.
Drink dispensers spin behind the counter. Horchata, their most popular, stays on constantly with the other four rotating—today, a pineapple, guava, cantaloupe and an intensely red hibiscus pour. Homemade salsas sit on all twelve tables: mild green tomatillo (spiciness depending upon the jalapenos,) medium made of dried arbol chile, and the hottest made with habanero peppers. An adventurous foodie will be excited to see on the two-page Spanish/English menu options of cactus, pork rind, tripa (intestines,) cesos (brain,) lengua (tongue,) and cabeza (head meat.) Receiving entire cow heads, these ingredients are freshly butchered.
They serve homemade corn tortillas for tacos, made of local Weisenberger corn which they roast in-house. Serving sopes, quesadillas, tortas, sandwiches (with bread from a neighboring bakery,) burritos, entree platers, gorditas, and delicious hot soups—the Posole (hominy) being Laura's favorite.
Two mounted televisions play Spanish stations, one news and the other soap operas. A tall golden soccer trophy sits proudly by the back register overlooking the infamous monster of a tortilla machine and hand-laid brick corn soaking vat. The Ramírez sponsor The Yellowjackets of Woodford County High School, her son Christopher's soccer team. "When they won, I said, 'The trophy stays here!'," Laura said, laughing. "But I like doing things for local kids."
A few diners grab snacks on their way out as this restaurant also functions as a market offering corn husks, chips, canned cactus, super churros, sweet treats, even gallons of milk.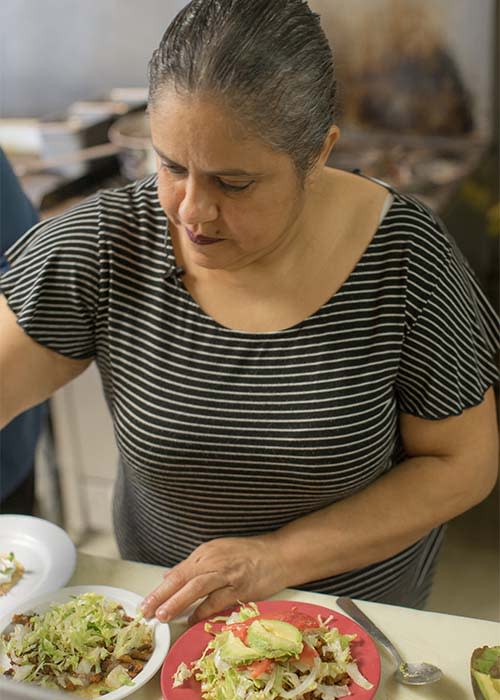 Laura and husband Alberto Ramírez, 54, moved to Lexington from birthplace of Guadalajara in 1985. Newly wed, with their first son (of three to follow) on the way, Alberto started work on a horse farm and Laura cleaned houses.
Growing up, Laura had 8 sisters and 4 brothers. Alberto was the eighth of 14—seven boys and seven girls.
"We had a big long table we'd eat at," Alberto said, smiling. "My mom cooked lots of food." Laura said she has been working since she was 10 years old.
"I used to go to school and sell a lot of things—clothes, food," Laura said. "I helped my mom make all of our lunches. We always had plenty of food, we never went without, but it was hard for them to give us spending money. I liked to buy snacks, so I always worked."
Laura smiles as I ask what made them want to open Tortilleria y Taqueria Ramírez, and I see it was Alberto's idea.
"I was a little worried," Laura said. "I didn't know anything about it… to be honest, it wasn't something I expected to do. But it really makes you feel good when they like your food. I've never had anyone say they didn't like it."
Alberto's explanation was more confident.
"I don't know, it just came out my head," Alberto said. "I wanted to work for myself. You get tired of working for somebody else."
The two learned about the restaurant business from working together for a Tex-Mex restaurant in Versailles but say that for the most part they learned as business progressed. Self-taught from a young age in large families, both have always shared cooking duties in their home as they have always worked full (often over) time.
When they first opened in 1996, it was a sole tortilleria. They bought their tortilla machine from back home in Guadalajara. At first, the tortillas were not coming out right. They asked Alberto's mother a few questions over the phone, and she was able to fix the problem.
"We learned the hard way," Alberto said. "We wasted a lot of tortillas."
Now, they just feed any leftovers to their pet farm animals. With 9 goats, 3 chickens, a pig and a cow, nothing goes to waste. They live in Woodford County on three acres.
"I like small towns," Laura said. "You can always find out about your kids."
All four of their sons help work weekends, including Alberto Jr., 29, Christian, 21, and Christopher, 17.
"It is our hope they take over, but I don't know if they will." Alberto said. "It seems they might want to do other things. It's a lot of responsibility."
On a typical weekend they go through about 11,000 lbs of Weisenberger corn and maseca—white corn flour.
"Weekdays, just a couple hundred," Alberto said. "Not much."
Open 12 hours a day, seven days a week, there have been 2-3 week stretches without a day off. Once a year, they close shop for a week to visit Guadalajara around October 5th for Laura's father, Joaquin Foreseca's birthday. The father and daughter are very close, and this year he is turning 90. A large family gathering of over 100 will celebrate, and they plan to do self-serve tacos.
It's 8 p.m., and about half of the 12 tables are taken, but multiple take-out orders have been filled. In 2001, they successfully expanded into a restaurant. Groups of construction workers trudge in dusty boots and red weathered faces from the cold. Two families of four wait while sipping horchata, a few couples drinking Jaritos while they wait. I ordered the tongue sopas and brain taco, but they were out of brain, so I tried the intestines instead. The taste of their corn tortillas permeates and lingers. By far the most "comforting" tortilla I've ever had. This dinner was $4.98, and I was more than satisfied.
Spending a bit of time here, you see everything is made from scratch, nothing frozen, nothing canned, everything is fresh and chopped by hand. Laura is constantly moving, checking boiling pots, culinary-school precision slicing of tomatoes, chopping lettuce, dicing onions and quartering limes for service.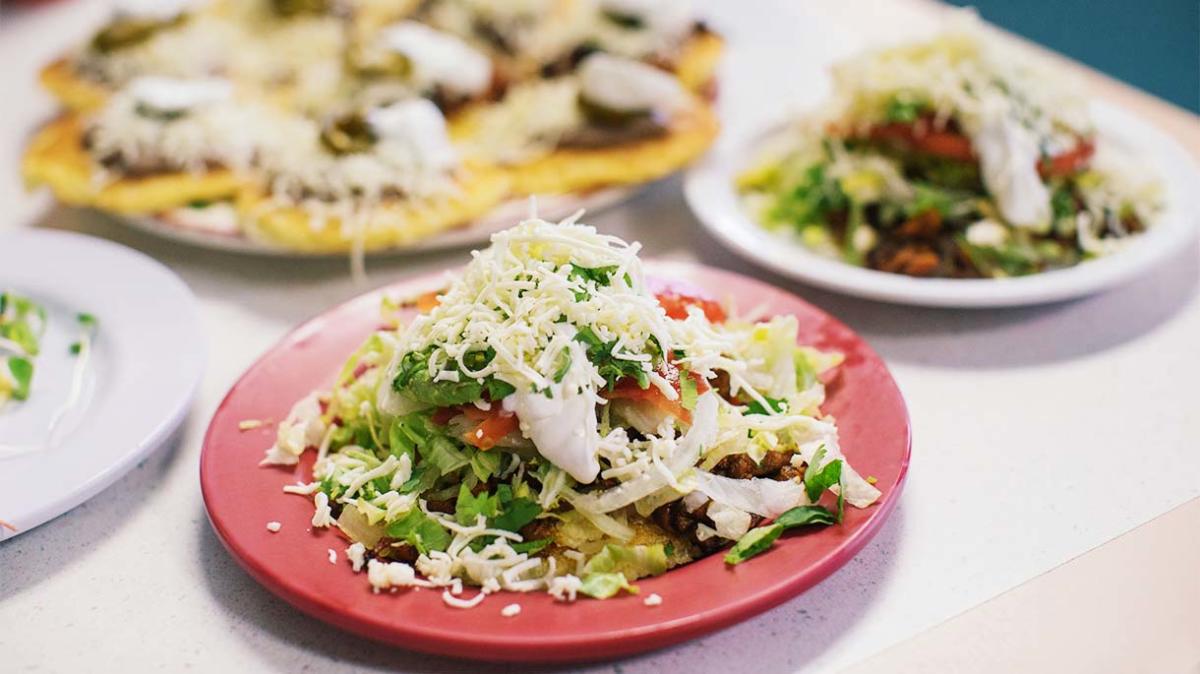 I head out around 9 to let them close down by 10, but the next morning Laura says they didn't leave until midnight. With a 30-minute drive back home, this morning came extra early. I find her behind four gas burners on full blast, boiling giant pots, tiptoeing to stir with a canoe-sized paddle, the two large flattops full of steaming beef and marinated chicken prepping for lunch service.
Alberto is in the back, soaking the browned local Wiesenberger corn in a huge bricked vat streaming water atop. He stands on an egg crate to hunch over into the vat, dipping a large colander into the corn, perching it on the edge to strain. He dumps the corn into a tub, sorts through, discarding any stalks, stems and unsatisfactory kernels. Slapping the tub of corn into the grinder, the metal churn spits and spurts out a corn paste. He pours the puree into a standing mixer with a 50 lb. sack of Maseca and water measured from memory and feel.
Opening the mixer after it is incorporated, he molds together a ball in which he lifts above his head and into the fiery tortilla machine. This cranky machine has been running to heat while Alberto prepares the dough, with the metal gears turning, it moans and groans as fire shoots up from the sides. Alberto sprays the conveyer line down with a water bottle, droplets dancing on the hot surface, steam rising to the ceiling, to keep the tortillas from sticking.
Two rows of perfectly round tortillas are sent onto the conveyer. He takes off the first unperfected few, molds into a ball, reaching to put back into the machine.
"They're coming out good today," Alberto said.
The rows move down the conveyer, puffing up as they go. Neat stacks of 28 are quickly wrapped and put into a cooler for the day of service.
A few locals are in around 10:30 to pick up a pack of fresh tortillas. They fill your car with the most wonderful smell.