Acclaimed Garden Designer Jon Carloftis invites you to explore the carefully cultivated gardens blooming throughout the historically preserved architecture of downtown Lexington, using this as your guide. Please note that many of the stops mentioned here may be private homes and not open for public viewing. View the full digital guide or stop by the Visitors Center to pick up your own copy!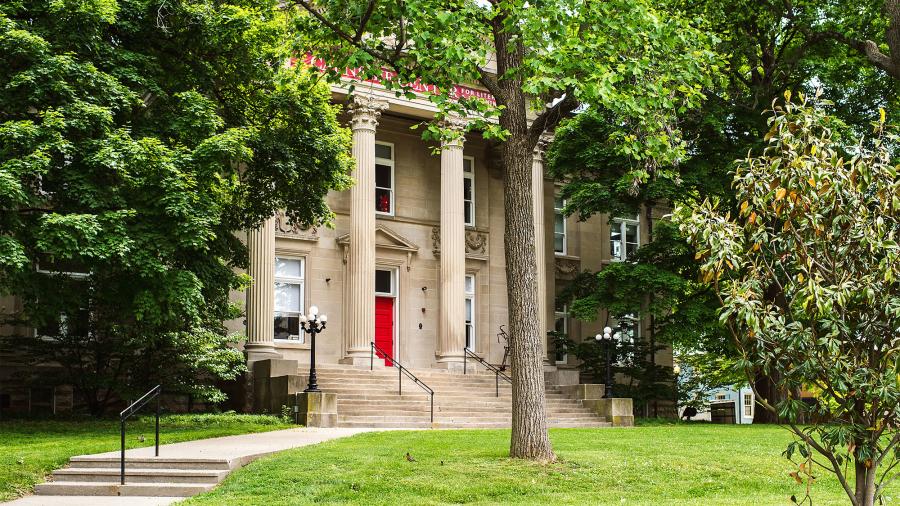 Gratz Park District
Stroll back in time along the exquisitely preserved streets of the Gratz Park District, home to some of Lexington's finest examples of early architecture and peppered with the carefully maintained gardens of its residents. This historic district is comprised of 16 buildings, including the Hunt Morgan House, the Bodley-Bullock House, the Carnegie Library and several private homes. Here you'll find examples of Gothic, Greek Revival, Federal and neoclassical architecture.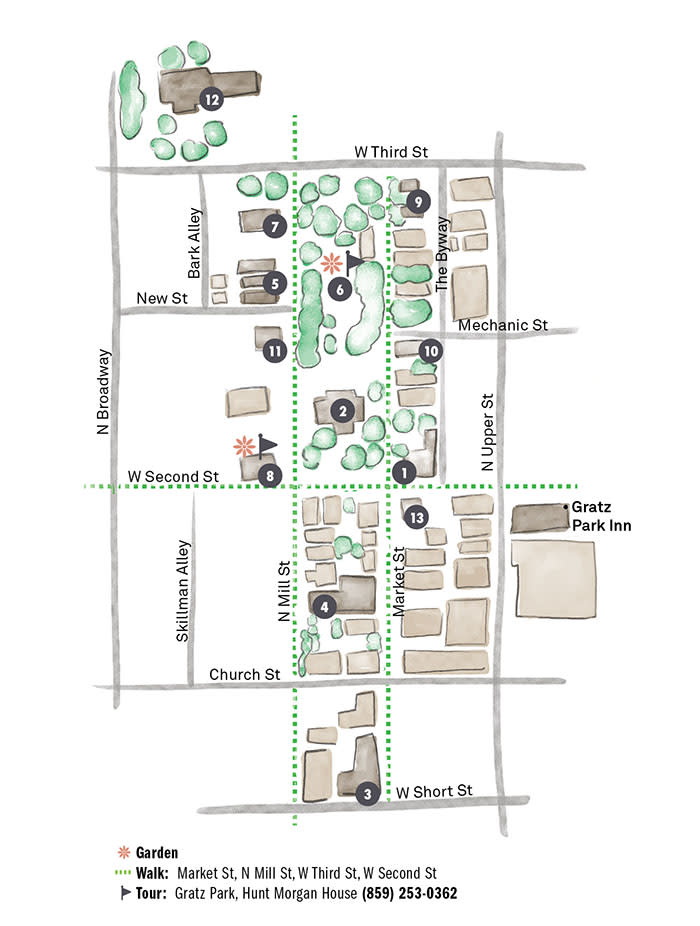 [Below refers to a map]
1 Bodley-Bullock House | 2 Carnegie Center | 3 Dudley House | 4 First Presbyterian/Henry Clay's Office | 5 Goodloe Houses | 6 Gratz Park | 7 Hope House | 8 Hunt Morgan House & Garden | 9 John Anderson Houses | 10 John Stark House | 11 Mt. Hope | 12 Morrison Hall | 13 Ridgely House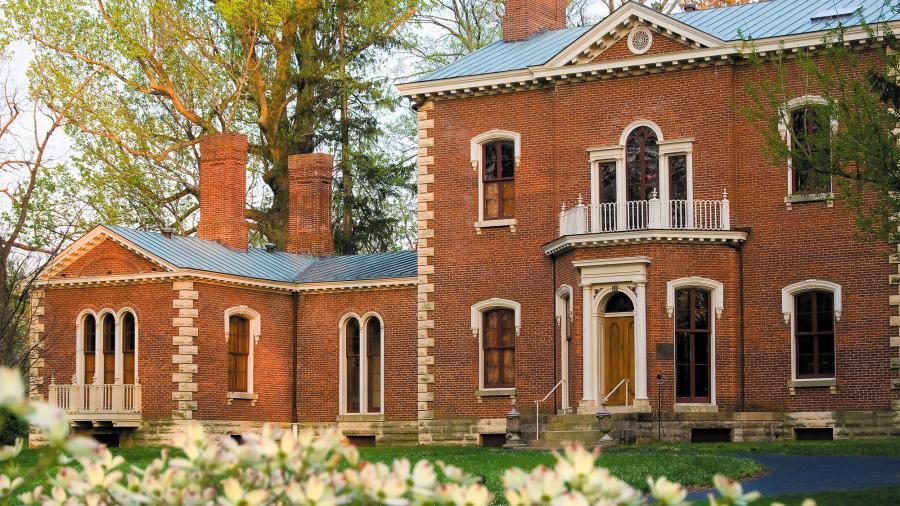 Ashland District
Statesman Henry Clay's beloved Ashland estate is preserved on 17 acres of wooded grounds and surrounded by scenic residential streets. An Italianate style mansion sits at the center of the estate, and the English parterre garden – free to visitors – is a favorite spot of local artists and photographers. Walk down the adjacent tree-lined streets, such as Catalpa Road and South Ashland Avenue, to view lovely residential gardens, century-old trees, and examples of American Craftsman, Colonial Revival and Tudor Revival architecture. Mansion and "Trees of Ashland" tours are offered year-round. Visit henryclay.org for ticketing information.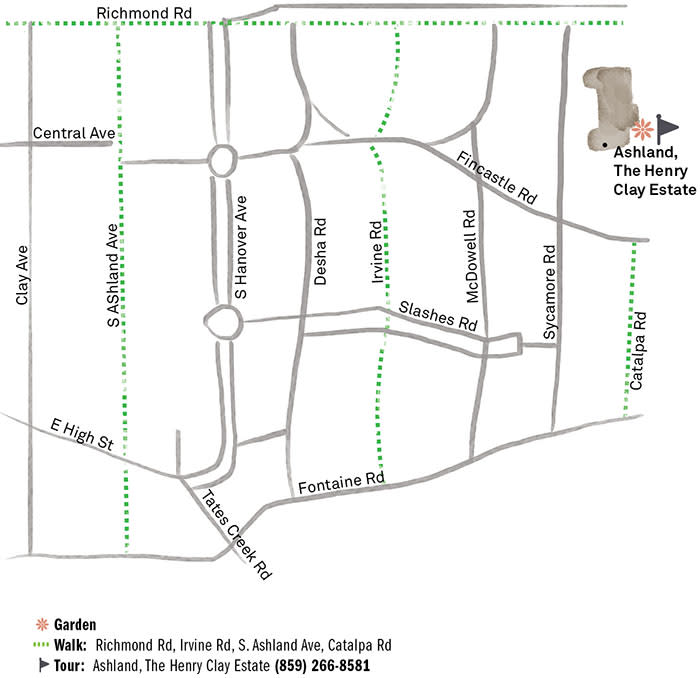 Insider Tips:
—The wings of the Federal style house were designed by Benjamin Latrobe, the architect of the U.S. Capitol.
—Landscape architect Henry Fletcher Kenney designed the garden following its opening to the public in 1950. It continues to be maintained by members of the Lexington Garden Club.
—Have lunch at the Ginkgo Tree Cafe, a casual eatery on the grounds of the Ashland Estate that serves crepes, salads and specialty sandwiches.
—In Autumn, the front lawn of the Ashland Estate and the nearby Catalpa Road are blanketed in yellow Ginkgo leaves from the historic trees that date back to 1890.
—Though many plants are dormant during winter months, the bones of Henry Clay's garden are a quietly beautiful sight to see all on their own.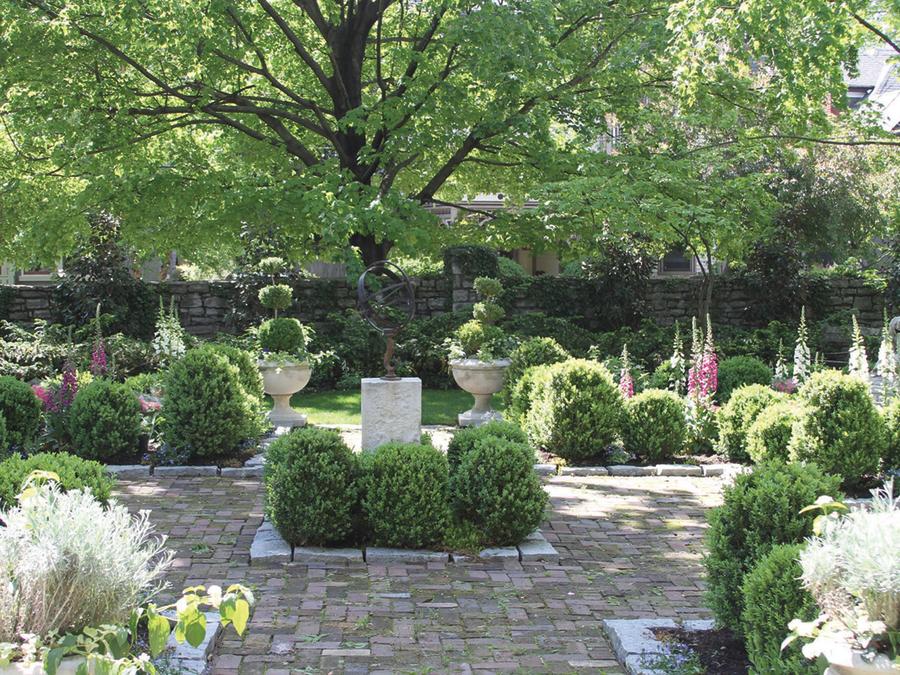 Westside District
The architecturally diverse Woodward Heights Historic District contains examples of Victorian, Greek Revival, Colonial and neoclassical architecture. The Lexington Cemetery, the burial site of many notable Kentuckians, is nationally known as one of America's most beautiful cemeteries and arboretums. The cemetery's entrance features a Romanesque gatehouse, and the grounds encompass an arboretum and a wide variety of plants, shrubs, trees and flowers. Plan to visit the Botherum, a restored Greek Revival cottage nestled among exquisite gardens, originally built by prolific Kentucky architect, John McMurtry.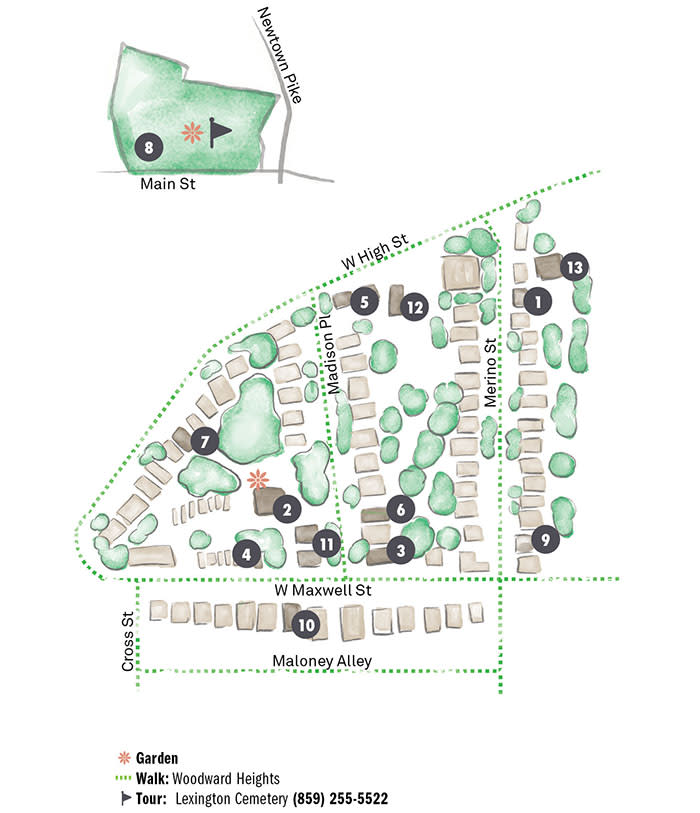 [Below refers to a map]
1 Ackland House | 2 Botherum & Garden | 3 Byrns House | 4 Cock House | 5 Cozine Couch House, Couch House | 6 Hal Pettit Headley House | 7 Hall-Papania House | 8 Lexington Cemetery | 9 Mayor Cassidy House | 10 Misses Spur's Boarding House | 11 Sawyer House, Smith House | 12 Williamson House | 13 Young Shaw House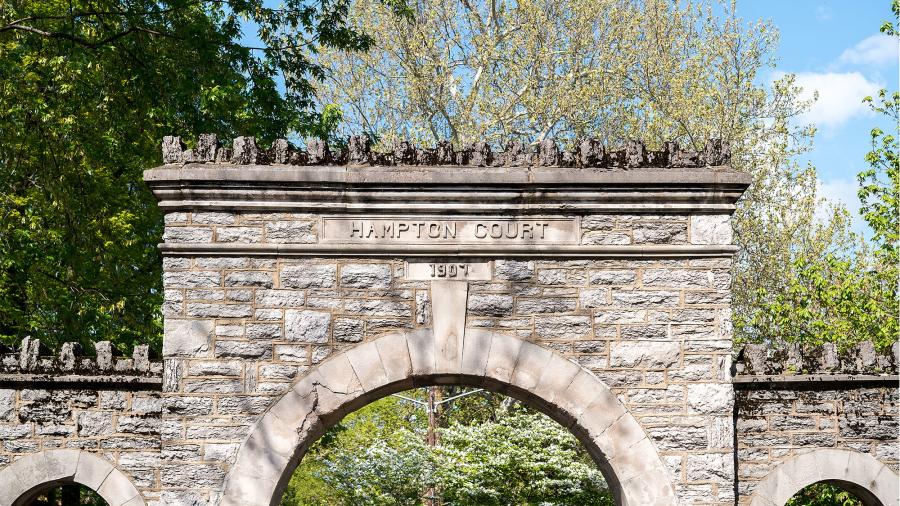 Northside District
Tucked away on tree-lined, garden-peppered cul-de-sacs just minutes from bustling downtown are Hampton Court, Fayette Park and Elsmere Park. These charming areas contain stately homes and condominiums of Richardsonian Romanesque, Georgian, neo-Greek Revival and Prairie style architecture. Nearby you'll find Food Chain, a non-profit dedicated to gardening and producing sustainable food indoors. Head down Jefferson Street to the Apiary, a sophisticated entertainment venue that grows fresh herbs and seasonal vegetables in their garden fortress.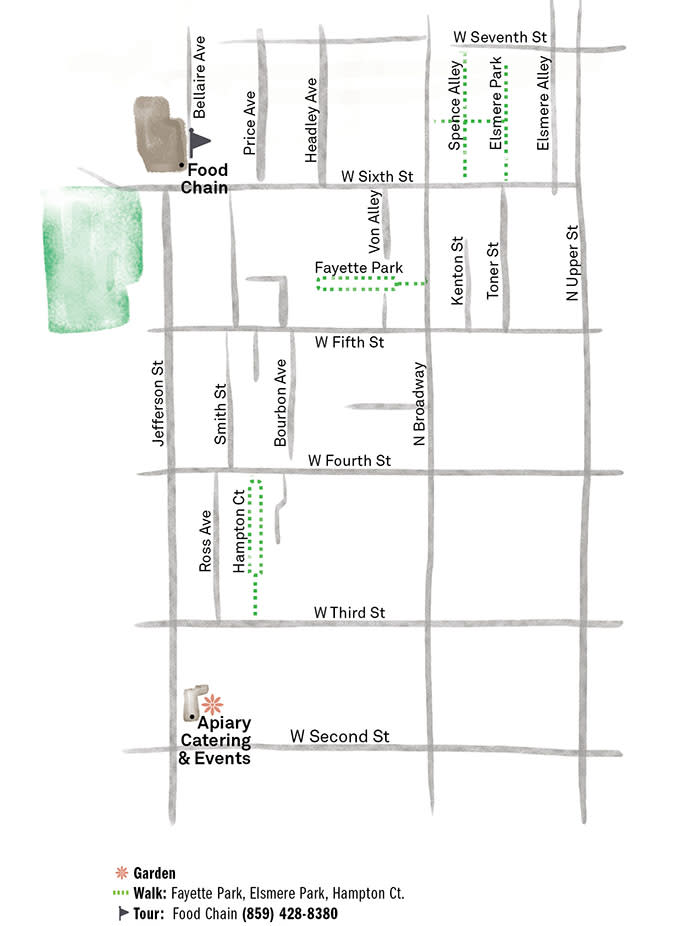 Insider Tips:
—Tours of the Food Chain facilities are held most Saturdays at 1 pm at the historic Bread Box building. Buy tickets ahead of time here.
—The Apiary was featured in Garden & Gun magazine as Lexington's "chic new entertaining space."
—Stroll down Jefferson Street to discover a variety of local dining and brewery options.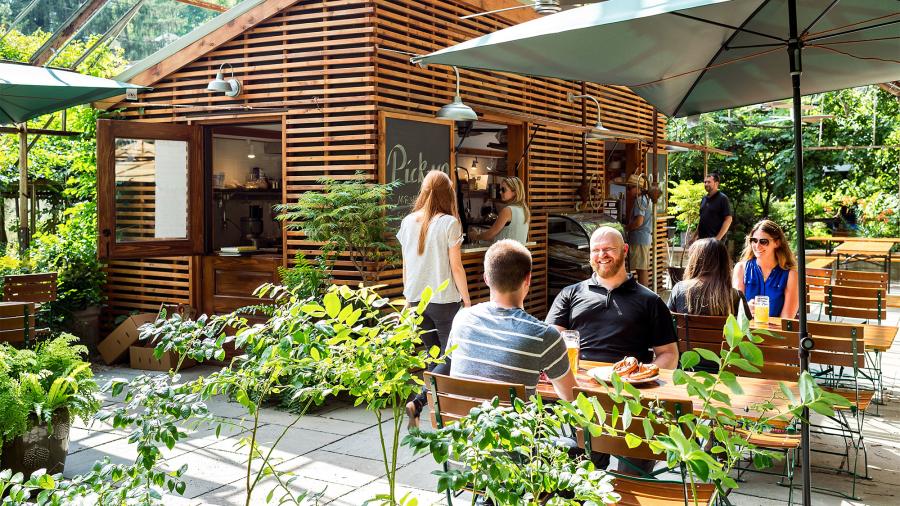 Other Garden Stops
University of Kentucky Arboretum
500 Alumni Drive
UK's Arboretum contains over 1,000 different trees & shrubs, as well as herb, rose, water and butterfly gardens. arboretum.ca.uky.edu
Michler's Florist and Kentucky Native Café
417 East Maxwell Street
Gardening enthusiasts can browse a selection of organically-raised plants at this beloved fifth-generation greenhouse. Stop for lunch in the adjoining Kentucky Native Café, a café & beer garden nestled inside the bones of an old greenhouse. michlers.com
Waveland State Historic Site
225 Waveland Museum Lane
Considered one of the finest examples of Greek Revival architecture in Kentucky, this historic site contains plants and herbs appropriate to the antebellum period. parks.ky.gov
Thoroughbred Park
East Main Street at Midland Avenue
This 2.5-acre space on the cusp of downtown is home to 13 life-sized Thoroughbred horse sculptures and 42 plaques honoring historic figures in the racing industry. triangleparklexington.org
Keeneland Race Course
4201 Versailles Road
Lexington's historic Thoroughbred racecourse, a National Historic Landmark, contains internationally inspired, historic architecture and beautifully maintained grounds. The stunning sycamore trees that line the paddock, while at peak color in fall, are a sight to see year-round. Keeneland.com
GardenArchGuide-Download.jpg
View the full digital guide for additional attractions, insider tips and more.