The North American Racing Academy is headquartered in Lexington, where it focuses on guiding the jockeys, trainers and leaders of tomorrow's Thoroughbred industry.
This is exactly what [a jockey's] career is going to be like. You have to be stoic, and you have to take it all as it comes.
—Dixie Hayes, NARA Program Instructor
As a 21-year-old Army paratrooper, Jerick Ello was always the first to jump out of a plane and the last to hit the ground. At five feet and 120 pounds, even if he snuck a medicine ball into his rucksack, he didn't weigh enough to beat anyone parachuting down.
Between parachute jumps in 2014 he followed the dramatic journey of thoroughbred California Chrome, who won the Kentucky Derby and the Preakness but lost the Belmont in a bid for the Triple Crown. Ello started to notice the jockeys. Then he started to dream of being one.
Ello got online and found the only jockey school in the United States: The North American Racing Academy (NARA) in Lexington. When it came time to re-enlist, Ello instead chose flying across the track. "I found my tribe," he says.
NARA was started in 2006 by Chris McCarron, a Hall of Fame jockey with over $250 million in purse earnings. The school, which has one and two-year programs in conjunction with the Bluegrass Community and Technical College, is designed to produce not only jockeys. It has a second track for students who want related careers in the industry, like being a trainer.
"The problem with a lot of racing schools (in Europe and elsewhere) is that training a jockey is all they know how to do. But if those students get hurt and can't ride, they're pumping gas," says noted horseman Remi Bellocq, who took over running NARA after McCarron retired in 2014. Bellocq tells his students who do end up becoming jockeys that they may not be the best riders in the jockey room every single time, "but you'll be the smartest." NARA delivers a comprehensive education (to ensure multiple job prospects), from learning how to assess a horse's conformation to understanding the microeconomics of the racetrack.
NARA is located at Lexington's Thoroughbred Center, where top mounts in the Kentucky racing industry are stabled and trained. In winter you'll find NARA students mucking out stalls at 6 a.m. when it's 10 degrees Fahrenheit inside the barn. Or bundled up outside trying to run a nine-minute mile to qualify for the jockey fitness test. In summer, you'll see them on the training track learning how to load horses into the starting gate. Or getting timed on their pace as they weave in and out of equine traffic.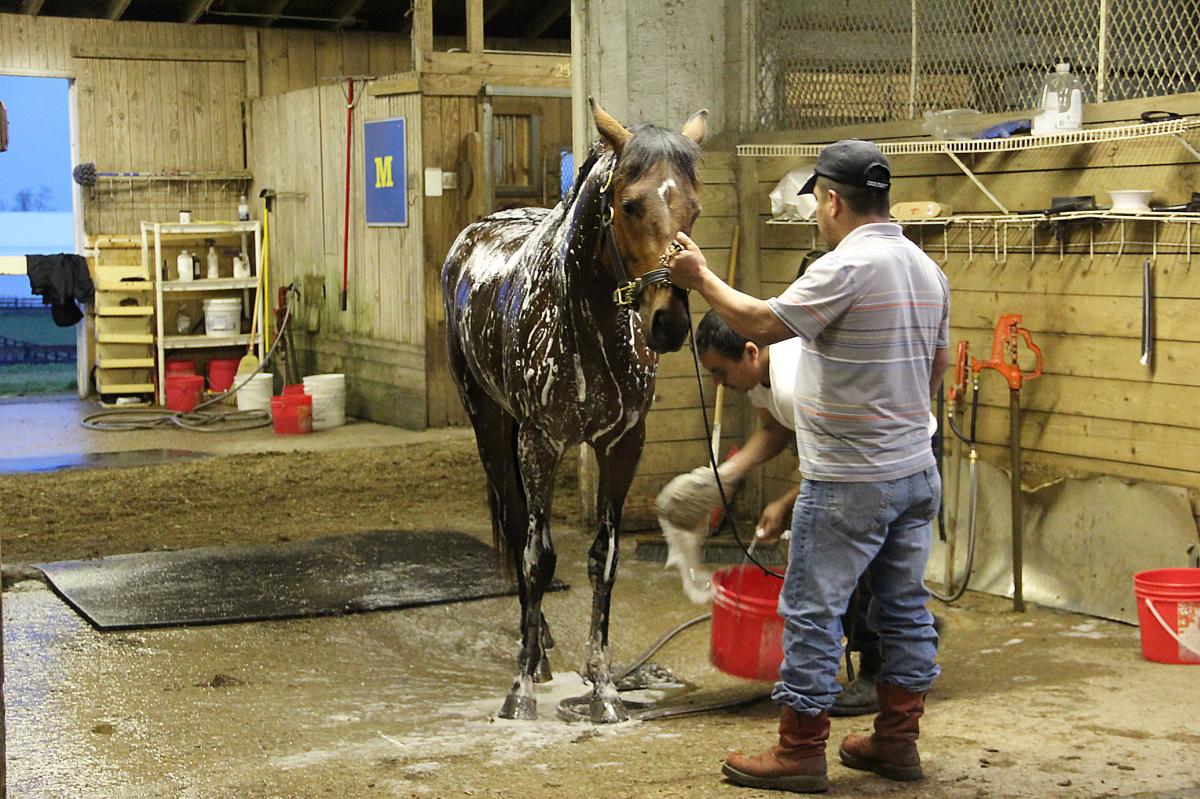 Determining who will make it as a jockey is like trying to figure out which yearling might be a winner. A student might possess critical qualities on the surface – the right build, excellent horsemanship – but they don't have the heart or the hustle. Others might not have a supernatural gift for balancing atop a moving train but make up for it in determination.
The school has 23 graduates currently licensed as jockeys, with close to 3,000 wins. Many other NARA graduates are working in related industry jobs. Program instructor Dixie Hayes says that for most students, the program is a rollercoaster. "Week to week, they're up and down." Sometimes they have a great day on the track, the next could be a bust with their mount going out of control. "What I try and get them to understand is that this is exactly what their career is going to be like," says Hayes. "You have to be stoic, and you have to take it all as it comes."
For information on how to visit the North American Racing Academy, as well as tour The Thoroughbred Center, visit thoroughbred-center.com or call (859) 293-1853.