Music and Mayhem Weekend: Three Day/Two Night
Take Friday off! This girlfriend getaway includes some options for evening entertainment.
Day 1 Friday 
What's a girlfriend getaway without a little shopping? Start out at Fayette Mall, the largest mall in the state. (859) 272-3493. If you'd like to eat while at the mall, P.F. Chang's China Bistro is a good choice for dinner, or head over to Saul Good (859) 273-4663. Just across Reynolds Road is another shopping complex: Lexington Green. Stop your shopping just in time to enjoy a comedy show at Comedy off Broadway, also at Lexington Green. (859) 271-5653. If theater, dance or opera are of interest, check the calendar at www.visitlex.com to see what might be scheduled while you are in town. Ruddy Duck Bar & Grill will be hopping when you get out. They have live music every weekend. (859) 254-0046. Creaux will also be revving up; there is usually a jazz/funk/fusion band keeping the energy level high. (859) 469-8960.
Click here to visit one of the best local sources for finding live music.
Or here for another great website with info about the local music scene, tadoo.com.
Day 2 Saturday
Sleep late. Pamper yourself with a massage or spa treatment at The Spa at the Griffin Gate. (859) 231-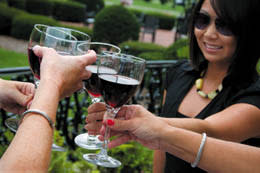 5100. Take a short drive out in the country to Jean Farris Winery and enjoy live music on the patio overlooking the vineyards. (859) 263-9463. Have dinner at the bistro there, or head downtown and have dinner at Dudley's on Short (859) 252-1010. From there, you are close to tons of great bar hopping options: Parlay Social (859) 244-1932, Bluegrass Tavern (859) 389-6664, Henry Clay Public House (859) 368-7754 and Belle's Cocktail House are all just a stone's throw away. They all have live music on the weekends. Top if off with dessert and coffee (or dancing!) at Skybar. (859) 368-7900. The views of the city are lovely, day or night.
Day 3 Sunday
Sleep late. Don't miss brunch at Distilled at The Sire, located in a lovely historic neighborhood, before you head out of town. (859) 255-0002.