Art Hunter Alice Gray Stites, carefully curates pieces for 21c's museum-hotel, connecting local art enthusiasts with inspiring artists from all over the world and making art more accessible for all.
WHEN YOUR NOTION OF POSSIBILITY EXPANDS, IT'S VERY, VERY EXCITING. ART IS ALL ABOUT CURIOSITY.
Many people dislike museums. The reasons? Too cavernous or too stuffy. Some people find the institutions elitist. And contemporary art can be made from materials that are weird – shredded plastic, cinder blocks. Sometimes that art explores uncomfortable topics. Alice Gray Stites, the chief curator of the six, renowned 21c Museum Hotels – one of which is in Lexington – says this museum apprehension is called "threshold anxiety" because people are afraid to walk in. They don't feel like they belong.
Stites is determined to change that.
"The mission of 21c," says Stites, "is to broaden the accessibility of art by being free and open to the public but also by sharing and highlighting artists from all over the world and from the community. The idea of deep local engagement and broad global connection is at the heart of the museum's identity."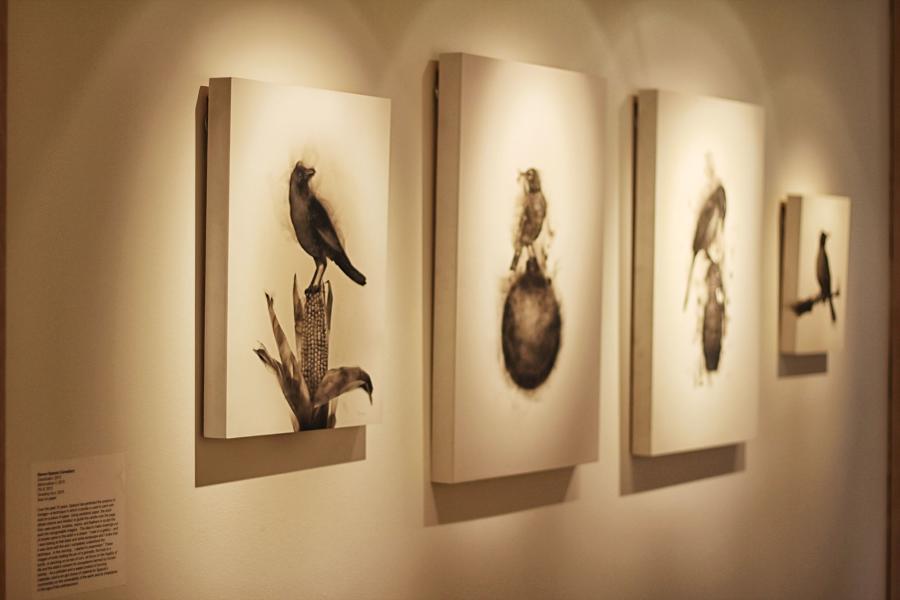 Laura Lee Brown and Steve Wilson, philanthropists and art collectors, rocked the boutique-hotel world in 2006 when they founded the first 21c Museum Hotel in their hometown of Louisville. Five additional locations later, 21c just keeps getting more acclaim, including being voted one of the top 10 hotels in the world by Conde Nast Traveler.
Stites is an Indiana Jones of art for 21c, helping to search out work that amazes and delights, and provokes thought. One of those pieces at the Lexington location is "Tomorrow's Weather" by Swedish artists Bigert & Bergstrom. The glowing acrylic spheres hanging from the ceiling in the hotel's Lockbox restaurant are in the shape of atmospheric molecules and change color three times a day depending on tomorrow's National Weather Service forecast. Stites discovered the artists' work on a visit to Stockholm at the city's Museum of Modern Art.
Over in the lobby at Lexington's 21c is "Aeolian Landscape," a black table sculpture with a glass circle on its surface, through which you can see a desert landscape inside made up of millions of shifting and swirling glass beads. By American artist Ned Kahn, the work's name comes from Aeolus, the Greek god of the winds. Above the table is a chandelier made of Swarovski crystals in the shape of an ice branch, by Dutch artist Tord Boonjte.
Stites jumped on the artistic path as a teenager after her father took her to see "Running Fence," a documentary about the efforts of the late French artist Christo and his wife, Jeanne-Claude, to construct a nearly 25-mile-long, 18-foot fence of white nylon fabric across the hills of Northern California. "Something like that expands your notion of what art can be," says Stites. "When your notion of possibility expands, it's very, very exciting. Art is all about curiosity."
Stites searches for works at prestigious art fairs, including Art Basel in Switzerland and Miami, and The Armory in New York. She considers the location of Lexington's 21c a work of art in itself. The 100-year-old Beaux Arts structure, which opened in the early 1900s as Fayette National Bank, was Lexington's first skyscraper. McKim, Mead, and White, the architectural firm that did Penn Station, designed it. Stites doesn't see 21c as an art hotel, but as a museum with 65,000 square feet over six locations that also houses luxury hotels. Every hotel's museum has changing exhibitions, solo shows and group shows. The public is welcome day or night, and school and corporate tours are conducted regularly.
"You hear a lot of talk these days about the sharing economy," Stites says. "Usually the world of luxury has been defined by exclusivity. With 21c, we're sharing the best of what we have with as many people as we can."
Lexington's 21c Museum Hotel is located at 167 West Main Street, (859) 899-6800.