Kentucky Horse Park
The Kentucky Horse Park is a "must see" attraction for horse lovers, and no trip to Lexington would be complete without a stop at this unique Kentucky state park. Set on 1,200 acres of prime Bluegrass farmland in the Horse Capital of the World, the Park was founded in 1978 and opened to the public as the world's only park dedicated to man's relationship with the horse.
This unique attraction showcases all breeds of horse through daily equine presentations, three outstanding museums, horse drawn tours and carriage rides, an art gallery, horseback riding, pony rides, and special exhibitions. The park hosts the most comprehensive schedule of equestrian events in the country. Equine enthusiasts flock to the Kentucky Horse Park to witness steeplechase, cross country competitions, specialized breed shows, carriage driving, polo and the only four star equestrian event in North America, the Rolex Kentucky Three-Day Event.
Visitors to the Horse Park have many opportunities to get "up close and personal" with the Park's many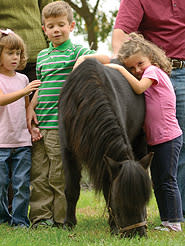 four-legged residents. A highlight of any visit to the park includes a walk through the Hall of Champions barn to meet Thoroughbred legends like Funny Cide and Go For Gin. Retired celebrity horses of many breeds make their home at the Kentucky Horse Park much to the delight of adoring fans.
In the fall of 2010, the Kentucky Horse Park became the first North American site to host the FEI World Equestrian Games, the largest sporting event ever to be held in Kentucky. More than 500,000 spectators converged on Lexington to watch over 800 athletes and more than 900 horses from 60 countries competed in this event.
The Kentucky Horse Park is located at exit 120 on I-75 just minutes from downtown Lexington. For help planning a visit to the Kentucky Horse Park call 800-678-8813 or visit http://www.kyhorsepark.com.