Lexington's Big Blue Horse
---
Lexington is the heart of the Bluegrass Region of Kentucky, the home of legendary horses and world-famous bourbons. In the early spring, there is a hint of blue in the grass, prompting early settlers to dub the region, "the Bluegrass."
Hidden just below the surface of our rolling hills lies an ancient limestone shelf that acts as a natural filter. The water that passes through this massive filtration system feeds the soil and grasses that grow strong horses unlike anywhere else in the world. (Those same waters produce the best bourbons in the world, too!)
Although no one has real evidence that blue horses exist, there are many tales of sightings across the region from legions of true believers. Legend has it that a horse called "Big Lex" turned blue from grazing in nourishing bluegrass pastures his entire life. Perhaps he found the very source of these limestone-rich waters. Be on the lookout for a big blue horse as you drive around the backroads that are home to hundreds of horse farms in the area -- you might just see the legendary blue horse yourself.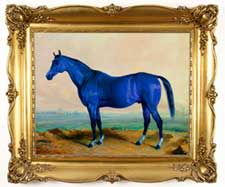 The portrait shown is an adaptation of the actual oil painting 
of the famous racehorse "Lexington" by the renowned equine artist Edward Troye. Used by permission.
Learn more about Lexington, the racehorse. 
Learn more about the artist.